Kol po pasaulį keliauti sunku ir ne visai saugu, mes siūlome prisiminti, o gal ir atrasti, įdomiąją Lietuvą. Ir iš tiesų, mūsų kraštas yra kupinas nuostabių lankytinų vietų ir pramogų, tereikia būti smalsiems. Ieškodami įdomių maršrutų jūsų kelionėms atradome ne vieną objektą, dėl kurio verta nukeliauti net šimtus kilometrų 😉. Metas pakuotis lagaminus ir patirti įdomiąją Lietuvą!
Bičių terapija Kalniaus sodyboje
Ar jums yra tekę girdėti apie apiterapiją? – Taip dar yra vadinama bičių terapija, kuri padeda atsipalaiduoti, atsikratyti streso ir net sustiprinti imunitetą. Tačiau neišsigąskite, bitės jūsų ne tik nesugels, tiesiogiai su jomis kontaktuoti visai nereikės. Bičių terapinis poveikis jus pasieks apsigyvenus specialiame namelyje, po kuriuo gyvena apie tris bičių šeimas. Speciali namelio technologija leidžia jo gyventojams jausti subtilias bičių skleidžiamas vibracijas, šilumą ir kvapus. Sakoma, kad ši kvapo, šilumos ir vibracijų kombinacija veikia tarsi masažas. Kalniaus sodyba įsikūrusi Kretingos rajone, netoli Darbėnų kaimo. Apsistoję sodyboje taip pat galėsite pasimėgauti ir miško terapijos programa, pajodinėti žirgais, išsinuomoti baidares ar tiesiog pasimėgauti Akmenos upės čiurlenimu šimtamečių ąžuolų apsuptyje.
https://www.kalniaus-sodyba.lt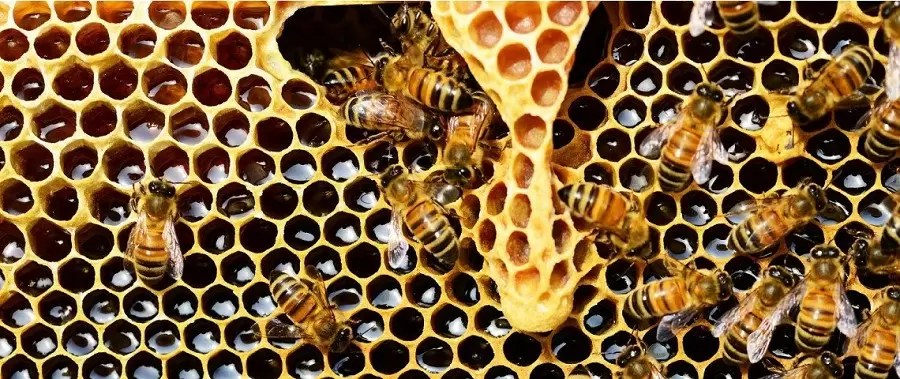 Foto iš: www.kalniaus-sodyba.lt
Kanapinės šironijos ūkis
Kaip patys kanapių ūkio šeimininkai teigia – Kanapinė šironija nėra tiesiog kaimo turizmo sodyba. Na, gal tik šiek tiek 🙂 Tačiau šis ūkis nebuvo sukurtas išskirtinai turizmui plėtoti ir šventėms organizuoti. Tuo, galbūt, šis ūkis ir įdomus, kad jame galima patirti tikrą gyvenimo arčiau gamtos ritmą. Ūkio savininkai siūlo unikalų patyrimą – pasijusite tikrais ūkininkais vairuodami traktorių, melžiant karves, kepant duoną. Ūkyje galima susipažinti su kanapių auginimo subtilybėmis, išmokti šaudyti iš lanko. Žmonės, kurie rūpinasi Kanapinės šironijos ūkiu, patys čia ir gyvena. Ir ne bet kaip, o savo rankomis pastatytuose molio ir šiaudų būstuose. Atvykę į ūkį jame galėsite apsistoti palapinėse ir pasimėgauti smagia široninikų draugija.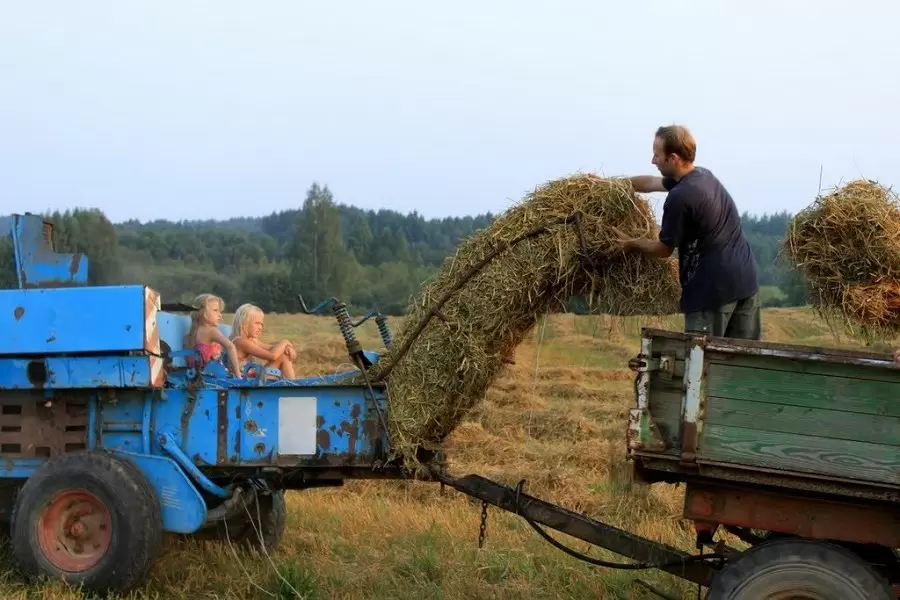 Foto iš: www.sironija.lt
Ramus poilsis prie marių įsikūrusiame Drevernos uoste
Galbūt jums jau teko girdėti Drevernos sėkmės istoriją? Dreverna – tai senas žvejų miestelis, kuris šaltiniuose minimas jau nuo Mindaugo karūnavimo laikų (1253 m.). Dar visai neseniai Dreverna nebuvo žinoma kaip vietinis traukos centras, tačiau pastaraisiais metais viskas apsivertė aukštyn kojomis. Drevernoje buvo atnaujintas uostas, įsikūrė modernus kempingas su naujai pastatytais poilsio nameliais iš kurių atsiveria vaizdas į Kuršių marias. Kempinge siūloma pasimėgauti pirtimis, išsinuomoti vandens pramogas, pasimėgauti lauko baseinu ar užsisakyti edukacines programas. Miestelyje galima patirti "žuvies kelio" programą, aplankyti J. Gižo etnografinę sodybą. Vos už šešių kilometrų nuo Drevernos yra įsikūrusi "Memel" vyninė, kuri Jus nustebins išskirtinės kokybės rankų darbo vynu (jo kilmė siekia kryžiuočių laikus!).
Drevernos kraštovaizdį galima apžiūrėti pakilus į 15 metrų aukščio apžvalgos bokštą visai neseniai pastatytą Drevernos uoste. Na o dar smagu tai, kad tiesiai iš Drevernos uosto galite nusikelti į Nidą ir aplankyti Parnidžio kopą, įmerkti kojas į jūrą ir aplankyti turistus iš viso pasaulio pakerinčią Neringos gamtą.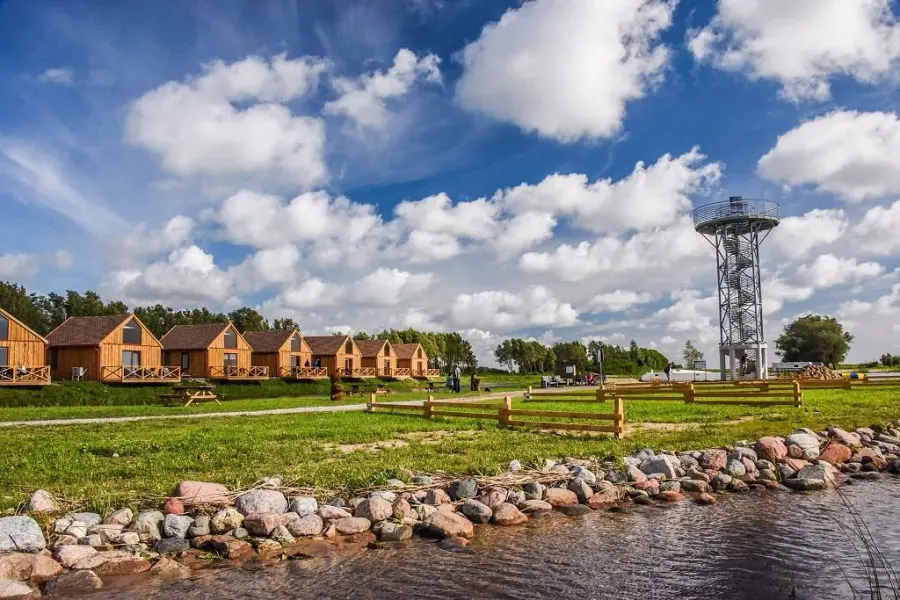 Foto iš: www.dreverna.lt
Ornitologinė Ventės Rago stotis ir Aukštumalos aukštapelkė
Ventės ragas yra dar vienas Lietuvos vakaruose įsikūręs objektas, vertas keliauti šimtus kilometrų, ypač jei esate paukščių mylėtojai. Čia galima apsilankyti ornitologinėje stotyje, susipažinti su paukščių migracijos ir jų žiedavimo subtilybėmis. Ventės rage kasmet sužieduojama apie 50 – 80 tūkstančių paukščių, o stotyje įrengtos paukščių gaudyklės yra didžiausios pasaulyje. Ventės ragas yra kone ideali vieta paukščiams gaudyti ir žieduoti tiek geografiniu, tiek gamtiniu požiūriu, kadangi Rytine Baltijos jūros pakrante driekiasi didžiulis paukščių migracijos kelias. Rugsėjo ir spalio mėnesiais neretai būna dienų, kai ties Klaipėda per dieną praskrenda daugiau kaip 3 mln. Paukščių, o dalis jų pasuka Ventės rago link. Taip pat Ventės rage galėsite pasivaikščioti molu ar pasikelti į švyturį iš kurio matysite Neringą.
Keliaujant į Ventės ragą būtinai užsukite ir į Aukštumalos pažintinį taką, šiuos objektus skiria vos 15 kilometrų. Visai neseniai takai paslaptingoje aukštumalos aukštapelkėje buvo atnaujinti bei pastatytas naujas apžvalgos bokštas iš kurio nužvelgsite aukštapelkės plynėje tyvuliuojančius ežerėlius. Tai ypatinga aukštapelkėje, kurios ekosistema leidžia mokslininkams geriau pažinti gamtos paslaptis, o keliautojams – pasigrožėti kitur Lietuvoje nematytu mistišku peizažu.
Pienių vyno degustacija Kidulių ūkyje
Apie pienių vyną girdėti, ko gero, yra tekę visiems. Na, bent jau iš Kastyčio Kerbedžio dainos tokiu pačiu pavadinimu. Tačiau ar jums kada nors teko pienių vyno ragauti? Ar žinote, kaip jis gaminamas? Vyndarys Juozas Vilkenis užsiima šio neįprasto gėrimo gamyba. Jis jau penktos vyndarių kartos atstovas, vyndarystės paslaptis, siekiančias 1915–uosius, perėmęs iš savo protėvių. Vyndarys teigia, kad vyną gali pagaminti praktiškai iš bet ko. Degustacijos metu taip pat galėsite išragauti ne tik pienių, bet ir įvairių uogų ir vaisių vynų bei patirti vyndarystės tradicijas. Pakeliui į Kidulių ūkį galėsite stabtelėti Jurbarko dvare su parku, o taip pat – pervažiuosite ilgiausią Lietuvoje automobilių tiltą! Kidulių ūkis įsikūręs Šakių rajone, Kiduliuose.
Organizmą grūdinanti kelionė į Eko basų kojų parką
Vaikščiojimas basomis nuo seno žinomas kaip vienas veiksmingų organizmo grūdinimo ir imuniteto stiprinimo metodų. Eko basų kojų parke yra įrengtas 1 300 metrų ilgio basų kojų takas, kur teks pereiti ir akmenuotą, ir smėlio, juodžemio, pjuvenų, vytelių, nendrių, kankorėžių ir kitokius paviršius, bristi vandeniu. Ėjimas basomis per pėdose esančius nervines organizmo zonas stimuliuoja įvairius vidaus organus ir taip stiprina mūsų imunitetą. Vaikščiojimas basomis – tai seniausia refleksoterapijos forma.
Apsilankę eko basų kojų parke taip pat nepraleiskite progos užsukti į Rinkuškių alaus daryklą susipažinti su gamybos tradicijomis ir padegustuoti gardaus vietinio alaus. Na, o jei alkoholio gamybos tradicijos Jūsų nedomina – pasinaudokite proga jau apsiavę pasivaikščioti po netoliese esantį Biržų regioninį parką ir iš apžvalgos bokšto apžiūrėkite unikalų, smegduobių suformuotą kraštovaizdį.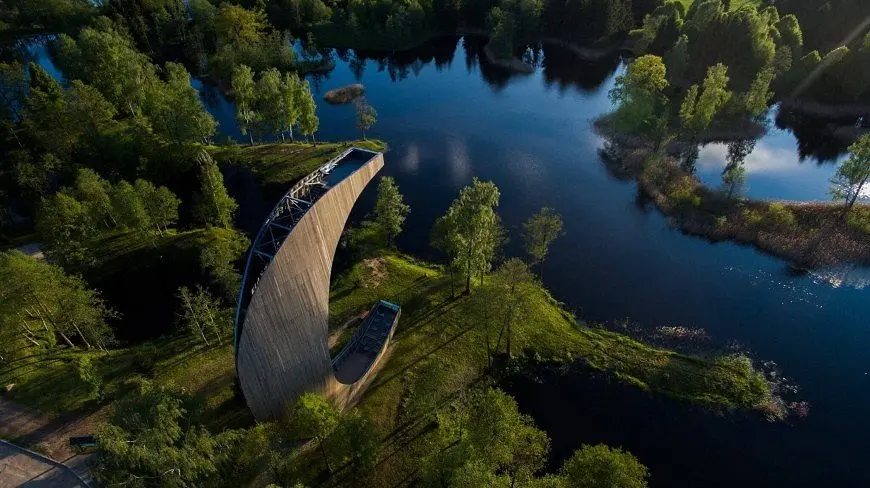 Foto iš: www.birzuparkas.lt
Draugų pirtis su "Ten kur gera" pirtininkais
Kauno apskrityje, ramiame ir nuošaliame Šiulių kaime yra įsikūrusi draugų pirtis. Tačiau tai nėra bet kokia pirtis – tai lietuviška garinė pirtis. Pirties šeimininkai padės jums užsisakyti pirtininko paslaugas, mes rekomenduojame "Ten kur gera" komandą. Pirtininkas padės jums maksimaliai pasimėgauti lietuviška pirtimi, kuri susideda iš trijų pirties procedūrų:
Kelionė iš savęs – kvapnusis pirmasis garas.
Mylėk savo kūną kaip save – druskų inhaliacija, kūno šveitimas.
Vantų magija – sušilk ir sušildyk draugą.
Tarp procedūrų bendrausite priepirtyje, gersite pirties arbatą ir megsite tamprius tarpusavio santykius. Draugų sodybos šeimininkė yra profesionali vilnonių gaminių gamintoja, taigi galite užsisakyti edukaciją ir nusivelti pirties kepurę patys, šeimininkė jus to išmokys
Beje, ar minėjome, kad netoliese sodybos yra Novaraisčio paukščių stebėjimo bokštelis, nuo kurio rugsėjo – spalio mėnesiais galite pastebėti į raudonąją knygą įrašytų pilkųjų gervių migraciją? Vienu metu čia gali būriuotis iki 2000 gervių!
Ten kur gera

Ekologinis pažintinis Litorinos takas
Baltijos jūros pakrantė kadaise ne tik vadinosi, bet ir atrodė visai kitaip. Ekologinis pažintinis Litorinos takas yra gyvas to įrodymas. Šio pažintinio tako vardas pavadintas Litorinos jūros vardu. Litorinos jūra yra vienas iš Baltijos jūros vystymosi etapų, ji čia tyvuliavo prieš daugiau nei septynis tūkstančius metų. Litorinos jūra savo vardą įgavo nuo kadaise šiose vietovėse plačiai paplitusio pilvakojo moliusko – Littorina littorea. Takas ypatingas tuo, kad atskleidžia senosios jūros reljefą – jos vandens lygis buvo kur kas aukštesnis nei Baltijos jūros, todėl skyrėsi ir kranto linijos aukštis. Ekologinis takas prasideda Kukulišiuose ir užsibaigia ypatinga puošmena, Olando kepurės skardžiu, nuo kurio atsiveria svaiginančio grožio panorama į Baltijos jūros pakrantę.
Ekologinis pažintinis Litorinos takas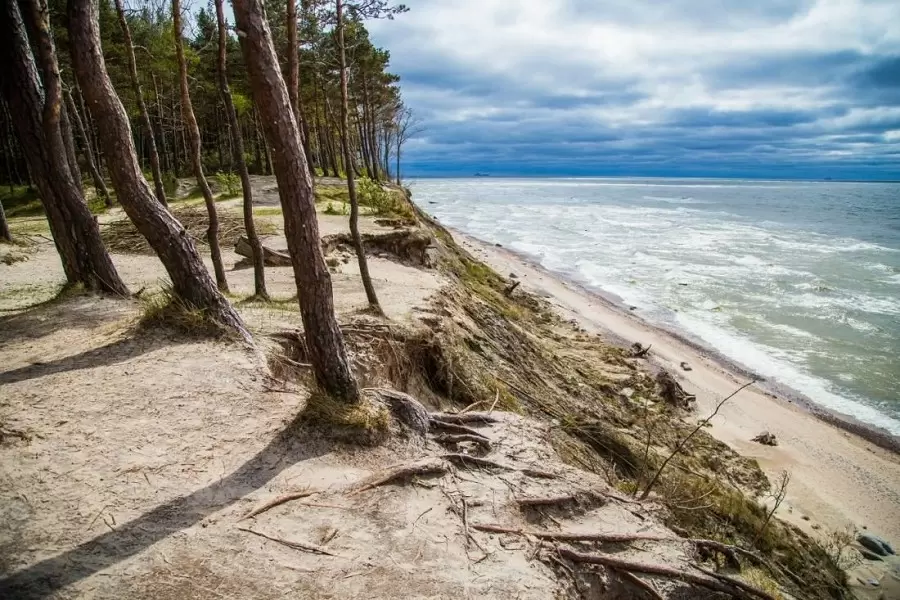 Foto iš: www.lithuania.travel