Kodėl verta vykti į Boloniją?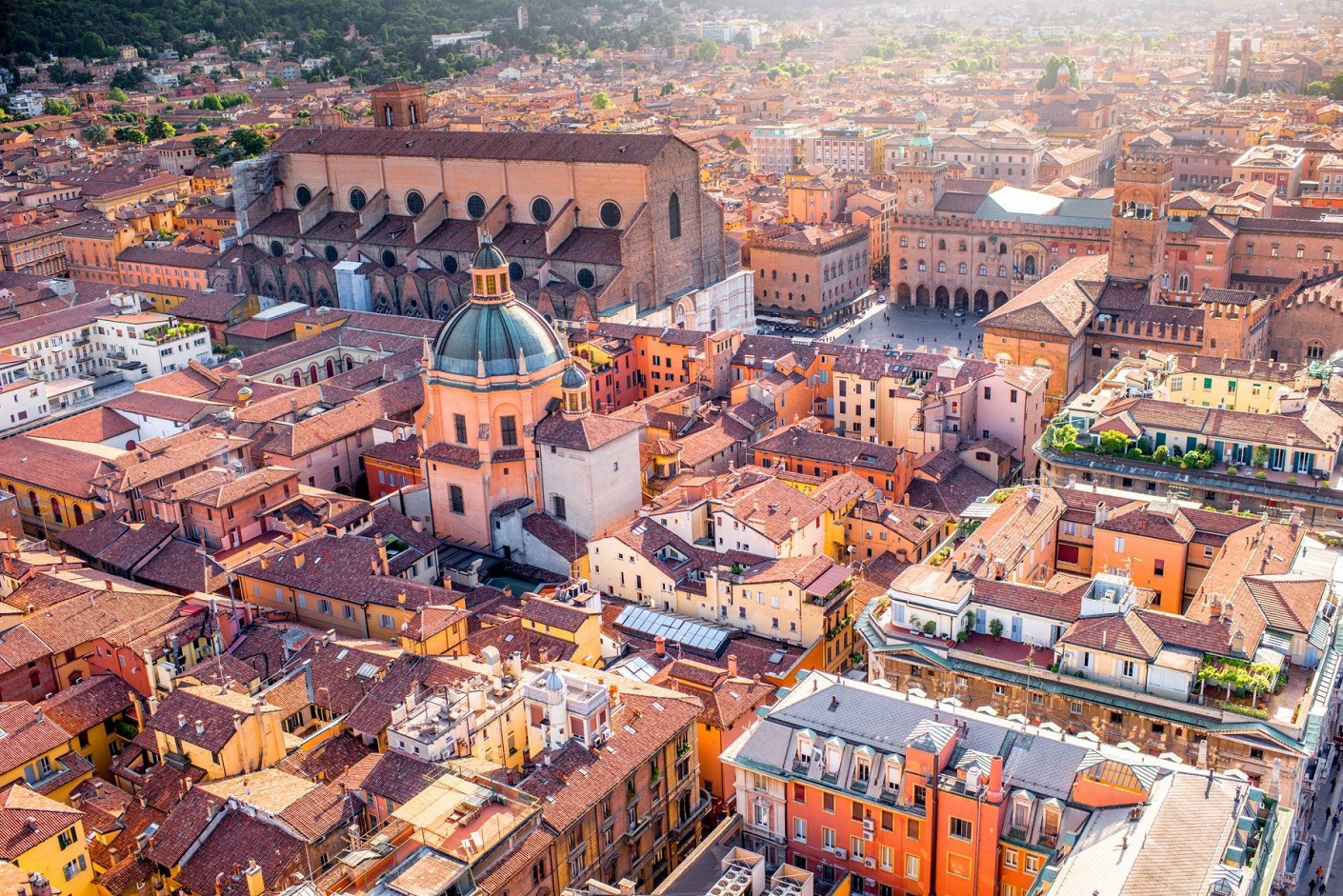 Kodėl verta vykti į Boloniją?
Šiaurės Italijoje, prie Reno upės yra autentiškas ir kultūra dvelkiantis miestas, niekuo nenusileidžiantis kitiems itališkiems perlams Romai, Venecijai ar Milanui. Tai Bolonija - seniausio universiteto namai, įkurto 1088 m. ir istoriškai svarbus miestas, siekiantis gilią senovę. Miestas apsuptas vaizdingų kalvų, o jame daugybė architektūros paminklų ir gynybinių tvirtovių. Patikėkite, viešnagės metu nuobodžiauti neteks, nes galėsite susipažinti su vietine kultūra, senamiesčiu ir net aplinkiniais miestais, kuriuos patogu pasiekti iš Bolonijos.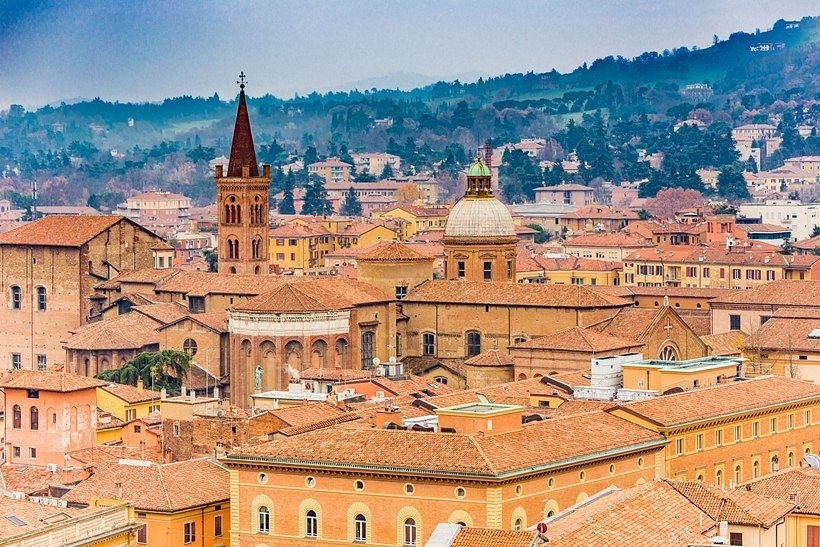 Pažinkite Boloniją per skonio receptorius
Bolonija yra vienas svarbiausių regionų pažinčiai su Itališka virtuve - miestas net vadinamas šalies kulinarine sostine. Juk iš čia kilo žymūs patiekalai, tokie kaip Tortellini, Parmesano sūris, Tagliatelle, ir, žinoma, viso pasaulio širdis užkariavęs Bolonijos padažas. Skonių TIEK DAUG, jog išsirinkti gali būti sunku. Bandome gelbėti Jus pateikdami keletą rekomencijų: kuriuos patiekalus be išlygų privalo paragauti kiekvienas Bolonijos svečias?
Tagliatelle alla Bolognese - tai dviejų didžių Bolonijos skonių skonių kombinacijos harmonija. Ragù (itališkas mėsos padažas) + Taljetelle (ilgi, plokšti, platūs makaronai, panašūs į juosteles).
Didžiausias nusikaltimas Bolonijoje paprašyti šio patiekalo su spagečių makaronais. Spagečiai gaminami iš pietuose augančių kviečių, o tradiciniai bolonietiški makaronai - miltų ir kiaušinių kombinacija.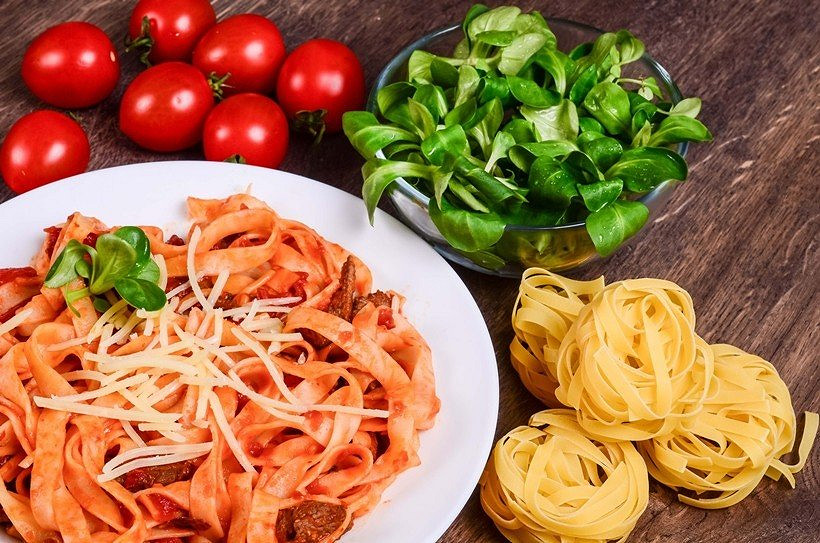 Tagliatelle makaronai gali būti įvairiausio storio ir ilgio.

Tortellini - tai įdaryti makaronai, įdomiai suriesti, įdaryti gryna mėsa. Legenda pasakoja, jog vyrėjas juos išrado įkveptas Veneros bambos formos grožio.
Mortadella arba tiesiog Bologna - tai didelė itališka dešra pagaminta iš smulkiai sumaltos karštos kiaulienos. Pragauti jos būtent gimtinėje - būtina, mat jos skonis itin skiriasi nuo parduodamų prekybos centruose visame pasaulyje.
Lazanija - paaiškinimo, tikriausiai, nereikia. Šio patiekalo gimtine save vadinti nori itin daug miestų ir miestelių, tačiau Bolonijoja yra šviežių makaronų lyderė ir bolonijos padažo išradėja, o kaip žinia, šie du ingridientai ir yra burnoje tirpstančios lazanijos pagrindas.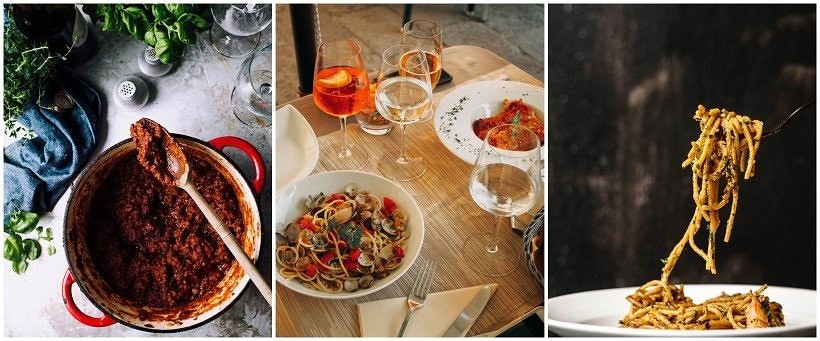 Itališko maisto malonumai

Na, ir svarbiausia - GE LA TO! Nors Bolonija nėra gelato gimtinė, bet ji išties labai prisidėjo prie jų plėtros ir eksporto. Bolonijoje tikrai apstu jaukių ledainių, kuriuose rasite šviežių, iš vietinių produktų pagamintų naminių gelato.
Akivaizdu, kad alkani neliksite, o grįžę galėsite artimuosius nustebinti nebandytais skoniais!
Pažinkite regioną ir aplinkinius miestus
Bolonija yra palankus miestas smalsiems turistams, nes vienos, net ir trumpos kelionės metu, galite aplankyti ir kitus Emilia-Romagna regionui priklausančius miestus. Rinktis tikrai turėsite iš ko - Ravenna, Parma, Ferrara, Modena ir Mantova yra greitai traukiniu pasiekiami miestai. Venecija ir Florencija taip pat laukia Jūsų apsilankymo.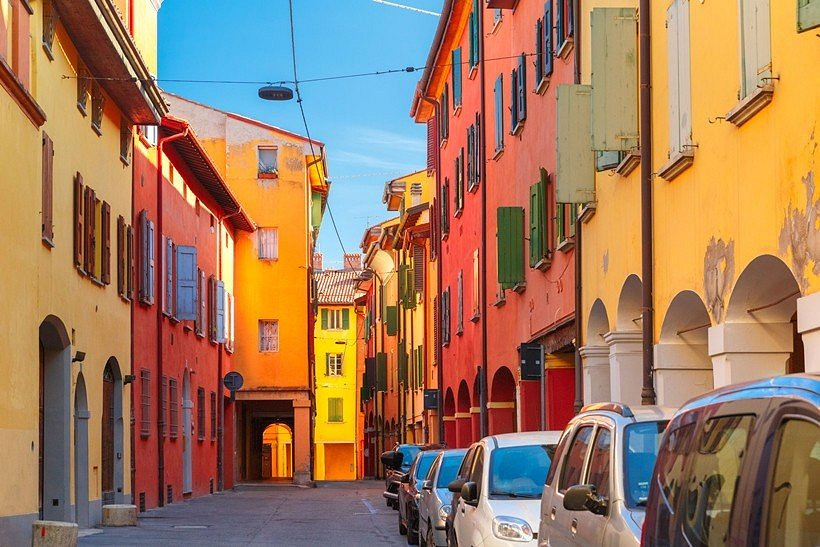 Naudingi patarimai keliaujantiems į Boloniją
Informacijos apie restoranus, renginius, parodas ar kitas veiklas ieškokite oficialiame miesto internetiniame puslapyje arba apsilankykite turistų informacijos centre, kurį rasite Piazza Maggiore.
Jeigu planuojate pažinti Bolonijos kultūrą, įsigykite miesto svečio kortelę, su kuria 48 valandas galėsite nemokamai lankytis muziejuose ir kai kuriuose kituose mokamuose objektuose, 24 valandas nemokamai naudotis miesto transportu arba nemokamai pasiekti oro uostą. Taip pat turėsite galimybę naudotis belaidžiu miesto internetu nemokamai bei gausite nuolaidų kai kuriose parduotuvėse ir restoranuose. Miesto svečio kortelė kainuoja 20€, ją galite įsigyti paspaudę čia >>
Miesto centras išsidėstęs kompaktiškai, todėl pažintį galite pradėti pėsčiomis, o jeigu norėsite nukeliauti į aplinkinius miestus, pasinaudokite autobusais ar traukiniais.

Kaip iš Bolonijos Marconi oro uosto nuvykti į miestą?
Geriausias būdas - naudotis Aerobus paslaugomis, nes per 20 minučių autobusu pasieksite Bolonijos traukinių stotį, o nuo jos per 10 minučių pėsčiomis iš jos pasieksite miesto centrą. Bilieto kaina 5€, juos galite įsigyti autobuse.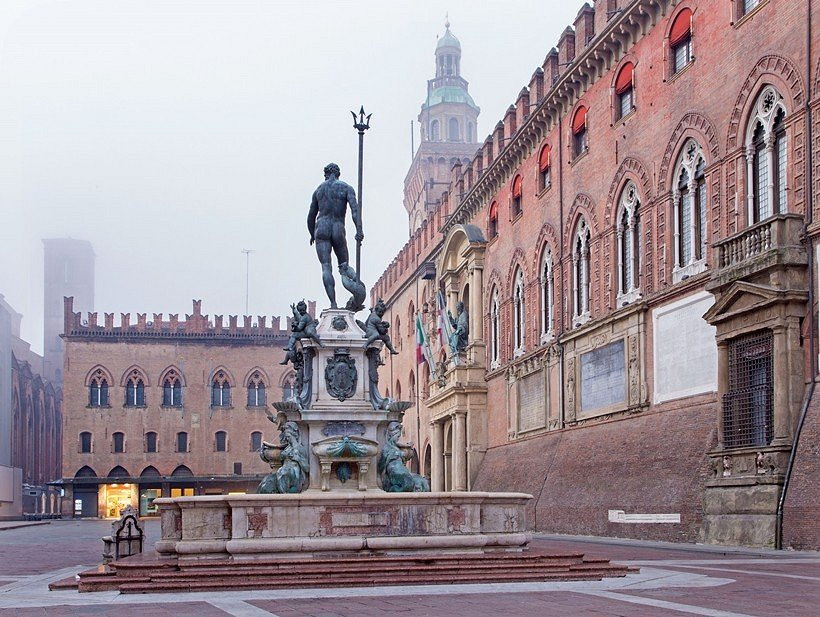 Lankytinos vietos Bolonijoje
Seniausias pasaulio universitetas

Taip, supratote teisingai - universitetas toks senas, kad savo gyvavimo metais lenkia ne tik Europos, bet ir viso pasaulio aukštojo mokslo įstaigas. Nepaisant prestižo ir svarbos, nes tai antras pagal dydį universitetas Italijoje, Bolonijos pažiba gali pasigirti įspūdinga architektūra su gausybe arkų ir freskų. Žinoma, buvusiųjų Bolonijos universiteto studentų sąraše tokie genijai kaip Dantė, Popiežius Aleksandras VI ir Erazmas Roterdamietis.

San Luca bazilika

Ant Colle della Guardia kalvos, 300 m aukštyje įsikūrusi bazilika kaskart pažvelgus primena apie savo didybę. Norintys ją pasiekti turės galimybę eiti ilga, 666 arkomis puoša trasa Portico di San Luca. Pakeliui turėsite ne vieną galimybę grožėtis, o kelią vainikuos kiekvienam miesto svečiui privaloma pamatyti San Luca bazilika.

Maggiore vartai

Tai architektūros paminklas, kurio neįmanoma nepastebėti. Miesto gynybinės sienos kompleksui priklausantys vartai pastatyti XIII amžiuje ir nuo tada ilgą laiką buvo laikomi pagrindiniais vartais norint patekti į miestą. Po to kelis kartus buvo atnaujinti, o pro juos nutiesta pagrindinė Bolonijos gatvė. Šiomis dienomis turistai, lankydamiesi mieste, nepraleidžia šio objekto

Santo Stefano bazilika

Pasak legendos, bazilika pastatyta V amžiuje Izidės šventyklos vietoje. Kompleksas sudarytas iš 7 bažnyčių, statytų skirtingais laikotarpiais ir tai atsispindi architektūroje. Galite apsilankyti ir Santo Stefano bazilikoje esančiame muziejuje, bet net ir neinat į jį turėsite galimybę pasigrožėti daugybe freskų ir paveikslų.

Bolonijos turgeliai

Unikali galimybė įsijausti į vietinių vaidmenį ir pamatyti italų bendravimą, temperamentą, todėl jos praleisti - nevalia. Be to, galėsite įsigyti vietinių produktų ir nupirkti lauktuvių artimiesiems.
Kainos
Restoranai
Maitinimas paprastame restorane 1 asmeniui

15.00€

Maitinimas 2 asmenims, vidutinės klasės restoranas, trijų patiekalų vakarienė

55.00€

Kapučino kava

1.42€

Cola / Pepsi (0.33 litro buteliukas)

2.36€
Parduotuvė
Pienas (1 litras)

1.16€

Kepalas šviežios baltos duonos (500g)

2.07€

Ryžiai (balti), (1kg)

2.01€

Kiaušiniai (12 vnt)

3.45€

Vietinis sūris (1kg)

16.25€

Vištienos filė (1kg)

9.27€

Jautiena (1kg)

15.58€

Obuoliai (1kg)

1.87€

Bananai (1kg)

1.82€

Apelsinai (1kg)

2.05€

Pomidorai (1kg)

2.02€

Bulvės (1kg)

1.08€

Svogūnai (1kg)

1.10€

Salotos (1 gūžė)

1.17€

Vanduo (1.5 litro butelis)

0.44€

Vietinis alus (0.5 litro butelis)

1.42€

Cigarečių pakelis (Marlboro)

5.50€
Transportas
Bilietas į vieną pusę (vietinis transportas)

1.50€

Mėnesinis bilietas (įprasta kaina)

36.00€

Taksi 1km (normalus tarifas)

1.20€

1 valandos laukimas taksi (normalus tarifas)

24.00€

Benzinas (1 litras)

1.56€
Komunalinės paslaugos (kas mėnesį)
Pagrindiniai (elektra, šildymas, vėsinimas, vanduo, šiukšlės) 85m2 butui

128.43€

1 minutė. iš anksto apmokamo vietinio tarifo mobiliesiems (nėra nuolaidų ar planų)

0.15€

Internetas (60 Mbps ar daugiau, neriboti duomenys, kabelis / ADSL)

28.13€
Sportas ir laisvalaikis
Sporto klubas, mėnesinis mokestis 1 suaugusiajam

48.36€

Teniso kortų nuoma (1 valanda savaitgalį)

18.67€
Drabužiai ir avalynė
1 pora džinsų ("Levis 501" ar panašūs)

76.71€

1 vasarinė suknelė parduotuvių tinkle ("Zara", "H&M", ...)

28.55€

1 pora "Nike" bėgimo batelių (vidutinės klasės)

81.91€

1 pora vyriškų odinių verslo batų

124.41€
Nuoma per mėnesį
Butas (1 miegamasis) miesto centre

691.38€

Butas (1 miegamasis), ne centre

553.10€
Facebook komentarai
Ieškote kelionės į Italiją?
Peržiūrėkite visus pasiūlymus
Kitos kelionių kryptys