Esu Ugnė ir jau kurį laiką darbuojuosi su "PasirinkSparnus.lt" komanda. Tik vasaros metu buvau palikusi kolegas Lietuvoje, o pati leidausi į nuotykį Amerikoje. Apie vasaros darbą su "Work and Travel" programa jau papasakojau pirmajame įraše, kurį galite paskaityti paspaudę štai čia. Praėjusiame įraše pažadėjau pasidalinti su Jumis smagiausia dalimi – kelionių įspūdžiais, tad leiskimės į mano kelionę po Ameriką 😊.
Jau anksčiau matydama draugų nuotraukas iš Amerikos jaučiau, kad labiausiai norėčiau aplankyti Jungtinių Amerikos Valstijų parkus ir kanjonus, o miestai manęs itin netraukė. Atskleisiu paslaptį iš anksto: pirmame įraše pasakytą mintį, kad "niekada negeidžiau pamatyti Niujorko taip, kaip dėl jo alpsta kiti" norėčiau atsiimti, nes dabar manau, kad NIUJORKĄ PRIVALO PAMATYTI K I E K V I E N A S besilankantis Jungtinėse Amerikos Valstijose. Šiame įraše pasidalinsiu būtent rytinėje pakrantėje aplankytų miestų įspūdžiais, o pasakojimą apie vakarinę žemyno dalį paliksiu kitam įrašui.
Trumpai priminsiu, jog visą vasarą kartu su draugėmis Viktorija ir Goda dirbome ir gyvenome Ošen Sičio (angl. Ocean City) miestelyje, kuris yra rytinėje žemyno pakrantėje. Galėčiau sakyti, jog mums pasisekė dėl puikios Ošen Sičio lokacijos, nes dar dirbant, laisvadieniais, mums pavyko aplankyti Filadelfiją, Vašingtoną ir Niagaros krioklius. Bet apie viską iš eilės 😉.
Spalvinga ir žavi Filadelfija
Filadelfija yra didžiausias Pensilvanijos valstijos miestas, kuris nuo mūsų miestelio buvo nutolęs maždaug 3 valandomis kelio ir jį pasiekti galima labai patogiai. Šiame mieste man teko lankytis net 2 kartus, taigi pamačiau gana daug ir Filadelfija dabar užima gana aukštą poziciją mano TOP aplankytų miestų sąraše.
Pirmą kartą į Filadelfiją vykome su dideliu tikslu – į Beyonce ir Jay-Z koncertą, tad miestui apžiūrėti turėjome vos kelias valandas. Trumpai apie koncertą galiu pasakyti vieną žodį – NEREALU! Sprendimas nusipirki bilietus buvo tikrai teisingas, vertingas, reikalingas ir išganingas. Visu 100 procentų buvome laimingos iki debesų. Nors prieš koncertą laiko nebuvo itin daug, už visas drauges kartu galiu pasakyti, jog šis miestas mus sužavėjo savo žaliomis erdvėmis, parkais ir nuostabiais piešiniais ant pastatų. Žinoma, toks geras įspūdis gali būti ir dėl to, kad tai buvo pirmasis didesnis mūsų aplankytas miestas ir pirmasis poilsis nuo varginančių darbų.
Laiko tąkart mums užteko pasivaikščiojimui po miesto centrą. Apžiūrėjome Nepriklausomybės menę (angl. Liberty Hall) ir Nepriklausomybės varpą (angl. Liberty Bell), kur suskambo pirmieji Amerikos nepriklausomybės aidai. Praeinant pro Filadelfijos miesto rotušę (angl. Filadelphia city hall) ir laikantis dešinės yra garsus MEILĖS parkas (angl. LOVE park). Tęsiant kelionę Benjamin Franklin Parkway gatve, kur galite rasti beveik visas pasaulio vėliavas, pasigrožėjome Logano aikštės (angl. Logan Square) fontanu ir pasiekėme garsiuosius Rokio Balboa laiptelius (angl. Rocky Steps), nuo kurių atsiveria nuostabi Filadelfijos panorama. Užlipus garsiaisiais laiptais būtų tikra nuodėmė neapsilankyti Filadelfijos meno muziejuje (pati tai padariau apsilankiusi Filadelfijoje antrąjį kartą, kadangi pirmąjį kartą neturėjome tam laiko 😖).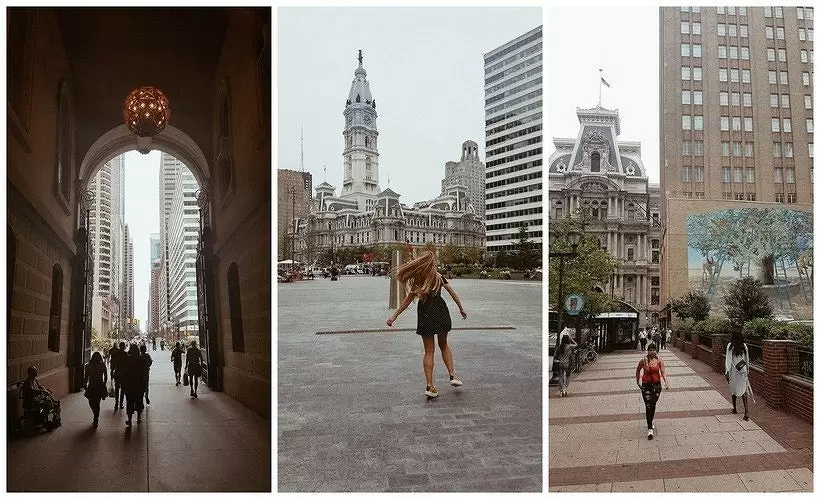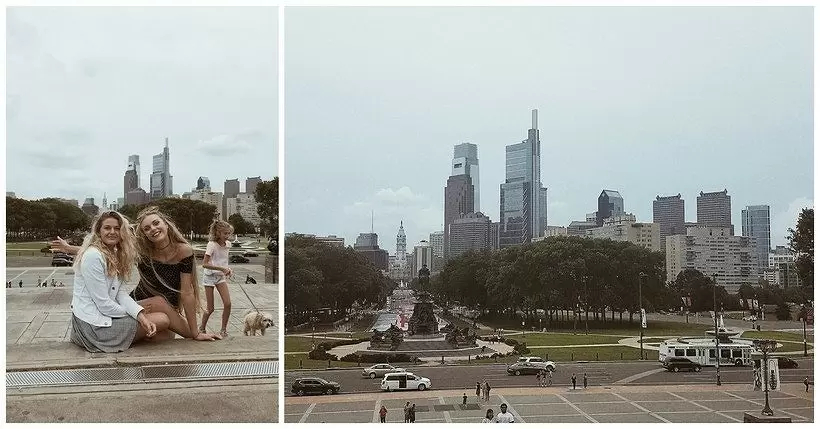 Įspūdžiai iš pimosios kelionės į Filadelfiją
Besilankydama Filadelfijoje antrąjį kartą turėjau galimybę aplankyti Magic gardens soduose. Tiesiogine prasme, tai parkas "sulipdytas" iš šiukšlių (butelių, lėkščių, stalo įrankių, dviračių ratų ir pan.), dekoruotų įvairiomis keramikinėmis detalėmis. Visas šis "šiukšlynas" man buvo toks gražus, kad ilgai nenorėjau iš čia išeiti, norėjau apžiūrėti kiekvieną įlipdytą "šiukslę". Nuostabu, kaip visiškai nereikalingi ir, atrodo, visai nedarantys daiktai tampa įspūdingu menu. Apsilankymas šiame parke kainuoja apie 10 $ asmeniui.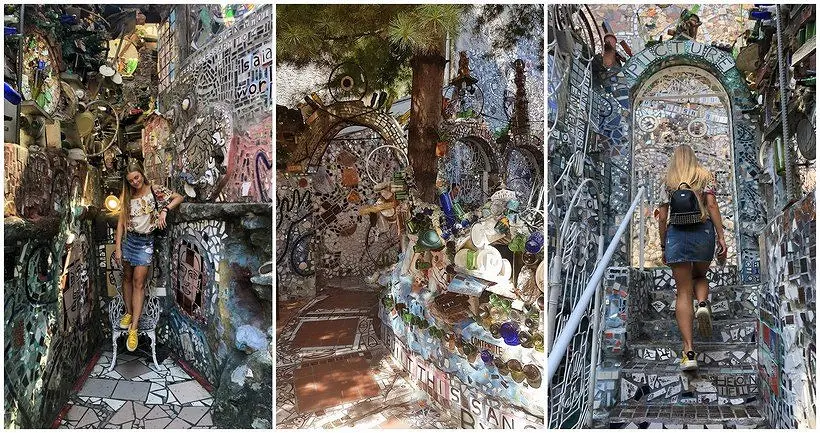 Magic gardens soduose viskas padaryta iš paprasčiausių šiukšlių, tačiau tai atrodo taip įspūdingai!
Apžvelgti visą Filadelfiją iš aukštai galima iš One Liberty Observation Deck dangoraižo apžvalgos aikštelės. Įpatingai graži panorama atsiveria stebint miestą saulėlydžio metu, o sulaukus tamsos daugelis Filadelfijos dangoraižių apšviečiami raudonomis, mėlynomis ir baltomis, t.y. Jungtinių Amerikos Valstijų vėliavos spalvomis. Patekti į šią aikštelę asmeniui kainuoja apie 15 $.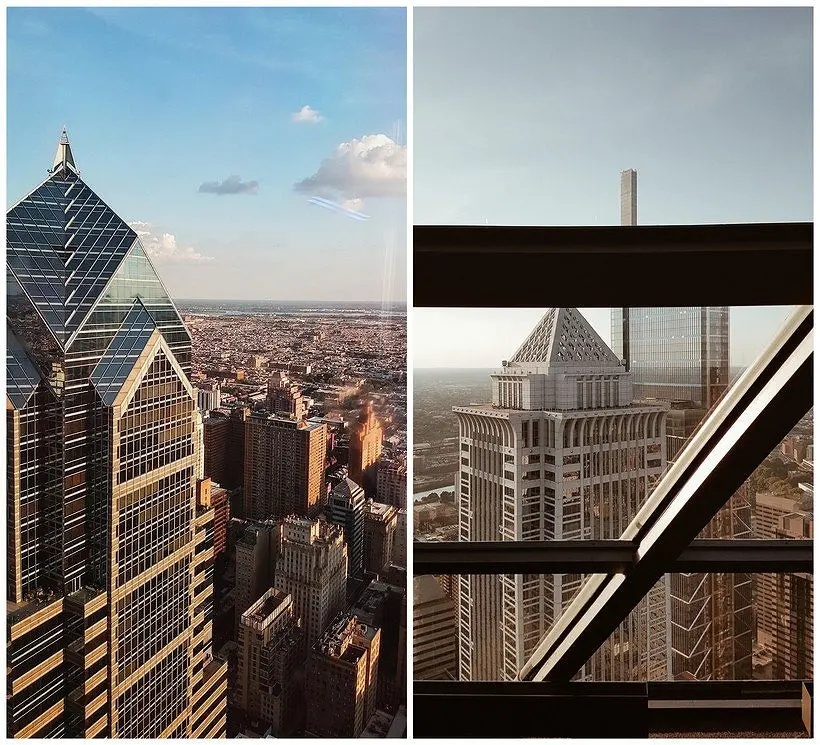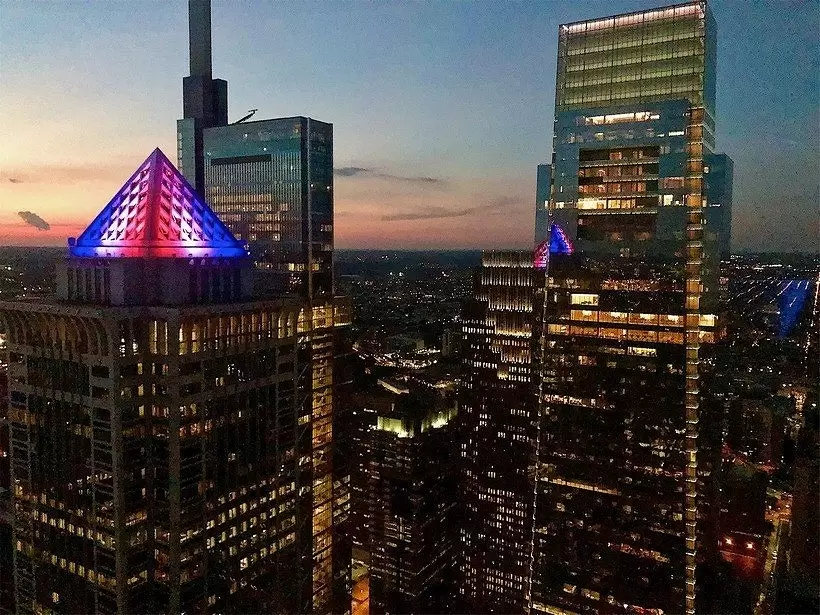 Filadelfijos panorama saulėlydžio metu ir jau sutemus
Jei po saulės palydėjimo dar yra jėgų, sutemus galima aplankyti ant Delavaro upės kranto esantį Spruce Street Harbor parką. Ten labai gražu, o pavargus nuo aktyvios kelionių dienos galima kiek pailsėti. Šis parkas yra Penn's Landing pakrantėje, kurioje ir dienos metu labai gražu pasivaikščioti, aplankyti kitus parkus, renginius ar tiesiog papietauti ant upės kranto. Tačiau būtent Spruce Street Harbor parką būtina lankyti jau sutemus, mat pakrantėje ant medžių prikabinta daug spalvas keičiančių lempučių, kurias galite stebėti gulėdami hamake. Žinoma, parkas yra labai populiarus, todėl dėl hamako gali tekti pakovoti 😁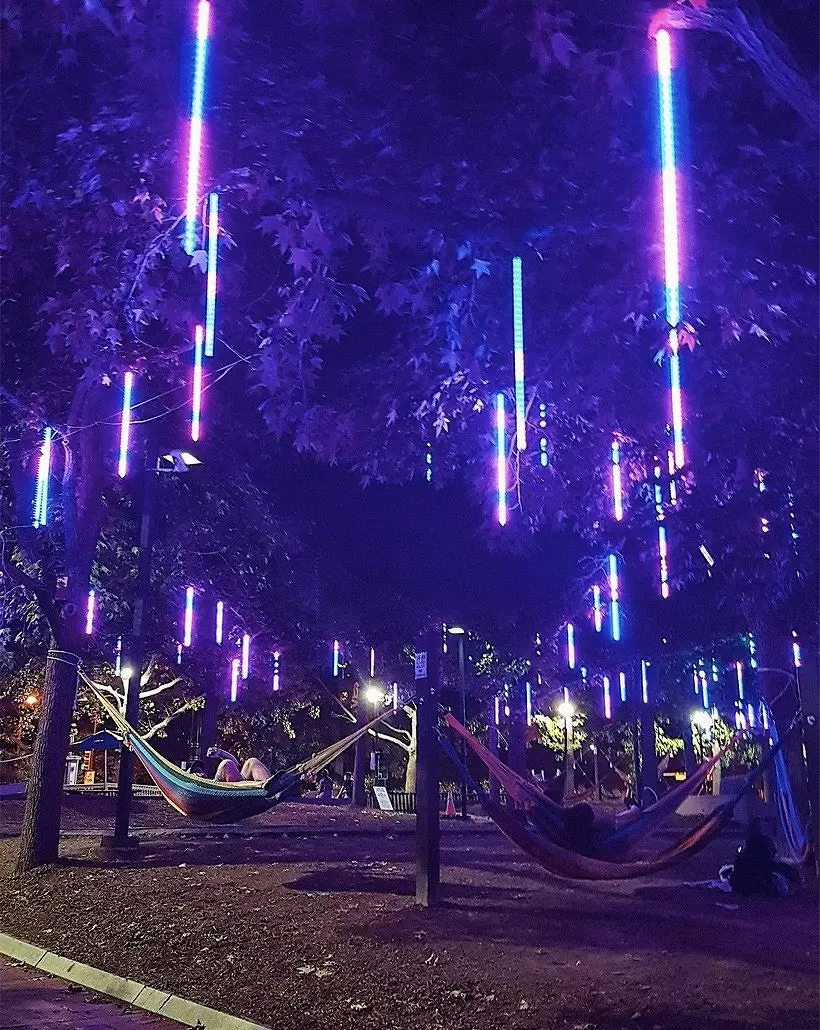 Poilsis hamakuose Spruce Street Harbor parke
Visus šiuos arba bent jau daugumą objektų drąsiai galima aplankyti per vieną dieną, tačiau norint pamatyti ir pajausti daugiau pačio miesto atmosferos, o taip pat ramiai pasivaikščioti, patarčiau Filadelfijoje praleisti 2 dienas. Visi objektai puikiai pasiekiami pėstute, tad labiausiai rekomenduočiau viską apžiūrėti pasivaikščiojant.
JAV sostinė – Vašingtonas
Antroji mūsų išvyka buvo į Vašingtoną – JAV sostinę. Kelionei, atrodo, buvo nelemta tapti sėkminga: ryte, einant į autobusą, mus kiaurai sulijo, po to gavome piktą žinutę iš vadybininko (pasirodo turėjome būti darbe...) ir galų gale, netoli kelionės tikslo sprogo mūsų automobilio padanga 😭. Nepaisant to, stengėmės išlikti pozityvios ir neleisti nesėkmėms sugadinti mūsų kelionės.
Po itin ilgo kelio jau buvome sostinėje, kur pirmiausia apsilankėme Jungtinių Valstijų Kapitolijuje, kuriame vyksta JAV kongreso susirinkimai ir "gimsta" federaliniai Amerikos įstatymai. Jei būsite Vašingtone, siūlau pasinaudoti nemokama ekskursija po Kapitolijaus vidų, kur galėsite pamatyti valstijų skulptūras, filmą apie Kapitolijaus statybą ir išgirsti gyvą gidės pasakojimą apie šį pastatą. Tokia nemokama ekskursija trunka apie valandą, o jei nusibostų – visada galite išeiti.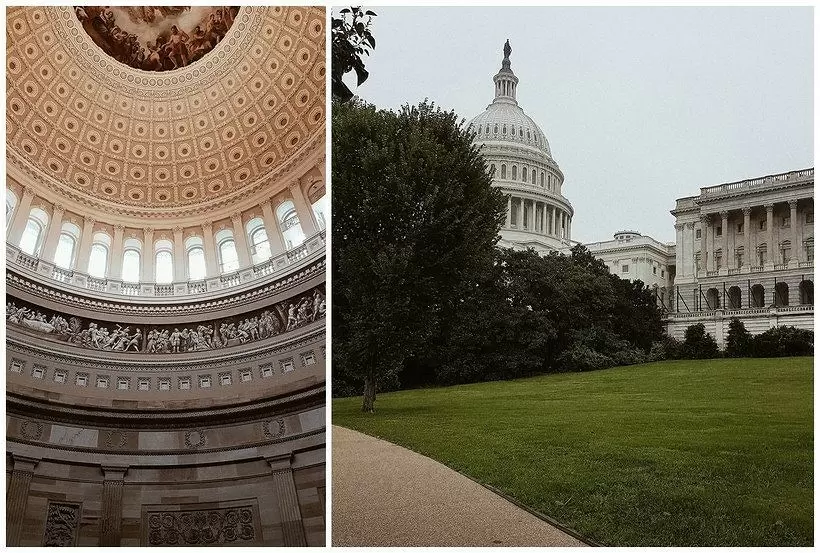 Vašingtono Kapitolijus nepaprastai gražus tiek iš lauko, tiek iš vidaus
Bene didžiausias Vašingtono privalumas yra tai, kad visi muziejai čia nemokami ir jų neįtikėtinai daug. Iš patirties besilankant kitų Amerikos miestų muziejuose galiu pasakyti, kad kainos tikrai nėra "smagios": dažniausiai svyruoja tarp 20 – 30 dolerių. Vašingtone mums teko lankytis Nacionaliniame oro ir kosmoso muziejuje (angl. National Air and Space Museum), kuriame eksponuojami įvairiausi lėktuvų modeliai, oro technikos išradimai ir tobulėjimas, galima apsilankyti lėktuvų kabinose, daugiau pasidomėti jų istorija ir sudalyvauti įvairiose interaktyviose veiklose.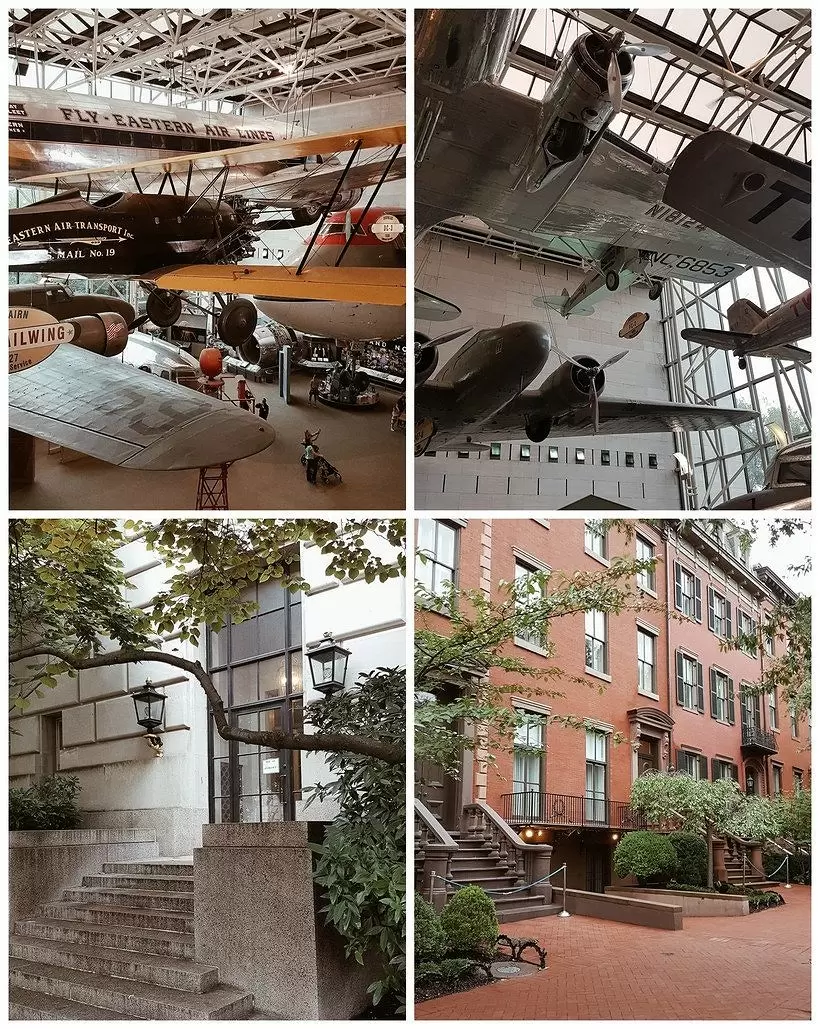 Lėktuvų ekspozicija National Air and Space muziejuje ir Vašingtono gatvės
Žinoma, lankantis sostinėje būtų nedovanotina nepamatyti Baltųjų rūmų ir Vašingtono pamiklo. Šie objektai, mano nuomone, nėra labai įspūdingi ar išsiskiriantys grožiu, tačiau tai yra miesto simboliai, be kurių aplankymo neapsieina nė vienas turistas. Nepamirškime ir Linkolno memorialo, kuris yra dar viena garsi ir tikrai verta dėmesio vieta. Prezidento garbei pastatytas paminklas yra iš tiesų stebinančio dydžio, o užlipus laiptais, nuo memorialo atsiveria puikus Amerikos sostinės vaizdas.
Apžvelgiant apsilankymą Vašingtone, mūsų trijulei šis miestas didelio įspūdžio nepaliko ir mes jo nepamilome. Tikriausiai, turėjome per mažai laiko tinkamai apžiūrėti sostinę, galbūt ir oras bei rytinės nuotaikos mums pakišo koją, tačiau Vašingtonas mums pasirodė šaltas ir "betoninis."
Maudynės Niagaros kriokliuose
Dėl kelionės prie Niagaros krioklių turėjome daug dvejonių. Taip nutiko ne tik dėl didelio atstumo, bet ir todėl, kad keletas amerikiečių kolegų teigė, kad kriokliai nėra itin daug dėmesio vertas objektas. Na, "mes Amerikoje galbūt esame vienintelį kartą" – pagalvojome ir nusprendėme rizikuoti. Kelionė į Niagaros krioklius nuo Ošen Sičio mums truko net 11 valandų autobusu, tačiau jis buvo didelis ir patogus, tad kelionė visai neprailgo.
Nuvykusios ir įsikūrusios viešbutyje keliavome tiesiai prie krioklių. Pirmoji dienos pramoga buvo "The Maid of the Mist" turas laivu prie krioklių. Kriokliai iš arti tikrai įspūdingesni nei žiūrint iš viršaus. Krentančio vandens srovė tokia stipri ir galinga, jog laivui net nepriplaukus labai arti visi turistai liko visiškai šlapi net ir dėvėdami apsauginius apsiaustus. Vandens mėgėja tikrai nesu, tačiau atrakcija buvo be galo smagi!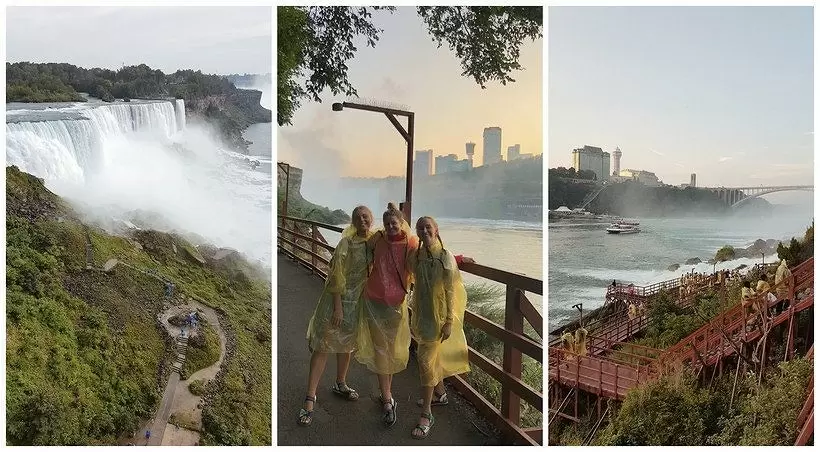 Šturmuojam Niagaros krioklius su naujom "basanoškėm" 😊

Vėliau turėjome galimybę pabūti dar arčiau krioklių ir sušlapti dar labiau. Kiekvienas asmuo gauna naują porą stilingų basučių, saviems batams duodamas maišelis ir apsiaustas: suprask, tikrai bus šlapia. Šioje dalyje galėjome palįsti po kriokliu, pajusti dar didesnę Niagaros krioklių galią – tikrai įdomi patirtis, kuri mums labai patiko.
Verta paminėti, kad kiekvieną vakarą virš spalvotai apšviestų krioklių vyksta įspūdingas nemokamas fejerverkų šou, lankantis čia tikrai rekomenduoju nepraleisti šio reginio.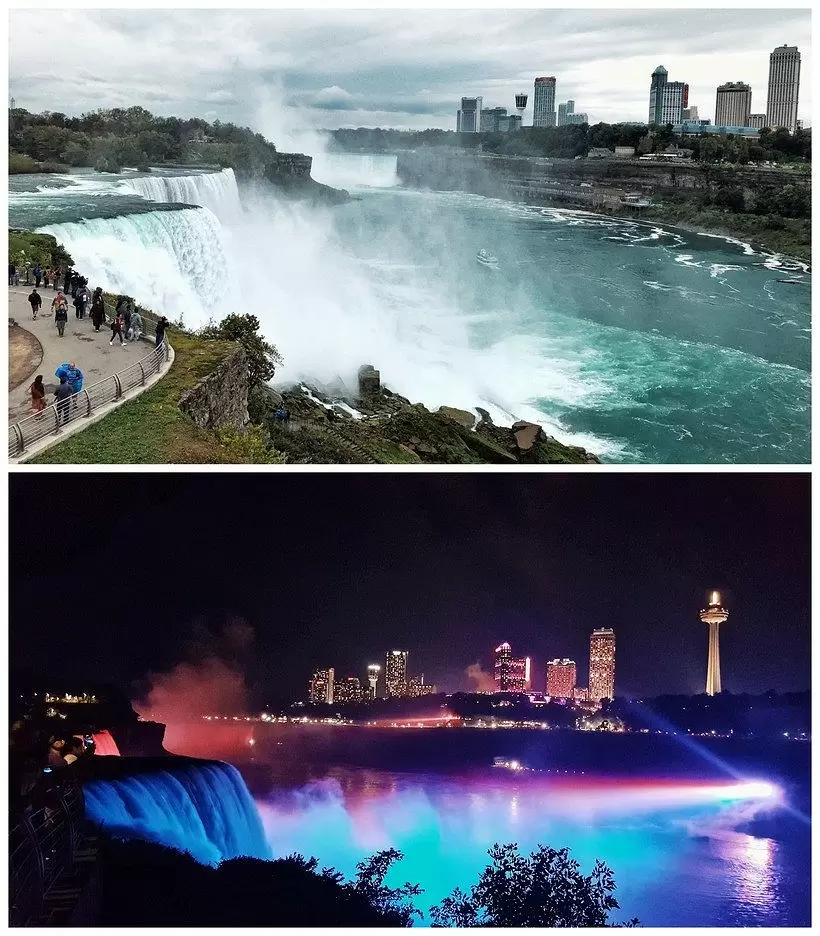 Niagaros krioklių ir kitoje kranto pusėje esančios Kanados grožis dieną ir naktį

Antrąją dieną su turimais bilietais (kurie asmeniui kainavo apie 50 dolerių) dar galėjome apsilankyti Niagaros kino teatre, planetariume, pavažinėti traukinuku.
Kartą gyvenime šios krioklius pamatyti verta ir išbandyti pramogas tikrai įdomu. Tačiau, nelaikyčiau to privalomu pamatyti objektu besilankant Jungtinėse Amerikos Valstijose. Niagaros kriokliai yra ganėtinai nutolę nuo kitų lankomų vietų ir pramogų, o ir pats Niagaros miestelis liūdnoko vaizdo ir neatrodo galintis pasiūlyti didesnės pramogų įvairovės apart krioklių.
Taigi, Filadelfiją, Vašingtoną ir Nagaros krioklius mums pavyko aplankyti dar darbo mėnesiais. Visomis kelionėmis buvome patenkintos ir, jei kas atsuktų laiką atgal, nieko nekeistume. Tačiau tai buvo tik trumpos išvykos praskaidrinti kasdienybę darbo mėnesiais, o didžioji mūsų kelionė prasidėjo jau kitą dieną po abiejų darbo sutarčių pabaigos. Ką jau benuslėpsi, turiu pripažinti, kad iki pat išvykimo iš Ošen Sičio kelionės planavimas mums sekėsi itin sunkiai... Laisvą nuo darbų laiką mieliau išnaudodavome poguliui ar kitoms pramogoms, tad nežinau ar gerai, ar blogai, bet išvykdamos teturėjome tokį planą: važiuojam į Niujorką, o po poros dienų skrisim į San Franciską (bilietus jau turėjome 😃). Ši daugiau nei 2 savaičių trukmės kelionės nežinomybė kėlė mums didelį stresą, bet kartu – adrenaliną ir juoką.
Toliau aprašytas kelionės maršrutas tikrai nėra originalus ir laurų sau prisiimi negalime. Planuodamos stengėmės atsižvelgti į jau keliavusių žmonių komentarus ir patarimus, tai mums padėjo greičiau planuotis kelionės maršrutą, tad tikiuosi, kad šis įrašas taip pat pagelbės ir kitiems ateities keliautojams.
Atsisveikinimas su Ošen Sičiu ir didžiosios kelionės pradžia – Niujorkas
1 diena. Kelionė į Niujorką ir pirmoji pažintis su miestu
Nuverkėme porą posmų, kad reikia palikti savo vasaros rezidenciją Ošen Sityje, ir išvykome į Niujorką su vietinės agentūros automobiliu.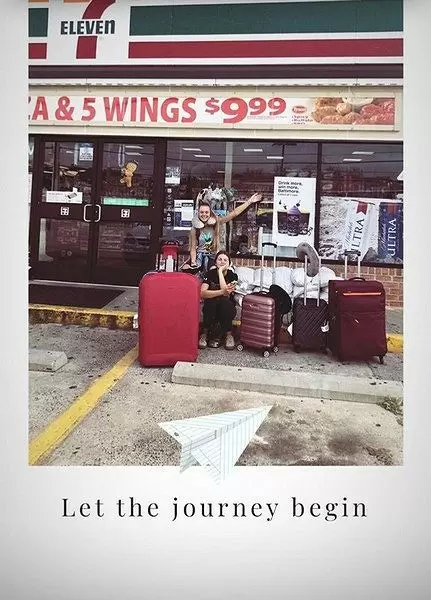 "Čimodanų" karalienės palieka Ošen Sitį
Kelionė buvo klaikiai ilga: keliavusios nuo ankstaus ryto viešbutį pasiekėme tik pavakarį, taip jau būna JAV keliaujant su agentūromis... Šiek tiek pailsėjusios vėlai vakare išsiruošėme susipažinti su didmiesčiu, o vakaro metas labiausiai tinkamas apžiūrėti Taimso aikštės (angl. Times Square) spalvotų reklamų alėjai. Toks jausmas, kad šioje Niujorko vietoje niekada netemsta ir jokio papildomo gatvių apšvietimo nereikia. Reklamų šviesos tokios ryškios, jog vėliau, besilankydamos Empire State dangoraižio 86 – ame aukšte, galėjome aiškiai matyti, kurioje vietoje yra garsusis nemiegančio miesto simbolis.
Po 3 mėnesių praleistų Ošen Sičio miestelyje, tik atėjus į Taimso aikštės reklamų alėją mus ištiko lengva psichozė ir mes kaip be galvų bėgom į visas parduotuves. Tarėmės neužsibūti: "tai čia 15 minučių pabūnam ir einam..." Taip kelioms valandoms visos pranykome parduotuvėse, tad būkit atsargūs ir neįkliūkit kaip mes!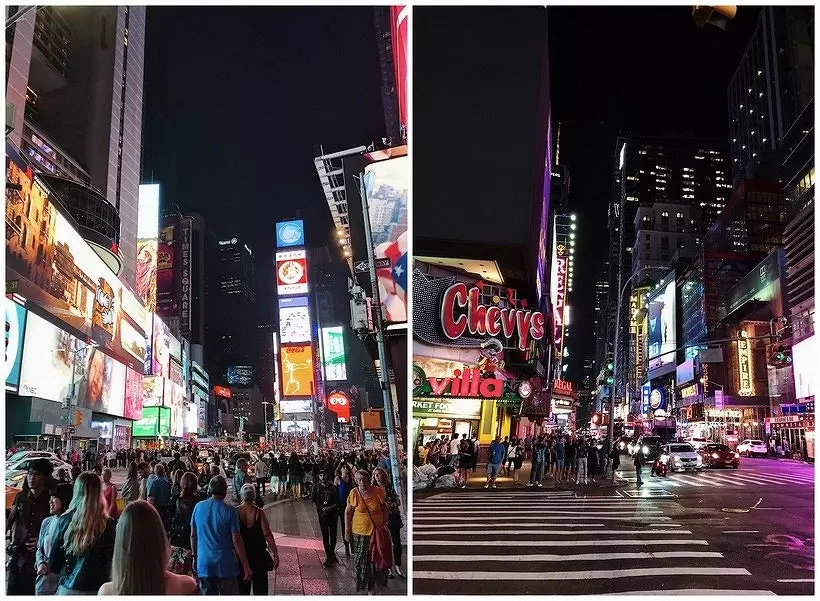 Taimso aikštė itin judri net ir nakties metu
Renkantis gyvenamą vietą Niujorke siūlyčiau atsižvelgti į atstumą nuo metro stotelių ir metro linijų patogumą, nors iš esmės metro čia yra tikrai puikiai išplėtotas. Tai yra greičiausia, pigiausia ir patogiausia transporto priemonė keliauti po miestą. Metro kortelė kainuoja 1 dolerį, o viena kortele galite naudotis kartu su draugu ar visa keliaujančia grupe, tiesiog įeinant į metro ją nuskaityti reikės keletą kartų. Vieno važiavimo kaina – 2,50 $. Tiek bilietus, tiek kortelę galima įsigyti daugumoje didesnių metro stotelių.
2 diena. Tęsiame pažintį su Niujorku
Kadangi gyvenome Manhatane, netoli Centrinio parko, taigi pirmąjį rytą pradėjome pasivaikščiojimu būtent ten. Galėjome tam skirti vos 1,5 valandos, tad turintiems daugiau laiko siūlyčiau labiau panaršyti po parką, išsinuomoti dviračius ir pasivažinėti jaukiais takeliais būtų tikrai geras ir patogus sprendimas.
Niekur per daug neskubėdamos ir taip "nepritikdamos" prie niujorkiečių ritmo, pasivaikščiodamos atėjome iki vieno iš didesnių dienos tikslų – Metropoliteno meno muziejaus. Tai yra didžiausias JAV muziejus ir vienas iš labiausiai lankomų muziejų visame pasaulyje, tad jam skyrėme didelę dienos dalį. Labiausiai mus sužavėjo tuo metu vykusi laikina paroda "Heavenly Bodies", kurioje buvo eksponuojami stilizuoti šiuolaikinės mados drabužiai susipynę su Viduramžių menu, taip pat prabangūs popiežių drabužiai ir aksesuarai. Mados mylėtojoms paroda turėtų nežmoniškai patikti, na, bent jau mes ten vaikščiojome išsižiojusios nuo mus supusio grožio (apsilankymo kaina suaugusiam asmeniui yra 25 doleriai).
Viešnagei Niujorke turėjome vieną tikslą – pamatyti Niujorką saulėlydžio metu, o tam puikiai tiko "Empire State Building." Į šį dangoraižį pakilti galima įsigijus dviejų tipų bilietus: 1) bilietą į 86 – ąjį aukštą (kaina apie 30–40 $); 2) bilietą į patį aukščiausią – 102 aukštą (kaina apie 50–60 $). Norėdamos pamatyti patį geriausią įmanomą vaizdą, pirkome bilietus į 102 – ąjį aukštą, tačiau, mano nuomone, pakanka bilieto į 86-ą aukštą. Vaizdas atsiveriantis iš 86-ojo aukšto yra tikrai ne mažiau įspūdingas, o gal net ir geresnis. Norint pamatyti tarp dangoraižių besislepiančią saulę, o ne žmonių nugaras, siūlau atvykti kiek anksčiau ir užsiimti stebėjimo vietą. O norint apskritai išvengti žmonių minios – patariu rinktis "Top of the Rock" apžvalgos aikštelę. Dar vienas patarimas: merginos, nelipkit ant "Empire State" dangoraižio su plevesuojančiu sijonu, kalbu is asmeninės skaudžios patirties... Bent jau tądien, kai mes lankemės šioje apžvalgos aikštelėje, vėjas buvo labai stiprus, o aš, kaip tyčia, vilkėjau sijoną. Buvau tikra žvaigzdė – Marilyn Monroe iš nuotraukos su pakeltu sijonu ☺.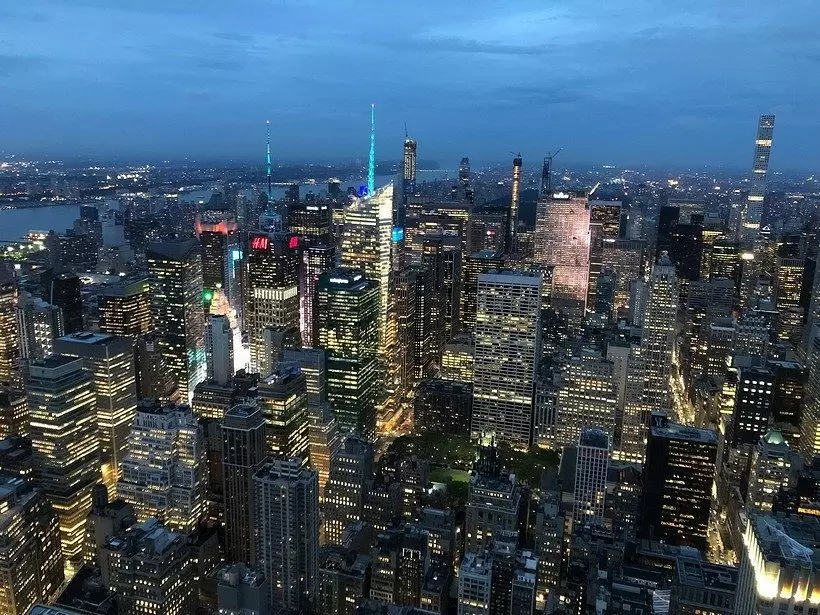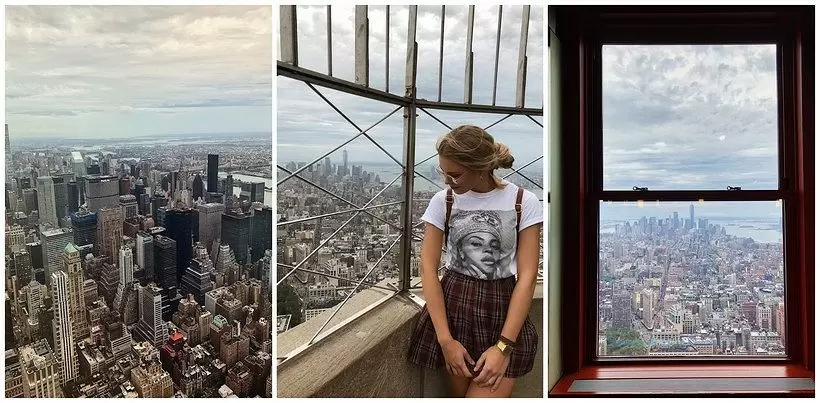 Vaizdai iš Empire State Building 86 – ojo aukšto
3 diena. Braidom po balas žemutiniame Manhatane
Šios dienos tikslas turėjo pavadinimą – tai Bruklinas. Bruklinas pasirodė ypatingai jaukus ir gražus Niujorko rajonas. Šios miesto dalies pagrindinis turistų lankomas objektas yra Bruklino tiltas, jungiantis Manhataną su Bruklinu. Labai gaila, tačiau stipti liūtis sutrukdė mums įdėmiau patyrinėti šį rajoną, tad jei tik turite laiko – būtinai tai padarykite už mus

.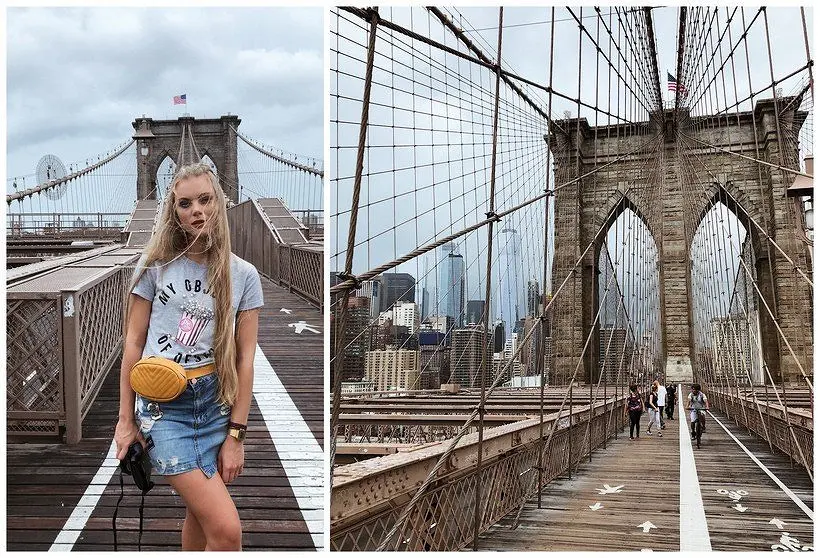 Bruklino tiltas 5 minutės iki prasidėsiančios liūties
Liūtis buvo tokia stipri, kad net draugės Godos įsidėtas skėtis mūsų nė kiek negelbėjo. Visiškai šlapios kaip vištos slėpėmės po Bruklino tilto atbraila, o vėliau ir požeminėje metro stotelėje. Lietus ir toliau mus lydėjo visą dieną kaip ir visiškai kiauriai šlapi batai, kurie per tądien nesugebėjo net šiek tiek apdžiūti. Vis dar pliaupiant lietui pėstute nuėjome iki Pasaulio prekybos centro memorialo (angl. World Trade Center Memorial, taip pat žinomo kaip 9/11 Memorial). Paminklas, skirtas rugsėjo 11 teroristinių atakų metu nugriautiems Pasaulio prekybos centro pastatams ir žuvusioms aukoms atminti. Ši vieta yra iš tiesų kvapą gniaužianti ir perteikianti stiprią emociją. Memorialai pastatyti buvusių dangoraižių vietose, tad galite įsivaizduoti jų dydį – per nuotraukas to perteikti neįmanoma.
Daugiau besidomintys šia istorija gali apsilankyti tarp paminklų esančiame 9/11 muziejuje, kuriame ieškodamos prieglobsčio nuo lietaus apsilankėme ir mes. Muziejuje tikrai galima sužinoti įdomių faktų apie šį įvykį, pamatyti fotografijas, įrašus ir pan. Įėjimas į muziejų asmeniui kainuoja apie 23 dolerius.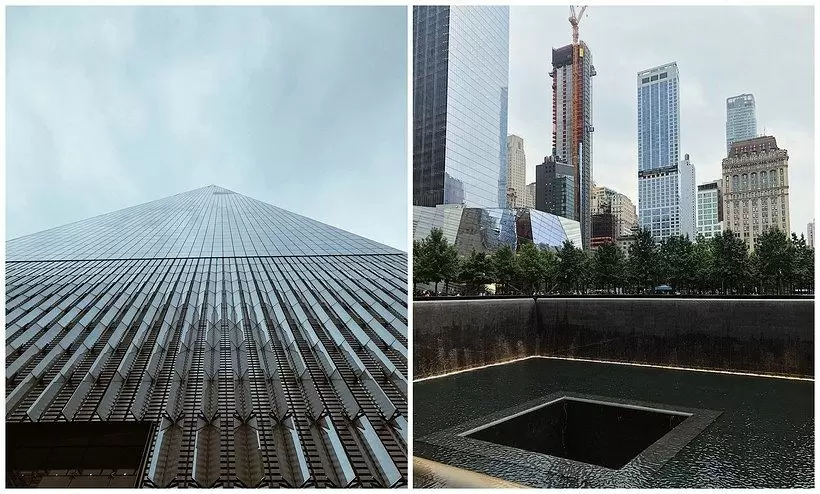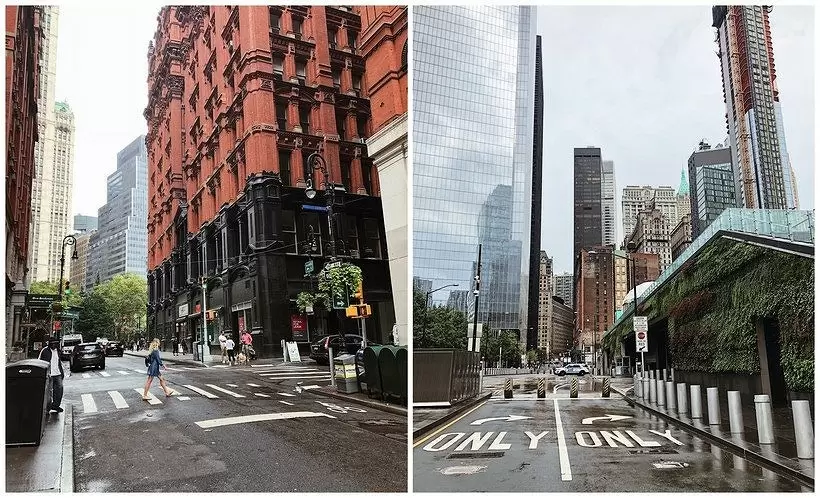 Nuotabios Bruklino gatvės ir Pasaulio prekybos centro memorialas
💡 Lankantis tokiose didmiesčiuose ir ketinant aplankyti daug objektų, labai apsimoka įsigyti miesto pasą. Vienu bilietu galėsite naudotis lankant žymiausius miestų objektus ir tikrai sutaupysite! Tačiau atskreipkite dėmesį, ar į pasą įeina jūsų norimos aplankyti vietos.
Niujorko lankomų objektų pasą rasite čia >>, o Filadelfijos – štai čia >>.
Šios 3 dienos praleistos Niujorke mūsų kompanjai tikrai įstrigo kaip nuostabus prisiminimas. Žinoma, norėjosi pamatyti dar daugiau, niekur neskubėti, praleisti daugiau laiko ir labiau pajusti niujorkietišką dvasią. Niujorką pamilome ir jame palikome neapsakomai daug neaplankytų vietų, tad į šį miestą kada nors tikrai grįšiu, manau, kad man pritartų ir Goda su Viktorija 🙂.
Tačiau čia kartu slypi ir kelionių žavesys: vieną vietą reikia paleisti, kad galėtum atrasti kitą, tai žinodamos susikrovėme lagaminus ir ryžtingai iškeliavome į oro uostą, juk mūsų jau laukė San Franciskas, Las Vegasas, Los Andželas ir daug daug parkų! Apie mūsų kelionės po Jungtinių Amerikos valstijų vakarinę pakrantę skaitykite kitame mano įraše, iki 😉.