Esu Ugnė ir jau kurį laiką darbuojuosi su "PasirinkSparnus.lt" komanda. Tik vasaros metu buvau palikusi kolegas Lietuvoje, o pati leidausi į nuotykį Amerikoje, kur dirbau ir, žinoma, keliavau. Kelionių po rytinę JAV pakrantę įspūdžiais dalinausi praėjusiame įraše (norėdami jį paskaityti spauskite čia), o šiame, paskutiniame iš trijų įrašų, noriu pasidalinti pačia smagiausia ir daugiausiai įspūdžių palikusia dalimi – kelione po vakarinę JAV pakrantę.
Trumpai priminsiu, jog visą vasarą kartu su draugėmis Viktorija ir Goda dirbome ir gyvenome Ošen Sičio (angl. Ocean City) miestelyje, kuris yra rytinėje žemyno pakrantėje. Nors visą vasarą gyvenome rytinėje pakrantėje, dar būdamos Lietuvoje ir pirkdamos lėktuvų bilietus namo, žinojome, kad būtinai turime aplankyti vakaruose esančius objektus. Taigi atgalinius bilietus iš karto įsigijome iš Los Andželo. Na, o kadangi buvome tinginės, detalaus kelionės plano neturėjome. Tiesiog žinojome, kad pirmoji mūsų stotelė vakarinėje JAV pakrantėje bus San Franciskas, o paskutinioji – Los Andželas. Nagi, keliame sparnus į San Franciską 😉.
Išsvajota kelionė į Jungtinių Amerikos Valstijų vakarinę pakrantę
4 diena. Keliame sparnus į vakarus
Atsisveikinome su Niujorku, pažadėjome kada nors būtinai sugrįžti ir patraukėme link oro uosto, kur mūsų laukė skrydis į vakarinę Amerikos žemyno dalį – San Franciską. Skrendant laikas atsisuko trijomis valandomis, tad turėjome gana ilgą dieną ir tiesiog leidome sau neskubėti, eiti kur norime, nieko neplanuoti ir ilsėtis, mat ateinančiai dienai jau turėjome didelių planų.
Išsimuomovome kambarį hostelyje, kuris turėjo labai keistą kvapą ir senovinį liftą, kuriuo naudojantis mintyse šnekėjau poterius, bet viską atpirko tobula jo vieta. Iki miesto centro mums buvo vos keletas minučių pėstute.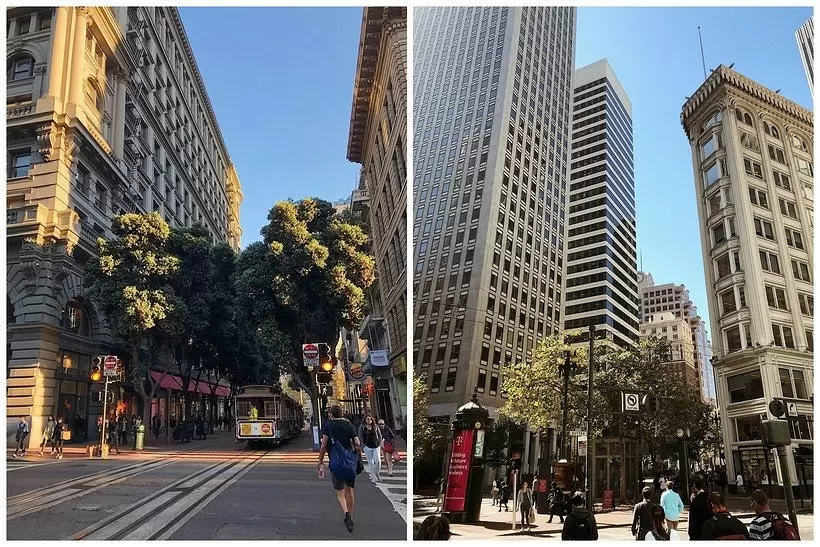 San Francisko gatvių vaizdai ir žymioji miesto transporto priemonė – Cable car
5 diena. Po San Franciską ant dviračių
Atsikėlusios ryte pavalgėme sveikų ir stiprių amerikietiškų pusryčių ("Nutellos" su džemu ant baltos duonos), kurie buvo įskaičiuoti į kainą, ir iš karto nubėgome nuomotis dviračių, kurie tapo visos dienos transporto priemone. Netoli namų radome nuomos punktą, kur už dviratį dienai sumokėjome po 24$. San Franciską labai patogu apžiūrėti keliaujant dviračiais, kadangi greta automobilių juostų yra specialios juostos skirtos dviratininkams. Važiuoti šaligatviais čia yra draudžiama, taigi turėjome būti visavertės kelių eismo dalyvės. Nenorintiems po San Franciską keliauti dviračiu taip dar yra patogu naudotis "Uber" ar "Lyft" programėlėmis arba išbandyti San Fransicko vizitine kortele tapusius Cable car (tai lynu po žeme velkamas traukinukas).
Šios dviračių dienos tikslas buvo Aukso Vartų tiltas (angl. Golden Gate Bridge) ir keletas San Francisko parkų. Iki raudonojo (auksiniojo) tilto keliavome nuostabiai gražiu maršrutu: pakrante nutiestais dviračių takais.

Tik siūlau atkreipti dėmesį renkantis kelionės dviračiais maršrutą, kadangi San Franciskas yra labai labai kalnuotas, o kai kurios įkalnės dviračiu yra tikrai neįveikiamos. Pasiekusios tiltą juo pervažiavome kiton pusėn ir grožėjomės nuostabiais vaizdais, kuriais dalinuosi su Jumis 😊.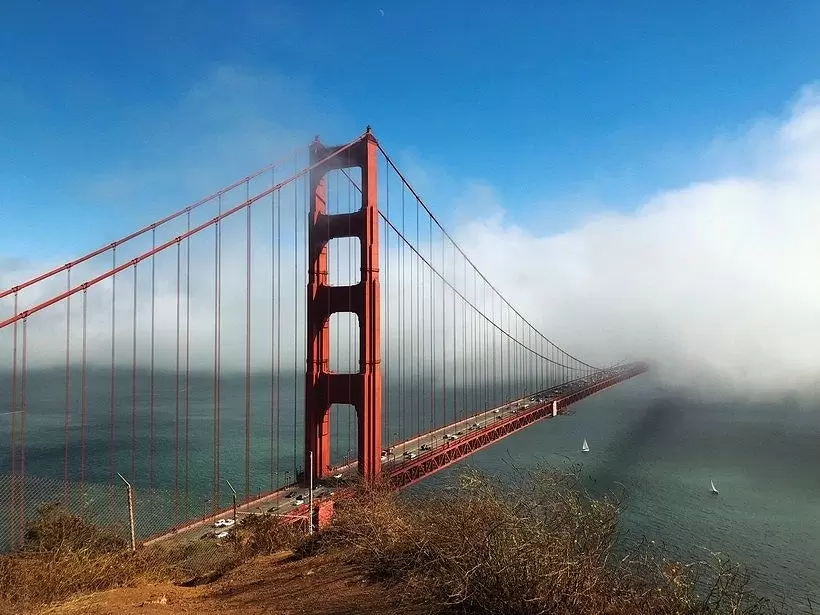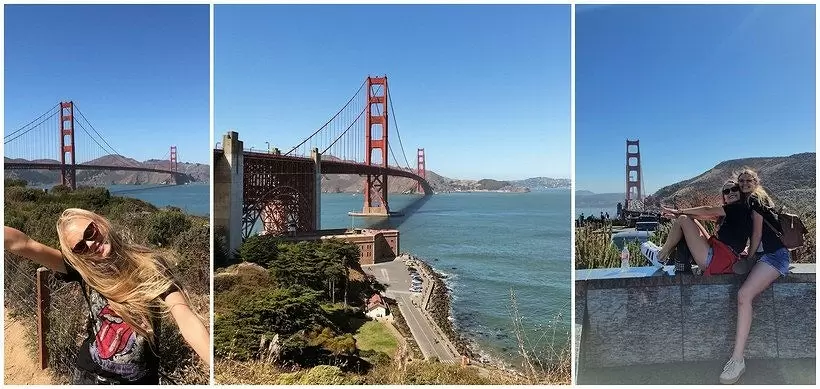 Aukso vartų tiltas – San Francisko simbolis
Neskubėdamos ir vis užsukdamos į parkus tądien dviračiais pasivažinėjome mažesnėmis jaukiomis miesto gatvelėmis. Rekomendacija vakarui (bet tinkama ir vizitui dienos metu): "Mission Dolores" parkas. Aš nieko daugiau nekomentuosiu, tiesiog paliksiu nuotrauką apačioje, viską suprasite patys...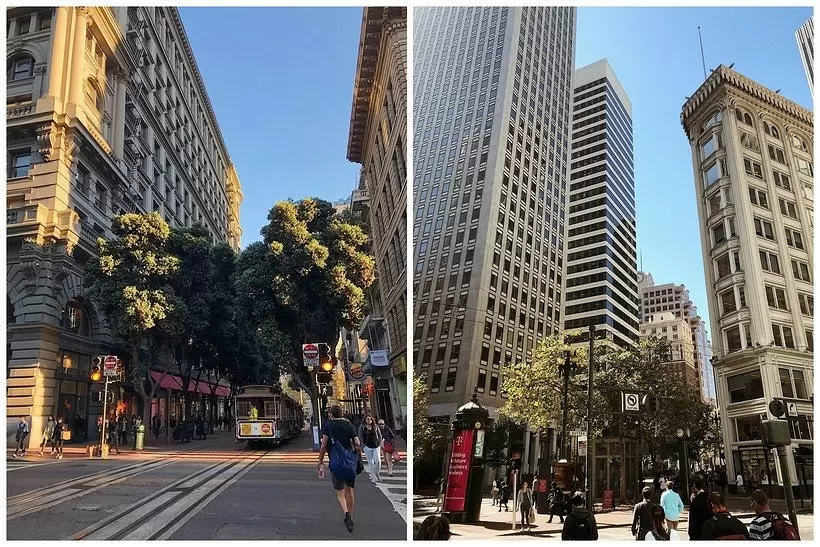 Neįtikėtino grožio vakarinė "Mission Dolores" parko panorama
6 diena. Paskutinė diena San Franciske – praleista kalėjime
Vienas lankomiausių San Francisko objektų yra Alkatraso sala esanti San Francisko įlankoje. Šioje saloje veikė griežčiausios tvarkos legendomis apipintas Alkatraso kalėjimas, kuriame kalėjo pavojingiausi šalies kaliniai, tarp jų ir gerai žinomas gangsteris Al Capone. Nedidelė izoliuota sala buvo laikoma ideali kalėjimui ne tik dėl geografinės padėties, tačiau ir kaip psichologinė kankinimo priemonė. Kaliniai galėjo matyti ir girdėti visai netoliese esantį miestą ir verdantį jo gyvenimą, patys leisdami laiką šio griežto režimo kalėjimo kamerose.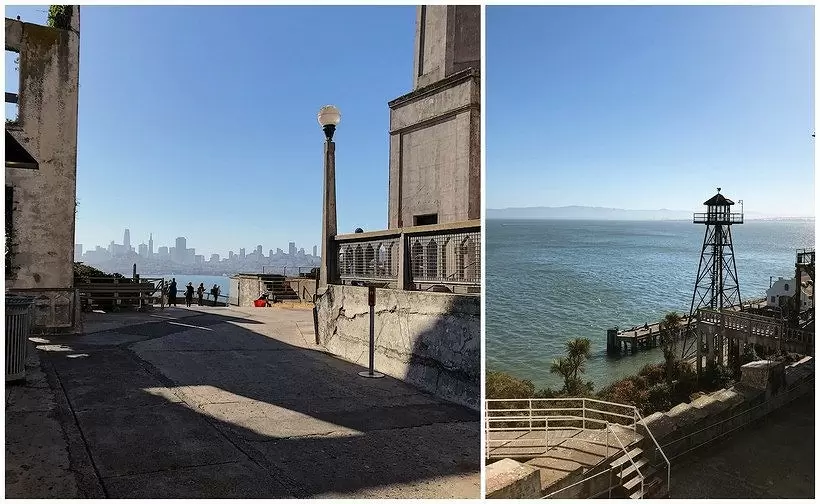 San Francisko miesto vaizdas iš Alkatraso salos
Norint gauti bilietus į šį itin didelio lankytojų srauto sulaukiantį objektą, bilietus reikia pirkti mėnesį ar kelis prieš atvykstant. Kadangi, kaip minėjau, išankstinio plano neturėjome, tad ir bilietų, žinoma, iš anksto nenusipirkome. Buvo gaila, jog negalime pamatyti šios miesto įžymybės, tačiau viešbučio administratorius patarė kuo anksčiau ryte vykti į prieplauką, iš kur išvyksta keltai į Alkatraso salą, kadangi žmonės kartais ten pardavinėja savo bilietus. Pasirodo, kas rytą kelios dešimtys bilietų yra parduodama pirmiems atsistojusiems į eilę prie kasų. Džiaugiuosi, jog surizikavome, kadangi mes patekome į laimingųjų sąrašą ir turėjome progą aplankyti Alkatraso kalėjimą.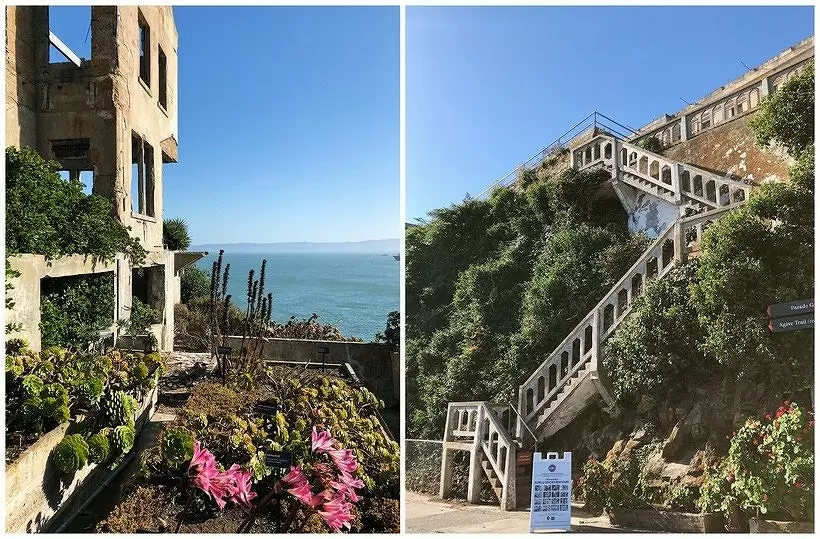 Alkatraso kalėjimas ne visur atrodo bauginančiai
Alkatraso kalėjimo muziejus man labai patiko. Kodėl? – Nes jame dienos metu vyksta įvairios paskaitos, pasakojimai ir reginiai. Tokiuose užsiėmimuose plačiau pasakojama apie kalėjimo ir kalinių istorijas. Ekskursijos po kalėjimą gidas yra audio ausinės, kuriose papasakojama šiek tiek kalėjimo istorijos ir nutikimų: pabėgimų, kalinių prisiminimų, istorijų. Klausantis įrašo galima vaikščioti po kalėjimą, įeiti į kameras ir vienutes.
Po apsilankymo Alkatraso saloje dar spėjome pasivaikščioti ir tai buvo viskas, paskutinė mūsų naktis San Francisko mieste, o plano kur keliausime toliau vis dar neturėjome. Griežtai užsibrėžėme imtis kelionės planavimo ir tam paskyrėme visą vakarą, juk jau ateinantį rytą mūsų laukė šiek tiek gąsdinanti nežinomybė: kur vykti? kokiu transportu? kur nuomotis automobilį? kur nakvosime?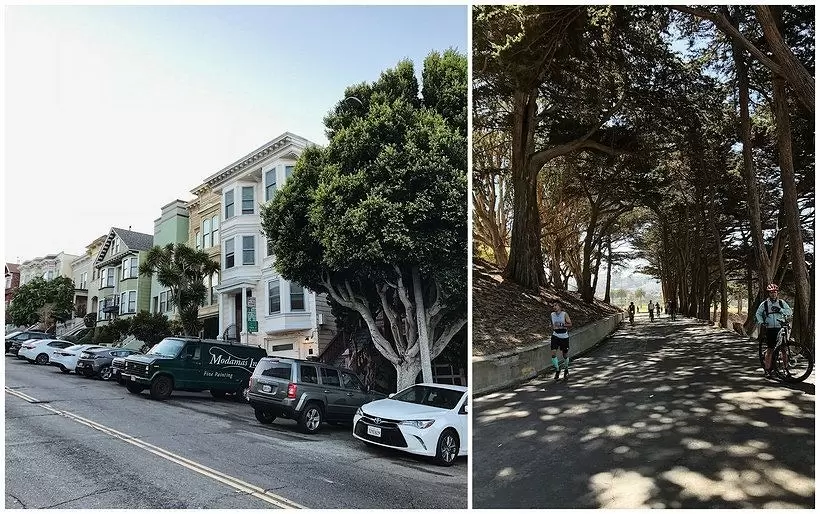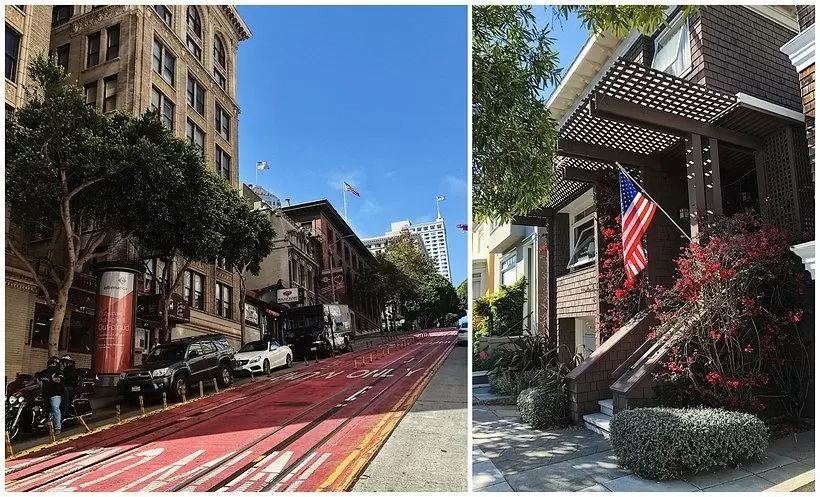 Jaukios San Francisko gatvės
7 kelionės diena. Iš nežinomybės į pirmąjį nacionalinį parką
Praėjusio vakaro metu šį tą nusprendėme: vyksime į oro uostą, ten nuomosimės automobilį likusiam kelionės laikui ir važiuosime į Josemičio nacionalinį parką (angl. Yosemite national park).
Visos nebuvome itin patyrusios vairuotojos, dėl to nuomotis automobilį buvo didžiulė baimė. Jau dabar, pasibaigus kelionei, galiu pasakyti, jog vairuoti Amerikoje labai patogu. Keliai labai platūs ir geri, ženklai aiškūs, o didžąją laiko dalį tereikia važiuoti tiesiai. Pats geriausias dalykas – važiuojant atsiveria nerealūs vaizdai!
Prieš atsisveikindamos su San Francisku, kurį nežmoniškai įsimylėjome, sustojome nusipirkti miegmaišių, pagalvių ir maisto, kadangi žinojome – pirmąją naktį praleisime automobilyje. Parkų teritorijose miegoti draudžiama, tad nuvykusios į Josemičio nacionalinį parką pasistatėme automobilį už parko teritorijos esančio viešbučio pašonėje ir ten praleidome pirmąją savo naktį.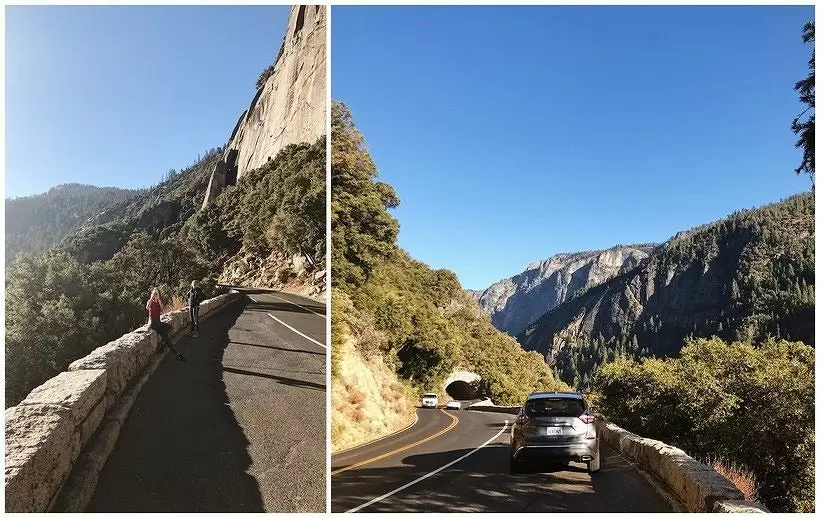 Pirma pažintis su nacionaliniu Josemičio parku, prieš ateinančios dienos žygį
💡 Besiruošiant keliauti po parkus būtinai iš anksto pasirūpinkite parkų pasu, kad netektų mokėti už kiekvieną parką, kuriame planuojate apsilankyti, atskirai. Paso kaina 80 dolerių ir jį įsigyti galite čia >> arba perpirkti iš kitų keliautojų, kadangi jo galiojimo laikas yra vieneri metai.
8 diena. Josemičio nacionalinis parkas
Naktį praleidusios pusiau miegodamos, pusiau laukdamos ryto, jo pagaliau sulaukusios išsiruošėme į pirmąjį savo gyvenime žygį į kalnus. Nacionaliniuose parkuose esančios trasos dažniausiai yra suskirstytos pagal sunkumą, o apie jas galima iš anksto paskaityti internete. Mes pasirinkome vidutinio sunkumo trasą ir mūsų žygis truko 6 valandas. Turiu pripažinti, žygis buvo ganėtinai sunkus, teko kopti stačiomis įkalnėmis, siaurais kalnų takeliais ir gana pavojingais akmeniniais laipteliais, tačiau pasiekus tikslą pamatyti vaizdai atpirko visus vargus. Užlipus atsivėrė nuostabi kalnų ir miškų panorama. O tai buvo tik tarpinė stotelė! Noritntys ir dar turintys jėgų gali kopti ir dar aukščiau. Mums, kaip pirmam žygiui gyvenime, užteko ir šio įspūdingo vaizdo: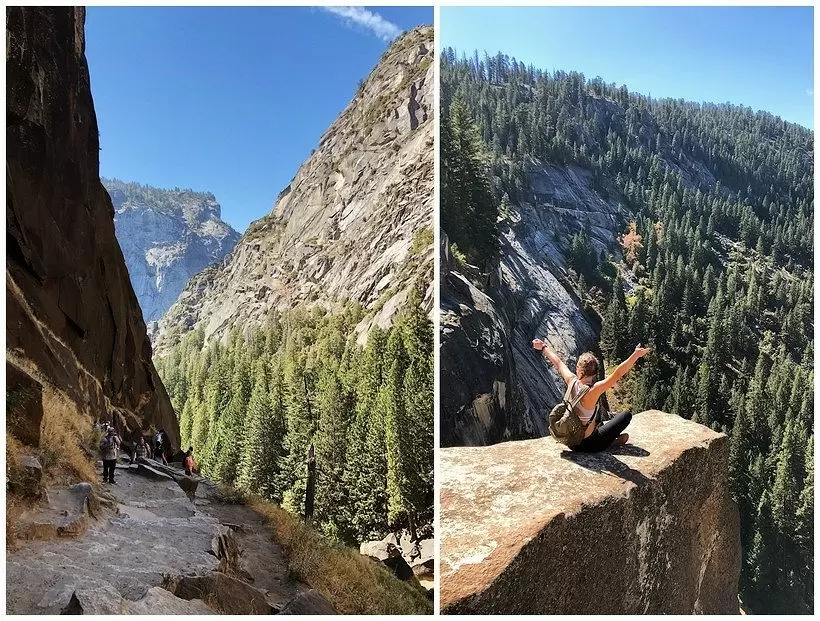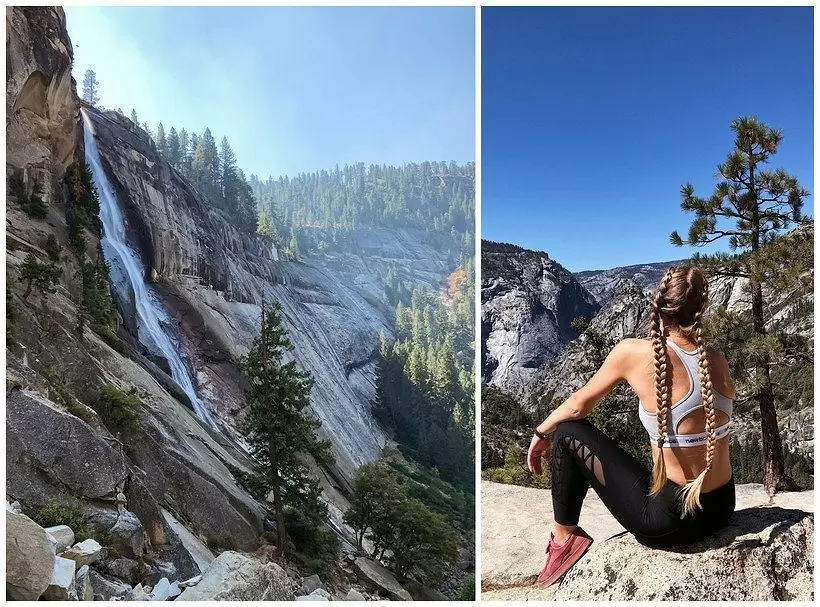 Žygis tikrai buvo vertas tiek pavargti: užkopus atsivėrė nuostabi gamtos panorama
Nors mes parke buvome tik vieną dieną ir įveikėme tik vieną žygį, Josemičio nacionalinis parkas turi daug trasų, įtiksiančių įvairių poreikių žygeiviams. Šio parko vaizdai tikrai nerealūs ir parkas yra neabejotinai vertas daugiau nei vieno žygio. Mano rekomendacija būtų jam skirti bent 2 dienas.
Po varginančios dienos vakare nusprendėme važiuoti toliau. Važiuodamos pro Bishop miestelį radome kempingą ir ten praleidome dar vieną naktį savo automobilyje.
9 diena. Karštasis Mirties slėnis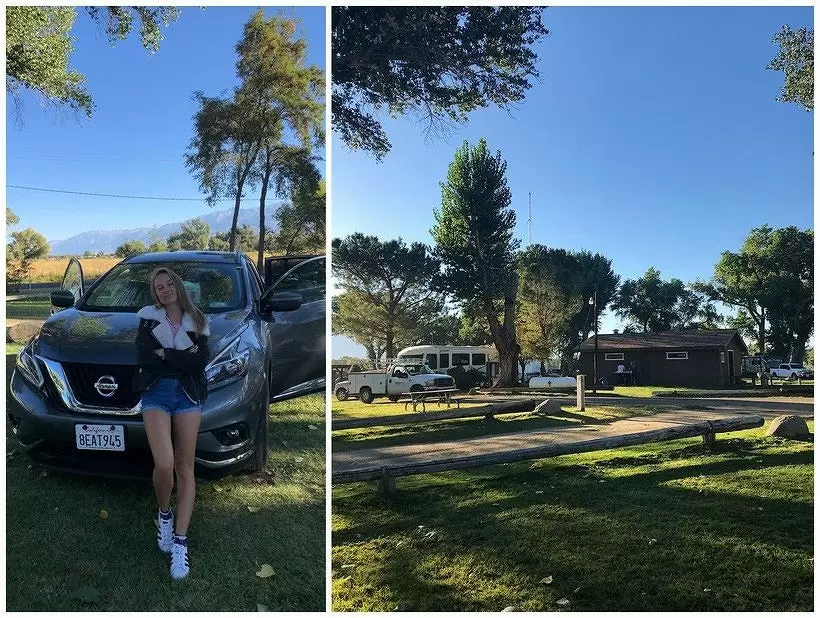 Kelioms naktims nuomotas automobilis tapo mūsų viešbučiu
Šios dienos tikslas – renkantis maršrutą pro Mirties slėnį (angl. Death Valley) vakare pasiekti Las Vegasą. Kelionė turėjo trukti apie 5 valandas. Nors iki Las Vegaso yra ir greitesnis maršrutas, labai rekomenduoju rinktis kiek ilgesnį kelią ir būtinai aplankyti Mirties slėnio parką, kuris yra karščiausias ir sausiausias parkas JAV. Lygumas ir dykumas keičia įspūdingi kalnai, tarpekliai ir įdubos – vaizdai tikrai priverčiantys sustoti pasigrožėti ir nesvarbu, jog lauke nežmoniškas karštis.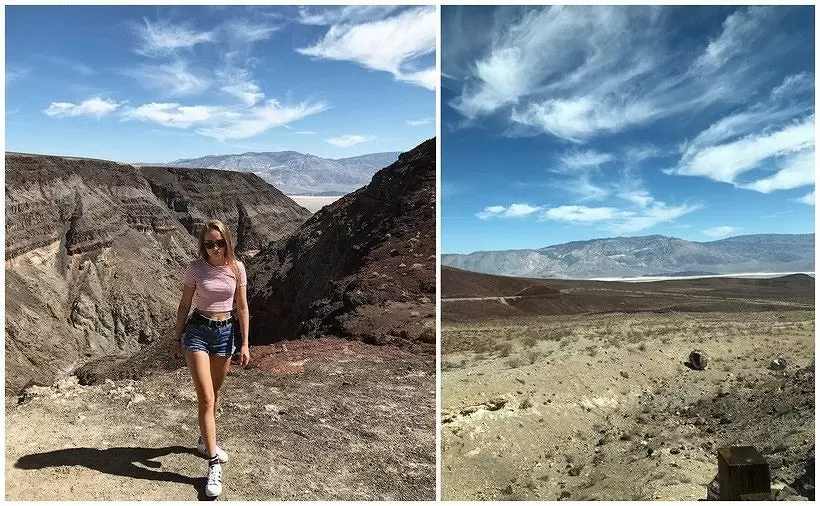 Vaizdai iš Mirties slėnio
Atėjo labai nelauktas ir baisus kaip velnias momentas..... MUMS PIRMĄ KARTĄ REIKĖJO UŽSIPILTI KURO! Kaip jau sakiau, mes visos nebuvome itin patyrusios vairuotojos, nežinojome nei kokio kuro mums reikia, kaip jo nusipirkti ar kaip jį įsipilti. Po pusvalandžio praleisto degalineje ir pašokdinus tiek degalines klientus, tiek darbuotojus, mūsų kuro bakas buvo pilnas ir galėjome tęsti kelionę.
10 diena. Atokvėpis Las Vegase
Tiesą sakant, didelių planų Las Vegasui neturėjome. Kaip ir tikėjomės, miestą sudaro vien viešbučiai ir kazino, tad dieną skyrėme tiesiog poilsiui prie baseino ir tik vakare, miestui nušvitus naktinėmis spalvomis, išėjome pasivaiksčioti žymiąja Strip gatve.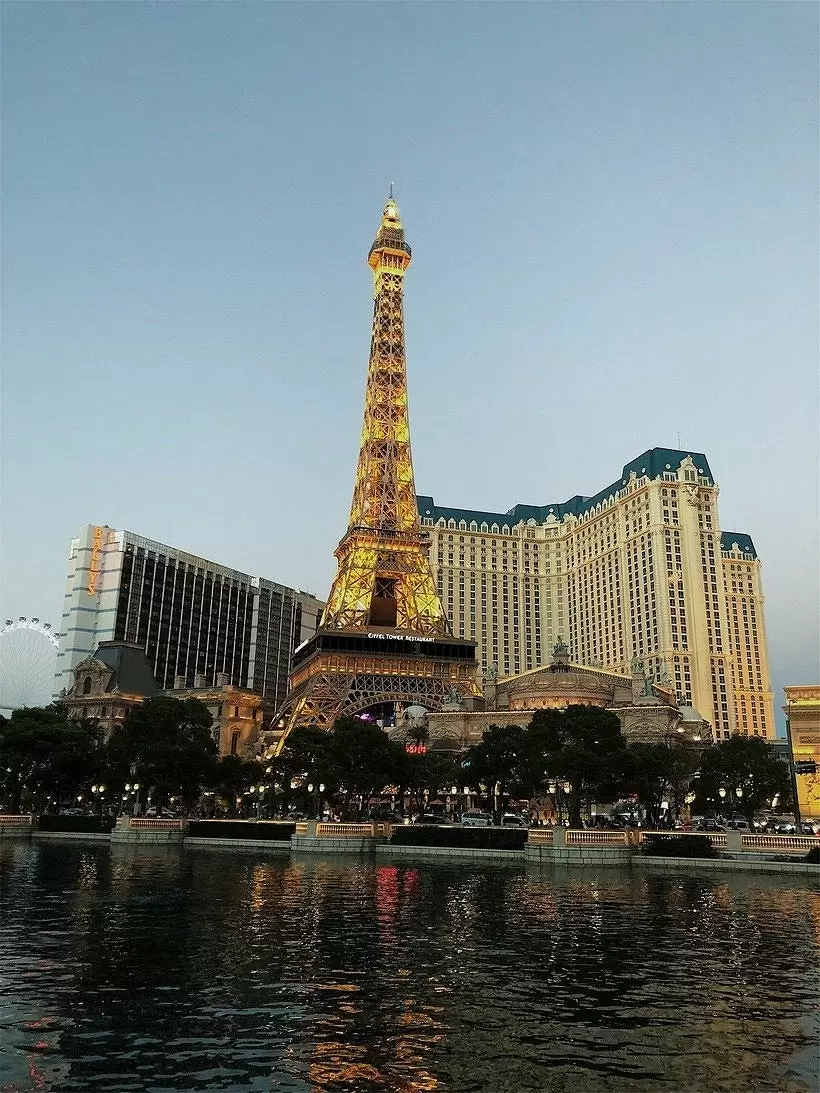 Las Vegaso viešbučių panorama
Tiesa, vienas iš dalykų, ką galima nuveikti Las Vegase, tai pasivaikščioti po prabangius viešbučius. Tokie viešbučiai turi didžiulius savo prekybos centrus su daug įvairiausių prabangių parduotuvių ir pramogų, tad daug atvykėlių eina pasidaryti į tokius viešbučius kaip "Ceasars", "The Venetion", "Bellagio", "Luxor" ar daugelį kitų.
11 diena. Zajono nacionalinis parkas
Šios dienos tikslas buvo kuo anksčiau palikti miestą ir visą dieną praleisti Zajono nacionaliniame parke (angl. Zion National Park). Nuo Las Vegaso iki parko buvo vos 3 valandos kelio automobiliu, tad dar prieš pietus jau buvome pasiekusios savo tikslą.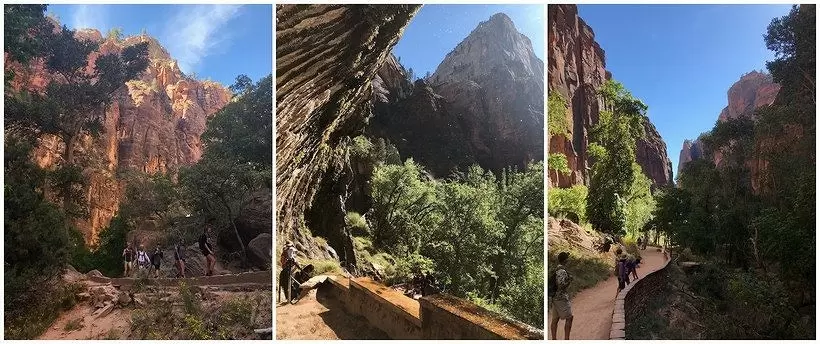 Pagrindinių trasų neglėjome aplankyti dėl potvynio, tad aplankėme tik keletą mažesnių
Pagal pirminį savo planą ir kitų rekomendacijas Zajone turėjome praleisti 2 dienas, tačiau iš pažįstamų sužinojome, kad daugelis parko trasų yra uždarytos dėl potvynio 😭 Nusprendėme parkui paskirti tik vieną dieną ir keletui mažesnių atidarytų trasų apžiūrėti laiko mums užteko. Veikiant visoms trasoms tikrai rekomenduoju Zajono nacionaliniame parke praleisti 2 dienas – tai visai kitokio tipo kalnai nei Josemičio nacionaliniame parke: Zajone yra didelis itin lengvų trasų pasirinkimas, kurios nereikalauja didelių pastangų ir yra daugiau pasivaikščiojimas, nei kopimas. Pats nacionalinis parkas yra labai gražus ir sutvarkytas, atrodė daug "civilizuotesnis" nei Josemičio parkas.
Po žygių toliau važiavome numatyta kryptimi, o pakeliui esančiame kempinge ir vėl teko prisiminti miegojimo automobilyje subtilybes... 🙄
12 diena. Išsvajotas Antilopės kanjonas ir nuvilianti patirtis
Šią dieną norėjime aplankyti 3 objektus, kurie yra išsidėstę vienas nuo kito visai nedideliu atstumu. Tiesą sakant, šioje teritorijoje jų yra net daugiau, tad jei keliaudami turite laiko, būtinai pasidomėkite, ką dar galite aplankyti.
Ryte atvykome į Braiso Kanjono nacionalinį parką (angl. Bryce Canyon National Park). Galiu teigti, kad tarp mūsų aplankytų parkų būtent šis man pasirodė vienas gražiausių. Čia raudonų atspalvių kalnai tarsi atvirkšti varvekliai plyti į visas puses, kiek tik gali matyti horizonte. Deja, plano į priekį neturėjimas, kaip minėjau, turi ir pliusų ir minusų, tad blogai susiplanavusios laiką supratome, jog šiame parke tegalime pabūti vos valandą.... Visos buvome tikrai nusivylusios savo nesugebėjimu apskaičiuoti laiko, tačiau kito parko praleisti negalėjome, jį pamatyti buvo didžiulė svajonė!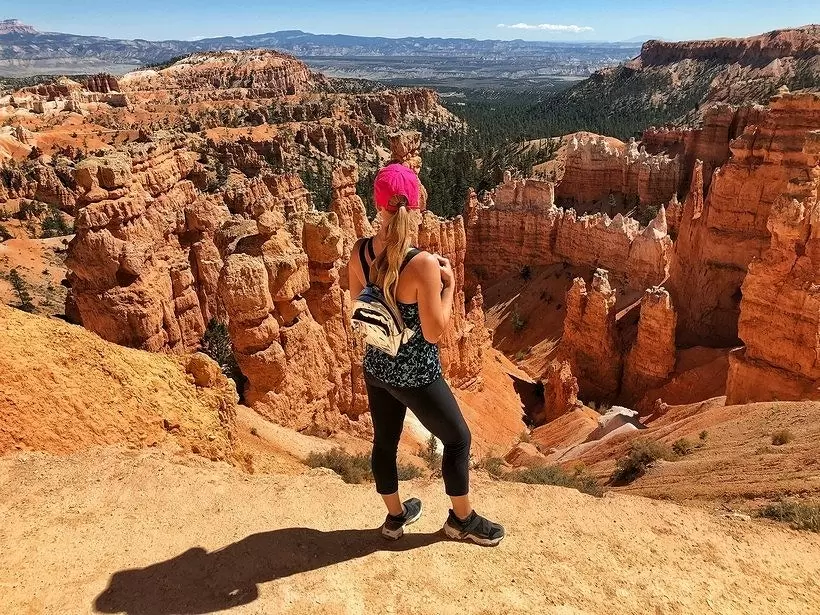 Nors parkui galėjome skirti tik valandą, mūsų tijulei jis be galo patiko
Ta didelė svajonė buvo pamatyti Antilopės kanjoną. Tai buvo vienintelis parkas (po Didžiojo kanijono), kurio pavadinimą žinojau dar būdama Lietuvoje ir kurį aplankyti buvo mano siekiamybė. Vėlgi, dėl parko populiarumo ir didelio lankytojų srauto, bilietus apsilankymui reikia pirkti iš anksto ir atvykti paskirtu laiku. Taip pat, tai buvo vienintelis parkas, už kurį reikėjo mokėti papildomai (į parkų pasą Antilopės kanijonas neįeina).
Nuvykus į vietą buvo pranešta, jog su savimi negalima turėti visiškai jokių daiktų, tik telefoną ir vandens, net didesnėms fotokameroms reikia gauti leidimą. Paskirtu laiku susirinkę turistai buvo suskirstyti į grupes po septynis asmenis, susodinti į džipus ir paskirtas gidas per smėlynus vežė mus pamatyti kanjono. Nuvykus į Antilopės kanjoną gidė mums pasakė telefone įsijungti tam tikrą filtrą, mat su juo nuotraukos bus gažesnės. Mums buvo pasakyta, kad vienoje vietoje per ilgai stovėti negalime, taip pat negalime atsilikti nuo grupės, visą laiką turime laikytis dešinės kanjono pusės ir klausyti kitų gidės nurodymų. Gidė tik keletu sakinių užsiminė, kaip šis gamtos objektas susiformavo, o tuomet buvome pamokyti, kaip reikia taisyklingai šį gamtos šedevrą fotografuoti, kad nuotraukos gautųsi tokios, kokias matome internete. Tam, kad išgautume tokias gražias nuotraukas, reikia naudotis ne tik filtru: fotografuoti reikia tam tikru kampu ir iš tam tikros vietos, šviesa turi kristi iš reikiamos pusės ir t.t. Vienu žodžiu, nuotraukos kokybė priklauso nuo daugybės mažų niuansų... Jei neišeina nufotografuoti – nieko tokio, gidė paima tavo telefoną ir padaro tai už tave. Taip gražus įspūdis apie šį parką labai greit buvo "nugesintas" ir pasibaigus turui visos buvome švelniai tariant suglumusios, klausėme savęs: "kas čia ką tik įvyko?" Taip svajone buves parkas virto labiausiai nepatikusiu parku iš visų aplankytų Jungtinėse Amerikos Valstijose...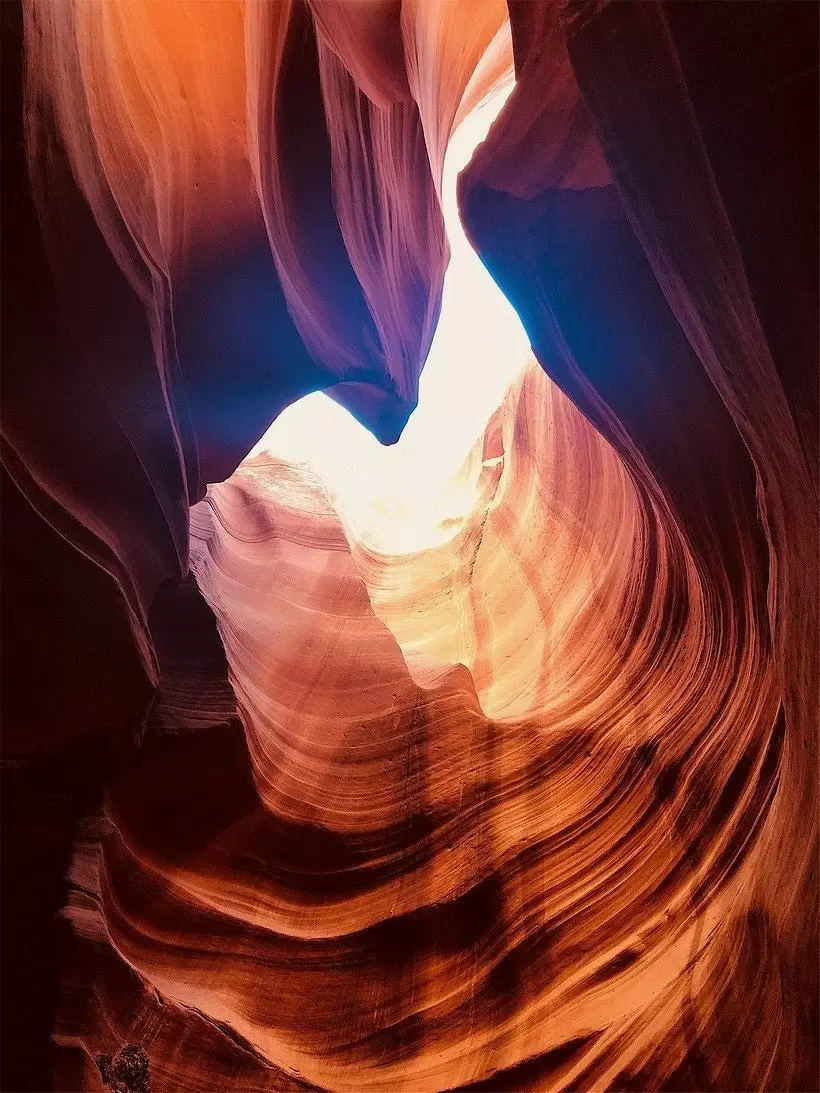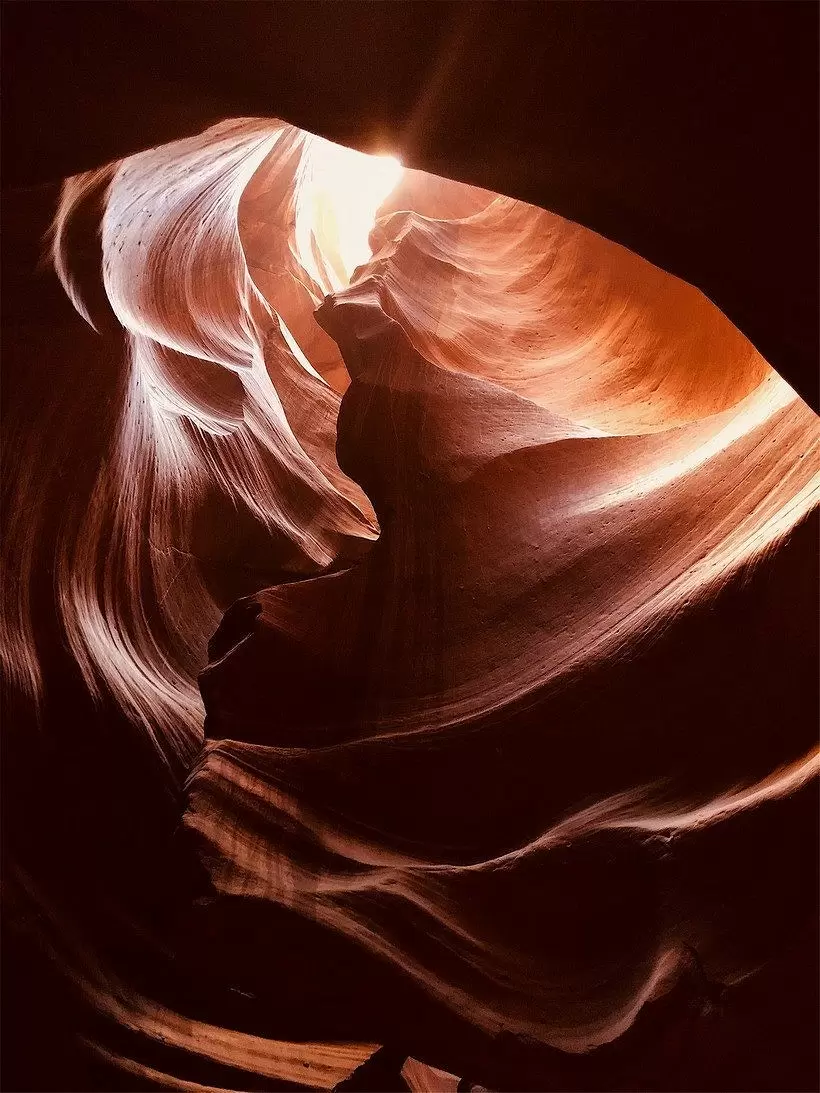 Keletas labiau pasisekusių kadrų iš Antilopės kanjono fotosesijos seanso
Visgi, pabendravus su kitais keliautojais paaiškėjo, kad Antilopės parkas, kitaip nei mums, jiems patiko. Galų gale, tikriausiai viskas labai priklauso nuo grupę lydinčio gido. Kiti lankytojai sužinojo daug informacijos apie patį gamtos objektą, o mes gavome informacijos, kur geriausia atsistoti, norint tobulos nuotraukos...
Padėtį pataisė tai, jog vos už 15 minučių kelio automobiliu nuo Antilopės kanjono yra kita įspūdinga lankytina vieta – tai Horseshoe bend. Kadangi dar turėjome laiko, nusprendėme užsukti ir čia. Užsukusios tikrai nepasigailėjome, nepaisant to, kad tuo metu oro temperatūra buvo netoli 40 laipsnių karščio. Horsehoe bend yra pasagos forma tekanti upė tarp kalnų (suprasti, manau, kiek sunku, tad įsivaizdavimui pateikiu nuotraukas žemiau). Vaizdas ten tikrai nuostabus, todėl būtinai rekomenduoju aplankyti šią vietą, jei esate netoliese!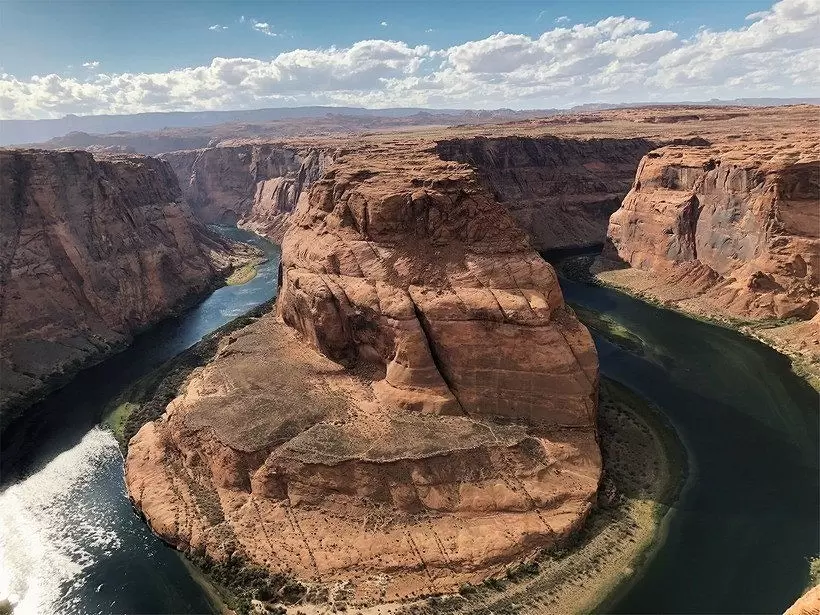 Nesigailėjome užsukusios aplankyti Horseshoe bend
Vėl patraukėme į kelią jau žinodamos – tai pagaliau bus paskutinė mūsų nakvynė automobilyje!
13 diena. Įspūdingas Didysis kanjonas
Visa ši diena mūsų kelionės planuose buvo paskirta visiems gerai žinomam objektui – didingam Didžiajam Kanjonui.
Didysis kanjonas iš tiesų yra labai didelis, tad daug šio gamtos stebuklo gražių vietų galima pamatyti tiesiog važiuojant automobiliu ir sustojant pasigrožėti vaizdais apžvalgos aikštelėse. Kadangi turėjome visą dieną, ruošėmės eiti į žygį po Didįjį kanjoną. Nors buvome išsirinkusios ilgesnį maršrutą, Didžiojo kanjono darbuotoja mus įtikino, kad diena yra per karšta kopti taip ilgai, todėl pasirinkome trumpesnį 4 valandų maršrutą.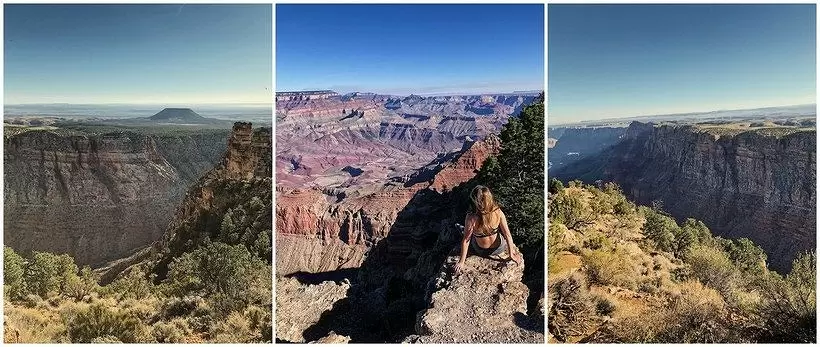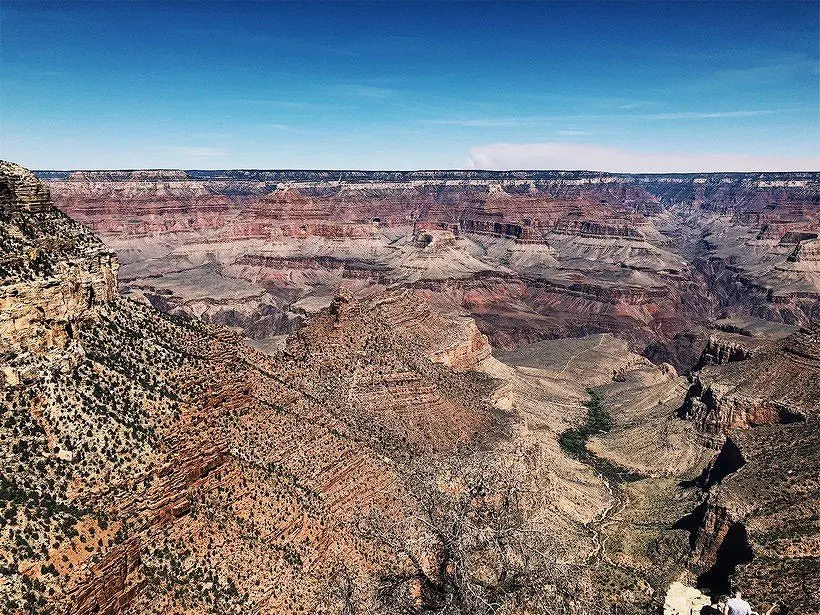 Nerealios Didžiojo kanjono panoramos
14 diena. Keliaujame į Los Andželą
Pernakvojusios įtartinos išvaizdos motelyje, kuriam sumokėjom vos 40 dolerių už nakvynę, visą dieną praleidome kelyje link Los Andželo. Nuo mūsų motelio iki Los Angelo turėjome įveikti 6–7 valandas autobomiliu.
Žinoma, kaip su mumis be cirkų... Važiuodamos dykuma supratome, jog liko labai mažai kuro. Pradėjome ieškoti degalinės ir arčiausioji buvo tik uz 40 mylių, panašiai tiek, kiek automobilio sistema rodė, kad dar galime nuvažiuoti su turimu kuro kieku. Na ką, išjungėme kondicionierių, nors lauke buvo 40 laispsnių šilumos, ir sukome iš pagrindinio kelio ieškoti kuro. Ir Dieve mano... Mes atvažiavome į miestelį iš siaubo filmo, tikrai, nemeluoju! Aplinkui plytėjo vien dykuma, karštis buvo žvėėėriškas, o vidury lauko testovėjo viena degalinė su apgriuvusiais pastatais alinkui. Daugiau nė gyvos dvasios. Vis dėlto džiaugemės radusios kuro, už kurio galoną mokėjome dvigubai daugiau nei įprastai. Tuomet kelionę teko tęsti žymiuoju Amerikos 66 keliu. Kelias žymus tuo, kad jis nutiestas bene per visą Ameriką: nuo Čikagos iki Kalifornijos ir jo ilgis yra 3 940 km. Tai pats prasčiausias kelias, kokiu mums teko važiuoti visos kelionės metu: vaizdas šįkart priminė lietuviškuosius milijoną kartų lopytus kelius, aplinkui plytejo vien dykuma ir svilinantis karštis, važiavome pro mirusius miestelius ir itin nykios augalijos panoramas. Taigi pamokslas būtų nedainuoti visą laiką kelyje, kaip darėme mes, o atsakingai stebėti kuro atsargas 😃.
15 – 17 dienos. Pramogos spalvingame Los Andželo mieste
Los Andželo mieste prie mūsų prisijungė dar viena draugė Giedrė ir čia buvome numačiusios apsistoti 3 dienoms, o ketvirtosios rytą mūsų jau laukė skrydis namo.
Per šias keletą dienų Los Andžele aplankėme Grifito observatoriją, iš kurios atsiveria viso miesto vaizdas. Besidomintys astronomija ras įdomios veiklos ir observatorijos viduje, į kurią įėjimas yra nemokamas. Turint daugiau laiko rekomenduoju atvykti pasižiūrėti ir naktinės miesto panoramos.
Los Andžele, žinoma, aplankėme ir žymiąją Holivudo šlovės alėją, garsiąsias Los Andželo meno muziejaus šviesų instaliacijas, leidomės stikline čiuožykla "OUE Skyspace" apžvalgos aikštelėje. Taip pat visą dieną, nuo atidarymo iki pat uždarymo praleidome "Universal studios", o jei tik būtume galėjusios, būtume praleidusios čia ir dar 2 dienas.
Los Andžele iš tiesų patogiausia keliauti su "Uber" ar "Lyft" programėlių paslaugomis, tai greičiausias ir patogiausias transporto būdas.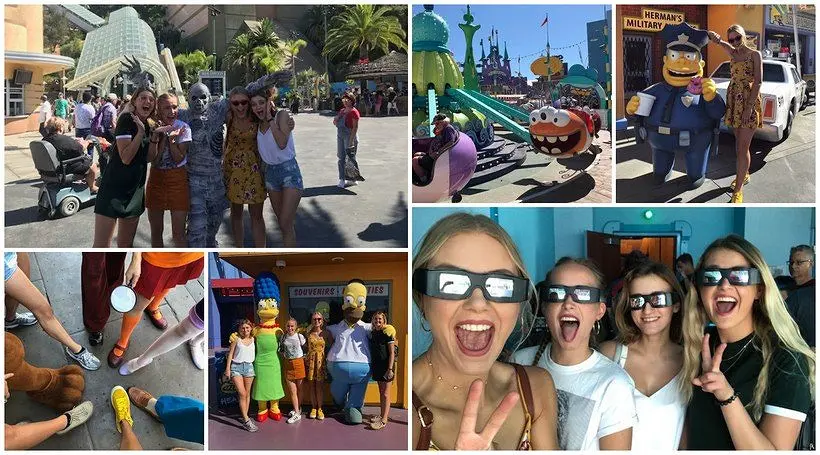 Visą dieną nuo atidarymo iki uždarymo praleidome "Universal studios"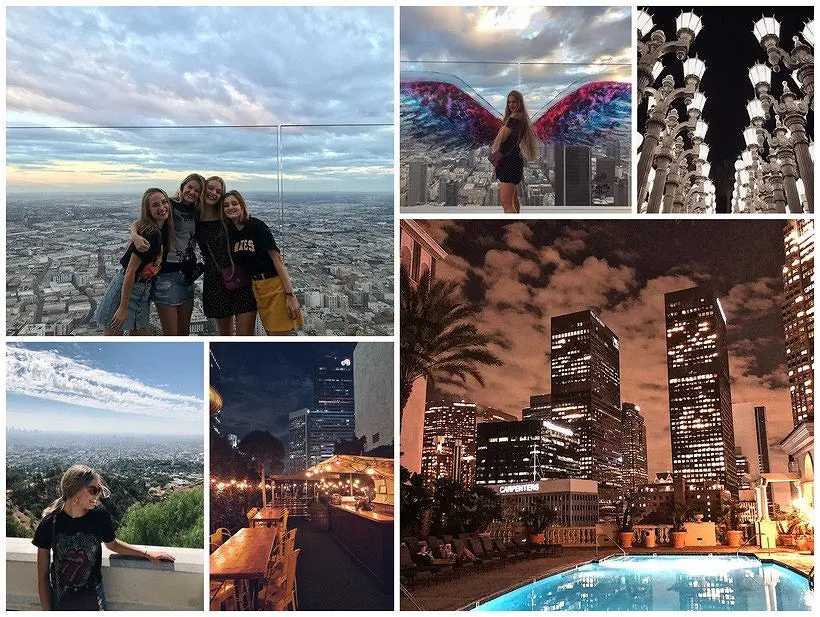 Los Andžele praleistų dienų įspūdžiai
18 diena. Skrydis namo
Vargais negalais susipakavome lagaminus ir labai nenoromis leidomės į kelionę atgal į Lietuvą.
Apibendrindama galiu tikrai nuoširdžiai pasidžiaugti kelione. Nors kelionės pradžia ir laukianti nežinomybė buvo baisi, visu šimtu procentų mūsų lūkesčiai buvo pateisinti, pamatėme net daugiau nei tikėjomės. Šią patirtį tikrai kartočiau ir rekomenduočiau išmėginti patiems

Nors neturėjome tikslaus plano iš anksto, tai suteikė mums galimybę bet kada keisti savo planus pagal susiklosčiusias aplinkybes, ką ir darėme begalę kartų. Žinoma, dėl to kilo ir keletas nesklandumų, tačiau dabar juos prisimenam tik su šypsena.
Godos komentaras apie kelionę: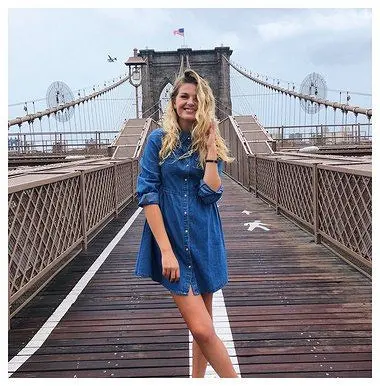 "Šiemet Kalėdos atėjo rugsėjį. Bent mano akims. Per beveik tris savaites teko patirti tiek įspūdžių ir pamatyti tiek gamtos bei miestų grožio, kiek tikriausiai per tokį trumpą laiką gyvenime nebeteks.
Labiausiai atmintyje įstrigo Josemičio ir Braiso nacionaliniai parkai. Kuomet sunku patikėti, kad toks gamtos sukurtas vaizdas tikrai egzistuoja ir kaip būtų gaila bent kartą gyvenime to nepamatyti.
Taip pat buvo labai smagu aplankyti didžiuosius miestus: kelionė dviračiais per San Franciską, liūtis ant Bruklino tilto bei nuotykiai Hogvartse aplankant "Universal Studios" Los Andžele.
Tikriausiai svarbiausias patarimas ketinantiems po JAV keliauti automobiliu – pasidomėti maršrutu ir jame esančiomis degalinėmis. Apsidrausti verta norint išvengti kelionės per dykumą svilinant +40 laipsnių karščiui besimeldžiant, kad artimiausiu metu atrastumėte degalinę, o "smagiausia", kai tuo metu jūsų automobilio skydelis įspėja, kad turimo kuro užteks tik 20 – čiai mylių..."
Viktorijos komentaras apie vasaros įspūdžius: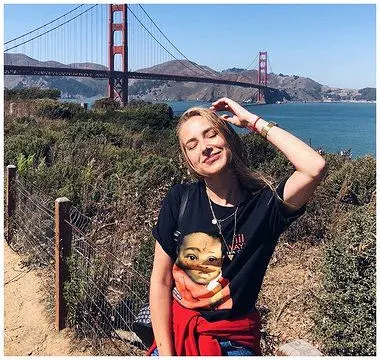 "Iš asmenines patirties sakau: leistis į tokią kelionę – tik automobiliu. Taip būsite ir nevaržomi aplinkinių ir "tyrinejimo jausmas" bus stipresnis.
Labai smagu važiuoti vedamiems navigacijos (nors kažkur viduje ir nerimaujant ar ji veda teisinga kryptimi), pakeliui matyti nuostabius kalnus, uolas, važiuoti per dykumą, per miškus, aiškiai matyti kaip keičiasi kraštovaizdis, sustoti Mirties slėnyje kad ir viduryje kelio, būtent tada, kada pats nori, o ne kada stoja autobusas – nusifotografuoti ir važiuoti toliau.
Automobilis tokioje kelioneje gali tapti ir viešbučiu: keliaujant spontaniskai ne visada pavyksta rasti juos iškart. Skamba galbūt ir baisiai, bet patirtis smagi! Visi nacionaliniai parkai apsupti daugybes kempingų, kuriuose nakvoja ne vienas toks keliautojas. Teritorijos saugomos, apšviestos, tad miegoti automobilyje kartais gali būti visai gera išeitis!"
Pirmąjį įrašą apie mano darbą ir nuotykius Ošen Sityje galite paskaityti čia >>
Įrašą apie keliones po rytinę JAV pakrantę rasite čia >>