Esu Ugnė ir jau kurį laiką darbuojuosi su "PasirinkSparnus.lt" komanda: pradėjau gilintis į kelionių subtilybes praktikos metu praeitą lapkritį ir šiek tiek čia užsibuvau 🙂. Tik vasaros metu buvau palikusi kolegas Lietuvoje, o pati leidausi į nuotykį Amerikoje. Tų pačių kolegų paraginta savo kelionės įspūdžius ketinu aprašyti mūsų blogo "patarimų keliautojams" skiltyje, kur galėsite paskaityti apie mano įspūdžius, vargus, džiaugsmus ir svarbiausia – gauti vertingų patarimų.
Vykdama į svajonių šalimi vadinamą Ameriką aš buvau tas žmogus, kuris skeptiškai žiūrėjo į šios šalies "garbinimą". Amerika mano kelionių sąraše nebuvo "numeris vienas": norėjau kada nors ten nuvykti, tačiau niekada negeidžiau pamatyti Niujorko taip, kaip dėl jo alpsta kiti. Kadangi tas noras nebuvo itin didelis, o baimė taip ilgai būti taip toli nuo namų buvo didesnė, kasmet tik pamąstydavau, jog "šiemet jau tikrai vyksiu", bet vis neišdrįsdavau. Tačiau mačiau, kaip vis daugiau aplinkinių išvykdavo į JAV, o grįžę vykdavo dar kartą. Darėsi smalsu, kas juos taip traukia sugrįžti, todėl baigdama ketvirtą kursą universitete nusprendžiau: reikia šokti į paskutinį traukinį ir pasinaudoti "Work and Travel" programa. Gaila, kad išdrįsau išvykti tik paskutiniame kurse. Kodėl sakau "gaila"? Nes po keturių mėnesių praleistų Amerikoje supratau, jog kiekvienas privalo bent kartą atvykti pamatyti šią šalį savo akimis, o atvykus pirmą kartą suprasite, kad čia yra tiek daug, ką pamatyti, kad vieno apsilankymo pasirodys tikrai ne gana! Taigi, apie viską nuo pradžių.
Kadangi su draugėmis Goda ir Viktorija apsisprendėme vykti į Jungtines Amerikos Valstijas gana vėlai, turėjome itin greit susitvarkyti visus dokumentus ir susirasti darbą. Į popierizmus giliau nelįsiu, tai gana ilgas ir keblus procesas, kuriuo rūpinasi atitinkamos agentūros. Mums pasisekė darbą rasti labai greit – pasinaudojusios pažįstamų rekomendacijomis išsiuntėme vos vieną laišką ir jau turėjome darbą. Tad jei ketinate ieškotis darbo, taip pat siūlyčiau naudotis jau buvusių draugų turimais kontaktais.
Gyvenome Ošen Sičio (angl. Ocean City) miestelyje, Merilando valstijoje, kurį prireikus apibūdinti vienu žodžiu, sakyčiau – Palanga. Vasarą čia labai daug judesio, amerikiečiai atvyksta pailsėti prie vandenyno, pavalgyti krabų su "Old bay" prieskoniais, o rudenį ir žiemą kavinės, barai ir kitos atrakcijos uždaromos, visą sezoną dirba tik keletas. Ošen Sityje nėra itin daug pramogų ar lankytinų objektų, tačiau pats miestelis yra puikioje vietoje: laisvadieniais su vietinėmis agentūromis arba nuomotu automobiliu galima aplankyti už kelių valandų esančius Niujorką, Filadelfiją, Vašingtoną, Baltimorę (apie savo keliones plačiau papasakosiu kitame įraše). Mūsų gyvenamoji vieta buvo tolėliau nuo miesto centro – "boardwalk", kurio atitikmuo būtų Basanavičaus gatvė Palangoje, tačiau, gyvenome vos už 3 min. kelio pesčiomis nuo abiejų darbų, pro balkoną vienoje pusėje atsivėrė vaizdas į vandenyną, o kitoje – vaizdas į parką ir įlanką.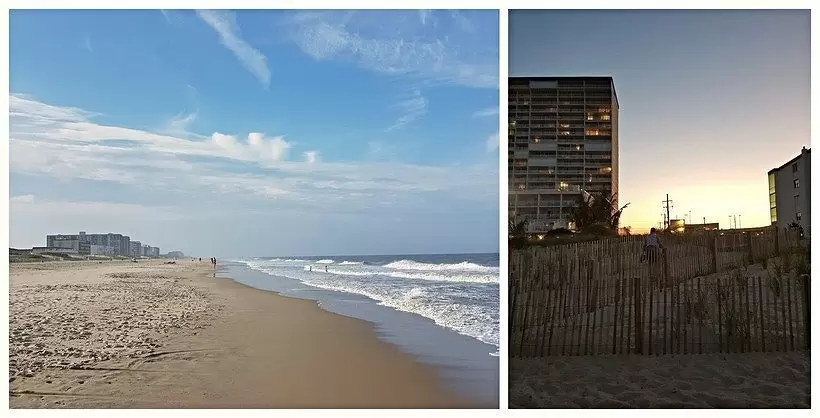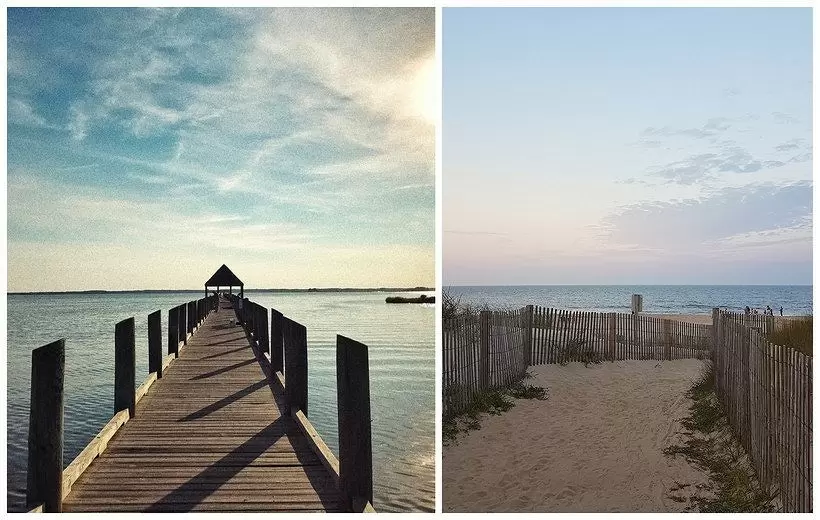 Ocean City paplūdimys, kuris buvo taip arti, jog galėdavome matyti jį net pro savo balkoną, o kartais net girdėti vandenyno ošimą gulint lovoje
Vykdamos į Ameriką žinojome, kad dirbsime beigelių ruošėjomis "Uber bagels" pusryčių kavinėje ir ketinome ieškotis antro darbo. Vieša paslaptis, jog norint daugiau užsidirbti ir vėliau pakeliauti, greičiausiai teks susirasti antrą darbą. Rekomenduoju darbo ieškotis iškart nuvykus į Ameriką, kuo anksčiau pradėsite, tuo daugiau pasiūlymų gausite ir greičiau pradėsite uždirbti, ne tik leisti asmenines santaupas.
Tęsiant patarimus, pirmomis savaitėmis išsileidžia tikrai nemažai pinigų: reikia mokėti nuomą, pirkti maistą ir priemones, važiuoti tvarkytis dokumentų, o alga dažniausiai mokama po tik pirmų dviejų savaičių, tad pradžia gali būti ganėtinai sunki. Tikriausiai aišku, jog Amerikoje nusipirksite visko, ko tik geidžia jūsų širdis, tad visi keliavę su programa anksčiau, mums kaip susitarę kartojo: "nesidėkite balinių suknelių ir geriausių krakmolytų marškinių". Nusprendusios pasikliauti šiomis rekomendacijomis, turėjome daug laisvos vietos lagamine, tad nusprendėme ją išnaudoti: lengvesniai pradžiai iš namų įsidėjome higienos reikmenų, arbatos, kavos, prieskonių ir kitų pradžiai, kol gyvensime iš santaupų, išgyventi reikalingų dalykų. Tai tikrai rekomenduočiau ir ateities keliautojams.
Taigi, vos atvykusios į Ošen Sitį, kaip ir planavome, leidomės ieškotis antrojo darbo. Mums pasisekė, nes jau tą pačią dieną jį ir suradome! Gavome darbą ledų kavinėje, pasauliniame greito maisto tinkle "Dairy Queen", kuris Jums gali būti girdėtas, nes yra ir keliose Europos šalyse. "Dairy Queen" restoranų tinklas geriausiai žinomas dėl savo specialių "Blizzard" ledų, kurie apvertus indelį neiškrenta, tad pirmoji taisyklė kurią išmokome šiame darbe – ledai PRIVALO būti patiekiami apversti. Užmiršus tai padaryti klientui priklauso nauja porcija ledų. Kitas ypač populiarus "Dairy Queen" tiekiamas produktas – tai "Orange Julius", trinto saldinto ledo gėrimas, žinoma, pagardintas skonio ir kvapo stiprikliais.
Amerikietiškos atostogos Ošen Sityje atrodo maždaug taip: beigelis pusryčiams, visą popietę trunkantis poilsis prie vandenyno, vakarienei krabai ir, galų gale, prieš einant miegoti, desertui – ledai. Mes turėjome ypatingą galimybę pamatyti tikrų amerikietiškų atostogų ritmą ir pačios taip pat pagyventi (tiesa, mano braškantys džinsai, kuriuos vos užsegu, dabar nėra tokie laimingi dėl šios galimybės).
Kaip atrodė mūsų darbo diena? Kadangi dirbome pusryčių kavinėje, mūsų diena dažniausiai prasidėdavo apie 6 valandą ryto. "Uber bagels" kas rytą buvo kepami net 15–os skirtingų rūšių beigeliai (kepėjai darbą pradėdavo 4 ryto 🙄), kurie patiekiami pagal kliento poreikius: su kreminiu sūriu (jų turėjome net 15 skirtingų skonių ir juos taip pat gamindavome patys), kiaušiniais, įvairiais sūriais, mėsa, daržovėmis ir pan. Darbas prasidėdavo nuo daržovių, sūrių ir mėsų paruošimo, visi nauojami produktai buvo itin aukštos kokybės ir pjaustomi kas rytą. Darbo pobūdis gana paprastas: gaudavome jau suvestą užsakymą, kuriame parašyta, kokio beigelio klientas nori, ar reikia jį paskrudinti, ką užtepti arba netepti, ką dėti ar nedėti į sumuštinį. Paruoštas beigelis vyniojamas į foliją, dedamas į maišelį, tuomet pagal čekio numerį bandoma prisišaukti beigelio savininką. Po kavinės uždarymo vyksta valymosi darbai.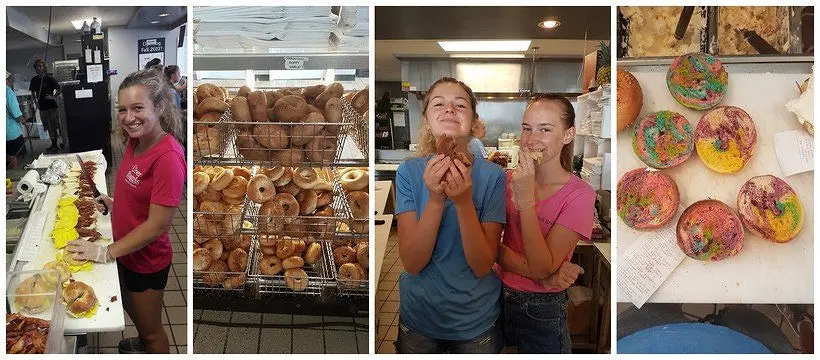 Beigeliai ir beigelių ruošėjos
Natūralus klausimas, kas eina pusryčiauti taip anksti ir dar atostogų metu? Atsakymo į šį klausimą man taip ir nepavyko išsiaiškinti ir tai man visada kėlė nuostabą (taip pat, kaip ir ledų valgymas 12 nakties, bet apie tai vėliau), bet beigelių kavinėje jau nuo pat atidarymo 6:30 val. ryte turėdavome klientų. Amerikiečiai iš tiesų yra pamišę dėl beigelių, o Lietuvoje beveik visiems sutiktiems reikia aiškinti, kas per išradimas yra tas beigelis.
Deja, antrasis mūsų darbas, kaip jau minėjau, buvo ledainėje, kurioje ledų (neoficialiai) valgydavome kiek telpa (sakau, deja, tik dėl savo braškančių džinsų...). Taip jau nutiko, kad visus 3 darbo mėnesius valgiau begalę ledų (dabar, manau, jau geriau įsivaizduojate tuos mano džinsus 😃). Šis darbas iš pradžių atrodė daug sunkesnis, kadangi reikėjo įsiminti visus desertų, kokteilių, sumuštinių pavadinimus ir ingredientus. Ledainėje darbą pradėdavome po pietų arba vakarais ir klientus aptarnaudavome dažniausiai iki vidurnakčio. Dienos metu sulaukdavome vos kelių lankytojų, o pats darbymetis būdavo nuo 8 iki 11 val. vakaro, kadangi tuomet, privalgę garsiųjų krabų, atostogautojai traukdavo valgyti ledų.
Šiame darbe turėjome daugiau tiesioginio kontakto su klientais, o pabendrauti su amerikiečiais buvo labai įdomu. Dauguma jų yra labai malonūs žmonės, bet taip pat ir gana reiklūs bei žinantys ko nori. Daug kartų teko daryti desertą iš naujo, mat bananas deserte atrodė šiek tiek pajuodęs arba ledai vos nuvarvėję, sulaukdavome prašymų: "O gal galima dar kartą šokolado uždėti, nes jį jau suvalgiau, o ledų dar liko?", arba "Aš norėčiau daugiau pabarstukųׅ", "Man nepatiko ledai, neskanu, noriu naujų". Žinoma, tai tik darbo ledainėje juokai, didžioji dalis amerikiečių yra tikrai labai malonūs, teiraudavosi iš kur atvykome, kur yra Lietuva, ar gražiai su mumis elgiasi vietiniai. Kartą net sutikau krepšininką, kuris žino apie mūsų meilę šiam sportui, žino kur yra mūsų šalis ir net keletą kartų žaidė krepšinį Lietuvoje.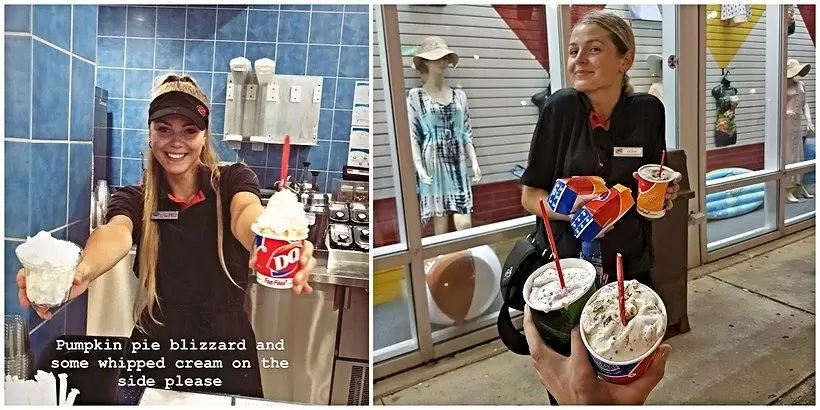 Darbas ledainėje turi savų pliusų – padarytas klaidas nešdavomės namo vakarienei 🙂
Kai Lietuvoje laukiu savaitgalio kaip šventės, kad galėčiau pailsėti, dirbdama Amerikoje supratau, kad aptarnavimo sferoje dirbantiems darbuotojams, ypač kurortuose, tai yra pačios sunkiausios ir darbingiausios dienos. Nekenčiau savaitgalių iki sielos gilumų ir laukdavau pirmadienio kaip didžiausios šventės! Valstybinėms šventėms galioja ta pati taisyklė, todėl liepos 4-osios laukėme su siaubu, nors su šventinėmis nuotaikomis diena prabėgo ne taip sunkiai ir net ganėtinai linksmai. Pats mūsų darbas nebuvo sunkus, tačiau visą darbo laiką buvome "ant kojų", oficialių pertraukų neturėdavome (tačiau rasdavom minutėlę prisėsti), taigi kartais darbo dienos būdavo tikrai sunkios. Tačiau viską atpirkdavo tai, jog GALĖJOME VALGYTI BEIGELIŲ IR LEDŲ TIEK, KIEK NORĖJOME – taip mes sutaupėme labai daug pinigų ir laiko!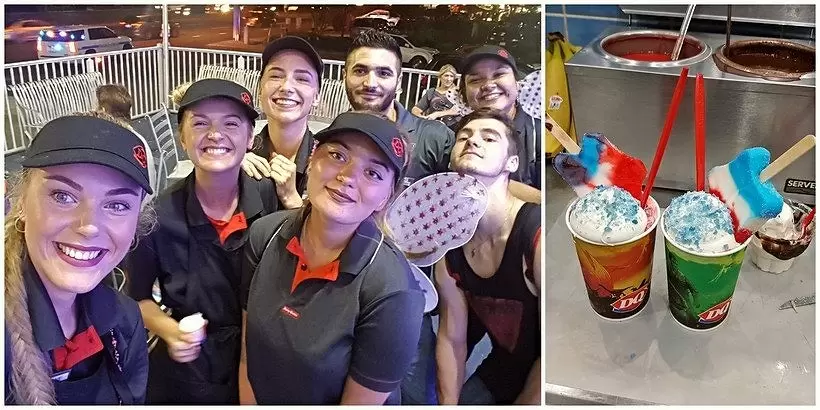 "Dairy Queen" komanda po liepos 4-osios darbų ir specialus šiai šventei ruošiamas "blizzard'as"
Nors dirbome tikrai daug, stengėmės išlaikyti balansą: turėdamos keletą laisvų valandų tarp darbų jas išnaudodavome gyvenimo prie vandenyno privalumams. Taip pat stengdavomės gauti laisvų dienų ir pakeliauti po artimesnius miestus, o kartais po darbų turėdavom jėgų pamatyti ir naktinį Ošen Sičio gyvenimą.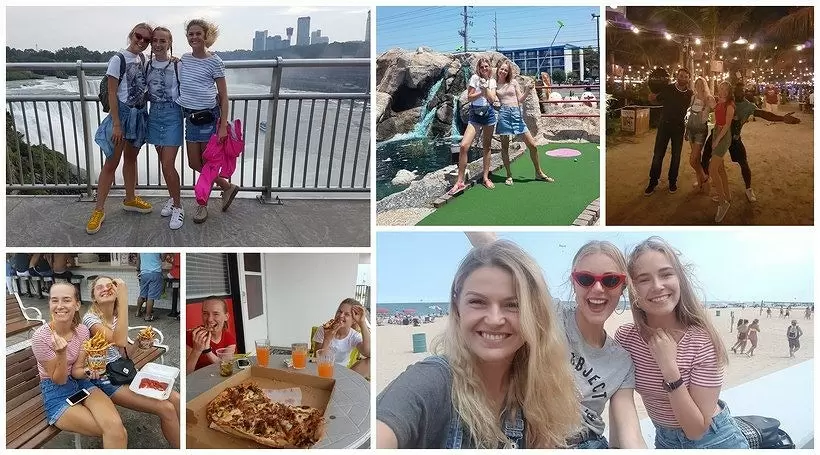 Laisvalaikiu keliavome, linksminomės ir daaaaug valgėme
Trys darbo mėnėsiai prabėgo akimirksniu, turėjome puikiai praleistą vasarą ir jau kelionėms paruoštą biudžetą! Į klausimą ar verta važiuoti į Ameriką dirbti, net jei ir neketinate keliauti, vienareikšmiškai atsakyčiau – tikrai verta. Norint užsidirbti daugiau, aptarnavimo sferos darbai turėtų būti Jūsų prioritetas dėl galimybės gauti arbatpinigių. O taip pat turėsite galimybę lavinti anglų kalbos žinias. Tiesa, net ir nemokant kalbos labai gerai, baimintis neverta. Susišnekėti tikrai įmanoma, o jei suklydus pavyksta iš to pasijuokti ir prajuokinti klientą – didesni arbatpinigiai garantuoti. Dar vienas patarimas: ieškotis darbo su maistu, kadangi vienokiu ar kitokiu būdu jo kažkiek gausite.
Visgi, nepaisant to, ar keliaujate tik užsidibti, ar bijote sunkumų universitete, nes išvykti reikia dar nesibaigus sesijai, po trijų mėnesių darbo Amerikoje pakeliauti po šalį primygtinai rekomenduoju! Kodėl, sužinosite skaitydami kitą mano įrašą apie keliaujant patirtus nuotykius (spauskite čia). Iki greito!