Pramoga ant bangų
Jeigu norite patirti ekstremalių įspūdžių, kaitavimas tam yra tinkamas užsiėmimas. Tai toli gražu neprilygsta kitoms vandens pramogoms, tokioms kaip banglentės - kaituoti vienas tikrai neišmoksite ir prireiks daugybės bandymų, kol pajėgsite suvaldyti vėjo plaikstomą aitvarą. Bet pagalvokite ir apie galimybes - kokį dar žinote geresnį būdą pabūti tarp dangaus ir vandens?
Kas tai per pramoga?
Jėgos aitvarų sportas - ekstremalus užsiėmimas, kurio metu jėgos aitvaro tempiamas pramogautojas ant specialios lentos slysta vandens paviršiumi, o įgavęs įgūdžių sugeba atlikti triukus ore ir ant vandens. Kaitas yra pritvirtintas prie vairalazdės, o vairalazdė - prie Jūsų.

Jūs esate apjuosiamas diržu (trapecija), kuriuo valdoma aitvaro trauka. Prie trapecijos lynais pritvirtinta vairalazdė (baras), o prie jos galų - jėgos aitvaras, kuris tempia Jus. Jeigu vis dar skamba painiai, pasižiūrėkite, kaip tai atrodo bangų šėlsme: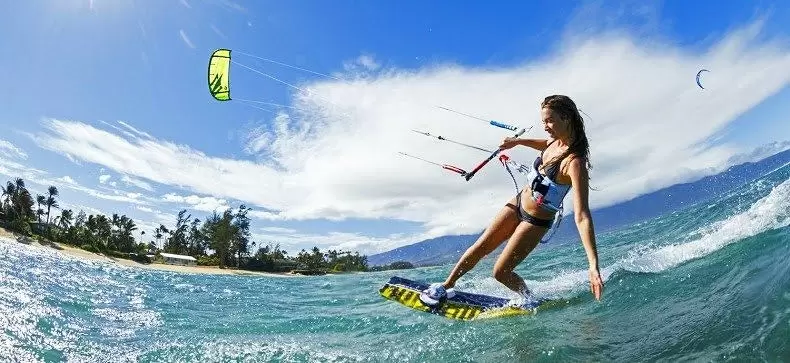 Kas gali užsiiminėti kaitavimu?
Pramoga skirta norintiems aktyvaus laisvalaiko, todėl ja gali užsiiminėti visi, turintys ryžto ir noro. Tiesa, gera fizinė forma visada padeda, bet jėgos aitvarų stovykla dar už kelių mėnesių, tad pradėjus mankštintis dabar - tikrai spėsite.
Kas man padės suvaldyti jėgos aitvarą?
Vienas kaituoti neišmoksite, nes tam reikia profesionalo pagalbos. Žinoma, galite kaitavimo instruktorių ir įrangą susirasti vietoje, kurioje norėsite užsiimti vandens sportu, bet pagalvokite ir apie tai, kad tai Jums atsieis daug brangiau, o be to, su lietuviu instuktoriumi nesusikalbėjimų tikrai nebus.
Pilnas kaitavimo kursas su reikalinga įranga
Kaitavimo stovykla - tai pramogos ir poilsis viename. Kelionės metu pamatysite vietovę, pasimėgausite šiluma, papramogausite ir išmoksite kaituoti. Užsiimti jėgos aitvarų sportu galima ir Lietuvoje, bet tik ne šaltuoju sezonu. Be to, Pasirink Sparnus siūlomi kursai Jums kainuotų tiek pat, kiek ir užsienyje, o kadangi kaituosite skirtingose vietose, instruktorius Jums pasiūlys ir kitokių pramogų. Juk ne visi gali pasigirti tokia atostogų patirtimi.
Instruktorius - tikras jėgos aitvarų valdymo meistras
10 metų patirtį ir tarptautinį jėgos aitvarų asociacijos (IKO) sertifikatą turintis kaitavimo instruktorius Tautvydas Macijauskas individualiai mokys po 2 žmones grupėse kiekvieną dieną po 1,5 valandos. Šis pasiūlymas yra puikus, nes instruktorius į kelionę vyks su Jumis, todėl galėsite kalbėtis lietuviškai ir jums nereikės ieškoti anglakalbio instruktoriaus šalyje, kurioje poilsiausite.

Kelionės metu instruktorius Tautvydas pasirūpins, kad turėtumėte užtektinai veiklos, tad jeigu nebus vėjuota, galėsite išbandyti banglenčių sportą, kopti į kalnus, ištyrinėti gražiausias vietas ir užsiimti kitomis pramogomis.
Jėgos aitvaras - nemokamai
Dėl įrangos Jums nereikės sukti galvos - ja bus pasirūpinta, tad neteks mokėti didelių pinigų už įrangos gabenimą ir už patį jėgos aitvarą. Jeigu jau esate įvaldę kaitą, instruktorius Jums suteiks įrangą ir individualiam kaitavimui. Belieka susikrauti asmeninius daiktus ir keliauti patirti įspūdžių!
Išskirtinė pramoga, o kaina - nedidelė
11 naktų kaitavimo paslaugų kaina, kai keliauja 8 asmenys: 219€
Kaina (2 - 8 asm. grupei): 1749€
👍 Į kainą įskaičiuota:
profesionalaus instruktoriaus pamokos (kiekvieną dieną po 1,5 valandos dviems)
kaitavimo įranga
kelionės vadovo paslaugos
papildomos veiklos esant nepalankioms oro sąlygoms
👎 Į kainą neįskaičiuota: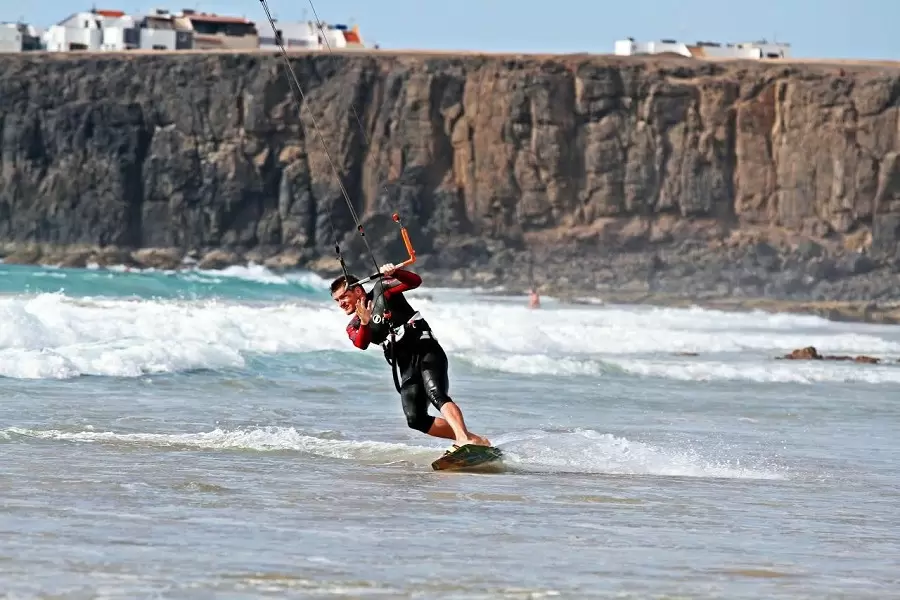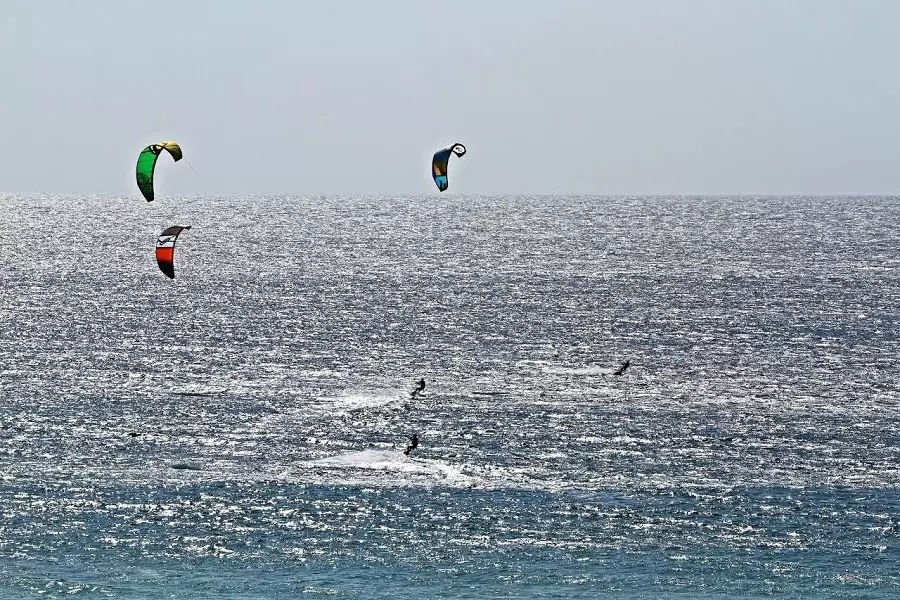 Rūtos atsiliepimas apie kaitavimo kelionę su instruktoriumi Tautvydu
"Visi sugebėjo suprasti kaito valdymo ypatumus, na iki atsistojimo ant vandens kai kuriems dar pritrūko, bet visi pajautė kas čia per sportas ir ar jiems tinka. Ir visa tai be jokių traumų ir saugiai, o tai mums buvo labai svarbu.
Visos dienos buvo aktyvios ir įdomios, jei ne kaitų pamokos, tai banglentės ar kelionės po salos gražiausias vietas. Pilna programa. O dar Tautvydo ruoštos krevetės vakarienei!
Žodžiu, visi pailsėjome ir pasisėmėme geros nuotaikos, tikiu kad kai kas surado ir naują hobį. Ačiū už tai!"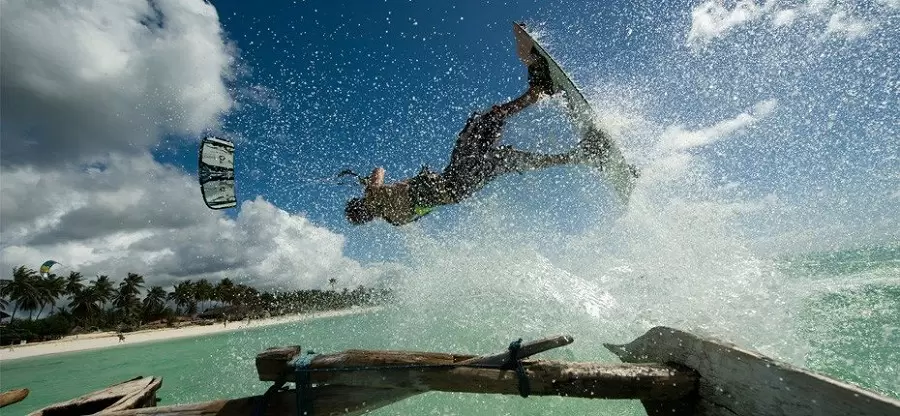 Aprašyme panaudotos instruktoriaus Tautvydo Macijausko ir Pasirink Sparnus archyvų nuotr.