Pusiaukelėje tarp Tuniso ir Sicilijos esanti, žemėlapyje vos įžiūrima, tačiau gyvai itin didinga Maltos valstybė – Viduržemio jūros perlas, unikalus savo turtinga istorija ir gamta. Šių dviejų polių dėka Malta šiandien turi ką pasiūlyti tiek aktyvaus sporto gerbėjams, tiek saulės ir jūros ištroškusiems, tiek tam tikra prasme laiko nuovoką siekiantiems prarasti poilsiautojams. 11 faktų apie Maltą, kurie privers tuo patikėti:
1. Didinga Maltos Istorija mena dar priešistorinius laikus. Trumpai labai sudėtinga papasakoti ilgą ir itin kontrastingą Maltos valstybės istoriją, kuri tęsiasi jau bene 7000 metų. Saloje vieni po kitų savo valdžią diktavo finikiečiai, graikai, romėnai, arabai, kastilai, Šv. Jono Jeruzaliečio riteriai, o taip pat prancūzai ir britai. Ne keista, jog Maltoje iki šios dienos juntamas didelis gausybės tautų palikimas architektūriniu, kalbiniu, tautiniu ir kitais atžvilgiais. Maltoje egzistuoja dvi valstybinės kalbos – anglų ir maltiečių. Pastaroji – arabų, italų ar siliciečių bei anglų kalbų junginys. Iš tiesų, itin marga, įdomi ir unikali kalba, kuria pasaulyje kalba šiek tiek daugiau negu 400 000 maltiečių.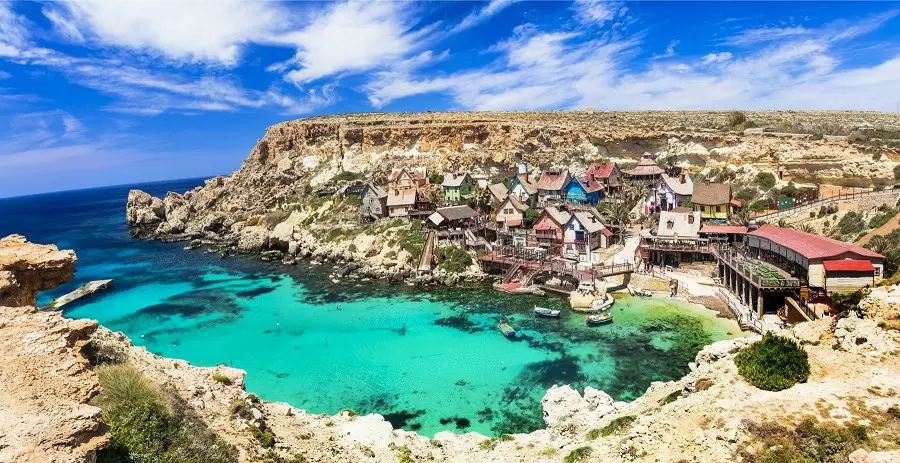 Maltoje gausu įvairių paplūdimių: tiek uolėtų, tiek nuklotų smėliu, patinkantį tikrai rasite
2. Maltos salyną sudaro trys pagrindinės salos: Maltos, Gozo ir Komino. Nepaisant to, kad Maltos sala - šalies kultūrininis, administracinis ir komercinis centras, iš vietinių lūpų ne kartą ir su pasididžiavimu galima išgirsti kvietimą aplankyti antrą pagal dydį Gozo salą.
Ramesnis gyvenimo būdas, žalesnis kraštovaizdis nei Maltos saloje, įspūdingos panoramos, kurių tolumoje – bekraštė jūra. Anksčiau Gozo salą dar garsino ir natūraliai susiformavusi arka, pavadinimu Žydrasis langas (angl. Azure Window), siekusi bene 50 metrų, tačiau 2017 – aisiais Malta neteko šio įspūdingo gamtos monumento, arka susmuko per audrą.
Mažiausia iš trijų – Komino sala – 3,5 kvadratinius kilometrus užimantis rojaus kampelis Viduržemio jūroje ne tik dėl neapsakomo žydrumo lagūnos, tačiau ir dėl beveik neegzistuojančios civilizacijos joje: sala iš esmės yra negyvenama, joje tėra vienas viešbutis, o automobilių eismas saloje neegzistuoja.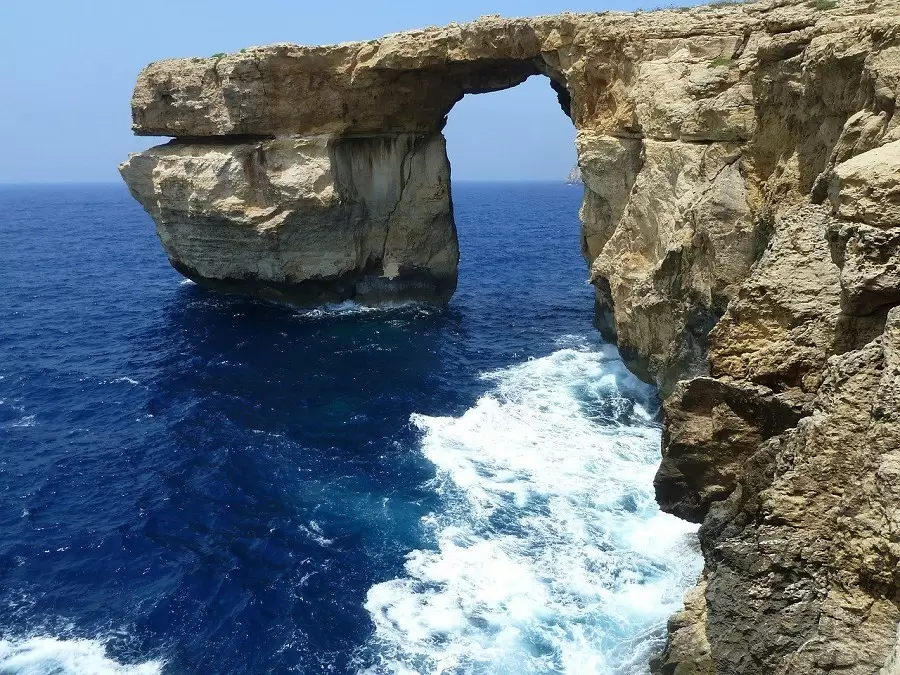 Taip atrodė Žydrasis langas Gozo saloje, sugriuvęs 2017 –aisiais audros metu
3. Tylusis miestas Mdina – pirmoji Maltos sostinė. Ant vienos aukščiausių Maltos salos kalvų stovi gynybine siena aptvertas Mdinos miestas, neretai vadinamas tyliuoju dėl itin ramių naktų jame. Be to, Mdina – vienas iš nedaugelio Europos senovinių miestų, apsuptų siena, o kartu ir seniausias Maltos miestas bei pirmoji salos sostinė. XVI a pradžioje Maltos sostinė perkelta į Valetą – istorinių paminklų gausa pripildytą uostamiestį salos rytuose. Mdinos miestelis vadinamas brangakmeniu Maltos karūnoje – tai ne tik senoji Maltos sostinė, bet ir įtvirtintas Viduramžių miestas, į kurį galima patekti pro vienus iš trijų vartų. Stulbinanti architektūra ir istorija, menanti 4 tūkst. metų prieš Kristų tiesiog gniaužia kvapą ir atskleidžia miesto savitumą. Lankantis Mdinoje vertėtų pamatyti baroko stiliumi pastatytą Šv. Povilo katedrą ir tiesiog pasivaikščioti po miestą bei pasigrožėti jo architektūra.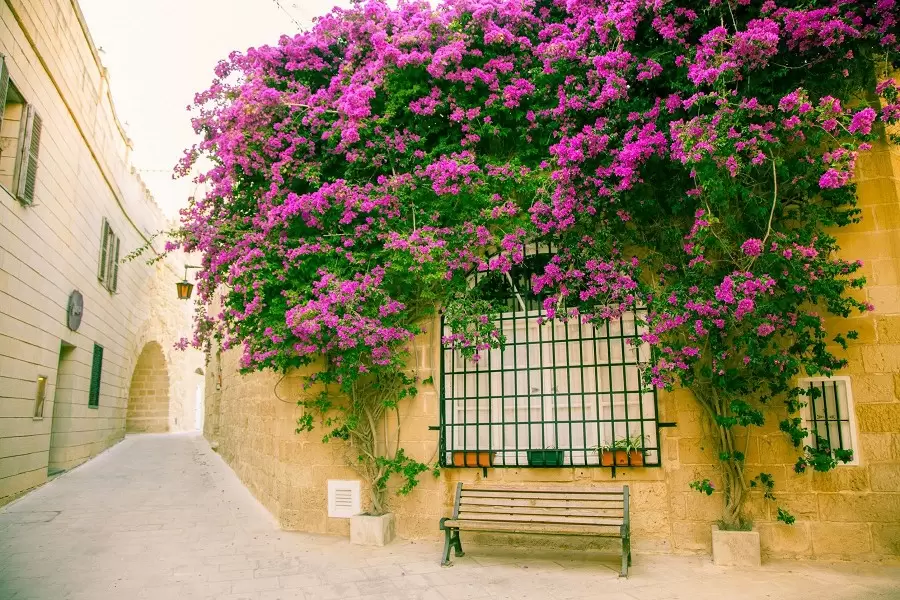 Vaizdas iš Maltos sostinės Valetos miesto
4. Maltoje iš viso yra net 359 bažnyčios! Vienas netikėčiausių faktų apie Maltą yra skaičius bažnyčių, koplyčių ir katedrų, puošiančių kiekvieną salos kaimelį. Jų Maltoje suskaičiuojama net 359: 313 pačioje Maltos saloje ir dar 46 Gozo saloje. Šv. Jono katedra Maltos sostinėje Valetoje – vienas įspūdingiausių puošniosios Baroko architektūros statinių pavyzdžių Europoje. Viešint Maltoje vertėtų aplankyti ir kupolo dydžiu lygių neturinčią Mergelės Marijos bažnyčią Mostoje, Šv. Pauliaus katedrą Mdinoje bei elegantišką Citadelės katedrą Viktorijoje, Gozo saloje.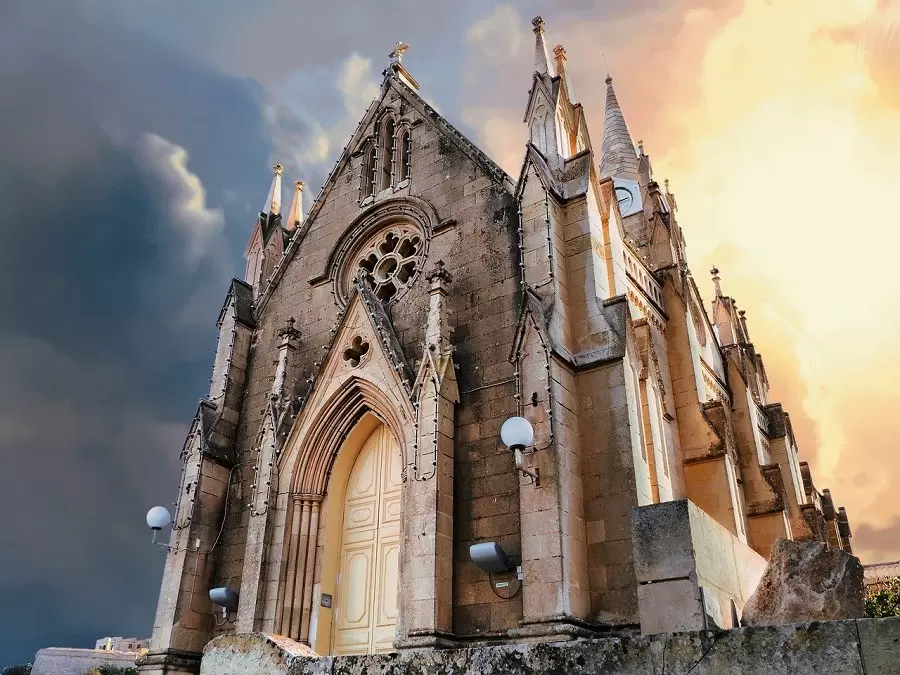 Taip atrodo Citadelės katedra Viktorijoje, Gozo saloje
5. Ne kur kitur, o Maltoje galima išvysti ir seniausias pasaulyje laisvai stovinčias struktūras – megalito šventyklas. Tokios šventyklos Maltoje yra septynios: dvi Džgantija šventyklos Gozo saloje ir Hadžar Ymo, Mnaidra, Ta Hadžrato, Skorba ir Taršyno šventyklos Maltos saloje. Nepaisant panašios struktūros, šventyklos skiriasi savo forma ir dekoracijomis, atskleidžiančiomis atskirus individo vystymosi etapus, naudotas technikas ir bendravimo principus. Ką jau kalbėti apie itin kruopščiai parinktas šventyklų stovėjimo vietas, kurių dėka apsilankymas tampa nepamirštama patirtimi. Didžioji dalis šventyklų (t.y. garsiausios, visos prieš tai išvardintos šventyklos) yra įtrauktos ir į UNESCO paveldo sąrašą, tačiau tokių šventyklų Maltoje yra ir daugiau, jos nepriklauso UNESCO pasaulio paveldui.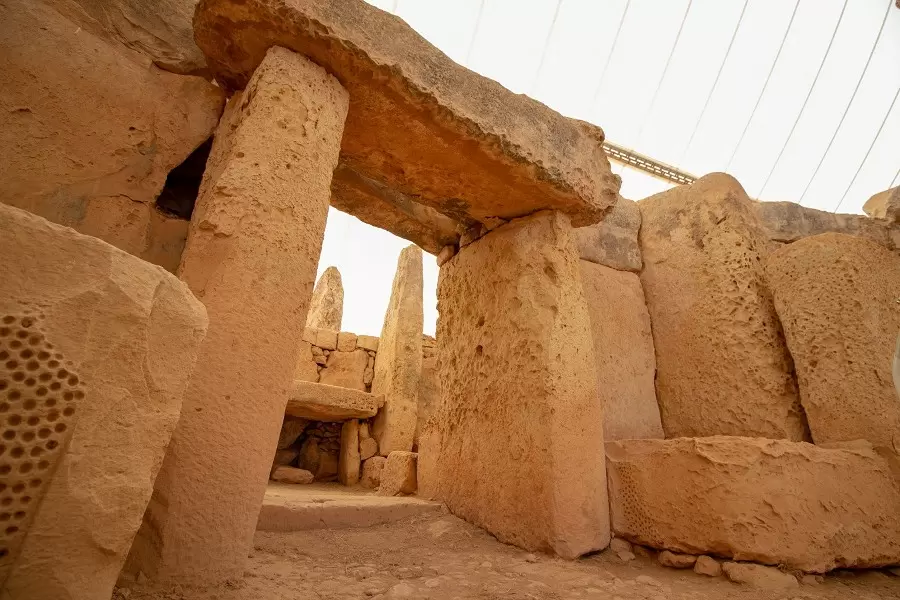 Megalitinė Hadžar Ymo šventykla Maltoje
6. Maltos sostinė Valeta ir Hal Saflynio požemis taip patpriklauso UNESCO paveldo sąrašui. Hal Saflynio požemis (malt. Ħal Saflieni Hypogeum) – Paolos mieste (Malta) esantis požeminis nekropolis, vienintelė pasaulyje priešistorės požeminė šventykla. Per dieną į vidų įleidžiama ne daugiau 80 turistų. Požemis buvo atsitiktinai rastas 1902 m. statybininkų. Kitas paveldo objektas – Valeta – Maltos sostinė ir pagrindinis uostamiestis. Visas miestas yra įtrauktas į UNESCO pasaulio paveldo sąrašą. Išsidėsčiusi Maltos salos šiaurės rytiniame krante, prie Viduržemio jūros, uolėtoje vietovėje. Abipus uolų yra uostai. Skirkite laiko pasivaikščioti po sostinę - tai didingą istoriją turintis miestas, apjuostas įtvirtinimais, pastatytais XVI a. Pagrindinis miesto unikalumas yra pilkai geltoni pastatai iš kalkakmenio, suteikiantys miestui vientisą spalvą. Valeta buvo viena pirmųjų vietų, įtrauktų į UNESCO pasaulio paveldo sąrašą.
Viešėdami sostinėje aplankykite Šv. Jono katedrą, išsikiriančią barokišku stiliumi ir puošybos elementais, marmuro grindimis, po kuriomis palaidota beveik 400 karių. Taip pat verta užsukti į Aukštutinius Barakka sodus, iš kurių atsiveria puiki panorama į Didįjį uostą.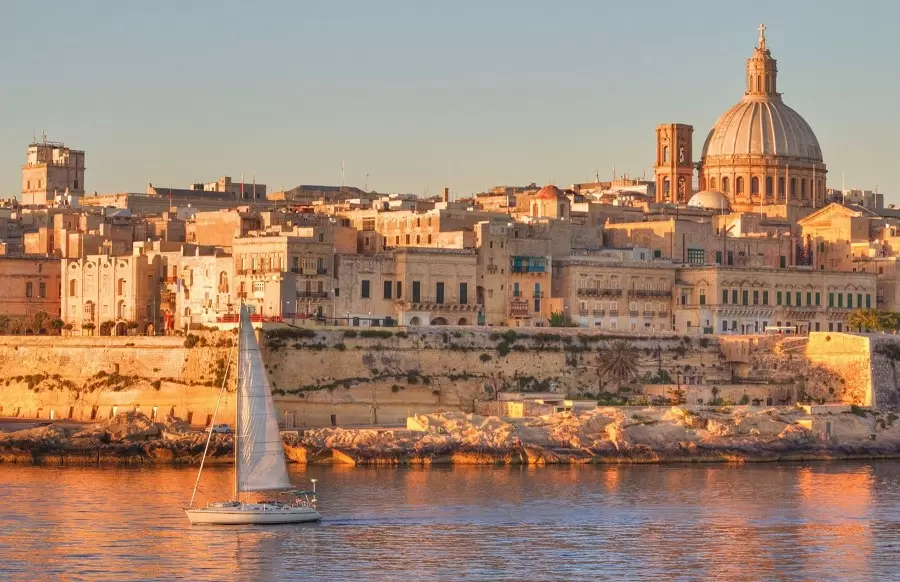 Maltos sostinė – Valeta
7. Automobilių eismas Maltoje vyksta kaire kelio puse. Tai svarbus faktas, kurį reikia atsiminti, o ypač – einant per gatvę ar patiems sėdant už vairo.
8. Be įspūdingų architektūrinių paminklų, savitumo Maltai suteikia ir uolėtos pakrantės, ramios įlankos, smėlėti paplūdimiai bei skaidri jūra. Jų dėka salose išvystytos povandeninio nardymo, laipiojimo uolomis, buriavimo, kaitavimo, parasparnių sporto ir kitos pramogos. Taip pat, itin patartina leistis į gido vedamą žygį pėsčiomis po mažiau apgyvendintas Maltos vietas, nes tik tokiu būdu įmanoma pažinti tikrąjį Maltos gamtos grožį. Gražiausi Maltos paplūdimiai: Paradise Bay, Golden Bay, Mellieha Bay, Armier Bay and Ghajn Tuffiejha Bay.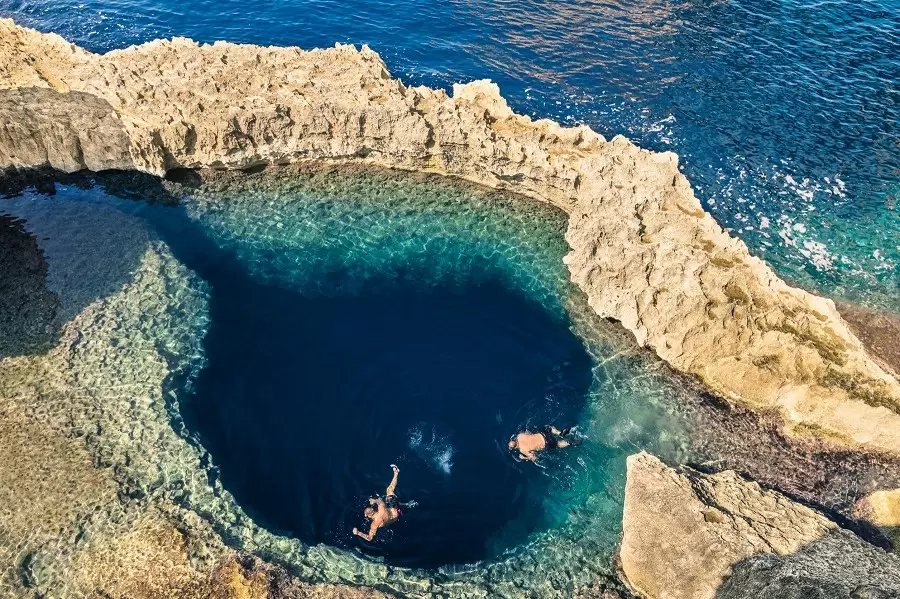 Natūraliai susiformavęs baseinas Maltoje
9. Pačevilis – vienas didžiausių vakarėlių traukos centrų Maltos saloje. Po dienos paplūdimyje ar laipiojimo uolimis svarbu nepamiršti, kad Malta – ir kurortas, pasižymintis energingu naktiniu gyvenimu. Kone ant jūros kranto įsikūręs Šv. Juliano miestelio rajonas Pačevilis – vienas didžiausių vakarėlių traukos centrų Maltos saloje, kuriame muzika netyla iki pat saulei patekant. Įdomiausia tai, kad antroje pagal saugumą pasaulyje Maltoje nėra ko nerimauti ir linksmintis kiek širdis geidžia.
10. Turizmas, laivų statyba ir remonto pramonė yra pagrindinės Maltos gyventojų verslo sritys. Šiuo metu Maltą iš naujo atranda vis daugiau turistų iš viso pasaulio. Iš turizmo gautos lėšos sparčiai padeda augti šalies ekonomikai. Kadangi Maltą skalauja Viduržemio jūros vanduo, tą išnaudodami vietiniai gyventojai atrado naują verslo sritį. Norint persikelti iš vieno kranto į kitą - reikia vandens transporto, todėl gyventojai pradėjo gausiai statyti laivelius, valteles ir jomis gabenti turistus, taip užsidirbdami pinigų.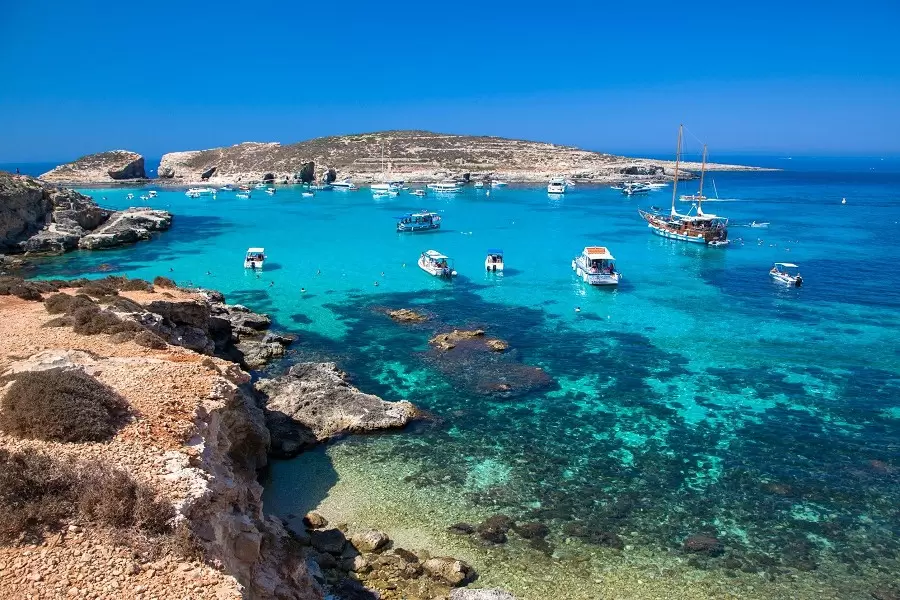 Didelė vandens transporto ir pramogų paklausa Maltoje
11. Mellieha Bay - vienas gražiausių paplūdimių visame Viduržemio jūros regione. Nors Maltoje nėra labai daug įspūdingo grožio paplūdimių, kaip kitose populiariose pietų šalyse, bet yra keletas paplūdimių ne tik su uolėtomis, bet ir smėlio pakrantėmis. Vienas iš didžiausių ir gražiausių pajūrių yra Mellieha Bay Maltoje. Pliaže galėsite nebrangiai išsinuomoti skėčius nuo saulės bei gultus. Pakrantėje rasite barų, lauko kavinių, tad galėsite užkąsti bei atsigaivinti nuo kaitrios saulės. Paplūdimys ypač populiarus tarp šeimų su vaikais, kadangi jūra yra visai negili. Pliaže surasite daug vandens pramogų, tokių kaip: vandens aitvarai, čiuožinėjimas vandens slidėmis, burlentės, plaukiojimas kanojomis ir dar daug kitų.