Atsiradus tiesioginiams skrydžiams iš Vilniaus į Marakešą, atsirado ideali proga aplankyti šį egzotišką kraštą. Juk Marokas - tai ne tik saulėtos dienos ir pasivaikščiojimai mieste. Šiaurės Afrikos perlas Marokas yra tikrų tikriausia egzotika, o kainos tiek nuvykti, tiek pramogauti vietoje yra stulbinančiai mažos.
Tam, kad iš atostogų Marakeše pasiimtumėte viską, reikia keliauti, nes ten yra, ką pamatyti. Tačiau dėl kultūrų skirtumų kartais tai būna sudėtinga - painūs viešojo transporto tvarkaraščiai, chaotiškas vairavimas, dėrėjimasis keliaujant taxi apsunkina planavimą. "Blondinė Maroke" siūlo Jums ekskursijas su patikimu kelionių organizatoriumi Agadire.
Blondinė Maroke (Rasa) padės Jums užsisakyti kelionę į Sacharos dykumą, Rojaus slėnį (Paradise valley), suorganizuosprivatų gidą po Agadirą (anglų/rusų k.) ir ne tik.
---
💡 Dėl turų užsakymų, patarimų keliaujant po Maroką ir automobilio nuomos (su mažu depozitu) kreipkitės ras[email protected], Whatsapp numeris: +212 695 274 252 arba facebook.com/blondieinmorocco
---
Turų pasiūlymus su programomis ir kainomis galite atsisiųsti paspaudę čia >>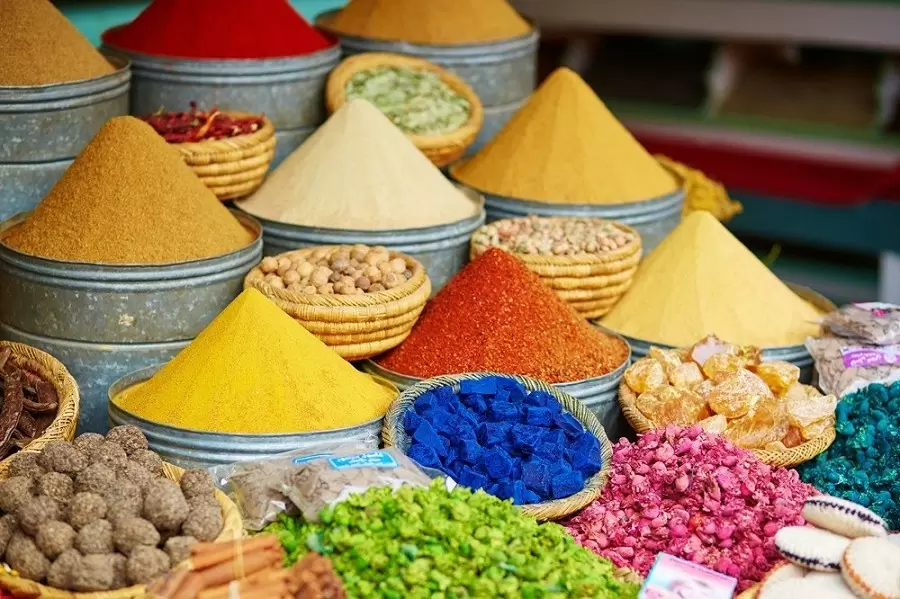 PRIVATI DIENOS KELIONĖ Į 3 SLĖNIUS
Apsistojote Marakeše keletu dienų ir norite pabėgti nuo miesto triukšmo? Siūlau dienos kelionę į Aukštojo Atlaso kalnuose įsikūrusius tris garsius ir be galo gražius slėnius.
Pamatysite garsųjį Ourika slėnį, Oukaimeden slėnyje esančius tradicinius, iš akmens, šiaudų ir molio pastatytus berberų kaimelius bei nuostabiajame Asni slėnį esančius vaisių slėnius. Keliaudami link Takerkoust ežero pamatysite nuostabius kraštovaizdžius ir citrinmedžius Kik plokščiakalnyje.
Šis turas yra privatus, transporte telpa iki 6 asmenų.
Pasiėmimas – 8 val. ryto
Grįžimas – 19 val.
Kaina – 120 eurų visai grupei (iki 6 asmenų)
Įskaičiuota: transportas, angliškai kalbantis vairuotojas. Neįskaičiuoti pietūs ir gėrimai, arbatpinigiai.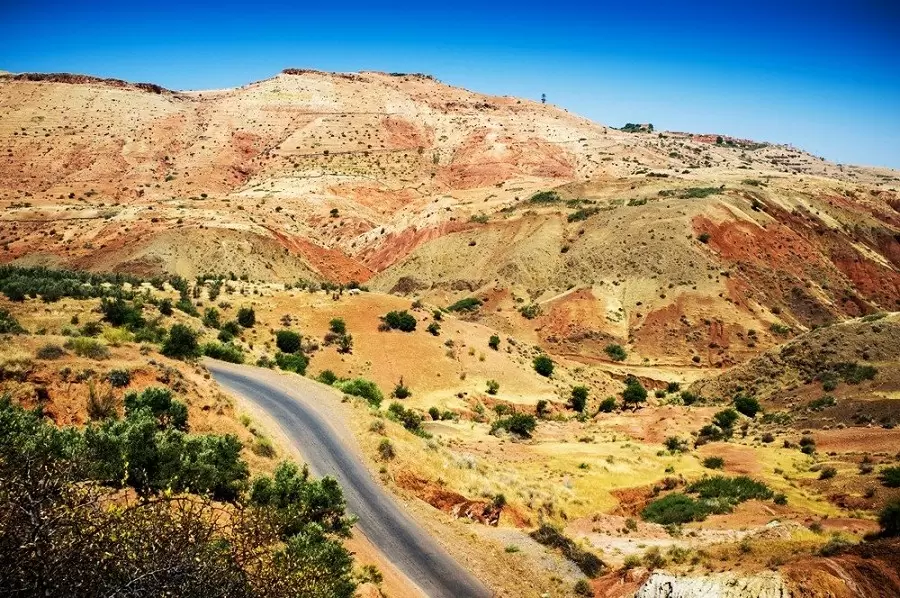 MARAKEŠAS: DIENOS KELIONĖ Į OURIKA SLĖNĮ
Jei Marakeše nuspręsite apsistoti bent keletui dienų ir per jas norite pabėgti nuo miesto triukšmo, labai rekomenduoju dienos kelionę su nedidele grupe į Ourika slėnį (Ourika Valley).
Ourika slėnis, tiksliau jam esantis garsusis Setti Fatma kaimelis, nuo Marakešo nutolęs apie 40 kilometrų, o jame garsiausi yra 7 nedideli kriokliai, sutraukiantys būrius tiek vietinių, tiek užsienio poilsiautojų. Tačiau Ourika slėnis nėra tokia populiari ir nuvalkiota turistų vieta, tai puiki dienos išvyka norintiems pasivaikščioti po kalnuotas vietoves ir paragauti vietos patiekalų.
Turo pradžia – 9 val. ryto, atgal į Marakešą grįžtama apie 17 val. Kelionė kartu su maža grupe tarptautinių keliautojų.
Kaina – 20 eurų/žmogui (pietūs neįskaičiuoti).
Taip pat aplankysite vietinę moterų Argano aliejaus spaudimo gamyklą, kartu su vietos gidu pasivaikščiosite po olas ir pasieksite krioklius. Nenorintys per daug laipioti, galės pailsėti vietos restoranuose. Pietus taip pat galėsite pavalgyti viename iš restoranų.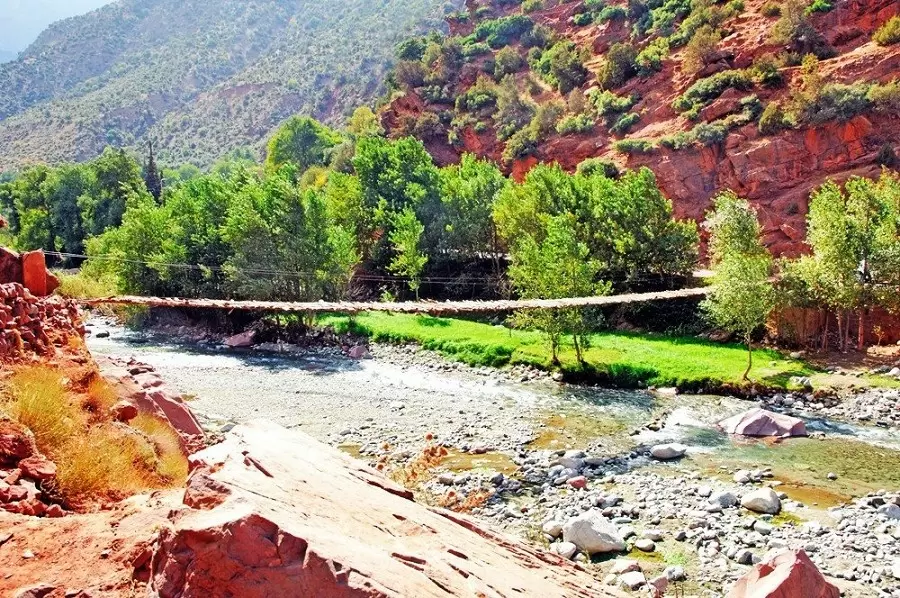 MARAKEŠAS – SACHARA, 3 DIENŲ KELIONĖ Į DYKUMĄ
Grupinę trijų dienų kelionę į Sacharos dykumą rekomenduoju visiems, kurie nori geriau ištyrinėti ir pažinti Aukštojo Atlaso kalnų kraštovaizdžius, kultūrą, vietinių gyvenimą bei patirti neišdildomus įspūdžius Sacharos dykumoje. Trijų dienų kelionės maršrutas sudėliotas taip, kad nepervargtumėte važiuodami patogiame autobusiuke su oro kondicionieriumi. Jūsų lauks daugybė sustojimų, ekskursijų ir pasakojimų.
LAIKAS: 3 dienų/2 naktų turas į Sacharos dykumą iš Marakešo organizuojama kiekvieną antradienį, ketvirtadienį ir šeštadienį, keliausite su maža grupe keliautojų iš viso pasaulio. Pasiėmimas 7 arba 7.20 val ryte priklausomai nuo sutarto laiko ir vietos.
KAINA: Marakešas – Sacharos dykuma | 3 dienos/2 naktys – kaina 95 eur. Vaikams daromos nuolaidos, rašykite dėl kainos.
Įskaičiuota:
pasiėmimas iš sutartos vietos Marakeše, kelionė patogiu autobusiuku su kondicionieriumi
pirmos dienos nakvynė Dades slėnyje esančiuose svečių namuose.
Vakarienė ir pusryčiai Dades svečių namuose
Kelionė Merzouogos dykumoje kupranugariais (pirmyn/atgal)
nakvynė berberų palapinėse Merzougos dykumoje (esant didesniam grupės keliautojų skaičiui, gali tekti palapine dalintis su dar vienu ar max pora keliautojų).
Vakarienė, pusryčiai Merzuogoje
Neįskaičiuota:
vanduo ir kiti gėrimai kelionei
arbatpinigiai gidams kasboje Ait Ben Haddou ir Tinghir (apie 4 eur)
dveji pietūs
💡 Visi be išimties į dykumą (ar kitas keleto dienų keliones) organizuojami turai ir jų vairuotojai pakeliui pietų užsuka į brangesnius restoranus, kavines (pietūs apie 7-10 eurų). Už turistų atvežimą į tas vietas, jie patys gauna nemokamą maitinimą ir galbūt kažkiek komisinių. Tai yra faktas, kurio niekas nepakeis ir dėl kurio pačio turo kainos yra palyginti nebrangios. Jei nenorite išlaidauti pietums, tiesiog įsidėkite į kelionę savo užkandžių, sumuštinių.
Kelionės metu su gidais užsuksite į keletą kilimų audimo ir pardavimo vietų, kuriose būsite pavaišinti arbata, tačiau kažką pirkti spaudimo tikrai nėra. Tokie užsukimai į kilimų audimo vietas būna beveik daugumoje turų Maroke.
Išsami kelionės programa:
Pirma diena: Marakešas – Ait Ben Haddou – Ouarzazate – Gorges of Dadès (viso 6 val. važiavimo)
Jūsų gausybę įspūdžių garantuojanti trijų dienų kelionė į dykumą prasidės 7 val. (arba 7.20 val) ryte, kuomet vairuotojas pasiims iš sutartos vietos Marakeše. Pirmiausia, jūsų laukia kelionė Aukštojo Atlaso kalnais link Ourzazate. Pervažiuosite aukščiausią kalnų ruožą Maroke Tizi n'Tichka, kurio iškiliausias taškas siekė 2260 metrų. Kartu su vietos gidu aplankysite įspūdingąją, į UNESCO paveldo sąrašą įtrauktą kasbą Ait Ben Haddou, kurioje buvo sukurtas ne vienas garsus Holivudo filmas. Mano įspūdžiai iš šios vietos aprašyti straipsnyje Holivudas randasi ir Maroke. Kelionė į Ouarzazate.
Ourzazate jūsų lauks apsilankymas vietos kino muziejuje, kuriame eksponuojamos dekoracijos iš čia kurtų filmų bei trumpas pasivaikščiojimas po Mediną. Dienos pabaigoje, pasieksite Dades tarpeklio slėnį (the Dades gorges Valley), kur jums bus patiekta tradicinė marokietiška vakarienė. Po vakarienės, lauks nakvynė su nepamirštamu vaizdu į Dades slėnį.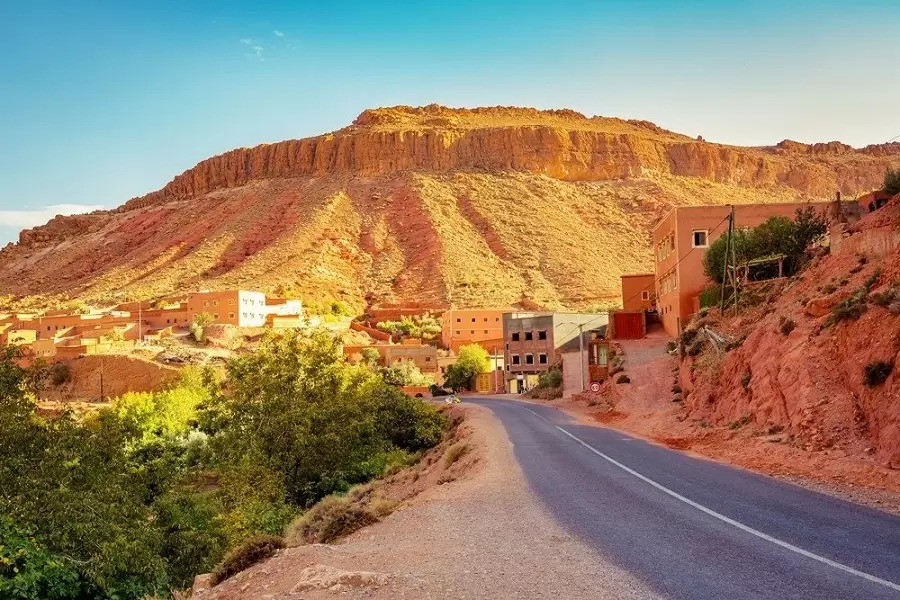 2 diena : Gorges du Dadès- Toudra- Merzouga ( 4.30 val. važiavimo )
Antra kelionės diena prasidės gerais pusryčiais nakvynės vietoje, po to pajudėsite link Sacharos dykumoje esančio Merzouga kaimo. Pirmiausia sustosite Tighir kaime, kuriame vietinis gidas aprodys palmių ir vietinių sodų oazę. Kartu nuvažiuosite iki garsiojo Todra tarpeklio, kurio aukštis vietomis siekia ir 400 metrų, o siauriausia tarpeklio vieta yra tik 10 metrų pločio. Pietums sustosite pakelėje esančiame restorane.
Merzouga pasieksite prieš pat saulėlydį, jus pasitiks egzotiškieji kupranugariai. Pasiruoškite kelionei ant kupranugarių per Erg Chebbi kopas, nepamirškite kameros, nes saulėlydžio vaizdai dykumoje verti daugybės kadrų. Savo daiktus paliksite autobusiuke, kuris bus saugomas pagrindinėje stovyklavietėje. Su savimi užteks pasiimti pagrindinius nakčiai reikalingus daiktus.
Diena bus užbaigta pasiekus nakvynės vietą dykumoje esančioje palapinių stovyklavietėje. Ir, žinoma, gausi vakarienė, dienos įspūdžių dalijimasis su kitais keliautojais bei vietiniais berberais, nakvynė kartu su Sacharos dykumos žvaigždėtu dangumi.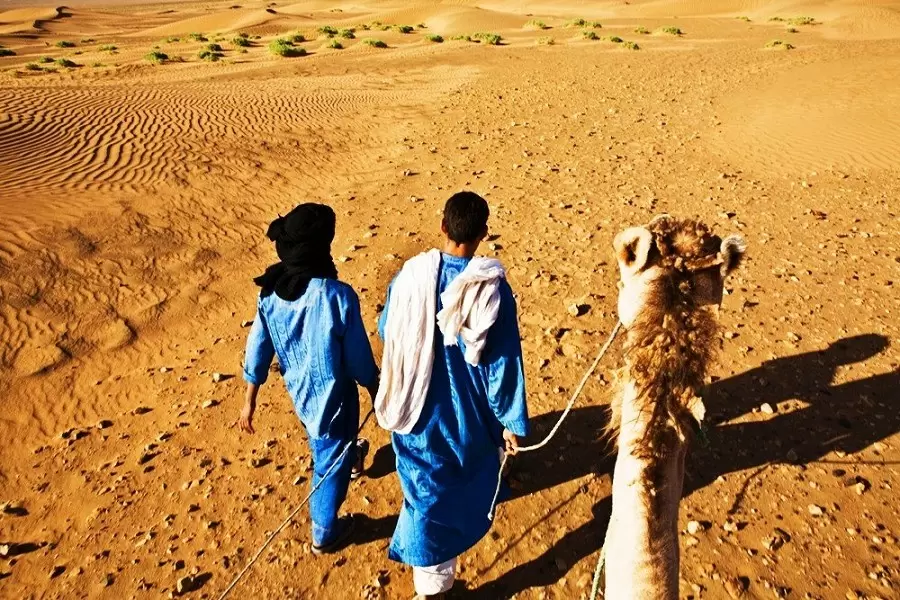 3 diena: Merzouga – Marrakešas (8, 30 val. važiavimo)
Ankstyvą paskutinės dienos rytą saulėtekį pasitiksite ant kupranugarių nugarų. Iš dykumos stovyklavietės parjosite į pagrindinę bazę, kurioje jūsų lauks skanūs pusryčiai, o norintys galės pasinaudoti dušu. Spalvingąjį Marakešą pasieksite apie 19 val., pakeliui sustoję pietų vietos restorane.
Praktinė info:
Vakarais ir naktimis Merzougoje vėsoka, ypač žiemos sezonu (vasarą dykumoje vakarais taip pat šaltoka). Todėl būtinai pasiimkite šiltesnį megztinį. Ypač praverčia skara, kuri apsaugo nuo smėlio dykumoje. Skarą galite nusipirkti ir kelionės metu, vietos prekybos vietose. Jojimui ant kupranugarių patogiausia kelnės bei patogi avalynė kopti į smėlio kopas.
Savo bagažą galite palikti susitarę pasaugoti arba viešbutyje Marakeše (jei nakvosite ten pat), arba pasiimti su savimi į kelionę, tam bus skirtas autobusiuko galas. Tačiau jei keliaujate su labai dideliu lagaminu, rekomenduoju jį palikti viešbutyje. Atvykus į dykumą, savo daiktus paliksite pagrindinėje stovyklavietėj, pasiėmę tik reikalingiausius nakčiai daiktus.
Dykumos stovyklavietėje bus lauko tualetas, o dušas – grįžus į pagrindinę stovyklavietę, kurioje lauks ir pusryčiai. Beje, kadangi ryte daug laiko neturėsite, pasistenkite dušu pasinaudoti greitai.
Pačioje dykumoje ryšio nėra, tad pasimėgaukit vakaru be telefono ir interneto
MARAKEŠAS – ESSAOUIRA. DIENOS KELIONĖ
Prie Atlanto vandenyno įsikūrusi Essaouira – magiška vieta, be kurios kelionė į Maroką neįmanoma. Sunku net paaiškinti, kuo šis miestas jau daugybę metų traukia autentikos, ramybės ir meno pasiilgusius keliautojus. Sakoma, kad tai dėl Essaouiroje gyvenančių dvasių, kurios kiekvieną savaip privers įsimylėti šį mažą miestą.
Essaouira nuo Marakešo nutolusi apie 180 km, į šį miestą galima nusigauti tarpmiestiniu autobusu. Tačiau tiems, kurie Essaouiroje nori praleisti tik vieną dieną, siūlau rinktis grupinį dienos turą iš Marakešo.
Kelionė į Essaouirą prasidės 8 val. ryto, truks apie 3 valandas. Pakeliui aplankysite Argano moterų spaudimo kooperatyvą ir jei ožkos nepaves, pamatysite jas gyvenančias argano medžiuose! Šį unikalų reiškinį galima pamatyti tik Essaouiros ir Agadiro apylinkėse, kuriose gausiai auga argano medžiai.
Essaouiroje jūsų lauks laisvas laikas, kurio metu galėsite apžiūrėti miesto žvejų uostą, Mediną (senamiestį), gatvės turgus (Souks), ir, žinoma, paplūdimį! Essaouira – nedidelis miestas, todėl tikrai užteks pusės dienos viską pamatyti.
Atgal į Marakešą keliausite apie 16 val, o savo viešbutį pasieksite apie 19 val.
Kaina – 25 eurai/žmogui. Turai organizuojami kiekvieną dieną.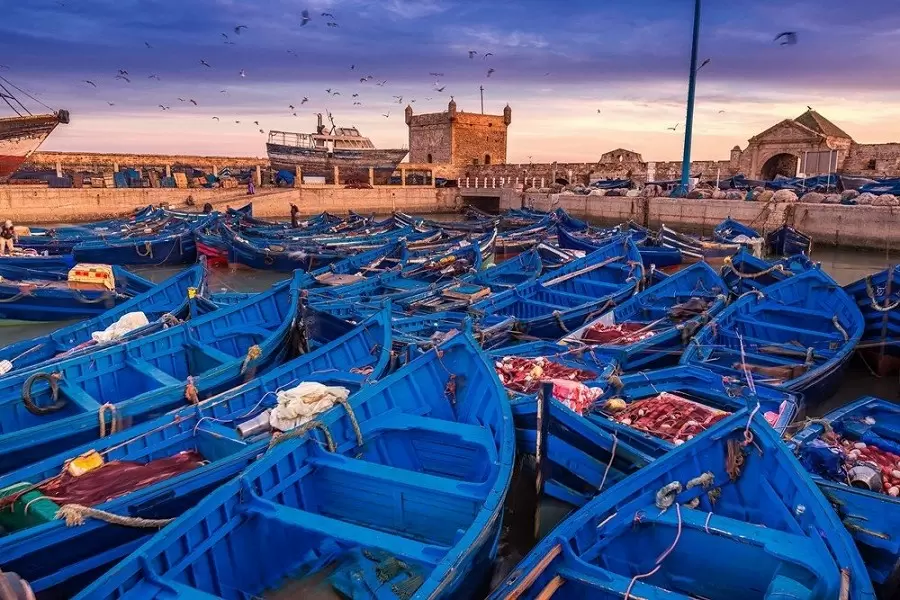 OUZOUD KRIOKLIAI – PUIKI DIENOS KELIONĖ IŠ MARAKEŠO
Maroke esantys Ouzoud kriokliai – puiki dienos ekskursija iš Marakešo. 110 metrų aukščio kriokliai yra aukščiausi Maroke ir tikrai verti 3 valandų kelionės.
Ouzoud kriokliai įsikūrę Aukštojo Atlaso kalnuose, prie Tanaghmeilt kaimo. Išvertus iš berberų kalbos, Ouzoud reiškia alyvuogę, šias uogas auginantys medžiai nusėję visą krioklių slėnį. Nepatingėję pavaikščioti po apylinkes, rasite ne vieną istorinį vandens malūną, spaudusį aliejų iš alyvuogių. Prie Ouzoud įsikūrę daugybė vietinių kavinių ir viešbučių, o ieškantiems romantikos – ir palapinių miestelis.
Nepamirškite maudymosi aprangos ir patogių batų – pavaikščioję kalvotomis krioklių vietovėmis, nersite į gaivinantį Al Abid upės vandenį.
Pasiekti Ouzoud krioklius savarankiškai nėra paprasta – nebent turite išsinuomoję automobilį. Kitu atveju tektų keliauti vietiniu autobusu, kuris neveža tiesiai iki krioklių, tektų išlipti pusiaukelėje ir ieškoti vietinio taksi. Todėl patogiausia – keliauti su dienos ekskursija iš Marakešo. 8 val. ryto jus pasiims mini autobusas ir kartu su kitais keliautojais Ouzoud pasieksite apie 11 val. Atvykę, iki 3 val. galėsite maudytis, laipioti po olas ir fotografuotis su vietinėmis beždžionėmis. Atgal į Marakešą grįšite apie 7 val. vakaro. Į kainą įskaičiuotas gidas prie Ouzoud krioklių.
Kelionės kaina – tik 25 eurai žmogui.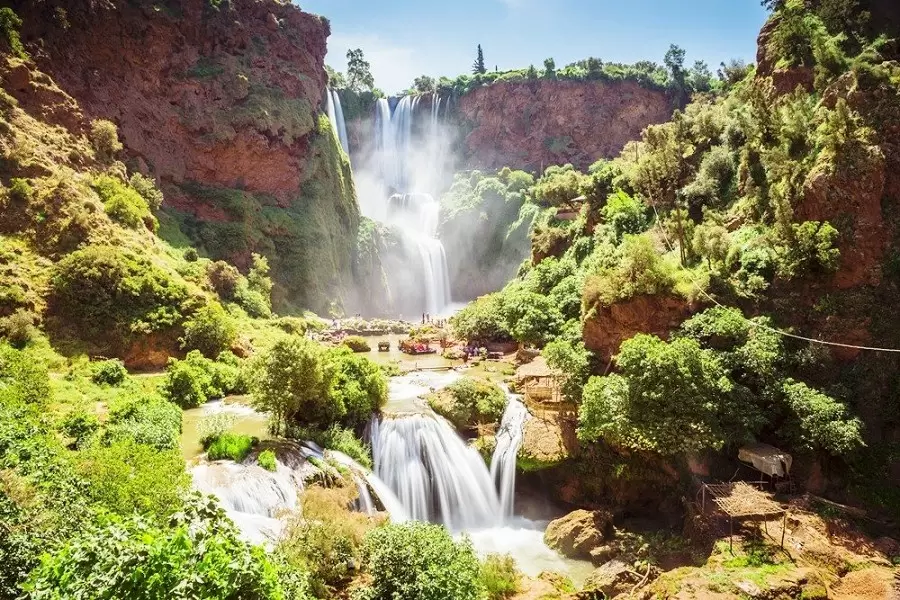 GERIAUSIAS BŪDAS PAŽINTI MARAKEŠĄ – TURAS SU VIETINIU GIDU

Marakešas – išties spalvingas ir pilnas paslapčių miestas. Jį pažinti neužteks ir vienos dienos, o klaidžios senamiesčio (Medinos) gatvelės pilnos įspūdingų istorijų. Marakešo pažinimui rekomenduoju užsisakyti privatų turą su vietiniu licencijuotu gidu.
Marakešo pažinimas su gidu truks pusę dienos. Turo programa labai priklauso ir nuo jūsų poreikių – galbūt norite labiau patyrinėti senamiesčio labirintus ir turgus? Galbūt jus labiau domina istorija ir monumentai? Savo poreikius galite papasakoti gidui, kuris pagal savo programą įtraukia Koutoubia mečetę, Saadiano kapus ir įspūdinguosius Bahia rūmus (arba kitus monumentus, kaip kad Ben Youssef Korano mokykla, kuri šiuo metu restauruojama). Žinoma, panirsite į Medinos gatvės turgų (souks) labirintus. Aplankysite net ir patiems marokiečiams egzotišką Jemaa El Fna aikštę, įtrauktą į UNESCO kultūros paveldo sąrašą.
Licencijuotas vietinis gidas puikiai kalba tiek angliškai, vokiškai ar prancūziškai. Esant poreikiui, galima užsisakyti ir rusiškai kalbantį gidą.
Į turo kainą neįskaičiuota įėjimo mokestis į šias vietas: Bahia rūmai (1 euras), Saadian kapai (1 euras). Į Majorelle sodą gidas neveda, nes ši vieta yra tolokai nuo senamiesčio.
Kaina (visas turas, ne žmogui)
2 žmonės – 50 eurų
3 žmonės – 50 eurų
4 žmonės – 50 eurų
Gidas po miestą RUSŲ kalba:
2 žmonės – 60 eurų
3 žmonės – 70 eurų
4 žmonės – 70 eurų