Malta − nedidelė Viduržemio jūros valstybė, esanti pusiaukelėje tarp Sicilijos ir Šiaurės Afrikos pakrantės.
Malta sudaryta iš mažų salelių: Malta ir Gozo sala yra apgyvendintos, Komino beveik negyvenama, o kitos salelės − labai mažos ir negyvenamos. Sala turtinga savo nuostabiu kraštovaizdžiu, įspūdingomis uolėtomis pakrantėmis, ramiomis įlankomis, pasakiškais smėlio paplūdimiais ir skaidria jūra, traukiančia poilsiautojus ir nardymo mėgėjus iš viso pasaulio. Skanus vietinės virtuvės maistas ir vynas, draugiški žmonės, triukšmingos miesto turgavietės, tai ką tikrai galite rasti mažytėje šalyje. Tai − ideali vieta tingioms ir romantiškoms atostogoms., ypač mėgstantiems vandens pramogas. Maltoje rasite didelį kultūrinių renginių pasirinkimą bei galėsite aplankyti gausybę katedrų, rūmų ir šventyklų. Saulė lepina beveik ištisus metus, tad nenuostabu, kad ir poilsiautojai čia vyksta ištisus metus.
Pateikiame Jums mūsų sudarytą kelionės maršrutą, norintiems sužinoti, dėl ko tiek daug poilsiautojų vyksta į šią mažą valstybę.
Keliaudami šiuo maršrutu pabuvosite beveik visuose šalies regionuose. Norintys ramesnio poilsio, maršrutą ar viešbučio lokaciją keiskite pagal savo poreikius, nes šis − parengtas maksimaliam salos pažinimui.

Po Maltą keliauti galite viešuoju transportu arba nuomotu automobiliu, pasirinkusieji pastarajį variantą, turėtų žinoti, kad šalyje eismas vyksta kairiąja kelio puse. Turistai pabuvoję Maltoje sako, kad viešuoju transportu keliauti saloje labai patogu. Tik nuvykus, oro uoste galima nusipirkti Maltos viešojo transporto kortelę, kuri leis tyrinėti salą visą savaitę be jokių limitų. Kaina - 21 €/ asm.
Iš Lietuvos vykdomi tiesioginiai skrydžiai į Maltą (Vilnius - Luka (Malta)).
1 diena. Mažų kaimelių grožis
Apšilę kojas viešbutyje, galite leistis į pirmąją kelionę. Kurortiniai Maltos kaimeliai įsikūrę visai netoliese, vos už 10 kilometrų nuo Luka miestelio. Jei keliausite nuomotu automobiliu, siūlome aplankyti mažesnius, labai savitus ir jaukius žvejų kaimelius. Jie nedideli, greitai apžiūrimi, tad per dieną galėsite aplankyti ne vieną, o keletą jų.
Lankomiausi Maltoje žvejų kaimeliai – Marsaxlokk, Bugibba, St. Paul's Bay, Qawra ir Marsascala. Rekomenduojame paplaukioti − šią paslaugą siūlo dauguma uostuose esančių laivelių. Čia taip pat netrūksta restoranų, kavinių, barų ir nedidelių parduotuvėlių. Iš šių kaimelių atsiveria Gozo bei Komino salos. Pasivaikščioti ir pasigrožėkite autentiškų žvejų kaimelių vaizdais bei pabandykite įsijausti į vietinių žmonių gyvenimą.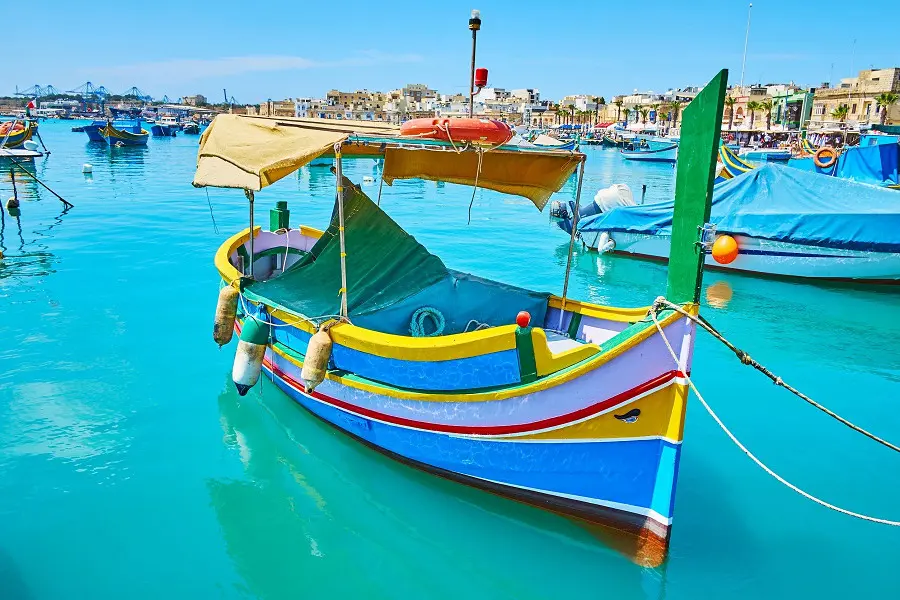 Marsaxlokk kaimelio pakrantė
Taip pat turėsite galimybę pailsėti vietiniuose smėlio paplūdimiuose, nepraleiskite progos išsinuomoti gultą su skėčiu nuo saulės. Marsascala ir Marsaxlokk garsėja visoje Maltoje ir už jos ribų savo žuvies restoranais, todėl jei norite paragauti tikros, Viduržemio jūroje pagautos žuvies, reikėtų nukeliauti būtent čia. Sekmadieniais kaimeliuose veikia dideli žuvies turgūs, kuriuose galėsite įsigyti šviežios žuvies bei įvairių jūros gėrybių.
2 diena. Kultūrinė pažintis su Maltos sostine
Valeta – Maltos sostinė, išsidėsčiusi šalies šiaurės rytiniame krante. Visas Valetos miestas − įtrauktas į UNESCO Pasaulio paveldo sąrašą.
Po miestą siūlome vaikščioti pėsčiomis, nes tik taip atrasite daugybę įvairių muziejų, galerijų bei traukiančių akį parkų. Pagrindinė miesto gatvė - Republic street, viena mėgstamiausių turistų. Vaikščioti galite drąsiai, nes Valeta − pripažinta saugiausia Europos sostine. Valetoje pasiklysti praktiškai neįmanoma, miesto išplanavimas primena šachmatų lentos principą, todėl viskas − labai patogu ir aišku. Einant Republic street aplankykite pagrindinius miesto muziejus: karo muziejų (eksponuojami XV a. ginklų ir šarvų kolekcija), Magistro rūmų muziejų ir žaislų muziejų (visame pasaulyje pagaminti įdomiausi žaislai nuo 1950 m.)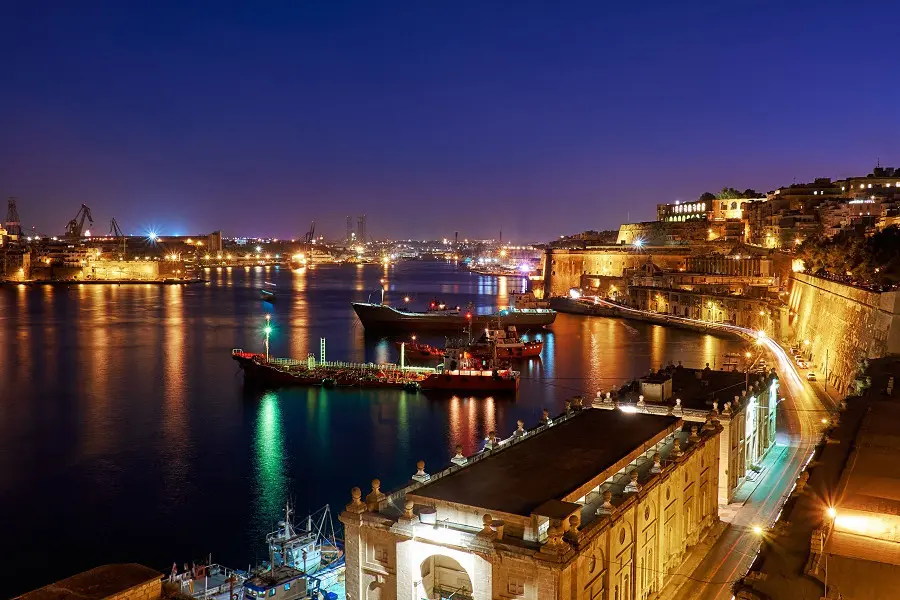 Naktinis Valetos vaizdas
Mieste privalu aplankyti Baraka sodus: žemutinius ir aukštutinius. Iš aukštutinio Baraka sodo terasos atsiveria įspūdingi panoraminiai vaizdai į uostą ir senovinius Sanglea ir Vitoriosa miestelius. Iš žemutinio Baraka sodo - Ricasoli forto, Bighi rūmų ir kitų pastatų panorama. Sodų teritorija labai tvarkinga, prižiūrima, jose gausu fontanų ir įdomių skulptūrų.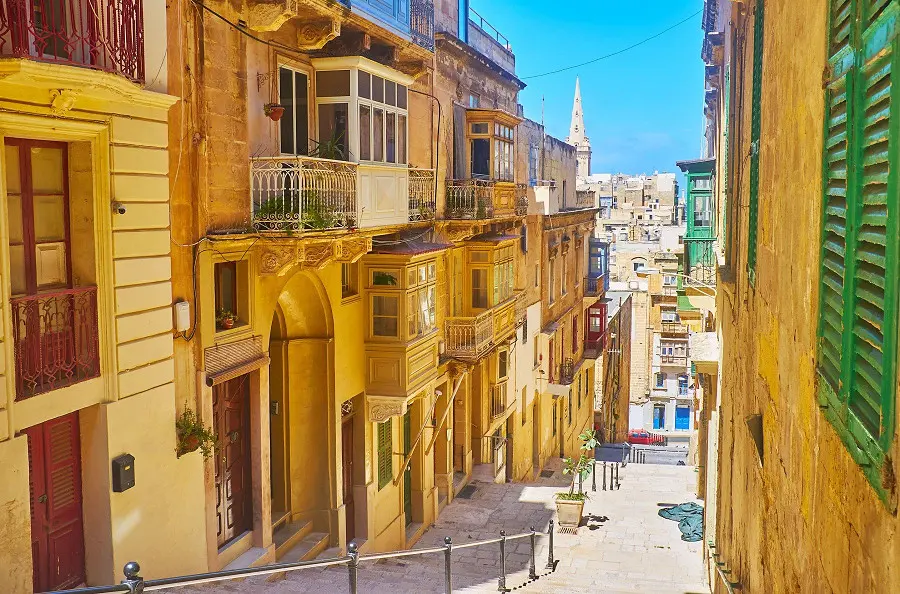 Valetos senamiestis
Dar vienas vertas dėmesio objektas − Šv. Jono katedra, saloje stovinti nuo XVI a. Tai 8 koplyčių kompleksas − kiekviena jų paskirta vienam iš svarbiausių šventųjų. Nors ir išorės katedra neatrodo itin įspūdingai, tačiau vos įžengę į vidų pakeisite nuomonę. Viduje rasite itin puošnų baroko stiliaus interjerą - katedros lubos yra išpieštos Šv. Jono gyvenimo scenomis, kuo ši katedra garsi visame pasaulyje!
Priešais katedrą − Šv. Jono aikštė, kurioje vietiniai labai mėgsta susitikti ar tiesiog jaukiai leisti laiką. Aplink ją rasite daug širdžiai malonių kavinukių ir suvenyrų kioskelių. Netoliese yra Šv. Jurgio aikštė, puiki poilsio vieta su fontanu apsuptu skulptūromis.
Pačiame miesto centre stovi istoriniai valdžios rūmai − tai vienas iš pirmųjų pastatų visame Valetos mieste. Nepraleiskite progos patekti į vidų ir pamatyti rūmus iš vidaus.
3 diena. Sliema - romantikos ir linksmybių miestas
Trečią diena siūlome vykti į Sliemą - kurortinį miestą, kuriame patiks tiek romantikos ir ramybės mėgėjams, tiek norintiems pasilinksminti ir papramogauti. Sliemo mieste gausu įvairių barų ir restoranų, taip pat vaizdingų pėsčiųjų takų. Kurorto krantas puikiai tinka paviršiniam nardymui su vamzdeliu, nes čia vanduo ypatingai skaidrus. Taip pat mieste galite aplankyti Balluta katedrą, įsikūrusią nuostabioje Balluta įlankoje.
Dar vienas objektas vertas dėmesio – Sain Juliano bokštas. Šis bokštas yra vienas iš 13 bokštų, iš kurių buvo siekiama laiku pastebėti besiartinančius priešus.
Mieste rasite Tignės fortą − vieną iš seniausių daugiakampių fortų visame pasaulyje. Nuo šio forto galima grožėtis nuostabiu Valetos senamiesčio vaizdu.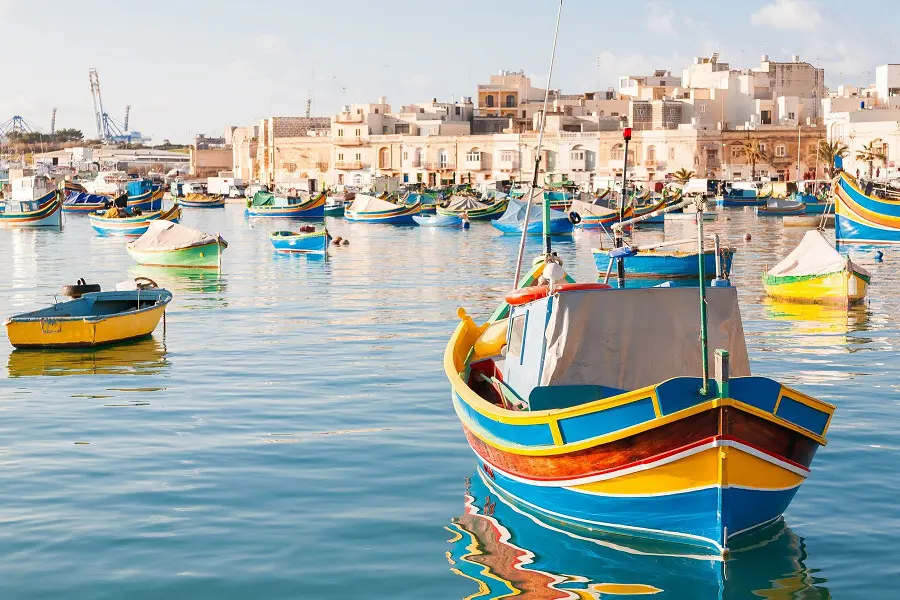 St. Julians kurortas
Vakare, vykite į St. Julians - garsiausią šalyje kurortą. Pamatysite tikrąjį Maltos naktinį gyvenimą. Šis kurortas garsėja Maltoje ir už jos ribų linksmybėmis, diskotekomis, barais bei kazino.
4 diena. Pažintis su Mdinos miestu
Mdinos miestas Maltoje − gerai žinomas, senovinis viduramžių miestas. Mdina, dar kitaip žinoma Tyliojo miesto vardu, praeityje buvusi Maltos sostine. Tai savitas savo istorija ir išskirtine architektūra miestas bei nuostabi vieta ramybės ir poilsio ieškotojams. Čia tyluu, ramuu, todėl galėsite pailsėti nuo didelius miestus supančio šurmulio. Mdina stovi ant kalvos, apsuptos aukšta gynybine siena, čia labai vertinama ramybė, tyla, todėl automobilių eismas − draudžiamas (išskyrus vietiniams). Atvykus automobiliu, jį reikės palikti prie miesto įvažiavimo, o toliau keliauti pėsčiomis. Gatvelės tokios siauros, apsuptos geltonų luitų sienomis, kad galėsite pasijusti kaip grįžę daug metų į praeitį. Čia išvysite autentišką architektūrą, savo turtais traukiančią turistus iš viso pasaulio.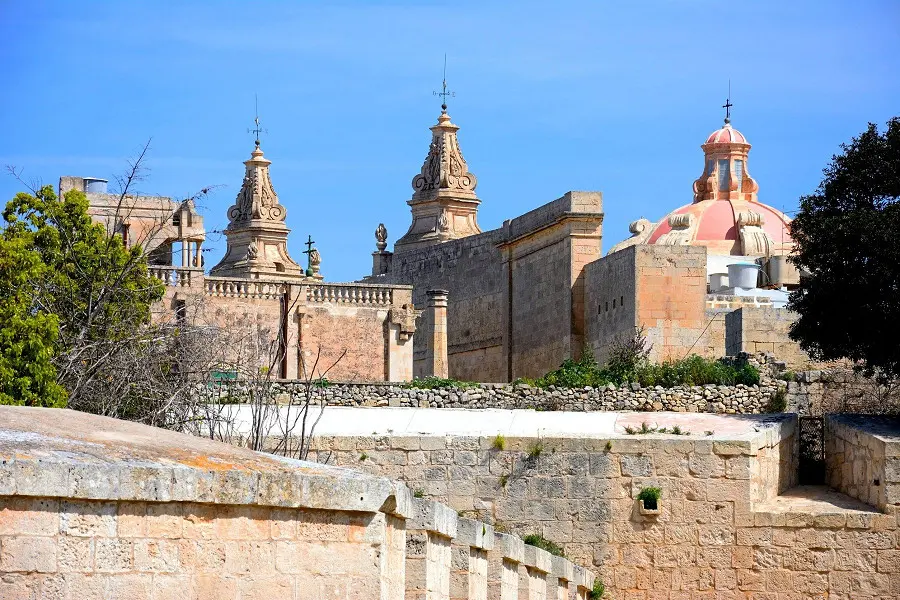 Istorinis Mdinos miestas
Mieste daugybė rūmų, amatininkų parduotuvėlių, koplyčių bei katedrų su savo muziejais ir galerijomis. Mdina taip pat garsi savo miesto stiklapūčių meno darbais − puiki proga įsigyti išskirtinių gaminių. Šviečiant saulei yra tikimybė išvysti Etnos ugnikalnį esantį Sicilijoje.
Besidomintiems istorija, rekomenduojame aplankyti miesto pakraštyje esančias senovines katakombas, o netoli Mdina galite išvysti Romos miesto namų liekanas. Taip pat verta aplankyti Šv. Petro bažnyčią. Ši išties įspūdinga!
5 diena. Ramaus poilsio diena
Atostogos asocijuojasi ne tik su šalies ar miesto pažinimu, bet ir poilsiu. Šią dieną siūlome šiek tiek atsipūsti. Nors Maltoje nėra daug įspūdingų paplūdimių, kaip kitose pietų šalyse, čia galima rasti ne tik uolėtas, bet ir smėlio pakrantes.
Mallieha Bay, vietinių vadinamas L-Ghadira – populiariausias ir didžiausias paplūdimys Maltoje. Pliažas ypač populiarus tarp šeimų su mažais vaikais, kadangi jūra maždaug 50 metrų nuo kranto yra dar visai negili. Jame galėsite nebrangiai išsinuomoti gultus ir skėčius nuo saulės. Pakrantėje rasite keletą lauko kavinių, barų, tad galėsite užkąsti ir atsigaivinti.
Pajūryje yra daug pramogų: burlentės, vandens aitvarai, čiuožinėjimas vandens slidėmis, plaukiojimas kanojomis ir dar daugiau. Be to, paplūdimį labai patogu pasiekti tiek viešuoju transportu, tiek automobiliu. Atvykus automobiliu, jį galėsite palikti šalia esančioje automobilių stovėjimo aikštelėje.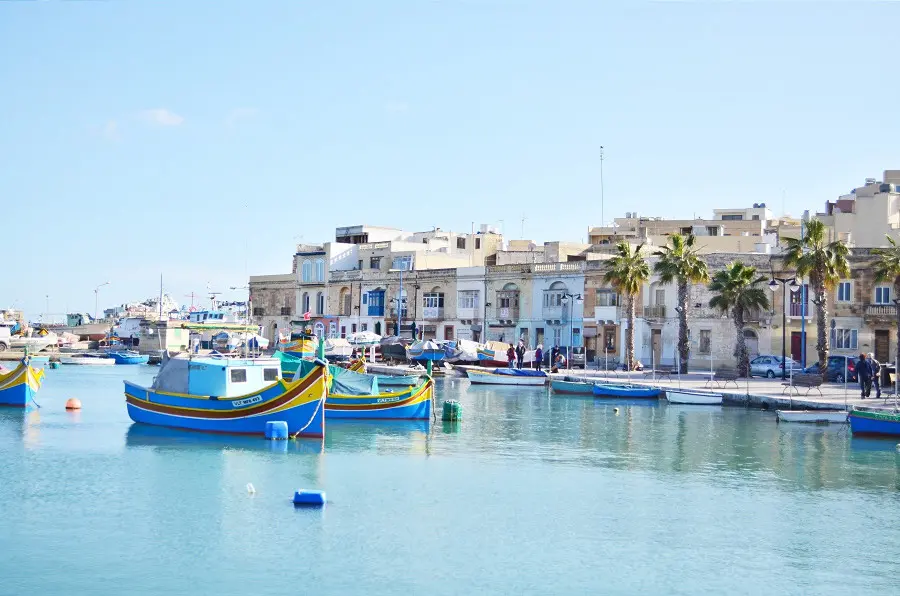 Kurortinis Maltos vaizdas
Kadangi jūra yra sekli, o krantas – smėlio, todėl jūra lieka pakankamai šilta ir rudens mėnesiais, tad šis paplūdimys puikus pasirinkimas keliaujant ir ne sezono metu. Paplūdimį rasite apie 2 km nuo Mellieha miestelio.
6 diena. Persikėlimas į Gozo salą
Gozo sala – antra pagal dydį Maltos salyno sala, tačiau už Maltą ji mažesnė net tris kartus. Nors pati sala nėra didelė, bet pamatyti joje tikrai yra ką! Nuvykti į Gozo salą visai nesudėtinga - iš Cirkewwa uosto kelia keltas, kuris plaukia maždaug kas pusvalandį. Autobusų tvarkaraštis sudėliotas gana nepatogiai, nes norint pamatyti kažką naujo, turite vėl grįžti į centrinę vietą, todėl keliauti po Gozo salą rekomenduojame automobiliu.
Sala apsupta iš visų pusių vešlios augmenijos, todėl atrodo žymiai žalesnė nei Malta. Saloje gerai išvystytas žemės ūkis, joje galima pamatyti nemažai vynuogynų, todėl esant galimybei rekomenduojame paragauti, kuo daugiau vyno rūšių, nes Malta savo vyno neeksportuoja į kitas valstybes. Įdomių lankytinų vietų aplink salą taip pat gausu.
Saloje būtina aplankyti Ggantija šventyklas. Iš maltiečių kalbos išvertus "Ggantija" reiškia "priklausanti milžinams." Šventyklos, kaip manoma, pastatytos iš didelių akmens luitų, dar 5000 metų prieš mūsų erą, tad tikrai pajusite šventyklų didybę. Tikintys legendomis sako, kad Gozo saloje šias šventyklas pastatė milžinai. Šios šventyklos įtrauktos į UNESCO Pasaulio paveldo sąrašą. Vaizdas tiesiog gniaužiantis kvapą!
Ta Pinu šventykla, taip pat žymus kūrinys. Ši, šalia Gharb kaimelio įsikūrusi šventykla yra viena žymiausių Gozo salos šventyklų, į kurią traukia tikintieji iš viso pasaulio. Tikima, kad kažkada seniai, toje vietoje stovėjo mažytė koplytėlė, kurios viduje buvusiai moteriai apsireiškė Margelė Marija, todėl dažnai kalbama, kad nuo to laiko šioje vietoje vyksta magiški dalykai.
Dwejros miestelyje aplankykite Vidinę jūrą. Tai – vandens telkinys, kuris nuo Viduržemio jūros atskirtas uolienų siena. Viduržemio jūros vanduo į šį telkinį patenka pro uolose esantį tunelį, kuriuo esant saulėtam orui, galima praplaukti vietinių valtele. Pakrantė labai populiari tarp nardytojų. Ekstremalai, žymėkitės šią vietą!
Dėmesio, nardytojai! Pasižymėkite Wied il-Ghasri. Ši vieta atrodo kiek apgaulingai – iš pirmo žvilgsnio lyg nedidukas fjordas, bet iš tikrųjų, čia tikras rojus nardymo mėgėjams! Gėlas vanduo gėlas – dar labiau pritraukia lankytojus.
Jei nesate nardymo mėgėjas, galite nuvykti į Kslendi. Tai populiarus kaimelis Gozo saloje, į kurį atvyksta pailsėti tiek turistai, tiek patys maltiečiai. Kaimelyje yra didinga uola, nuo kurios atsiveria miestelio panorama.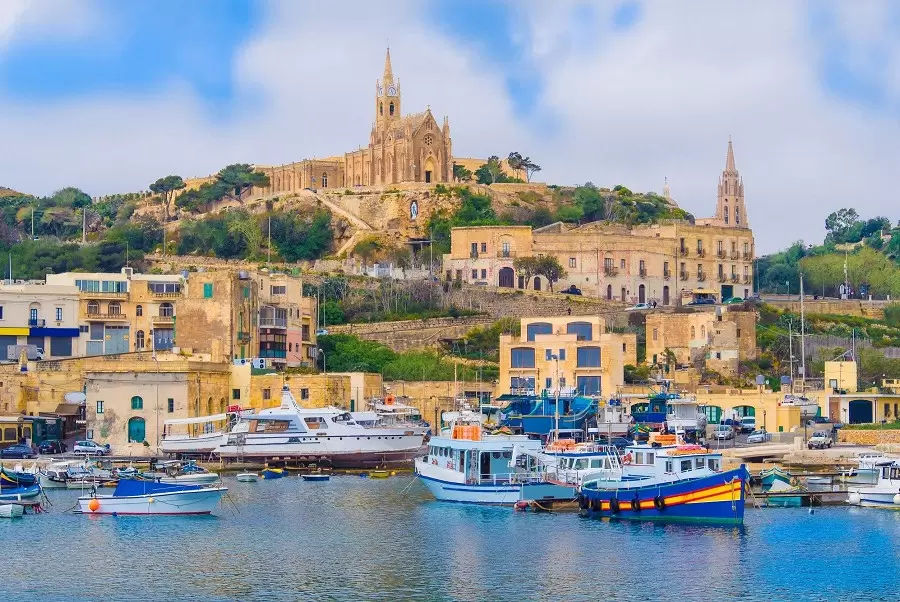 Gozo salos grožis
Jei po įtemptos dienos liks jėgų, išvykdami iš salos aplankykite Viktorijos miestą – Gozo salos sostinę. Mieste rasite Citadelę, kuri buvo Gozo salos gyvenimo centras, o aplink ją kūrėsi visi gyventojai. Šiuo metu Citadelės vidus apgriuvęs, bet didybę vis dar galima pajusti. Citadelės viduje taip pat galima aplankyti Gozo katedrą, pasižyminčią ypatinga lubų tapybos technika. Atrodo, kad katedra turi kupolą, nors iš tiesų, ji – plokščiu stogu.
7 diena. Komino salos turtai
Komino – dar viena nuostabaus grožio sala, kuri neskaitant kelių viešbučių saloje, galima teigti, yra negyvenama. Į šią salą nesunkiai ir nebrangiai persikelsite iš Cirkewwa uosto – laiveliai plaukioja gana dažnai, maždaug kas 45 minutes. Daugiausiai turistai į šią mažą salytę atvyksta dėl Žydrosios lagūnos, jos vanduo toks skaidrus ir žydras, kad atrodo tiesiog nuspalvintas dažais. Pasakiško grožio vaizdas, kurį privalo pamatyti kiekvienas savo akimis! Dėl vandens skaidrumo, labai sunku nuspręsti vandens gylį, o dugne besimatantys akmenukai atrodo tiesiog ranka pasiekiami, nors gylis yra keli metrai.
Saloje galėsite pasimėgauti ne tik gražiais vaizdais, bet ir saulės voniomis, todėl rekomenduojame atvykti kuo anksčiau, kad netektų gulėti ant uolienų.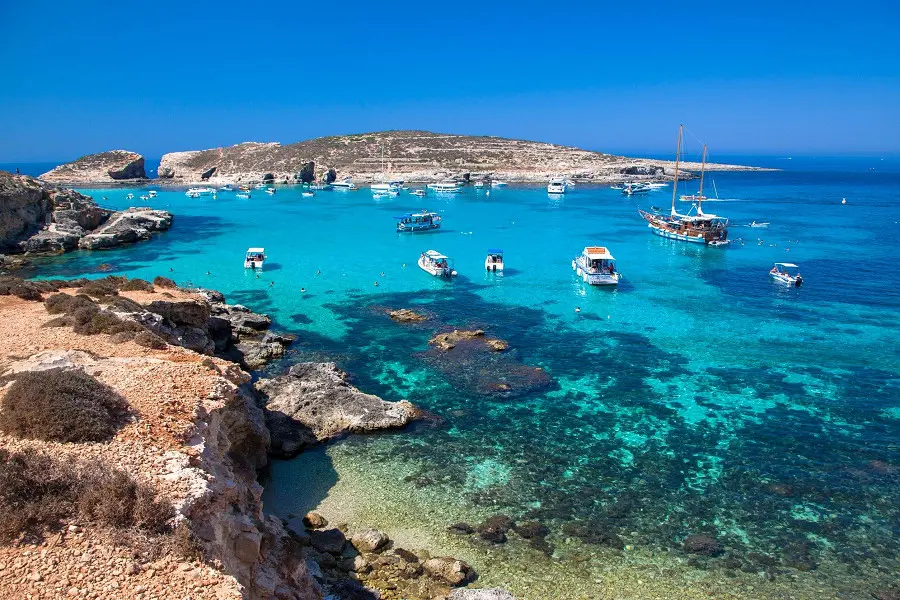 Gražiausia Komino salos vieta - Žydroji lagūna
Saloje verta aplankyti Komino bokštą, pastatytą dar XVI a., skirtą stebėti tarp Maltos ir Gozo salos plaukiojančius laivus. Buvo laikotarpis, kai salą dažnai puldavo piratai, tuomet stebėjimas iš šio bokšto buvo vienintelis būdas sužinoti apie būsimą apgultį bei ruošis gynybai.
Verta aplankyti ir St. Mary's Bay ir St. Nicholas Bay įlankas su įspūdingomis uolėtomis pakrantėmis bei nuostabiu panoraminiu vaizdu.
Keliautojau, tikimės, kad šis kelionės maršrutas paskatins Jus nuvykti į Maltą ir pažinti kitą kultūrą, pailsėti, atrasti gražiausias vietas bei aktyviai praleisti laiką! :)