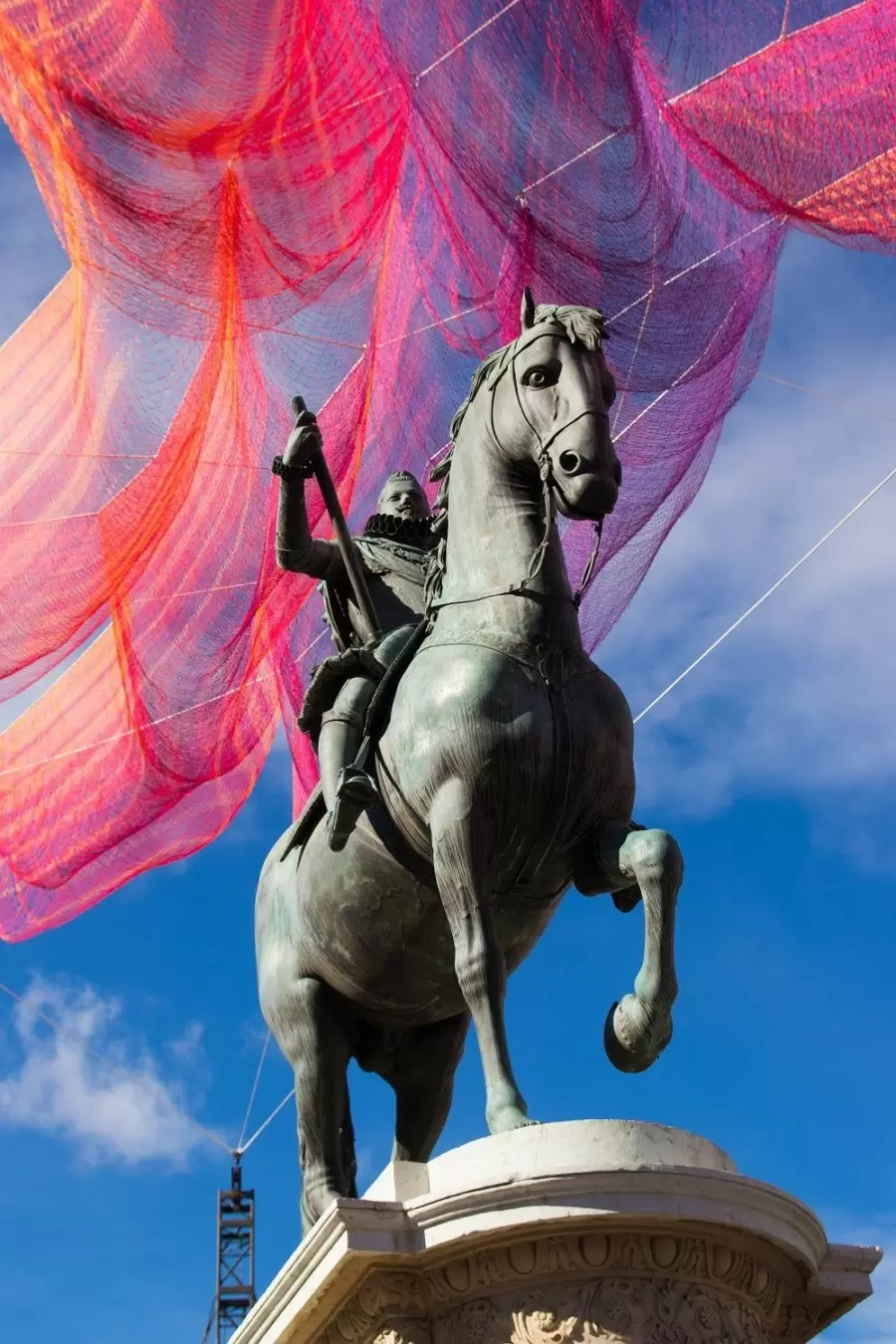 Mieste daug meno: ir tradicinio, ir šiolaikinio. Karžygio statula vienoje centrinių miesto aikščių išryškinama debesis primenančiu tinklu, kuris keičia spalvą priklausomai nuo paros meto.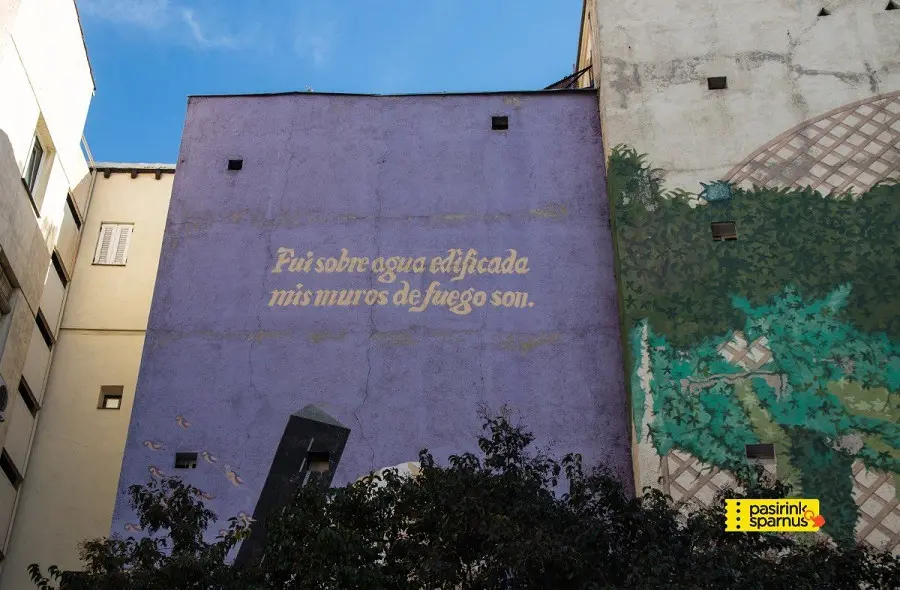 Šie žodžiai sakantys, jog aš pakilau iš vandens, mano sienas pastetė ugnis, poetiškai atspindi miesto susikūrimo istoriją.
Kai esi smalsus, atrodytų reikia ir ten, ir ten, norisi ir to, ir ano. Atvykus į Madridą nuo galimybių galva – tikrai sukasi. Miestas, kuriame gyvena beveik, kaip Lietuvoje – net 3,12 mln. žmonių, turi ką pasiūlyti. Tačiau šį kartą pažvelkime į tai, kas aktualu skaičiuojantiems keliautojams.

Pirmasis dalykas į kurį atkreipsite dėmesį planuodami kelionę – gyvenamoji vieta. Skirtinguose miestuose ją dera rinktis pagal skirtingus kriterijus. Tad, kaip yra ispanų sostinėje? Čia labai svarbu, kur gyveni, mat dauguma populiariausių lankytinų objektų yra centre, arba netoli jo, todėl patogiausia apsigyventi ten, iš kur pastarąją miesto dalį galėsite nesunkiai pasiekti pėsčiomis. Madride labai populiarūs Hostal tipo viešbučiai. Iš tiesų, tai – ypač turistinis variantas, su paprasčiausiais, kambariais, kuriuose, dažnai nėra nei televizorių, nei šaldytuvų, tik viena ar dvi lovos ir dušas. Nieko "mandro", bet svarbiausiai funkcijai – miegui, puikiai tiks. Taip apsistoję tikrai sutaupysite ir metro ar kito viešojo transporto bilietams.

Tiesa, pačių bilietų prireiks, bent porą kartų. Juk į Madridą atskrisite lėktuvu, todėl nusigauti iš oro uosto į miestą prireiks sėsti į autobusą ar traukinį. Priklausomai nuo pasirinkto maršruto asmeniui bilietas kainuos 1,5 – 5 eurus. Jei piniginė ne per storiausia, venkite važiuoti taksi, mat nepriklausomai nuo adreso teks sumokėti bent 30 eurų į vieną pusę.

Atvažiavę į miestą ir įsikūrę viešbutyje, skirkite laiko neilgai ekskursijai. Geriausia žinia ta, kad Madride organizuojama daug nemokamų pasivaikščiojimų į kuriuos reikia tik užsiregistruoti. Daugumą jų galima rasti šiame puslapyje.

Tiesa, prieš registruojantis į ekskursiją reikia žinoti du dalykus. Pirmasis: ji vyks tikrai ne lietuvių kalba (dažniausiai, anglų ar ispanų). Kokia tiksliai, rasite konkrečios ekskursijos aprašyme. Antrasis: kodėl tokios ekskursijos nemokamos? Dažniausiai jas veda profesionalūs gidai, bet už savo paslaugas jie ima tik arbatpinigius jau po ekskursijos. Tad patariu iš anksto pasiruošti kelis eurus, nes nuo arbatpinigių grąžos niekas neduoda. Tokie gidai, kartais gali bandyti parduoti ir papildomas ekskursijas, tačiau jų pirkti nėra būtina, nebent patys labai norėsite.

Tokie pasivaikščiojimai yra puikus būdas geriau suprasti, ką norėsite veikti, taip pat, gidai gali pakonsultuoti svarbiais klausimais, pavyzdžiui, kur tą vakarą vyksta nemokamas arba beveik nemokamas flamenko pasirodymas, kur ieškoti suvenyrų, pas ką geriausia ragauti vyną ar gomurį lepinti ispanišku kulinarijos šou. Aklai laikytis rekomendacijų nėra būtina, bet pamatysite, dalis jų – tikrai pravers ir kišenėje išsaugos ne vieną eurą.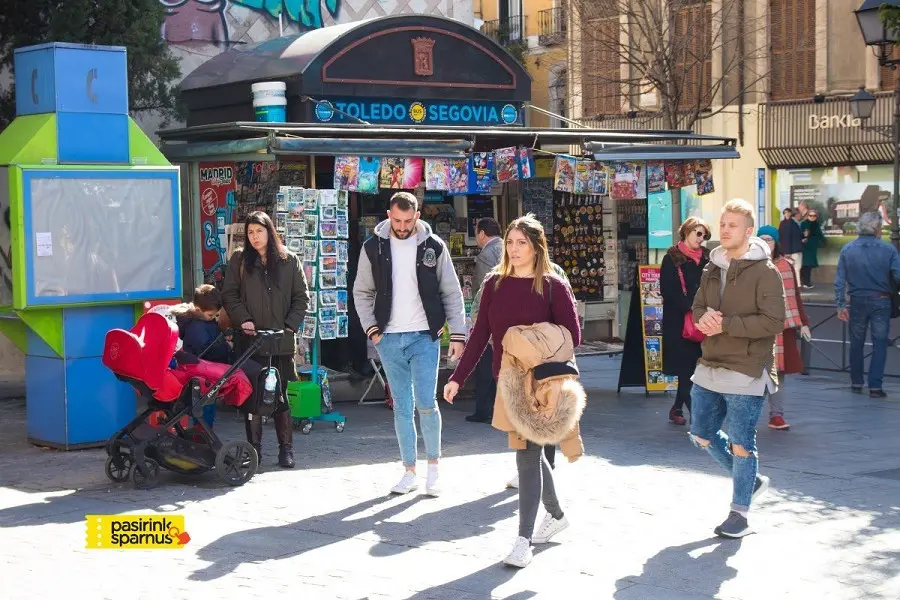 Tokių kioskų pilnas miestas, juose ne tik galima nusipirkti laikraščių ar neskoningų suvenyrų, bet ir užsisakyti ekskursijų į labai populiarius miestus netoliese Toledo ir Sogovia.

Madride nemokamai galima aplankyti ir ne vieną muziejų, tarp jų ir žymusis Prado. Tiesa, nemokamas lankymas labiau tinka vaikams ar menais ne itin besidomintiems žmonėms, nes dykai duris atveriamos tik porai valandų per parą, prieš pat darbo pabaigą, pvz., nuo 18 iki 20 val., o eilė net ir žiemą dažnai būna tokia ilga, jog sumokėti už bilietą iš anksto, būna verta.
Muziejai, muziejais, bet yra kultūrinė vieta, kuri visą laiką nemokama. Dar geriau – ten veikia nemokamas bevielis internetas, galima prisėsti ir atsipūsti. Tik santūriai, nes tai - Almudenos katedra. Ji nėra šiaip bažnyčia, ten vyksta svarbiausios ceremonijos susijusios su Ispanijos karališkąja šeima, todėl mirtingieji gali patekti tik pro šonines duris. Šventovės požemiuose, kuriuos taip pat galima aplankyti už dyką, laidojami iškiliausi šalies veikėjai.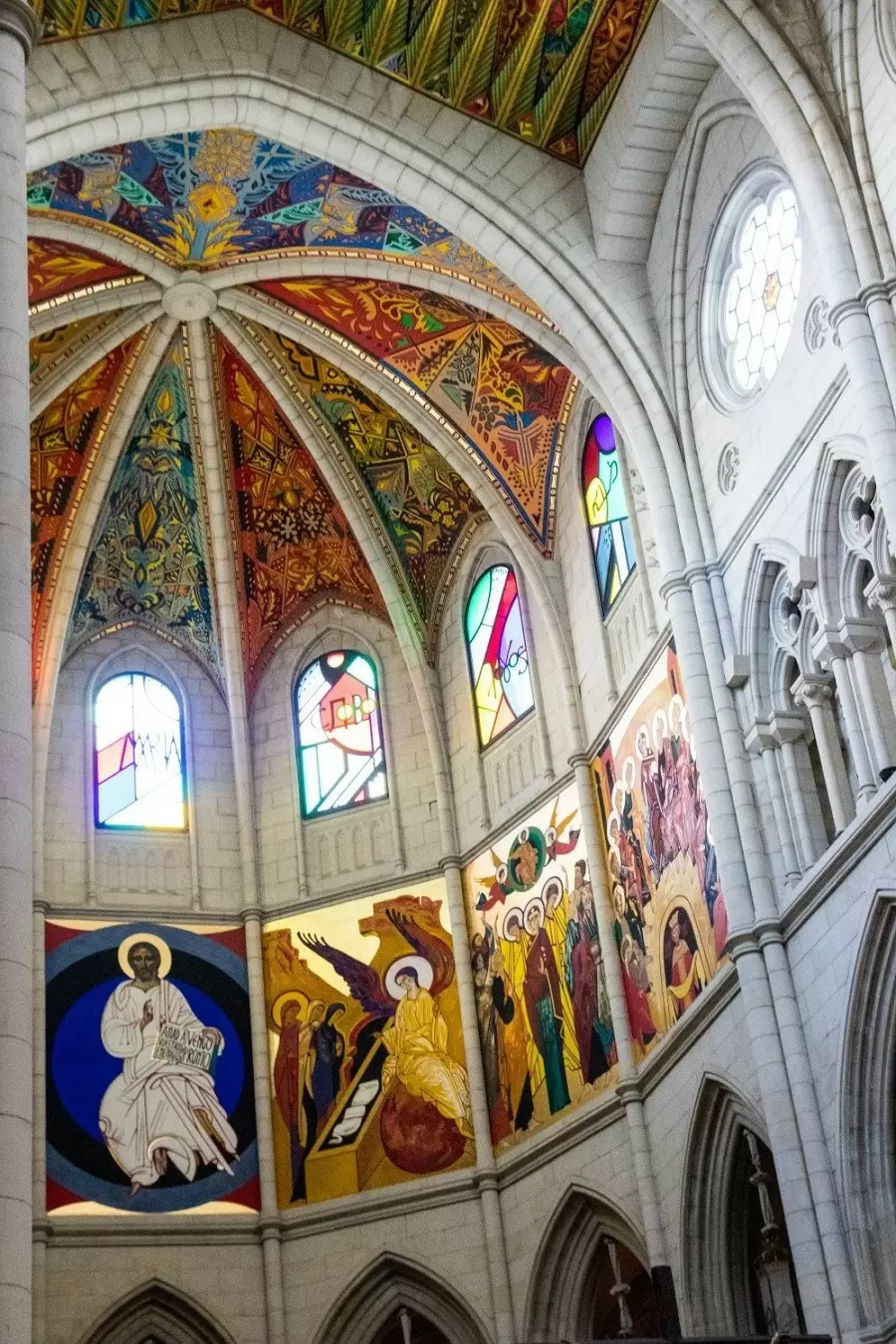 Madrido katedroje dera ir seni, ir nauji menai. Karaliams skirtą šventovę visi gali aplankyti nemokamai išskyrus, kai laikomos pamaldos.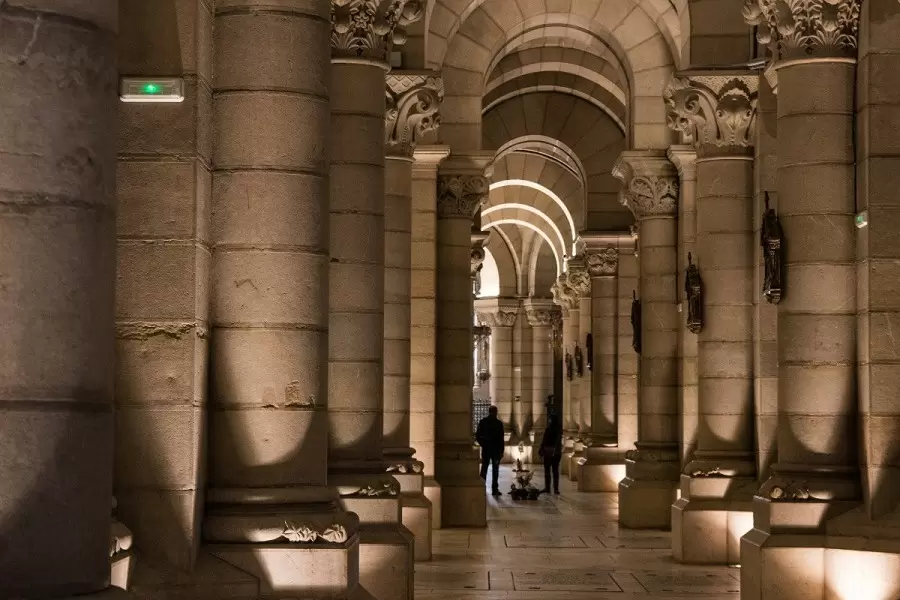 Įspūdingi katedros požemiai slepia ne vieną užburiančią istoriją.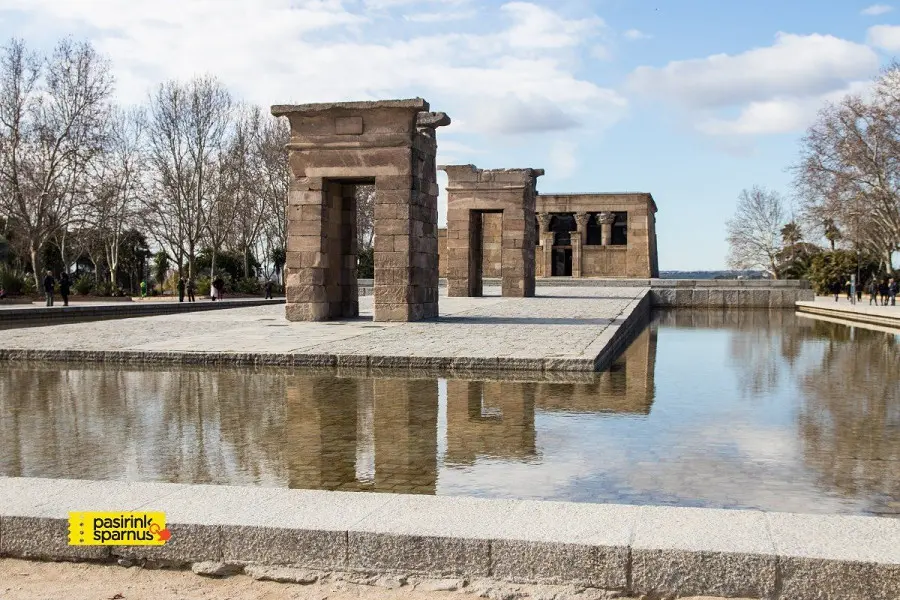 Viename Madrido parkų galima rasti ir tikrą dalelę Senovės Egipto.

Madrido parkai – taip pat, dėmesio vertas pasirinkimas, kuris Jums nieko nekainuos. Plati floros įvairovė džiugina ir tuos, kurie skiria augalus, ir visus kitus, o ant pievelės stebėti ir lesinti ne mums įprastus balandžius, bet papūgas – maloni pramoga.
Ant atvirukų ir miesto nuotraukų dažnai galima rasti stiklinį pastatą Palacio de Cristal. Jį galima nemokamai aplankyti Buen Retiro parke. Tiesa, tai galima padaryti tik darbo metu, o į vidų patenkančių žmonių skaičius ir laikas ribojami, todėl kreipkite dėmesį, ką sako prižiūrintys darbuotojai.

Krištolo rūmais vadinamame statinyje noriai laiką leidžia ir atvykėliai, ir patys ispanai.

Per 10 minučių nuo pastarojo objekto galite pėsčiomis pasiekti Madrido traukinių stotį. Net jei neturite planų kur nors puškuoti vis vien nueikite. Įspūdingas raudonų plytų, plieno ir stiklo fasadas slepia netikėtą dalyką – nemokamą tropinį parką, kuriame auga bananai, gyvena vandens vėžliai. Čia kiekvienas, net be bilieto gali pasidaryti įspūdingą asmenukę.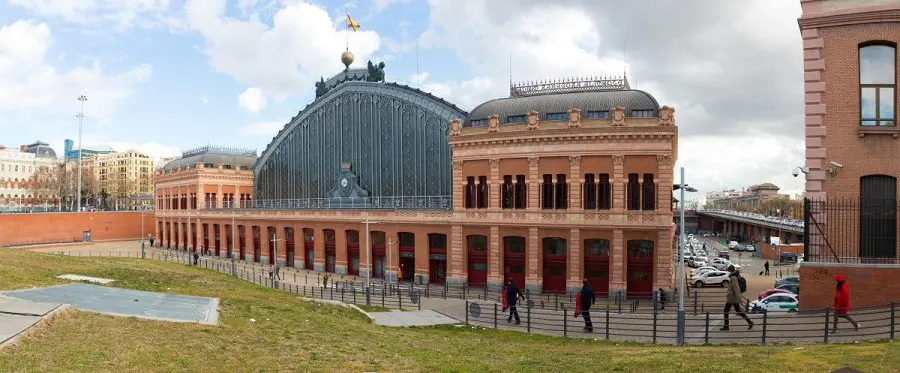 Madrido traukinių stotis realybėje atrodo įspūdingai, nes retam fotografuojančiam telpa į vieną nuotrauką.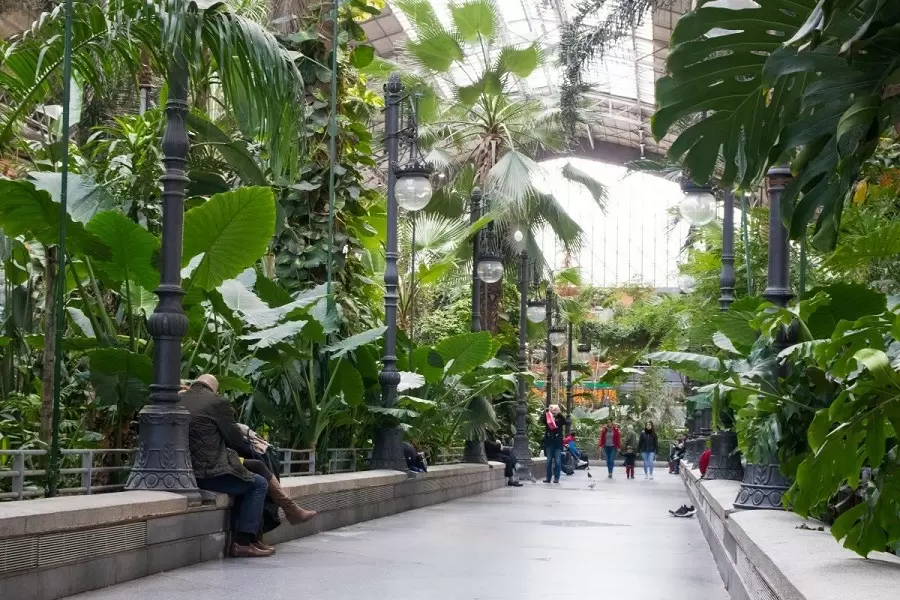 Botanikos parku paverstoje senojoje stoties dalyje galima stebėti vėžius ir maloniai laukti traukinio.
Bet gražiais vaizdais – sotus nebūsi, tad kur ir ką valgyti? Atsakymas tik vienas – sekite kainas. Jas dažna užeiga rašo prie įėjimo, todėl stebėti nėra sunku. Pasitaiko, kad vienoje įstaigoje, tarkime, sumuštinis kainuoja penkis eurus, o štai prie kaimyninių durų parašyta, kad analogiškas patiekalas parduodamas tik už eurą ar du. Svarbu atkreipti dėmesį, kad gėrimai Madride gali būti labai pigūs, tarkime puslitrį alaus ar taurę vyno centre galima įsigyti ir už pusantro euro, o prie to dažnoje užeigoje nemokamai gausite ir tradicinių ispanišką užtepėlių tapas.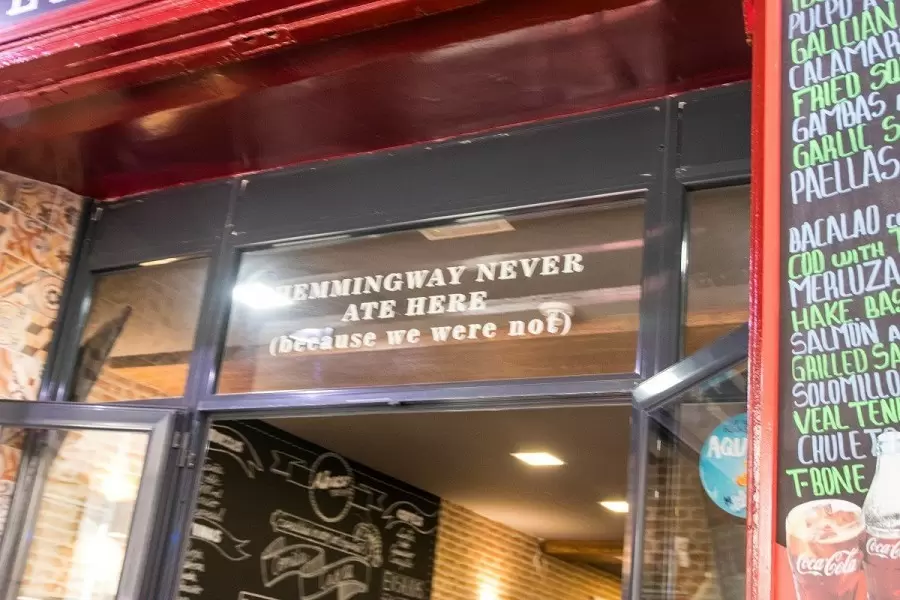 Neapsigaukite, vietos, kaip ši yra spąstai turistams. Atvykėlius jos bando suvilioti žinomais vardais, bet iš gatvės nesimato maisto kainų, kurios užėjus - gana aukštos.