Ko gero, jau visi žino, kad Tenerifė – amžino pavasario sala! Ten visus metus turistus džiugina geras oras ir saulės spinduliai. Be nuostabaus kraštovaizdžio, miškų, paplūdimių spalvų įvairovės, geros virtuvės pažinimo, rekomenduojame išbandyti šiek tiek aktyvesnes arba ekstremalesnes pramogas :)
Kad atostogos Tenerifėje suteiktų daugiau laimės kviečiame pramogauti:
👉 Loro ir Siam parkai
👉 Skrydis parasparniu
👉 Vandens parašiutizmas
👉 Vandens motociklai
👉 Pasiplaukiojimas jachta
👉 Žvejyba
👉 Nardymas
---
Dėl pageidaujamų paslaugų ar patarimų keliaujant po Tenerifės salą kreipkitės į mūsų partnerę Lolitą: +370 620 21857 (Viber, WatsApp) arba rašykite: [email protected]
---
Pramoginių ekskursijų Tenerifėje aprašymus ir kainas galite rasti čia>>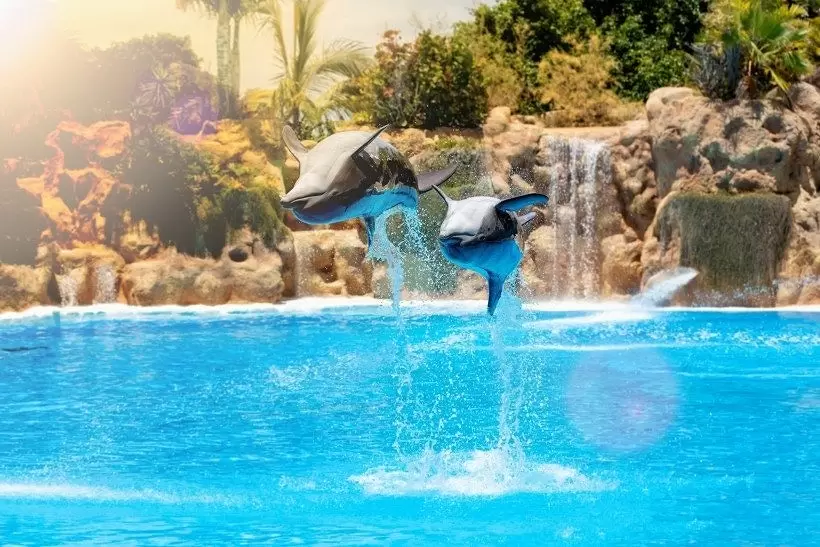 Loro parkas Tenerifės šiaurėje
Loro parkas
Tenerifės salos ir visos Ispanijos pasididžiavimas – Loro parkas, įsikūręs salos šiaurinėje dalyje, šalia Puerto de la Kruso miestelio, užimantis net 14 ha ploto. Parkas garsėja didžiausiais Europoje delfinų baseinais, didžiausiu pasaulyje pingvinariumu ir 18 m akvariumo tuneliu, kur virš galvos plaukioja egzotinės žuvys ir dvi dešimtys ryklių. Lankytojai gali stebėti beždžionių, gorilų, Galapagų salų vėžlių, delfinų, jūrų liūtų, flamingų, Misisipės krokodilų ir kitų gyvūnų gyvenimą.
Bilieto kaina: 38 €/ asm.
Siamo parkas
Siamo vandens atrakcionų parkas, įkurtas pietinėje salos pakrantėje, Plaja de Las Amerikas kurorte - tai tikra atgaiva ir poilsis suaugusiems, o vaikams – rojus. Siamo parke įrengtas balto smėlio dirbtinis paplūdimys, skalaujamas Atlanto vandenyno vandens. Jame taip pat veikia didžiausia dirbtinė banga pasaulyje, kurios aukštis gali siekti net 3 metrus! Pliuškentis paplūdimyje ar kituose įrengtuose baseinuose galima nors ir visą dieną – vandens temperatūra nenukrenta žemiau 25 laipsnių šilumos. Koks parkas be vandens kalnelių? Čia galima leistis ekstremaliais kalneliais ar kalneliais, skirtais visai šeimai. Mažiausiems įrengta atskira zona.
Bilieto kaina: 38 €/ asm.
Loro parkui priklauso ir Siamo vandens pramogų parkas Tenerifės pietuose - perkant bilietus į abu parkus taikoma nuolaida. Bilieto kaina į abu parkus: 66 €/ asm.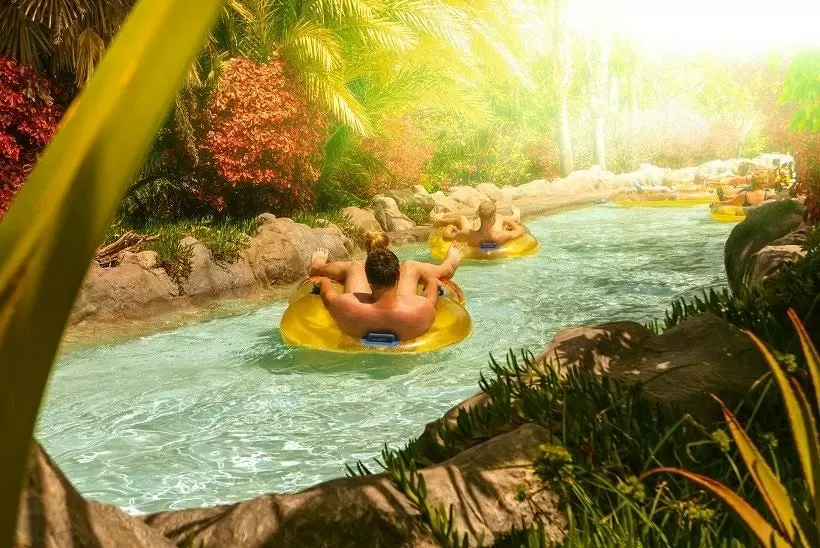 Siam Parkas Tenerifės pietuose
Skrydis parasparniu
Tai tandeminis parasparnio skrydis kartu su pilotu. Pilotas, sėdėdamas už jūsų, atliks visą darbą, o jūs gėrėsitės salos kraštovaizdžiu iš paukščio skrydžio.
Keleivio svoris negali viršyti 100 kilogramų.
Minimalus amžius 6 metai, 6-18 metų vaikus turi lydėti globėjai.
Skrydžio trukmė 15-20 minučių, tačiau iš viso reikės 2 valandų, įskaitant transportavimą.
Jei sergate jūros liga, prieš skrydį rekomenduojame išgerti vaistą.
Esant nepalankioms oro sąlygoms, pasiliekame teisę keisti skrydžio laiką. Jei skrydžio neįmanoma perkelti - grąžinsime pinigus.
Skrydžio metu gali būti vėsu, todėl rekomenduojame turėti šiltesnių drabužių.
Apsirenkite patogiai ir avėkite sportinius batelius.
Pramogos kaina: 90 €/ asm.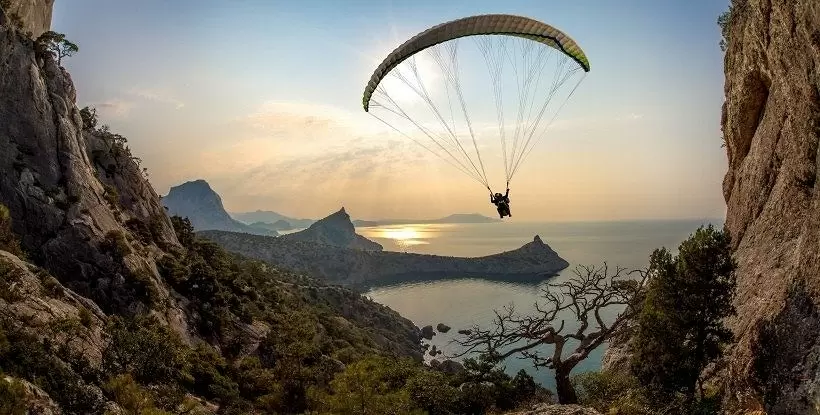 Skrydis parasparniu
Vandens parašiutizmas
Tai puiki galimybė pajusti oro ir vandens vienybę. Pasimėgaukite nuostabiu vaizdu virš Tenerifės krantų - 80 metrų aukštyje.
Ekskursija vykdoma iš pagrindinių paplūdimių į pietus nuo Tenerifės, iš Los Cristianos į Las Americas, Puerto Colon, Torviscas, Fañabe ir Bahía del Duque.
Pramogos kaina: 55 €/ asm.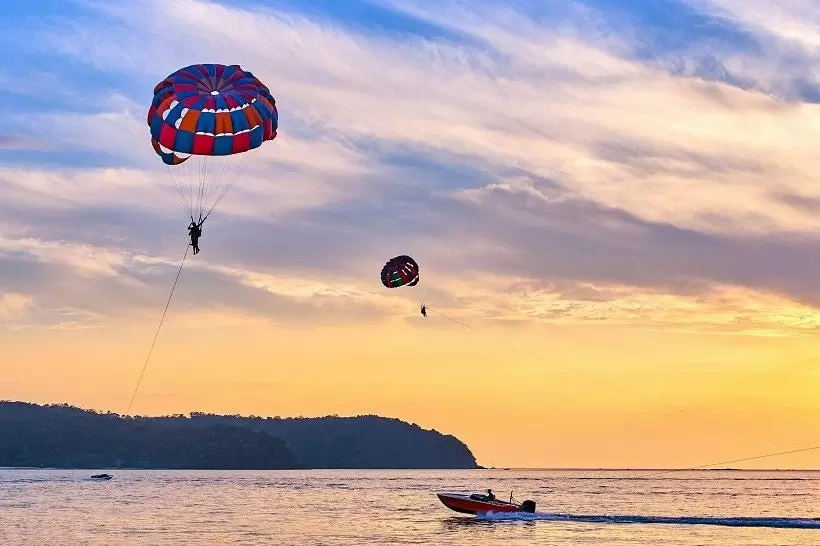 Pramoginė ekskursija su vandens parašiutu
Vandens motociklai
Jei esate priklausomas nuo adrenalino, mylite gamtą ir mėgaujatės kiekviena akimirka joje - siūlome jums papramogauti 1-2 valandas su vandens motociklu. Jūsų nuotykis prasidės Las Galleto uoste. Važiuodami galėsite pamatyti salos žuvų ūkį, gražiuosius šlaitus, banginius ir delfinus.
Pramogos kaina: 1 val. - 80 € vienvietis, 100 € dvivietis; 2 val. - 110 € vienvietis, 130 € dvivietis.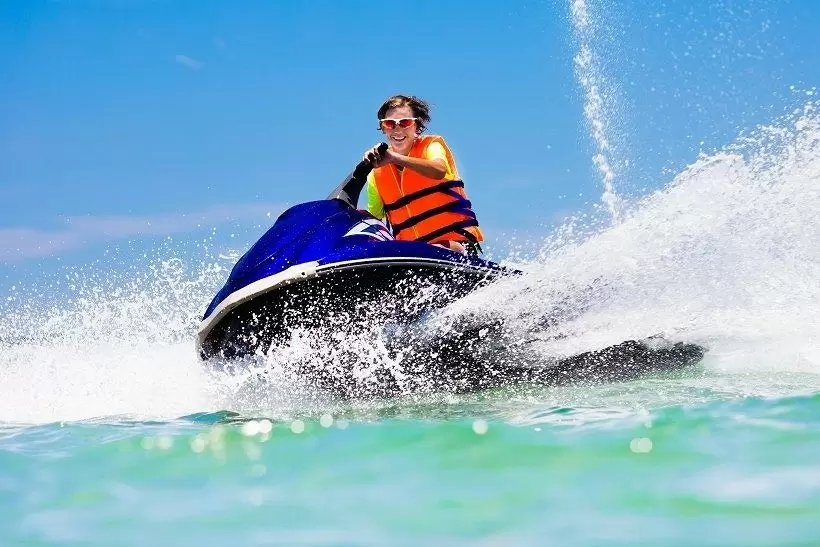 Pramoginis pasiplaukiojimas vandens motociklu
Pasiplaukiojimas jachta
Pasiplaukiojimo jachta (7-11 vietų) metu galėsite stebėti delfinų ir banginių šeimos savo natūralioje buveinėje, mėgautis užkandžiais ir nemokamu baru.
Pramogos kaina: 45 €/ asm.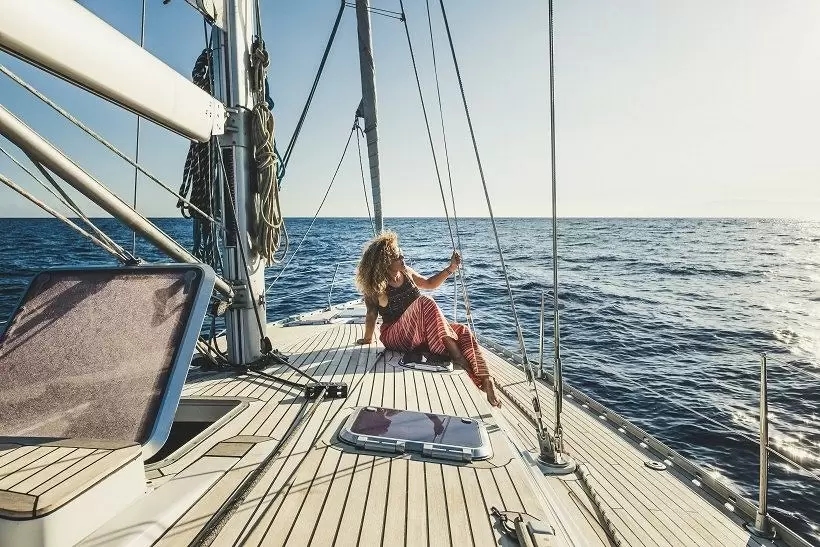 Plaukimas jachta
Žvejyba
Atlanto vandenynas - puiki vieta žvejybai. Į pietus nuo salos esančiuose vandenyse yra daug barakudų, tunų, ryklių ir daug kitų įvairių žuvų. Žvejybos trukmė 4 val., maksimalus žvejų skaičius 7-8 žmonės.
Pramogos kaina: 60 €/ asm.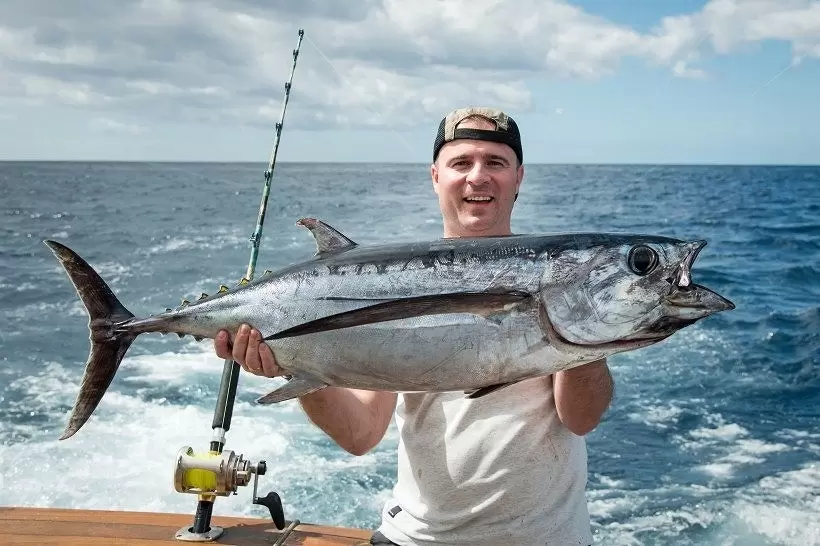 Žvejys su pagautu tunu
Nardymas
Siūlome pasimėgauti įspūdingais povandeninio pasaulio vaizdais su patyrusiais nardymo instruktoriais. Kodėl gi nepatyrus to "savo kailiu" atostogų metu? Turistai išmėginę šią pramogą dar ne kartą grįžta atgal, vėl velkasi naro aprangą ir neria ten, kur gali jaustis laisvi, mėgaujasi povandeniniu pasaulio gyvenimu: įvairiausių spalvų žuvys ir jų būriai, nuskendusių laivų liekanos, povandeninės skulptūros, neaprėpiami vandens mėliai.
Pramogos kaina: 55 €/ asm.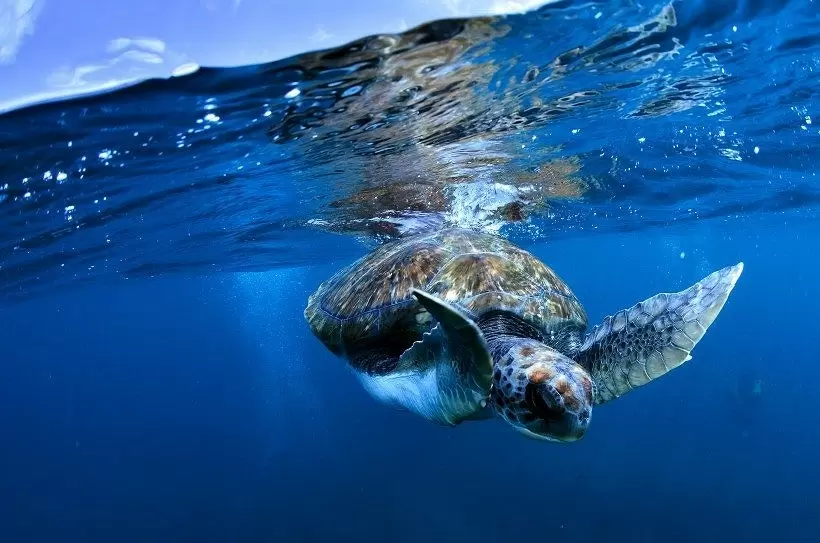 Povandeninis Tenerifės pasaulis