Senojo žemyno istorija yra įamžinta įspūdingoje Europos pilių architektūroje. Juk anuomet visas miestų gyvenimas sukdavosi apie pilis: jose gyvendavo karaliai, princesės, kitos kilmingos šeimos, kurios puošdavo savo kambarių sienas didingiausiais to meto meno darbais, o pilies išorę apjuosdavo įtvirtinimais, saugojusius tvirtovę nuo užpuolikų.
Vis tik Europa ypatinga ir tuo, kad pilių čia neįtikėtinai daug! Kaip visuomet – esame pasiruošę Jums padėti, todėl atrinkome TOP 10 gražiausių Europos pilių. Būkite smalsūs ir pilys Jums atvers intriguojančias bei mistiškas kilmingų Europos šeimų istorijas 😉.
Brano pilis, Branas (Rumunija)
Kitaip dar žinoma kaip legendinė grafo Drakulos pilis, ši tvirtovė mena dar 14 – ąjį amžių. Pilį kone labiausiai išgarsino klasikinis bestseleris "Drakula", kurio autorius Bremas Stokeris, pasirodo, niekada pats šioje pilyje net neapsilankė (na bent jau nėra jokių įrodymų, kurie patvirtintų jo apsilankymą pilyje). Manoma, kad rašytoją įkvėpė tikra Valakijos princo ir nacionalinio tautos didvyrio Vlado Drakulos istorija. Pastarasis garsėjo savo žiaurumu, kadangi nusikaltelius mėgo sodinti ant kuolo. Tiesa, nesibaiminkite, vampyriška Drakulos prigimtis tėra tik rašytojo kūrybos vaisius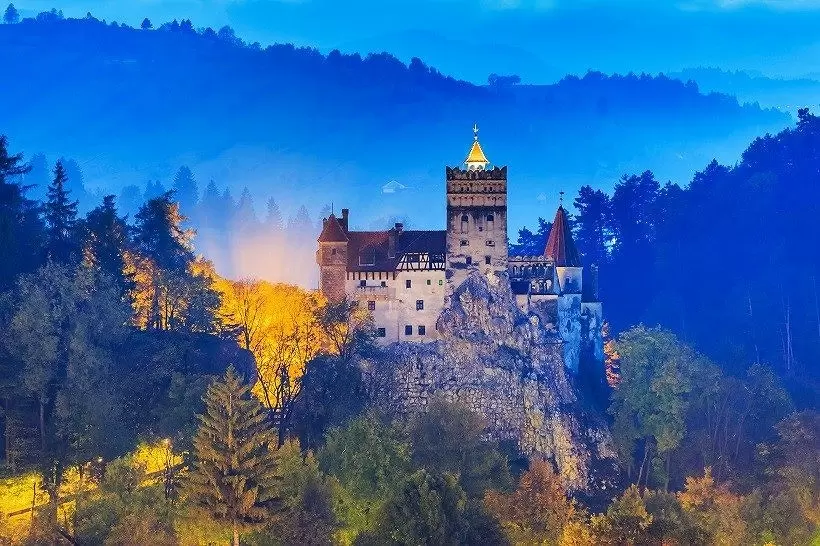 XX-ajame amžiuje Brano pilyje daug laiko leido karalienė Marija, tai buvo jos mėgstamiausia vieta, pilis tapo Rumunijos Karalystės karališkąja rezidencija. Dabar pilyje veikia muziejus, kuriame eksponuojami įvairūs etnografiniai šaltiniai, ginklai, šarvai, tautodailės kūriniai ir kiti eksponatai surinkti iš visos šalies.
Guaitos tvirtovė, San Marinas (San Marinas)
Na gerai, pričiupote, iš tiesų šis statinys nėra tokia pilis, kokią greičiausiai įsivaizduojate, kadangi Guaitos tvirtovė yra tik miesto įtvirtinimų, juosiančių miestą jau nuo 11-ojo amžiaus, dalis su aukštai į dangų besistiebiančiais bokštais. Rūmų su ištaigingais sodais čia nematyti, tačiau jų ir nepasigesite, kadangi Guaitos tvirtovės bokštas stūgso daugiau kaip 700 metrų virš jūros lygio ir nuo jo atsiveria tiesiog pritrenkiantis vaizdas į Adrijos jūros pakrantę, Riminį bei kitus du 11 amžių menančius San Marino įtvirtinimų bokštus: Cesta ir Montale.

💡 Kelionės pasiūlymus į Riminį rasite čia>>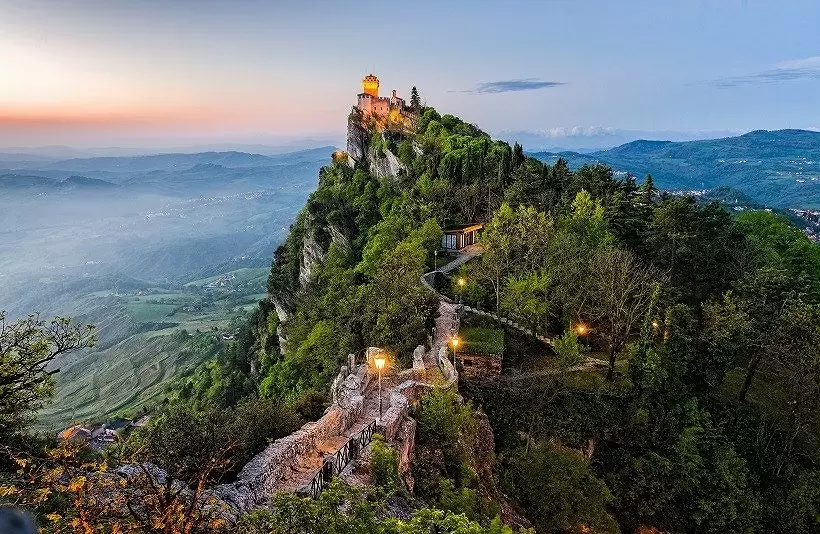 Aragoniečių pilis, Iskija (Italija)
Nykštukinėje vulkaninėje Iskijos saloje įsikūrusi Aragoniečių pilis yra tikras salos gyventojų pasididžiavimas. Visų pirma – dėl žavingo kraštovaizdžio: viduramžių pilis yra pastatyta ne pagrindinėje saloje, o ant vulkaninės uolienos, kuri stūgso vandenyje kaip atskira miniatiūrinė salelė nuo Iskijos salos nutolusi apie kelis šimtus metrų. Abi salas jungia pėsčiųjų kelias, o pilies saloje apart pilies – nelabai daug ką ir surasite, kadangi salelė tokia maža! Tiesa, tiek Iskijos, tiek ir Aragoniečių pilies salelės krantus skalauja Tirėnų jūra, o tai reiškia viena – vaizdas yra tarytum iš atviruko ❤.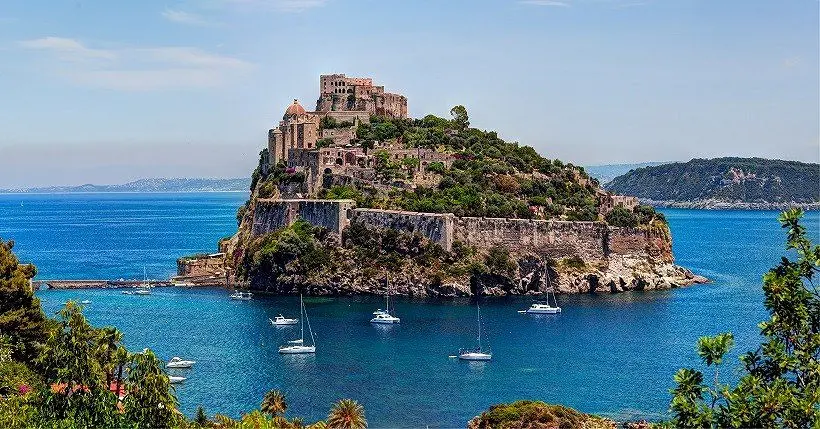 Maurų pilis, Sintra (Portugalija)
Tai dar viena aukštai ant kalno pastatyta pilis, nuo kurios atsiveria pasakiška panorama. Pilys dažnai buvo statomos ant aukštos viršukalnės dėl gero matomumo ir su tikslu apsunkinti galimybes užpuolikams užimti pilį. O šiandien visi galime pasidžiaugti tokiose vietose, kaip Maurų pilis, įsitaisiusiose tvirtovėse, kadangi ten atsidūrus ne tik galima pasijusti kaip tikroje pasakoje, bet ir pasimėgauti tikrai nuostabiais vaizdais. Sintros miestas yra ypatingas dėl pilių ir prabangių rūmų koncentracijos, kadangi jau nuo seno šį miestą pamilo kilmingos šeimos, čia rezidavo net ir karališkosios šeimos (ir ne viena!), taigi miestas tiesiog alsuoja romanticizmo laikų prabanga.
P.S. Nuo pilies įtvirtinimų galėsite nesunkiai pamatyti ir keletą kitų miesto vardą garsinančių pilių ar rūmų, pavyzdžiui spalvinguosius Penos rūmus 😉.
💡 Kelionių pasiūlymai į Portugaliją >>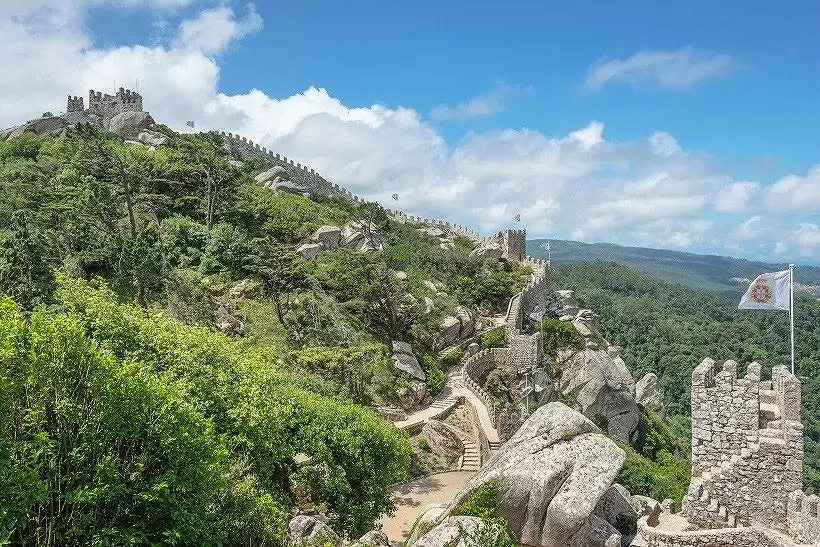 Maurų pilis yra turtinga savo istorine atmintimi, mat statyti pilis buvo pradėta dar 8–ame amžiuje, čia bus įdomu ne tik pasižvalgyti į atsiveriančią panoramą, bet ir pasidomėti ekspozicijomis ir plačiau susipažinti su miesto istorija.
Pilis "Mylint vėją" (angl. "In Love with the Wind"), Ravadinovas, Bulgarija
Vaikystėje svajojote būti princese / princu? Pilyje "Mylint vėją" tikrai bent trumpam pasijusite kaip pasakoje. Ši pilis yra išskirtinė sąraše tuo, kad buvo pastatyta visai ne kaip senovės miesto centras ar gynybinis įtvirtinimas. Ravadinovo pilis yra absoliutus meno kūrinys, tokia buvo ir pirminė pilies paskirtis – ja žavėtis. Kiekviena detalė čia kruopščiai apgalvota, architektas Georgi Kostadinov Tumpalov apie savo pilį svajojo jau nuo ankstyvos vaikystės, kol 1996–aisiais pagaliau ryžosi pradėti statybas. Taip, tai tiesa, nuo pilies statybų pradžios praėjo vos kiek daugiau nei 30 metų.

💡 Kelionių pasiūlymai į Bulgariją >>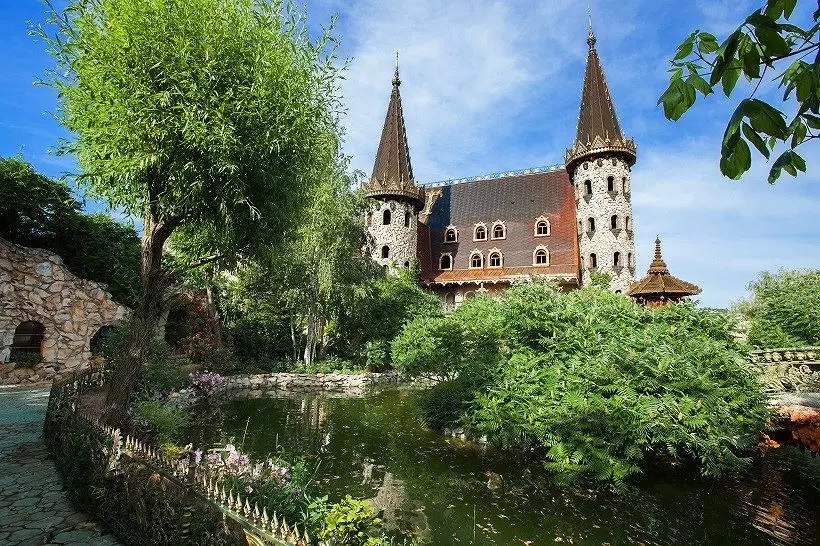 Ekstravagantiška pilis pavergia lankytojus nuostabia romantiška ir nė kiek neperdėsime pasakydami: pasakiška atmosfera. Čia gausu romantiškos simbolikos, architektūros detalės primins Jums animacinius pasakų filmus, o patekę į pilies sodą turbūt užsinorėsite ir frako ar pūstos suknios 😊. Pilies sodas yra neatskiriama "Mylint vėją" pilies dalis, jame daugiau nei keli tūkstančiai skirtingų augalų, kvapnūs gėlių žiedai, fontanai ir ežerai, kuriuose karališkai plaukioja išdidžios pilies gyventojos – gulbės.
Castillo de Tossa de Mar, Kosta Brava (Ispanija)
Ikoniškoji Tossa de Mar pilis yra viso Kosta Bravos regiono pažiba. Pastatyta 12–13 amžiuose ji buvo visų pirma gynybinė pilis, o kitos jos funkcijos buvo tik antraeilės. Ši pilis, dėl privilegijuotos padėties, leidžiančios nuo bokštų visą pakrantę matyti kaip ant delno, vaidino esminį vaidmenį siekiant apginti miestelį nuo piratų ir užpuolikų, atplaukiančių iš Viduržemio jūros.

💡 Keliones į Ispaniją rasite čia >>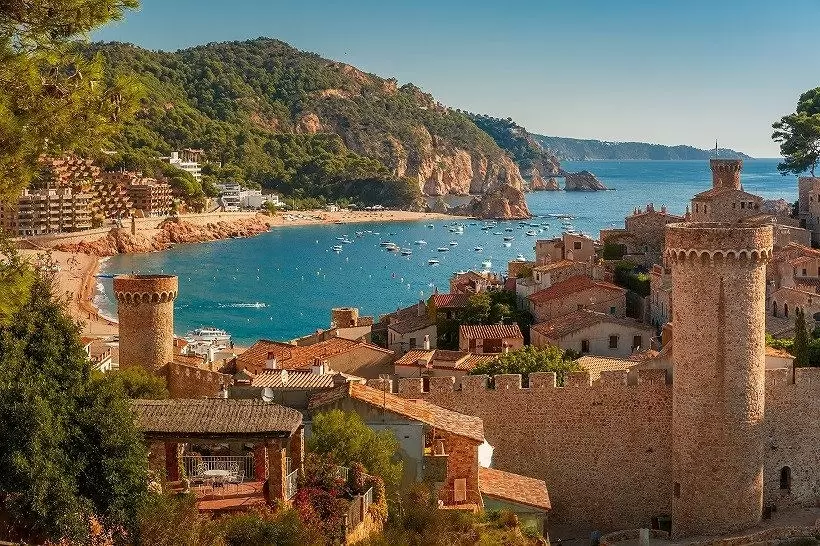 Alkazaro pilis, Segovija (Ispanija)
Kita Ispanijos pilis, kuri kaip magnetas traukia turistus iš viso pasaulio, tai Alkazaro pilis. Ji išsiskiria savo forma, kadangi pilies fasadas primena laivo lanką. 12-ame amžiuje iškilusi tvirtovė pirmiausia atliko gynybinį vaidmenį, tačiau istorijos tėkmėje čia buvo įkurdintas ir kalėjimas, ir kariuomenės akademija, ir net karališkoji reziedncija. Dabar pilyje rasite didingą muziejų, kuriame užfiksuoti šie istorijos vingiai.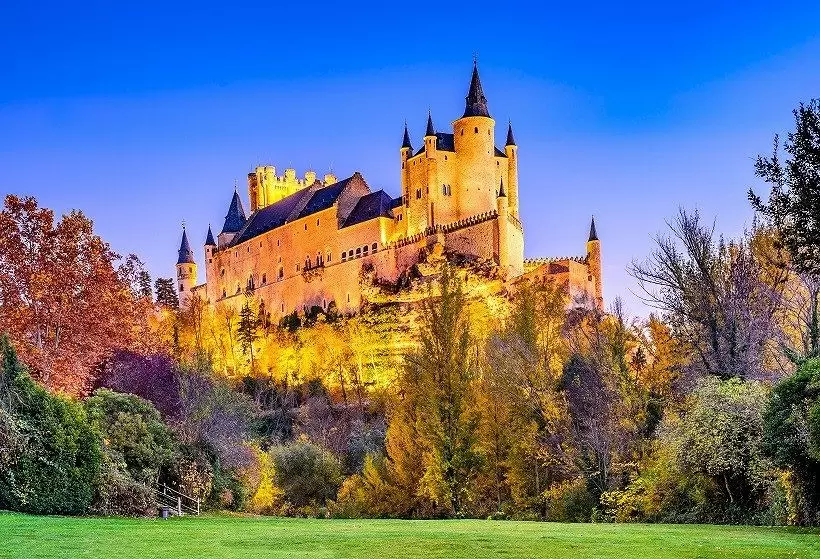 Alkazaro pilis savo grožiu ir prašmatniais bokštais sužavėjo vei įkvėpė ir Voltą Disnėjų, sakoma, kad būtent ši pilis tapo pagrindine inspiracija kuriant princesės pilį "Pelenės" istorijoje.
Penos rūmai, Sintra (Portugalija)
Nė vienas gražiausių Europos pilių sąrašas negali apsieiti be Penos rūmų, tai nepaprastai charizmatiška pilis pelnytai tapusi vienu didžiausių traukos objektų visoje Portugalijoje. Pasakysime Jums atvirai, tai mėgstamiausia mūsų pilis! ❤ Pilies architektūroje žaismingai susilieja gotikinė, "Manuelinė", mauriškoji ir romanticistinė architektūros. Už dabartinę Penos rūmų išvaizdą labiausiai dėkingi turėtume būti karaliui Ferdinandui II-ajam, kuris mergelės Penos koplyčios grievėsius pavertė į šią ištaigingą pilį, tapusią Portugalijos karališkosios šeimos rezidencija. Būtent jis Penos rūmus apjuosė ir žavingais sodais. Kol kas kalbame tik apie rūmų eksterijerą, tačiau jų vidus yra vertas nė trupučio mažiau liaupsų.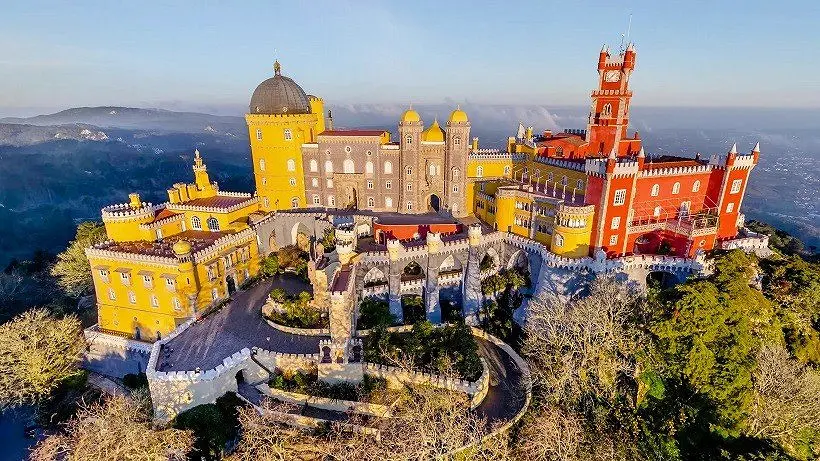 Sunku patikėti, kad šios ryškios, net animacinius filmus primenančios, spalvos iš tiesų puošia pilies sienas. Tai tiesiog privalu pamatyti realybėje. Net ir pats pasakų tėvu vainikuojamas Hansas Kristianas Anderdenas kalbėdamas apie Sintrą teigia, jog tai "pati gražiausia vieta Portugalijoje". Galite net neabejoti, kad Penos rūmai yra didžiausia Sintros miesto, o gal net ir visos šalies, puošmena.
💡 Kelionių pasiūlymai į Portugaliją >>
Mon Sen Mišelio pilis, Normandija (Prancūzija)
Mon Sen Mišelio pilis yra absoliučiai fenomenalus įtvirtinimas. Tai dar viena pilis, kuri yra įsikūrusi saloje, tačiau sala esanti tokioje vietoje, kuri yra ypatingai jautri natūraliems kasdieniams vandens lygio pasikeitimams. Taigi priklausomai nuo mėnulio padėties ir nuo paros meto – pilį gali supti sausuma, o gali supti ir vien vanduo. Jums atvykus į ekspoziciją Jūs matysite vieną vaizdą, o išvykstant iš miestelio gali tekti jaudintis, ar vanduo neapsems kelio, jungiančio Mon Sen Mišelio pilį su žemynine Prancūzijos dalimi! Ši pilis – tai absoliučiai fantastiškas reginys Jūsų akims.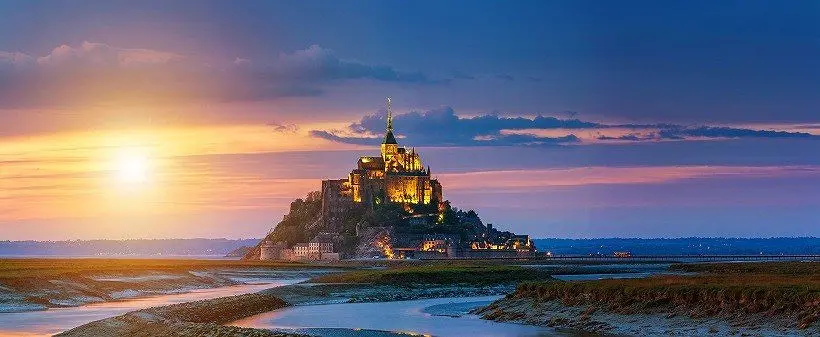 Noišvanšteino (vok. Neuschwanstein) pilis, Bavarija (Vokietija)
Tai dar viena pasakas primenanti pilis Europoje. Nesunku pasijusti tarsi pasakoje, kai pilį supa nuostabi Bavarijos gamta: mistiški ir žavūs miškai, upės, ežerai ir gaivų orą atpučiantys Alpių kalnai. Už kvapą gniaužiančio grožio pilį galime būti dėkingi Vokietijos karaliui Liudvikui II-ajam. Paradoksalu, kad pilį jis pastatė būtent tokioje, atokesnėje ir gamtos apsuptoje vietoje, kad galėtų pabėgti nuo žmonių, pasislėpti ir laiką leisti ramybėje, pasinėręs į savo vaizduotės pasaulį, o dabar pilies slenktį kasmet mina ~ 1,4 milijono keliautojų.
Visiškai nenuostabu, kad ši, ypatingo grožio Noišvanšteino pilis, tapo įkvėpimu ir kuriant Disnėjaus "Miegančiosios gražuolės" pilį.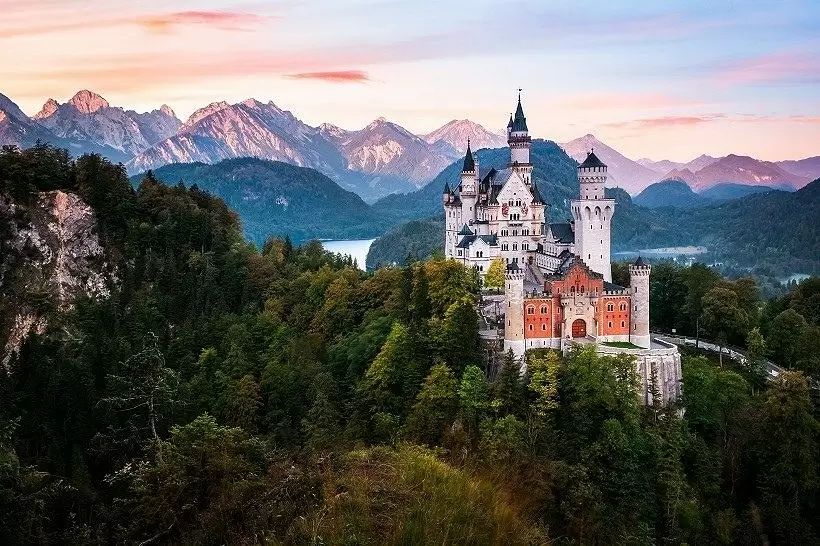 Tai buvo "Pasirink Sparnus" kolektyvo sudarytas TOP 10 Europos pilių, kurias verta aplankyti kiekvienam keliautojui, sąrašas. Keliaudami po šias vietas išlaisvinsite savo smalsumą ir fantaziją, linkime leistis į nuotykį ir pažinti nuostabų Europos kultūrinį paveldą 😉.