Planuodami keliones savo klientams pastebime, kad tendencingai daugėja žmonių, svarbias progas paminėti besirenkančių kelionės metu. Visiškai nesistebime, juk kelionės padeda išsilaisvinti iš kasdienės rutinos gniaužtų, maksimaliai atsipalaiduoti ir mėgautis gyvenimu bei šventine nuotaika, visai nesvarbu, ar keliaujate paminėti gimtadienio, sukaktuvių o galbūt ir sužadėtuvių. Tik pastaroji proga yra įpatinga tuo, kad ne visi keliaujantieji žino, kokią progą jie ruošiasi paminėti 😉. Be geriausio savo patarėjo kelionę planuoti sunku, o tai žinodami paruošėme Jums keletą rekomendacijų, kur pasipiršti, kad apie šią akimirką papasakoti norėtųsi visiems.
1. Įsimylėjelių miestas – Paryžius
Tai miestas, kurį žmonės ne be reikalo vadina "meilės sostine" ar "romantikos miestu". Prancūzijos sostinė džiugina svečius romantiškiems pasivaikščiojimams tinkamų ir rožėmis apsodintų parkų gausybe, nuostabia architektūra, ypač plačiais šaligatviais, kuriais be trukdžių galima vaikščioti susikibus už rankų ir, žinoma, Eifelio bokštu pasipuošusia miesto panorama. Nusprendusiems pasipiršti Paryžiuje sukurti romantišką atmosferą sunku nebus, kadangi ten atmosfera visuomet romantiška.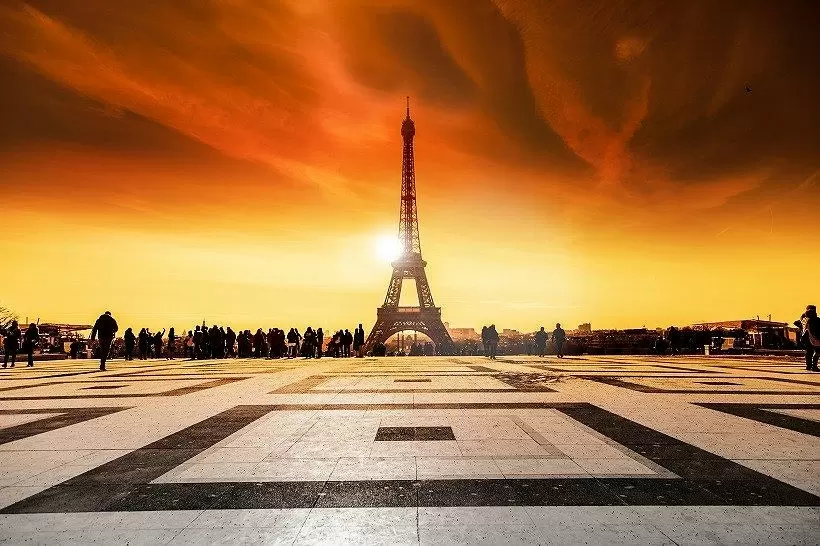 Trokadero esplanada yra tikriausiai geriausia vieta grožėtis Eifelio bokštu
Visgi jei norite, kad sužadėtuvių metu Jus suptų žavinga panorama, turime Jums keletą idėjų. Poroms, kurių negąsdina daugybės žmonių dėmesys, pasipiršti rekomenduojame Trokadero aikštėje ar prie Aleksandro III tilto. Abi šios vietos yra gana gausiai lankomos turistų dėl atsiveriančio vaizdo: Trokaodero esplanada yra įrengta ant pakylos, tiesiai priešais Eifelio bokštą. Tikriausiai nėra geresnės vietos žavėtis nepriekaištingu reginiu ir miesto simboliu. Na o ikoniškasis Aleksandro III tiltas yra laikmas vienu puošniausių ir ekstravagantiškiausių tiltų Paryžiuje. Ši vieta įspūdingai atrodo prietemoje, kai įsižiebia ištaigingi tilto šviestuvai.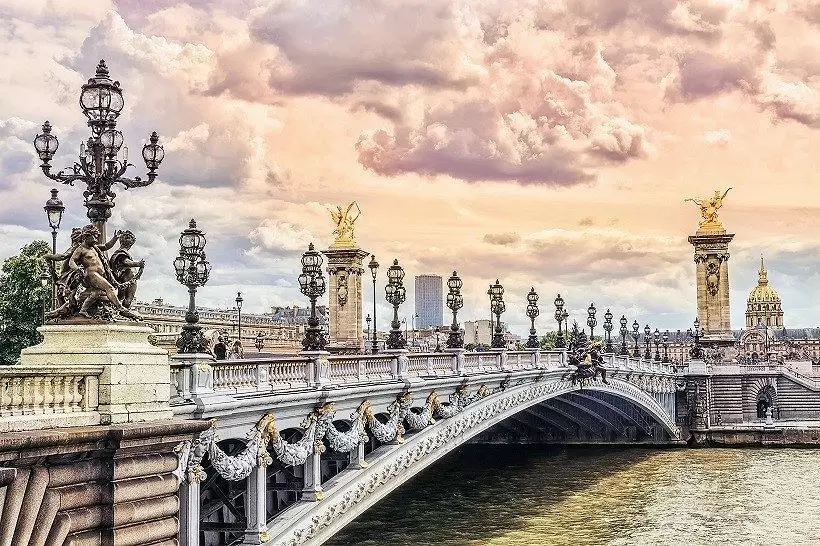 Taip atrodo Aleksandro III tiltas, o nuo pačio tilto atsiveria miesto panorama su vaizdu į Eifelio bokštą
Tačiau jei jaučiate, kad Jūsų antroji pusė norėtų, privatesnių sužadėtuvių, t.y., kad svarbiu momentu aplink nesibūriuotų žmonės, rinkitės nuošalesnę, turistų mažiau lankomą vietą. Pavyzdžiui, vieną iš miesto parkų, mieste jų apstu, o esančiuose toliau nuo centro – galima rasti malonų atokesnį kampelį. Mes rekomenduojame kelis variantus: romantiškoji "Batignolles" aikštė, jaukus ir didelis miesto parkas "Buttes-Chaumont" arba žymieji, centrinėje Paryžiaus dalyje esantys, Liuksemburgo sodai. Būtent dėl savo lokacijos Liuksemburgo soduose žmonių srautai yra kur kas didesni nei kituose minėtuose parkuose.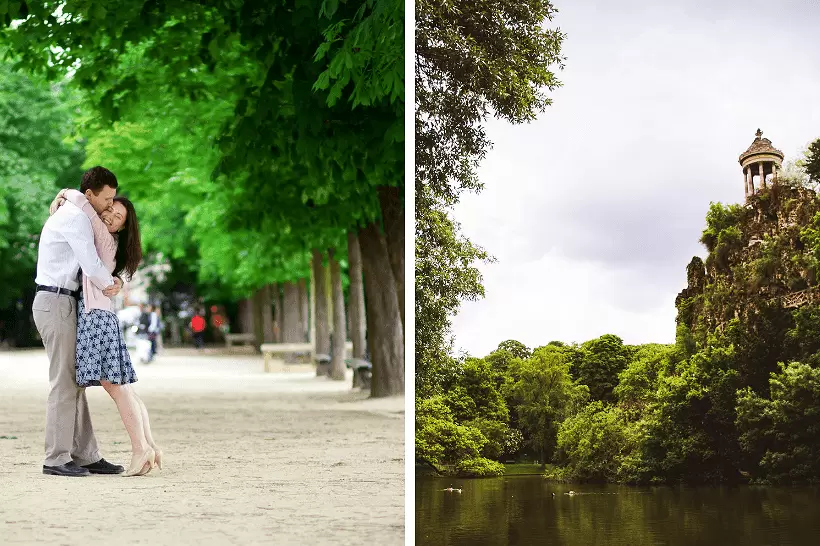 Liuksemburgo sodai (kairėje) ir Buttes-Chaumont parkas (dešinėje)
2. Venecija sužavės nepataisomus romantikus
Kalbant apie romantiškas vietas, nurungti klasikinės romantikos sostinę – Paryžių – yra sunku. Nebent – tai kitas Europos meilės miestas. Kalbame, žinoma, apie Veneciją. Šis Italijos miestas jau seniai buvo pamiltas sužadėtinių bei jaunavedžių: upės, upeliai, kanalai, tilteliai ir aistringa Itališka atmosfera. Miestas tarsi iš pasakos, švelnumą krūtinėje dar labiau sužadina spalvingi namai ir gatvelės, žavingi gondolų puošybos elementai bei iš vazonų languose virstantys gėlių žiedai. Vaizdas – svaiginantis, o iki tobulybės trūksta tik vieno: iš savo antrosios pusės išgirsti, kad likusį gyvenimą praleisite kartu.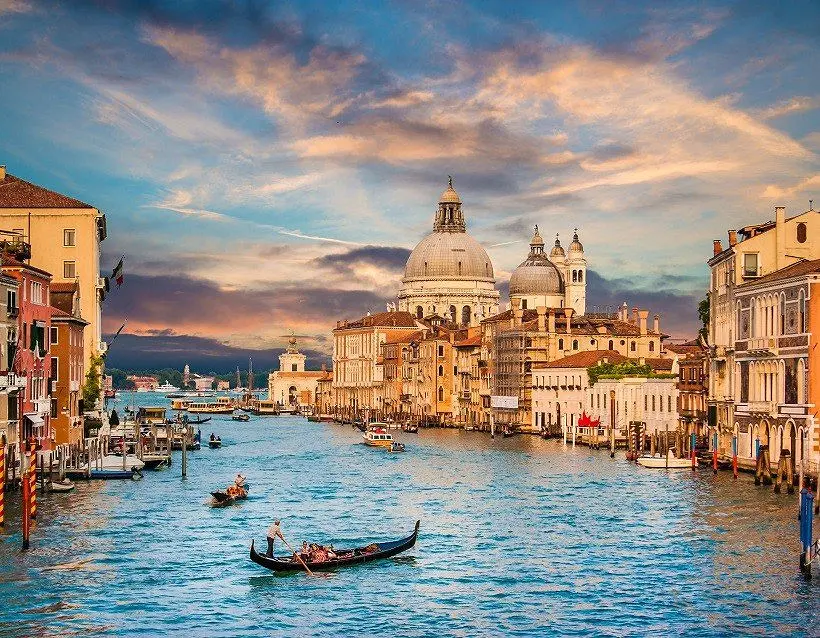 Nuotraukoje matoma Švč. Marijos Sveikatos bazilika – tai tik viena iš daugybės Venecijos puošmenų
Klasiškas, tačiau neabejotinai jautrus ir romantiškas būdas pasipiršti Venecijoje – tai sužadėtuvės gondoloje. Plaukimą gondola galima užsisakyti iš anksto, arba įsigyti vietoje, taip pat galima rasti paketų, kaip "plaukimas gondola su vakariene žvakių šviesoje" ar "plaukimas gondola su serenada ir tradicine vakariene". Pasirinkus paketą su vakariene galėsite nusimesti vieną rūpestį nuo pečių: tik atplaukus į krantą keliausite į netoliese esantį restoraną, kur Jūsų jau lauks rezervuotas staliukas ir keturių patiekalų vakarienė, argi ne puiku?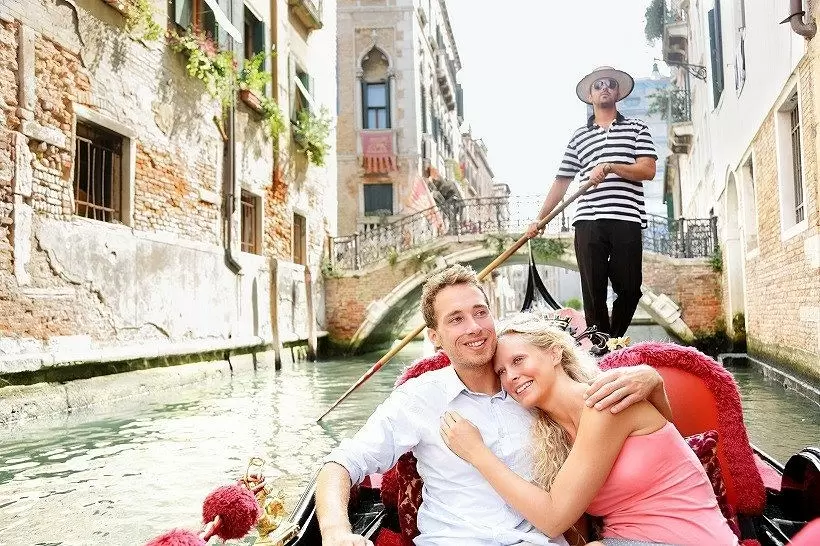 Iš anksto informavę savo gondolierių apie ketinimą pasipiršti, galėsite suderinti tam skirtą stotelę savo plaukimo maršrute
3. Prabanga tviskantis Dubajus
Tiems, kurių širdys trokšta nuotykių, kuriems klasikinė romantika per saldi – siūlome apsvarstyti išvyką į Dubajų. Tai tarsi miestas iš ateities: nesuskaičiuojama galybė dangoraižių skrodžiančių dangų, o tarp jų ir aukščiausias pastatas pasaulyje – 828 metrus į dangų iššovęs Burdž Chalifa. Nuo šio pastato viršūnės atsiveria kvapą gniaužiantis vaizdas: jei bus giedra diena galėsite pamatyti visą Dubajaus panoramą, kuri atrodo kaip fantastinio filmo filmavimo aikštelė, o jei bus debesuota – pakilsite virš debesų!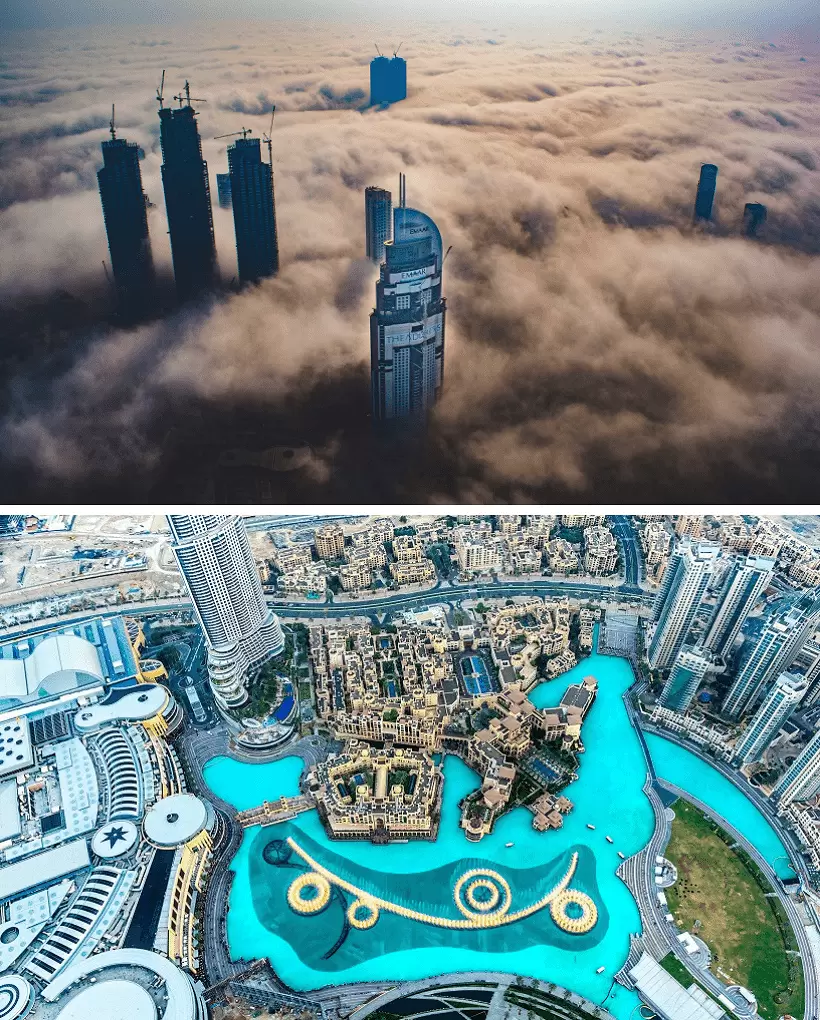 Taip atrodo vaizdas iš Burdž Chalifos debesuotą ir giedrą dieną
Tai viena iš jaudinančių vietų, kur galima pasipiršti, tačiau tikrai ne vienintelė. Dubajus yra prabangos miestas, o prabanga tikrai padės sukurti nepaprastą atmosferą sužadėtuvėms. Jei galite sau leisti pasinerti į prabangias Dubajaus linksmybes – nedvejodami rinkitės pasipiršti privačios kelionės jachta metu. Iš vandens Dubajus atrodo tiesiog pritrenkiančiai.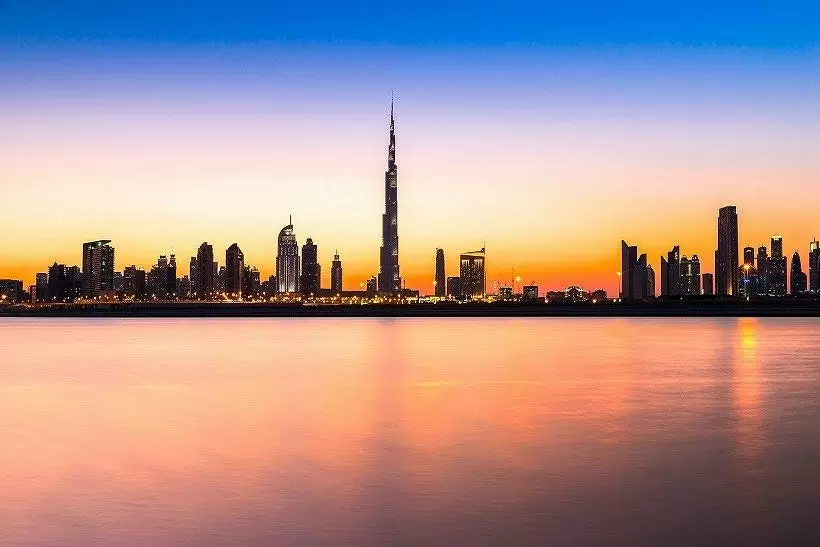 Vakarėjančio Dubajaus panorama iš vandens

Na o jei biudžetas neleidžia planuoti tokių prabangių sužadėtuvių, pasipiršti taip pat tobulai tinka šokantys Dubajaus fontanai ar spalvingieji Dubajaus stebuklų sodai. Net neabejojame, kad sužadėtuvės šiame prabanga tviskančiame mieste bus išskirtinės ir atmintin įsirėš visam gyvenimui, kad ir kurią vietą išsirinktumėte.
4. Barselona puikiai tiks jaukioms sužadėtuvėms
Nustebote? Nesistebėkite, Barselona puikiai tinka ne tik nerūpestingai savaitgalio kelionei, bet ir įsimintinoms ir jaukioms sužadėtuvėms. Šis gyvybingas miestas turi viską, ko galite panorėti: jūra, uostas, siauros gatvelės, fantastiška architektūra, nuostabūs miesto parkai, šokantys fontanai ir kalnai, nuo kurių atsiveria miesto panorama. Kalbant apie panoramą: tiesiog užburiantis vaizdas atsiveria nuo aukščiausias miesto taško – Tibidabo kalno. Čia tarsi ant delno matosi visas miestas bei Viduržemio jūra, o taip pat ir tiesiog fenomenalus Tibidabo akcentas: Šventosios širdies atpirkimo šventykla (kat. Templo Expiatorio del Sagrado Corazón). Tiesa, pasiekus Tibidabo viršūnę gali nustebinti netikėtas duetas: šalia šventyklos yra įsikūręs ir daugiau nei 100 metų senumo atrakcionų parkas. Šventyklos balkonėliai yra romantiška ir jauki vieta sužadėtuvėms, tačiau jei norite dar stipresnio įspūdžio – pasipirškite Tibidabo atrakcionų parke esančiame apžvalgos rate: iš jo matysite ne tik Barselonos panoramą, bet ir nepaprasto grožio Šventosios širdies atpirkimo šventyklą. Kitas privalumas – Jūsų netrikdys aplinkinių dėmesys.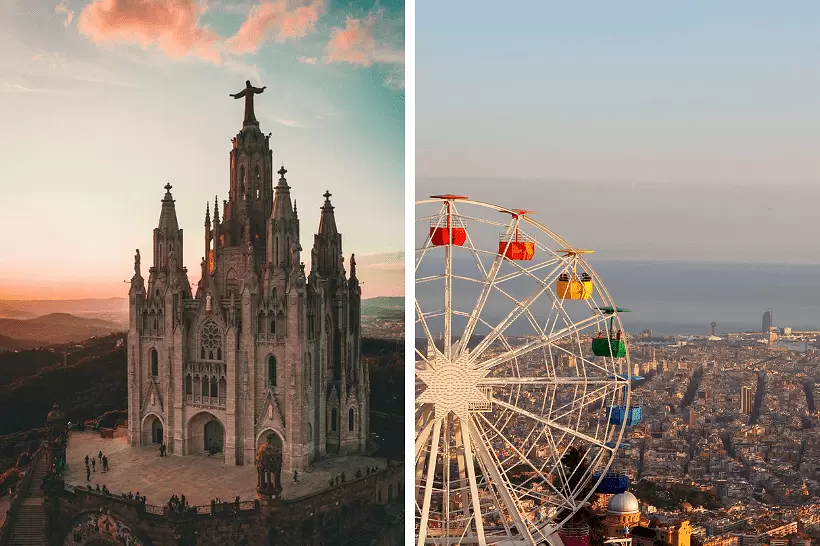 Pasipiršdami apžvalgos rate vienu šūviu nušausite du zuikius: matysite tiek bažnyčią, tiek miesto panoramą
Na, o jei jokio dėmesio apskritai nesinori, galite vienai popietei tiesiog pasprukti iš judraus miesto ir susižadėti gamtoje, kad ir ant garsiojo Montserrat kalno. Danytytojo Montserato kalno papėdėje iš miesto galima atsidurti mažiau nei per valandą. Ant kalno pakilsite keltuvu, taigi stipriai ruoštis žygiui nereikės. Tačiau panorus pasivaikščioti ir atrasti idealią vietą gali tekti įveikti nemažai laiptelių, todėl geriau apsiaukite patogiai. Sekdami kurį nors iš sužymėtų maršrutų ar tiesiog vaikštinėdami nesunkiai atrasite romantišką kampelį, kur jus sups magiška kalnų panorama, o aplinkinių akys netrikdys vieno iš intymiausių gyvenimo momentų. Jeigu Jums pasiseks, atrasite net laiptus į dangų.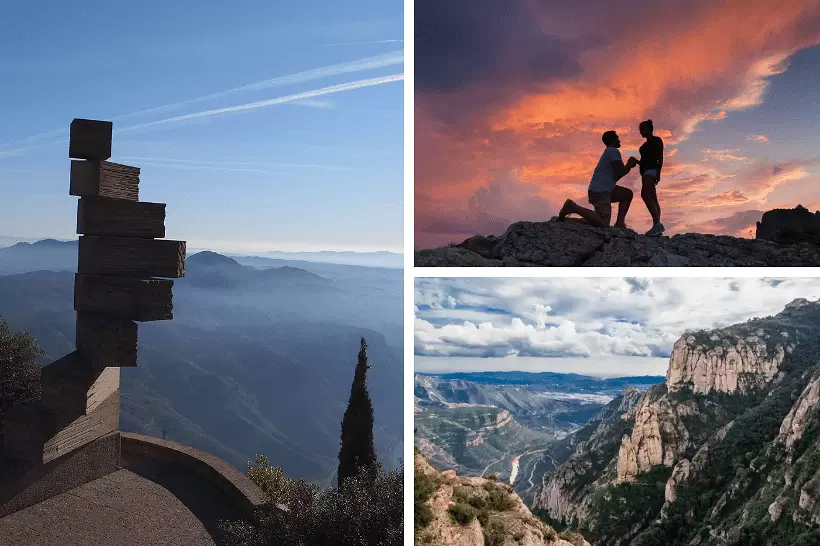 Sužadėtuvės ant Montserrat kalno ypač tiks porai, mėgstantiems kalnų ir gamtos prieglobstį
Po romantiškos popietės kalnuose vėl grįšite į miestą iš visos širdies atšvęsti sužadėtuvių. Tai padaryti Barselonoje tikrai galima, nepriklausomai nuo to, ar mėgstate naktinį miesto gyvenimą, šėlsmą naktiniame klube, ar tenorite vakarienės gerame restorane. Net jei Jūsų biudžetas neleidžia per daug mėgautis prabanga, Barselonoje nesunkiai rasite kaip paminėti šią svarbią progą neišleisdami visų savo santaupų.
5. Paverskite Siciliją savo intymia meilės sala
Žinotumėte, kad meluojame, jei romantiškiausių vietų sužadėtuvėms sąraše nebūtų nė vienos salos: saulėlydžiai, nuolatinė bangų mūša, kalnai, juk tai taip romantiška! Tačiau kas gali būti romantiškiau už sužadėtuves? – atsakome: sužadėtuvės Sicilijoje 😉. Sicilija tokia ypatinga, kad galite durti pirštu į jos žemėlapį ir pasipiršti savo antrajai pusei toje vietoje, į kurią pataikėte. Tačiau jei tokiai avantiūrai nesiryžtumėte, galime pasidalinti patarimu: vykite į Čefalu miestelį arba Lipari salą (maža 37 km² salelė į šiaurę nuo Sicilijos, keltu ten nusigausite per vieną valandą). Abi vietos pasitiks jus jaukiais miesteliais, pasakiškais paplūdimiais ir apdovanos krištolo skaidrumo vandeniu.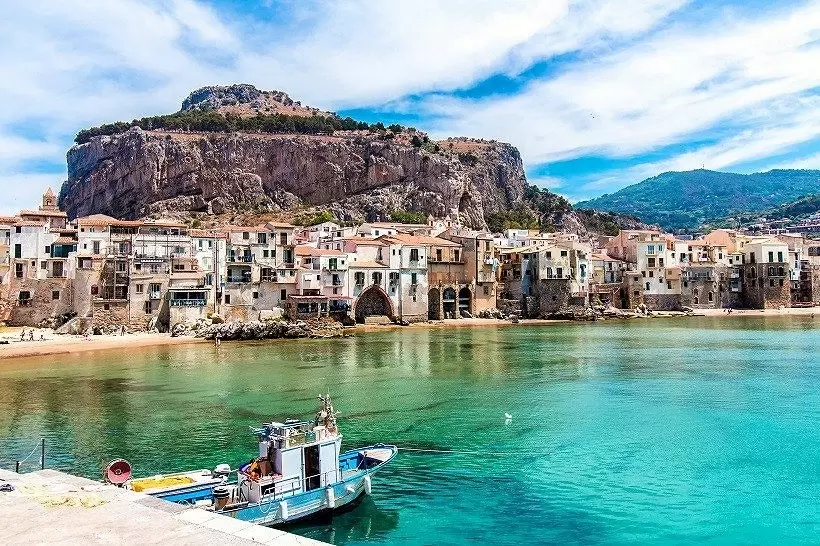 Neįtikėtinai skaidrus jūros vanduo ir viduramžių atmosfera – tai Čefalu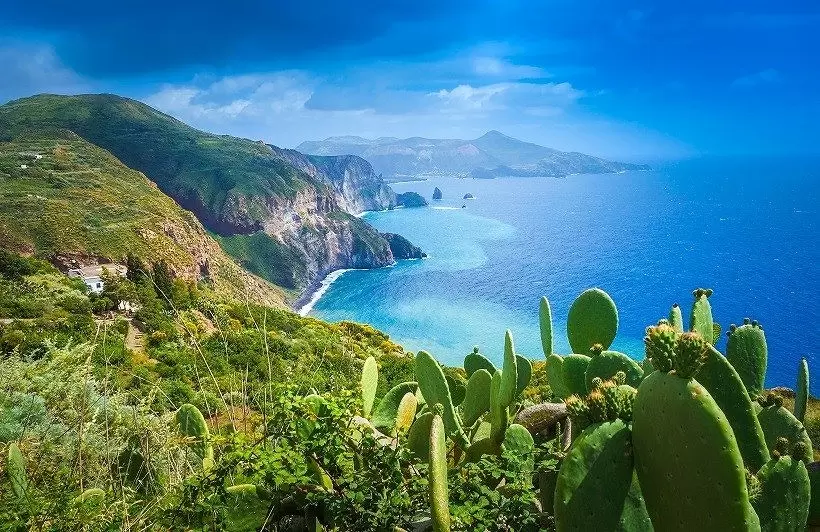 Maža ir jauki Lipari sala yra vos 37 km2 dydžio, taigi ją praktiškai galite apeiti pėsčiomis
Tačiau jei esate spontaniški ir mėgstate nuotykius, Sicilijoje patariame per daug neplanuoti, neprisirišti prie vietos, o verčiau išsinuomoti automobilį ir leistis į kelionę aplink salą. Žiedą, žinoma, visuomet turėkite su savimi, pasiekę tinkamiausią vietą pasipiršti tikrai tai pajusite. Sėkmės!