Ką verta žinoti prieš vykstant į Marakešą?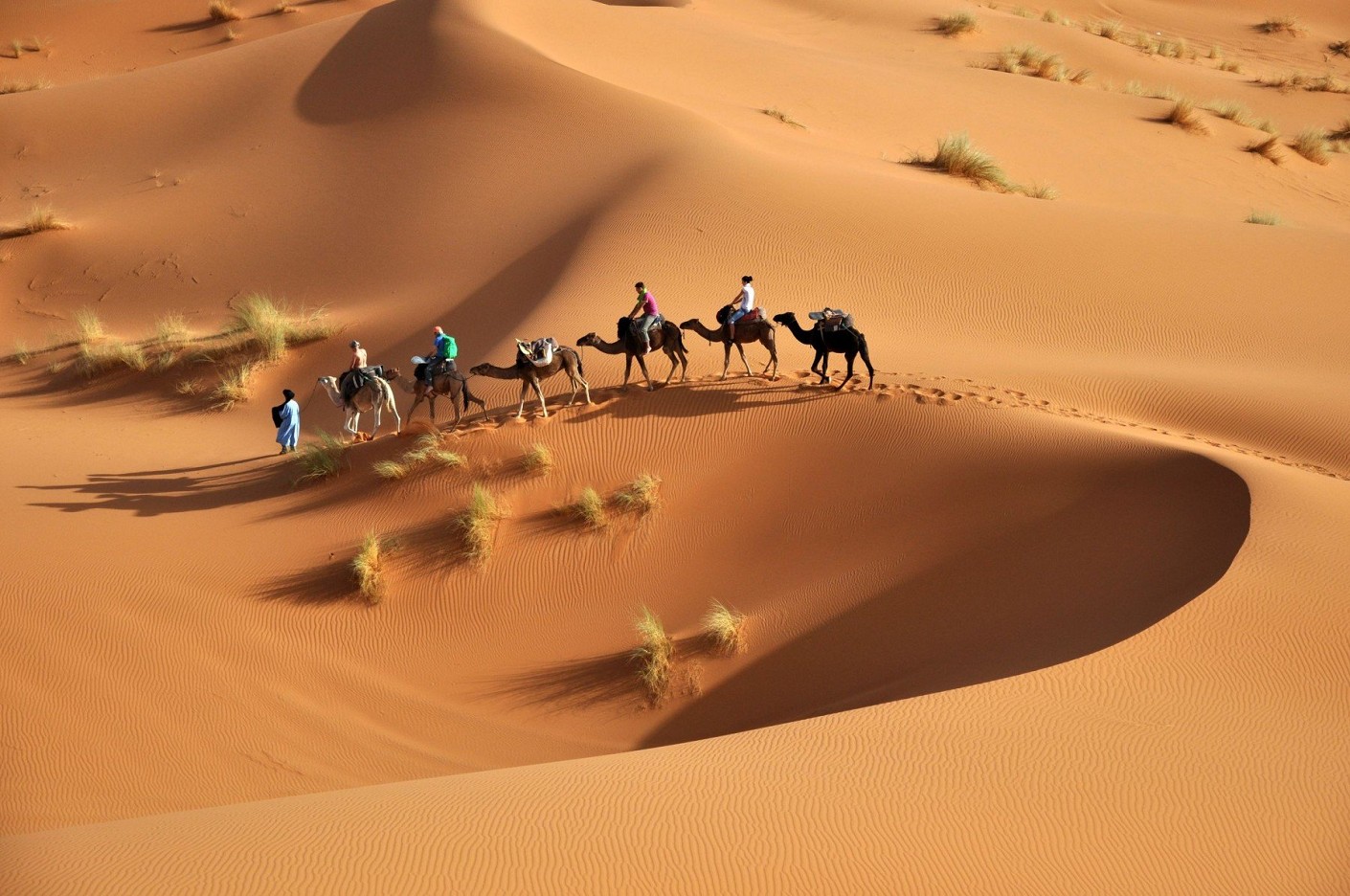 Kam patiks kelionė į Marakešą?
Visų pirma, smalsiems ir gebantiems prisitaikyti pažintinių atostogų mėgėjams. Norite išlipti iš komforto zonos? Tam Maroke tikrai turėsite galimybių: ne visada rasite europietiškus standartus, naujus taksi automobilius, išpuoselėtus namus ir tvarkingas gatves, bet patikėkite, įspūdžiai atperka galimus nepatogumus. Juk tai Afrika! Bet kokiu atveju, mažus vaikus geriau palikite namuose, o moterims vienoms keliauti nerekomenduojama, jeigu nenorite sulaukti nepageidaujamo dėmesio.
Žinote, kas įdomiausia? Tokia įstabi kelionė, galinti tapti įspūdingiausia gyvenime, tinka ir biudžetiniams keliautojams. Kelionių paketus su skrydžiais ir viešbučiu "Pasirink Sparnus" gali pasiūlyti priimtinomis kainomis. Pragyvenimas, maistas restoranuose, transportas ir suvenyrai atsieis pigiau nei populiariuose Europos miestuose.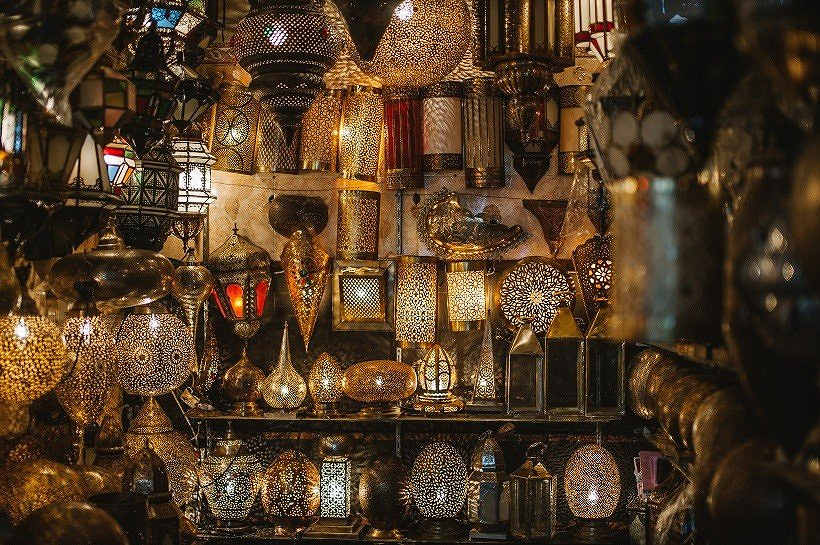 Marokietiški šviestuvai Marakešo turguje, © Florian Bernhardt, CC0


Kelionė į dykumą – magiška patirtis
Saulėlydis dykumoje ir žvaigždėtas dangus prie laužo grojant berberų būgnams ir geriant mėtinę arbatą. Skamba kaip neįkainojamas nuotykis, tiesa? Tai tik dalis to, ką patirsite vykdami į dykumą, todėl planuojant kelionę į Marakešą įtraukite šią veiklą į privalomų sąrašą.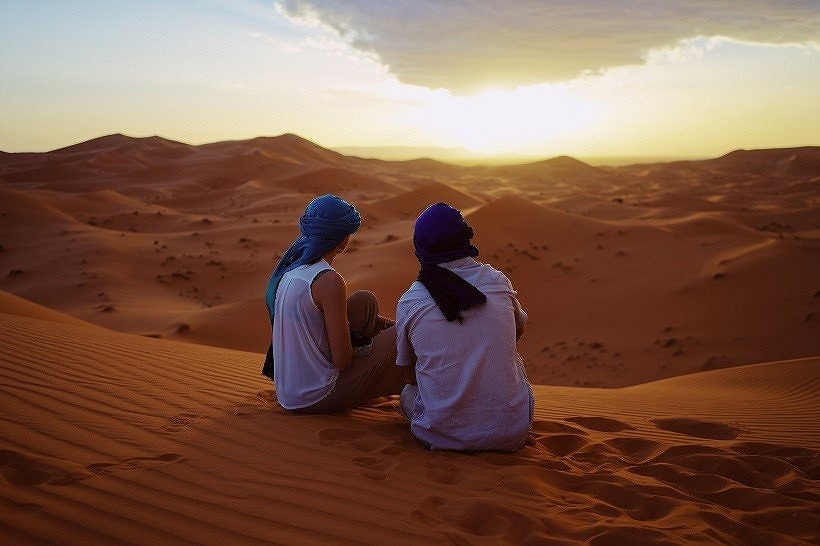 Saulėlydis Merzouga dykumoje, Maroke, © Ignacio Ceballos, CC0
Pirmiausia Jums reikia žinoti, kad dykuma – tikrai toli. Ją pasiekti užtruks 7 valandas ar daugiau važiuojant autobusu, bet nuostabūs Atlaso kalnų ir Draa slėnio vaizdai, kuriuos regėsite pro langą verti kiekvienos minutės. Be to, važiuodami sustosite Kasbah Ait Ben Haddou kaimelyje – UNESCO paveldo objekte, kuriame nufilmuota daugybė žinomų filmų, tarp jų ir serialo Game of Thrones, Mumijos bei Gladiatoriaus scenos. Stabtelsite pasigrožėti vaizdais, įsigyti suvenyrų ir papietauti berberų kaimuose ir panoraminėse vietose. Atvykę į dykumą, sėsite ant kupranugarių ir taip palydėsite saulę keliaudami į stovyklą, kurioje praleisite naktį. Vakare pasisotinę tradicine vakariene, susėsite prie laužo, kur vietiniai vaišins berberų viskiu ir atskleis kultūrą per muziką.
Ryte būsite pažadinti anksti, bet tikrai ne be reikalo – juk nenorėtumėte praleisti saulėtekio tarp beribių smėlio kopų? Kelionė atgal taip pat kerės gamtovaizdžiais ir vietine atmosfera.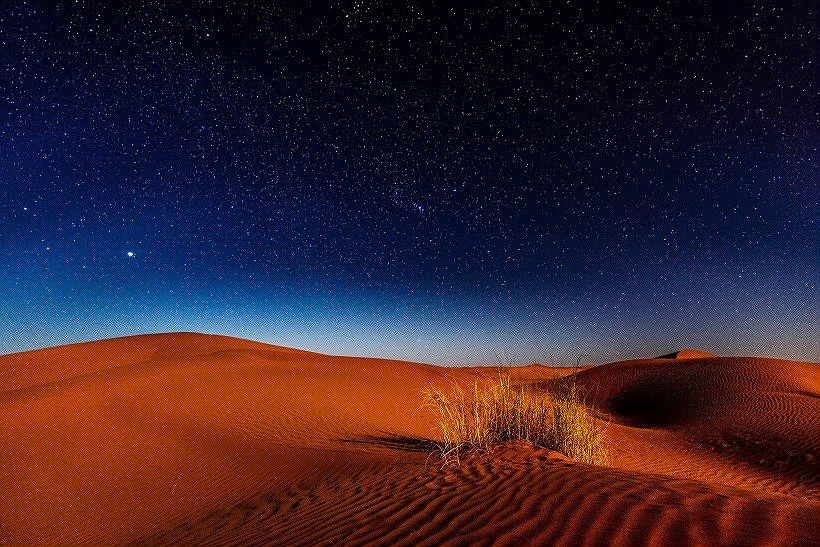 Sacharos dykuma, Souss-Massa-Draa regionas, © Sergey Pesterev, CC0
Galite rinktis kelionę į Zagoros dykumą, kuri trunka 2 dienas / 1 naktį, arba ekskursiją į Mergouzos dykumą 3 dienoms / 2 naktims. Neturintiems daug laiko siūlome pirmąjį variantą, o norintiems pamatyti nesibaigiančius dykumos miražus ir ryškiai oranžinį smėlį derėtų pasirinkti ilgesnę trukmę.
Kur užsisakyti ekskursiją ir kiek ji kainuoja? Galima užsisakyti internetu iš anksto, bet kainuos daugiau, todėl geriausias būdas jau atvykus teirautis Riade ar viešbutyje, kuriame apsistosite. Paprastai visi jie teikia ekskursijas, bet vietų, kuriose galima įsigyti kelionę, apstu ir Medinoje, tad pasivaikščioję rasite bent kelis variantus. Įprastai ekskursijos kainuoja nuo 50 iki 80 eurų asmeniui priklausomai nuo trukmės ir Jūsų derėjimosi įgūdžių. Į jas dažniausiai būna įtraukta kelionė autobusu nuo apgyvendinimo įstaigos, kelionė kupranugariais, ekskursijos kaimeliuose, vakarienė stovyklavietėje ir pusryčiai. Galvojate, ar verta? "Pasirink Sparnus" rekomenduoja ir siūlo nepraleisti tokios galimybės, kuri gyvenime gali ir nebepasitaikyti.
Jeigu nepasidarėte Henna tatuiruotės – nebuvote Maroke
Elegantiškai pasipuošti kojų ar rankų odą Marakeše moterims siūlo daugybė vietų, ypač centrinėje Medinos aikštėje Jemaa el-Fnaa. Tiesa, čia galite būti papuoštos ir ne savo noru – moterys gali tiesiog čiupti Jūsų ranką ir pradėti piešti. Tokiu atveju leiskite pabaigti tatuiruotę, bet jeigu nepatinka – nemokėkite už ją (prisiminkite, kad neprivalote mokėti už tai, ko patys neprašėte).

Rekomenduojama vieta Henna tatuiruotėms – "Henna Cafe", esanti netoli centrinės aikštės. Kokybė garantuota, beje, čia naudojami ekologiški dažai, tad negresia odos alergijos ar infekcijos. Kainos svyruoja nuo 50 Dhs iki 200 Dhs, už tiek galėsite išsirinkti norimą tatuiruotę iš daugybės pavyzdžių.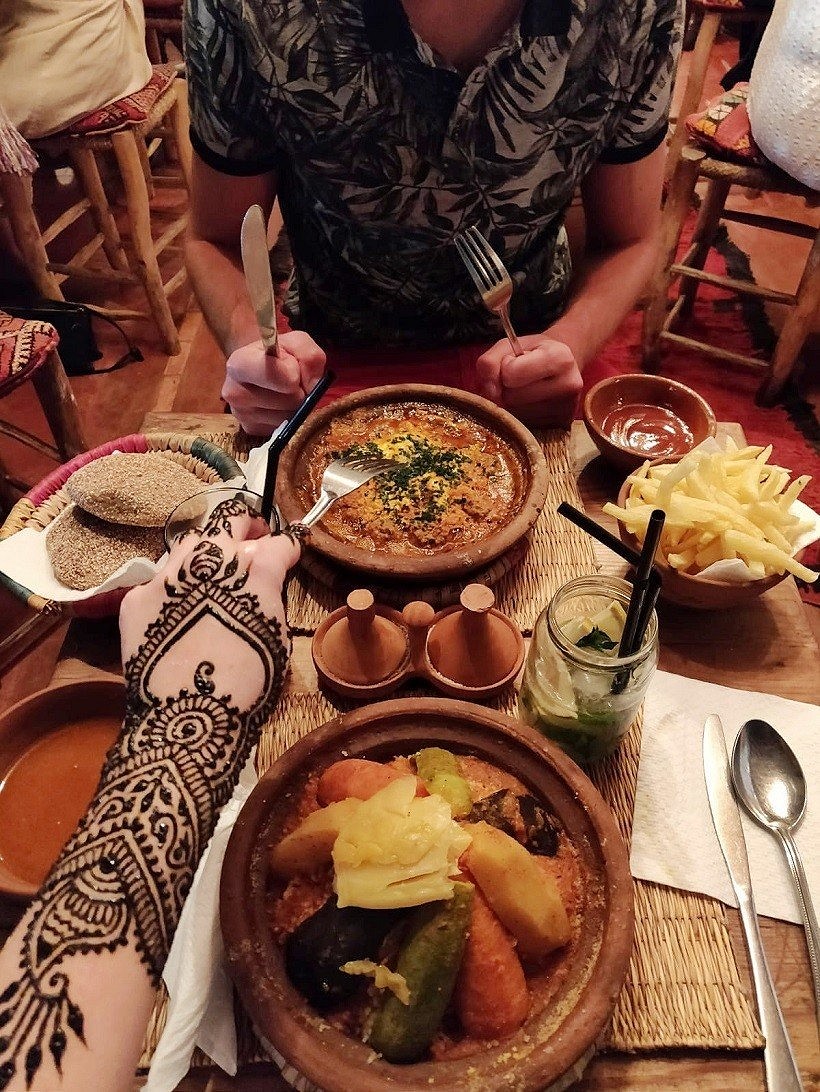 "Pasirink Sparnus" kelionių agentės Gretos užfiksuota akimirka kelionės į Maroką metu, kur ji pasipuišė Henna tatuiruote
Maroko virtuvė, raibstanti nuo prieskonių ir spalvų
Kaip susipažinti su vietine kultūra, jeigu ne per maistą? Drąsiai ragaukite vietinio maisto – jis kitoks, nei esate pratę, bet gardus ir žavintis skonių įvairove.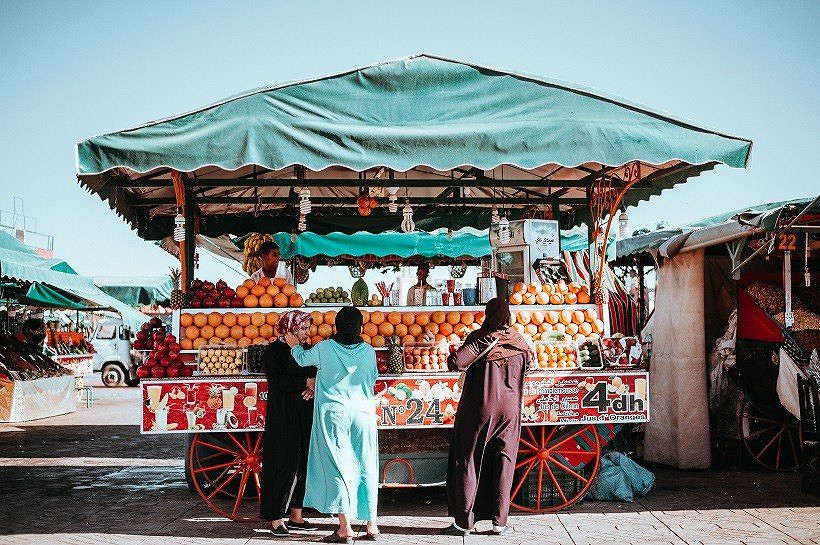 Maistas – tai didelė marokiečių kultūros dalis, kurios negalima praleisti keliaujant, © Annie Spratt, CC0
Mėtinė arbata – jos tikrai paragausite atostogų metu, nes ji siūloma visuose restoranuose, apgyvendinimo įstaigose ir kitose vietose. Berberų viskiu vadinama arbata nustebins savo saldumu ir šviežumu – jai paruošti visada naudojami šviežių mėtų lapeliai.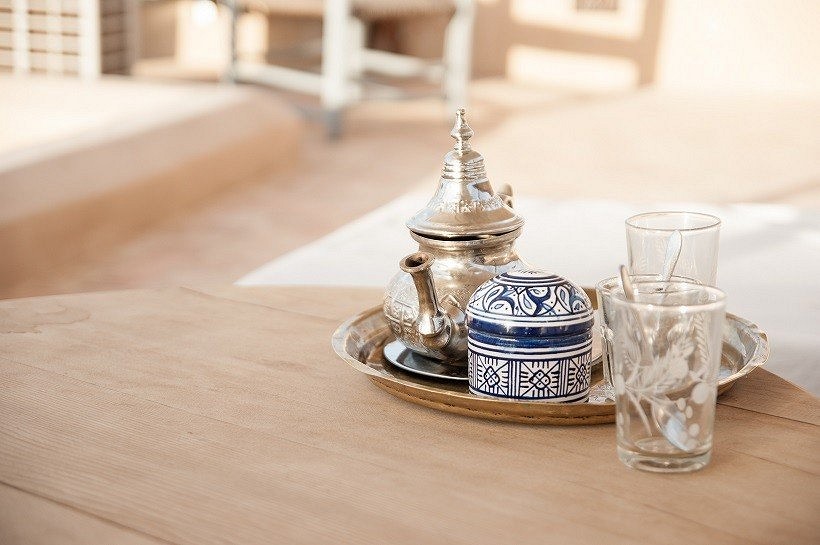 Mėtų arbata – tai kone mylimiausias Marokiečių gėrimas, © Martin Zangerl, CC0
Tagine – tradicinis berberų patiekalas, ruošiamas specialiame moliniame inde. Tadžinis yra troškinys su daržovėmis ir pasirinkta mėsa arba be jos, gaminamas pasitelkiant vietinius prieskonius, tad leis pajusti Maroko virtuvės skonius. Panašiai ruošiamas ir kuskusas, kuris šalyje taip pat populiarus.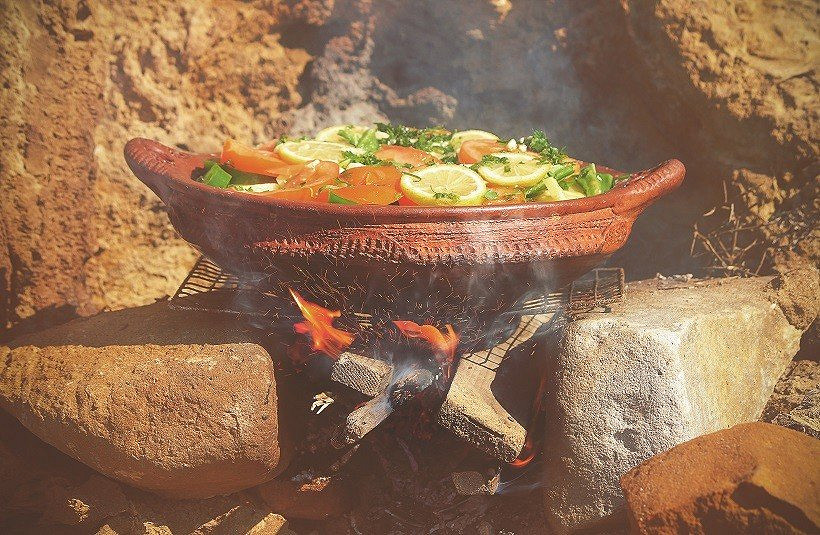 Gaminamas tradicinis Marokiečių patiekalas – Tadžinis, © Aziz Acharki, CC0
Marokietiškos salotos – gaivus ir lengvas užkandis, tobulai tinkantis karštoms popietėms. Gaminamos iš smulkiai pjaustytų pomidorų, raudonųjų svogūnų, agurko, paprikos ar avokado bei paskanintos petražolėmis – kai paragausite, tikrai sakysite, kad genialumas slypi paprastume.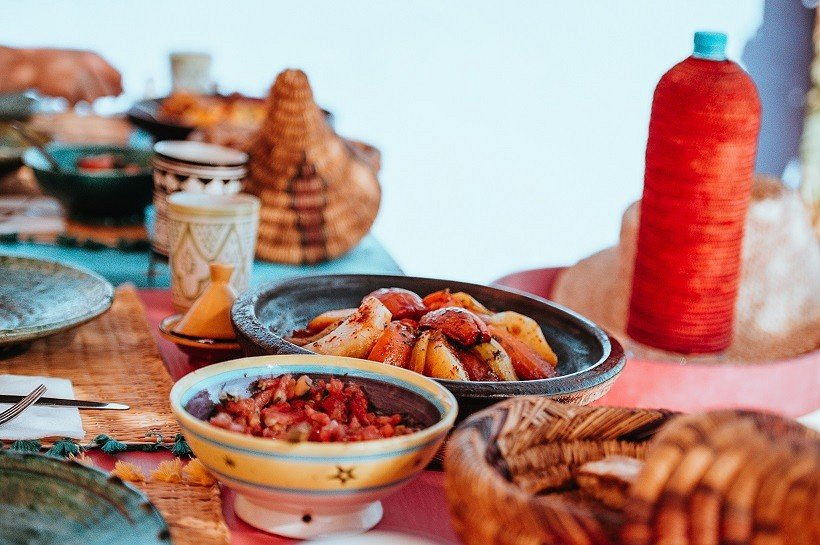 Marokietiškos salotos – lengvas užkandis karštai dienai. © Annie Spratt, CC0
Autentiška Marakešo Medina ir klaidžiojimai joje
Senoji miesto dalis yra beprotiška ir tuo įsitikinti galite tik nuvykę. Gatvelės – labirintai, šurmulys, gatvės muzika, nuolatinis siūlymas ką nors įsigyti ir spalvų įvairovė į atmintį įsirėš ilgam. Pasiruoškite tam, kad tikrai pasiklysite, nusipirksite kažką daug brangiau, nei turėtumėte ir būsite kalbinamas kur tik pasisuksite ir pažiūrėsite.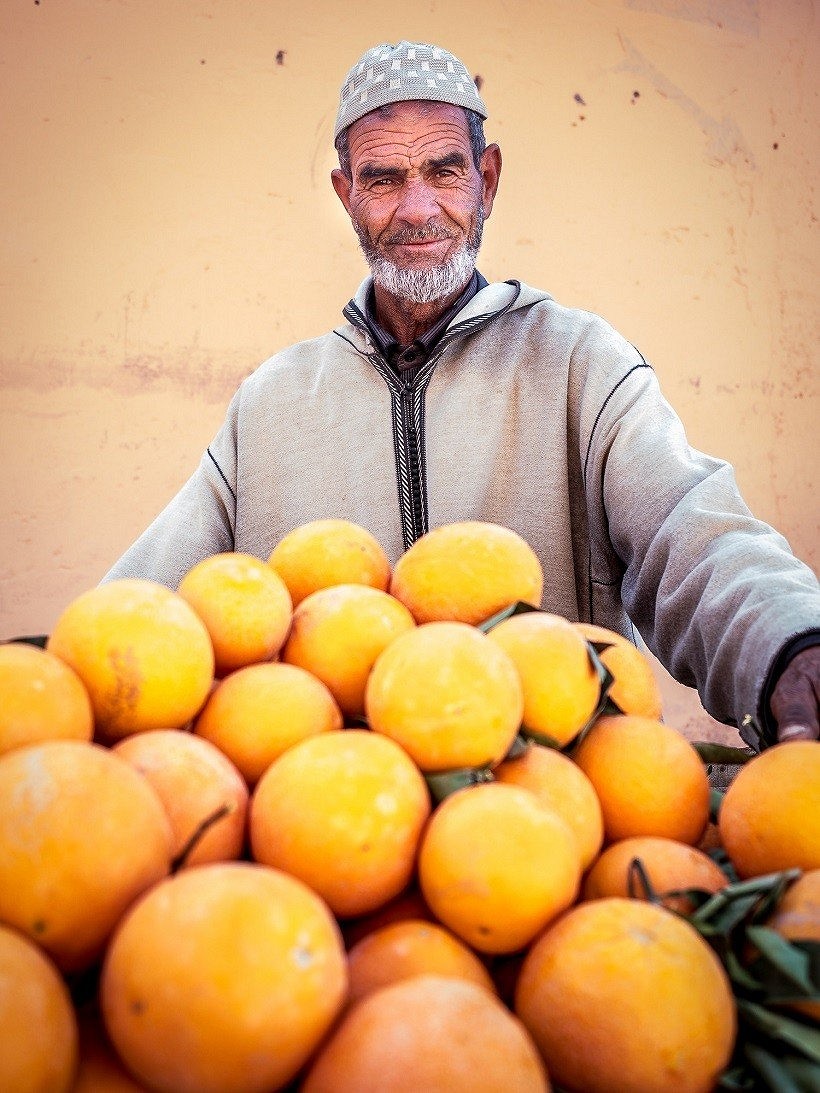 Malonus apelsinų pardavėjas Marakeše, © Mika, CC0
Jemaa el-Fnaa yra visos minėtos beprotybės centras, kur vyksta pasirodymai, rūksta dūmai, blyksi šviesos ir pardavinėjami įvairūs niekučiai iki pat vidurnakčio. Verta įsitaisyti restorane aikštės pašonėje ir stebėti, kaip aikštėję dienos šviesą pakeičia tamsa. Čia pat Jums pabandys uždėti bezdžionę ant peties ir paprašyti susimokėti, parduoti cigarečių, laikrodžių ar nosinaičių, privilioti atsigerti šviežiai spaustų sulčių.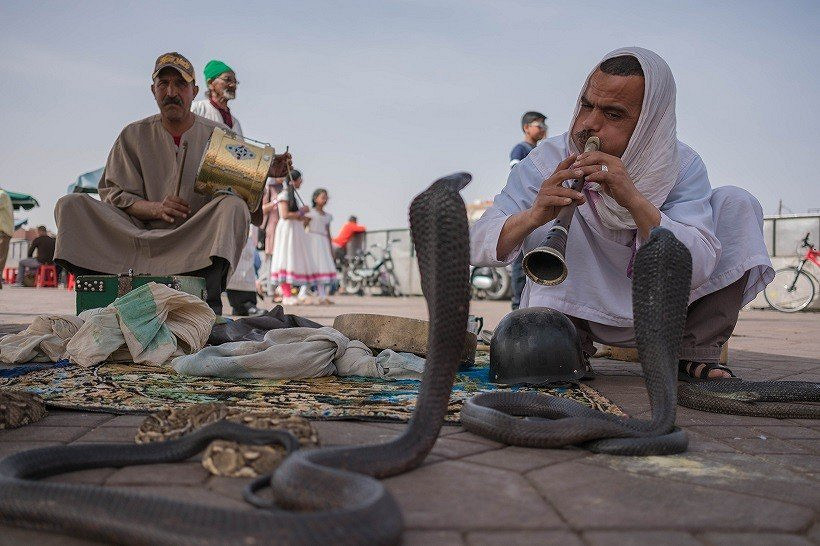 Marakeše pamatysite visko... © Raul Cacho Oses, CC0
Aikštės pašonėje – didžiulis painus turgus (Souk), į kurį eidami turite nusiteikti tam, kad teks paklaidžioti. Iš tiesų turguje yra visko: rūbų, skarų, suvenyrų, maisto ir įvairių menkniekių, o prekeiviai išsidėstę nesuprantama tvarka, išėjimo ženklai ant sienų klaidinantys. Tai – autentiška šio miesto patirtis, derybinių sugebėjimų išbandymas ir smagus nuotykis. Svarbiausia nesinervinti, priimti tai kaip iššūkį ir pabandyti įsijausti į vietinę kultūrą bei joje sudalyvauti. Pasivaikščioję tikrai rasite dėmesio vertų suvenyrų ir daiktų, bet nusiteikite tam, kad dėl geros kainos teks kovoti taikant įvairias taktikas. Svarbiausia – nepamirškite išlikti geros nuotaikos ir šypsotis.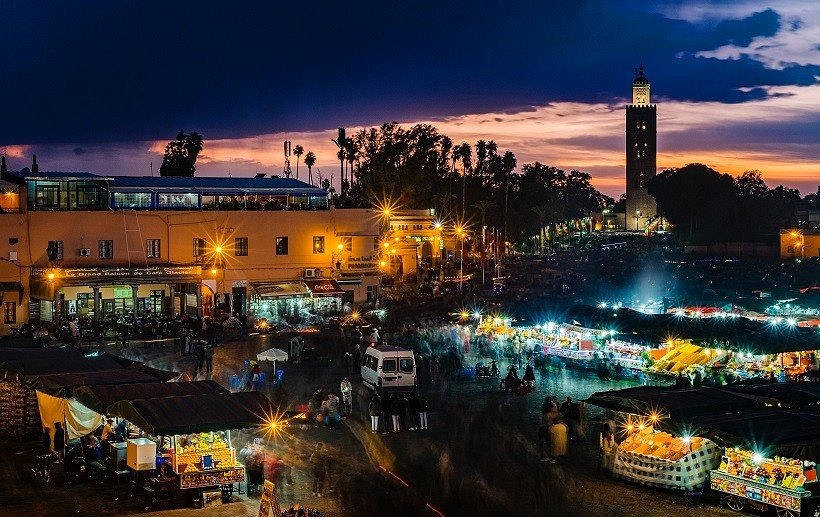 Jemaa el-Fnaa aikštė Marakeše, tai turgavietės ir gyvenimo centras, © Zoltan Tasi, CC0
Sodai – idealus pabėgimo nuo Marakešo šurmulio planas
Lengvas chaosas ne tik žavi, bet ir vargina. Laimė, kad pailsėti Marakeše yra daugybė vietų. Jardin Majorelle, Bahia Palace, Le Jardin Secret, Cyber Park Arsat Moulay Abdeslam ir daugybė kitų gamtos kampelių įsikūrę Medinoje ir netoli jos. Pamatysite tikrai daug: ir marokietiškos architektūros statinių, dekoruotų mažais ryškiaspalviais elementais, ir neregėtų augalų rūšių, kurių kvapai ir spalvos apipina vietą magiška ramybe. Bent kelis iš jų verta aplankyti, pasigrožėti ir pasimėgauti ramybe.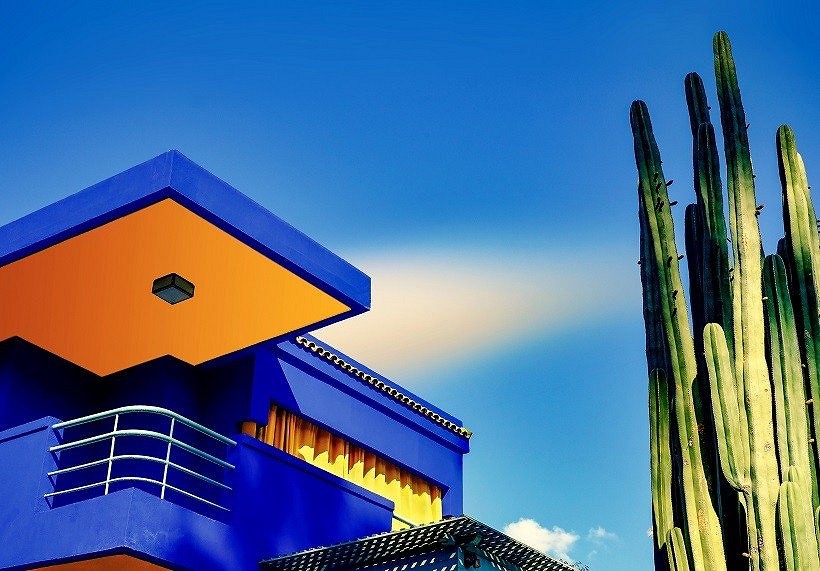 Jardin Majorelle sodas, Marakešas, © Zoltan Tasi, CC0


Ką parsivežti iš šiaurės Afrikos perlu vadinamo Maroko?
Toks klausimas gali kilti bet kurioje Europos šalyje, kuri neturi išskirtinumų ir tada tenka artimiesiems vežti atvirutes ir magnetukus. Net ir juos mėgstantys Maroke džiaugsis, nes kainos dvigubai mažesnės nei Europoje. Bet kokiu atveju, moterims patariama įsigyti skarą, nes Marakeše jų daugybė, skirtingų audinių, raštų ir spalvų: galima išsirinkti kokybišką gaminį už žemą kainą. Argano aliejus – nepamainomas naudingas visam kūnui produktas, gaminamas iš tik pietvakarių Maroke augančių Argania spinosa medžių vaisių kauliukų, todėl didelė tikimybė, kad vietoje nusipirksite kokybiškesnį gaminį nei būdami Lietuvoje. Beje, kadangi jau būsite paragavę vietinių patiekalų, būtinai nusipirkite prieskonių, kuriuos galite įteikti kaip dovaną arba artimiesiems pagaminti Maroko virtuvės šedevrų.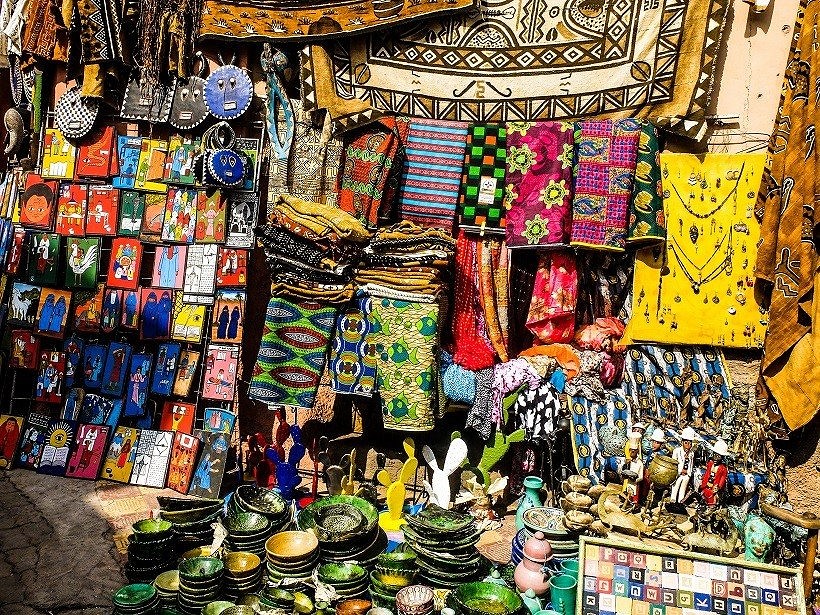 Marakeše nesunkiai rasite suvenyrų, kuriais nudžiuginsite artimuosius, © Max Brown, CC0
Kainos
Restoranai
Maitinimas paprastame restorane 1 asmeniui

4.13€

Maitinimas 2 asmenims, vidutinės klasės restoranas, trijų patiekalų vakarienė

30.00€

"McMeal" "McDonalds"

5.96€

Vietinis alus (0.5 litro)

4.40€

Importinis alus (0.33 litro buteliukas)

5.50€

Kapučino kava

1.71€

Cola / Pepsi (0.33 litro buteliukas)

0.74€

Vanduo (0.33 litro buteliukas)

0.48€
Parduotuvė
Pienas (1 litras)

0.65€

Kepalas šviežios baltos duonos (500g)

0.68€

Ryžiai (balti), (1kg)

1.01€

Kiaušiniai (12 vnt)

1.12€

Vietinis sūris (1kg)

6.65€

Vištienos filė (1kg)

5.83€

Jautiena (1kg)

7.37€

Obuoliai (1kg)

1.02€

Bananai (1kg)

0.96€

Apelsinai (1kg)

0.51€

Pomidorai (1kg)

0.38€

Bulvės (1kg)

0.43€

Svogūnai (1kg)

0.50€

Salotos (1 gūžė)

0.21€

Vanduo (1.5 litro butelis)

0.58€

Butelis vyno

5.71€

Vietinis alus (0.5 litro butelis)

1.55€

Cigarečių pakelis (Marlboro)

3.21€
Transportas
Bilietas į vieną pusę (vietinis transportas)

0.37€

Mėnesinis bilietas (įprasta kaina)

13.75€

Taksi 1km (normalus tarifas)

0.46€

Benzinas (1 litras)

0.96€
Komunalinės paslaugos (kas mėnesį)
Pagrindiniai (elektra, šildymas, vėsinimas, vanduo, šiukšlės) 85m2 butui

53.18€

1 minutė. iš anksto apmokamo vietinio tarifo mobiliesiems (nėra nuolaidų ar planų)

0.14€

Internetas (60 Mbps ar daugiau, neriboti duomenys, kabelis / ADSL)

29.25€
Sportas ir laisvalaikis
Sporto klubas, mėnesinis mokestis 1 suaugusiajam

21.77€

Teniso kortų nuoma (1 valanda savaitgalį)

27.51€

Kino bilietas asmeniui

5.50€
Drabužiai ir avalynė
1 pora džinsų ("Levis 501" ar panašūs)

22.92€

1 vasarinė suknelė parduotuvių tinkle ("Zara", "H&M", ...)

27.69€

1 pora "Nike" bėgimo batelių (vidutinės klasės)

56.85€

1 pora vyriškų odinių verslo batų

54.91€
Nuoma per mėnesį
Butas (1 miegamasis) miesto centre

295.73€

Butas (1 miegamasis), ne centre

163.02€
Atlyginimai ir finansai
Average Monthly Net Salary (After Tax)

357.75€

Hipotekos palūkanų norma procentais (%), per metus, 20 metų fiksuota norma

6.62€
Facebook komentarai
Ieškote kelionės į Maroką?
Peržiūrėkite visus pasiūlymus
Kitos kelionių kryptys