Ką verta žinoti prieš vykstant į Paryžių?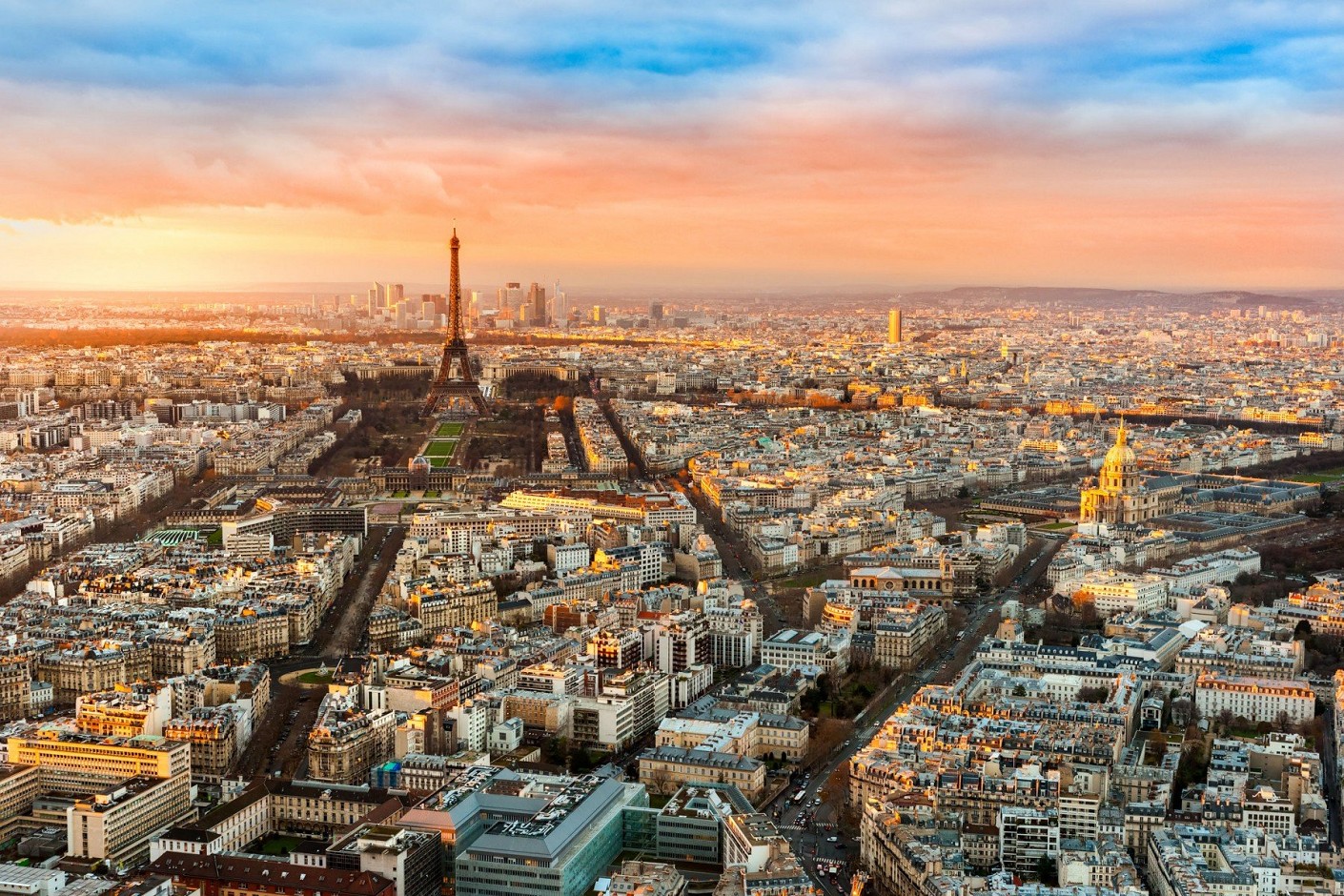 Paryžius - tai elegancijo, modernumo ir daug žavesio turintis miestas, kurį pajusite vaikščiodami miesto gatvėmis. Pasigerėti panorama nuo Monmartro kalvos, kavinukėje prie Liuksemburgo parko mėgautis kruasanais su kava, nerti į požemiuose esančias katakombas, gėrėtis Versalio prabanga ir lydėti saulę prie Eifelio bokšto – tai tik kelios daug džiaugsmo teikiančios Paryžiaus pramogos. Jeigu galvojate, kad šis miestas skirtas tik romantikams, klystate. Paryžius toks didelis, kad kiekvienas ras kažką sau ir visai nesvarbu, kuriuo metų laiku.
Paris in Motion 1 from Yenoukoume Akpovi on Vimeo.
💡 Ypač rekomenduojama į Paryžių vykti jaunimui nuo 18 iki 25 metų, nes daugumą objektų galėsite aplankyti nemokamai vos parodžius tapatybę įrodantį dokumentą. Žinoma, miestas unikalus ir tuo įsitikinsite būdami bet kokio amžiaus, tačiau tiems, kurie yra vyresni nei 25 metų ir planuoja aplankyti daug muziejų ir kitų populiarių objektų, derėtų pasvarstyti apie Paryžiaus muziejų pasą, su kuriuo išvengsite eilių prie kasų ir sutaupysite.
Kaip patogiausia keliauti po Paryžių?
Paryžius yra patogiai išdėstytas miestas, nes nuvykę į patį centrą, daugumą populiarių objektų pasieksite vaikščiodami. Bet kokiu atveju, ir viešojo transporto atžvilgiu Paryžius tikrai nėra nuskriaustas - puikai išvystyta metro sistema bei dažnai kursuojantys autobusai užtikrina greitas ir paprastas keliones po miestą. Kaip pradėti naudotis viešuoju transportu? Paprasčiausiai nusileiskite į arčiausiai esančią metro stotelę ir įsigykite vienkartinių bilietų kelionėms (tinka visiems viešojo transporto tipams). Atvykusiems kelioms dienoms patariame pirkti karnetą - 10 vienkartinių bilietėlių, kainuojančių 14,90€. Tokiu būdu sutaupysite, nes vienas bilietas kainuoja 1,90€. Maršrutus galite stebėti per Google Maps - duomenys tikslūs ir aiškūs.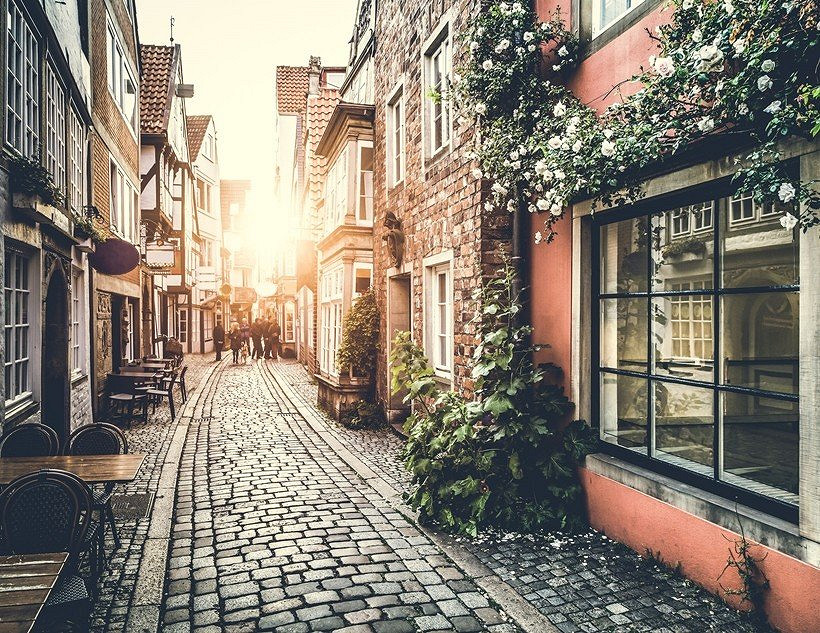 Kaip iš Paryžiaus oro uosto nuvykti į miesto centrą?
Paryžiaus oro uostai yra nutolę nuo pačio Paryžiaus - pavyzdžiui, Bovė oro uostas, į kurį nuskrisite iš Vilniaus, yra už 90 km kelio nuo pačio Paryžiaus. Automobilio mieste Jums tikrai neprireiks dėl puikiai išvystytos viešojo transporto sistemos, todėl patogiausias būdas pasiekti miesto centrą - pasinaudoti Buvės oro uosto autobusu, kuris kainuoja 17 € asmeniui į vieną pusę (kelionė trunka beveik 2 valandas). Pigesnė, greitesnė ir dėmesio verta alternatyva - pasinaudoti BlaBlaCar pavežėjimo paslauga. Suvedus kelionės išvykimo, atvykimo vietas bei kelionės datą, pamatysite tuo pačiu maršrutu važiuojančius asmenis, galinčius Jus pavežti. Kelionė truks perpus trumpiau ir kainuos nuo 7€ iki 11€. Variantų reikėtų ieškoti likus maždaug dienai iki kelionės, o rinktis vairuotoją pagal tai, kokį įvertinimą jis turi.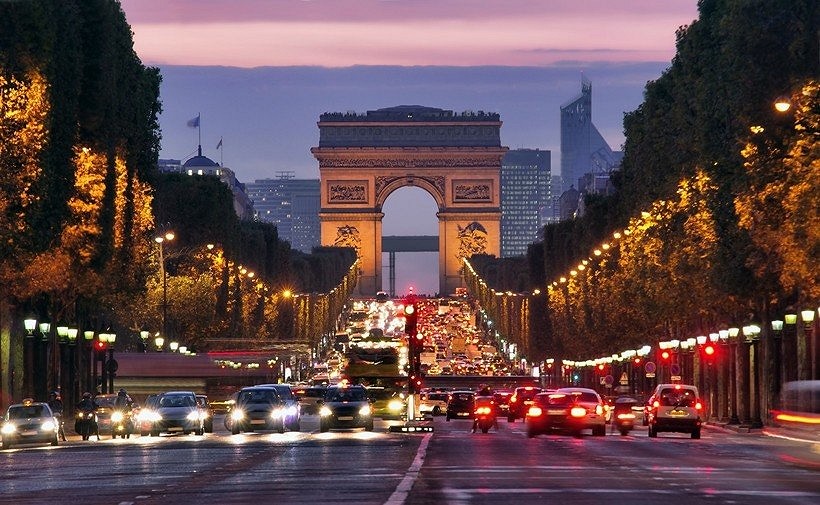 Lankytinos vietos Paryžiuje
Eifelio bokštas

Turbūt pasaulyje nerastume žinomesnio objekto nei Eifelio bokštas. Prie Senos upės kranto XIX a. pab. pastatytas kaip laikinas statinys, Eifelio bokštas dabar yra laikomas Paryžiaus simboliu. Vaikščiodami miesto centre jo viršūnę išvysite ne kartą, bet nueiti prie jo paties neabejotinai verta - sėdint ant žolės šalia esančiame Champ de Mars parke atsiskleis visa jo didybė. Tačiau ar verta kilti į jį patį? Jums spręsti, bet turėkite omenyje, kad eilės ilgos, bilietas pakilti į pačią viršūnę suaugusiam kainuoja nuo 19€, o ir pagalvokite, argi verta pamatyti Paryžiaus panoramą be Eifelio bokšto?

Šventoji koplyčia (Saint Chapelle)

Apie šią koplyčia daug kalbėti nereikia, nes vaizdas kalba pats už save. Gan nedidelė, bet įspūdingo grožio Gotikinio stiliaus statinys traukia turistus ryškiaspalviais vitražais. Vieta yra laikoma viena gražiausių Paryžiuje, todėl rekomenduojame apsilankyti ir Jums. Iki 25 metų jaunimui įėjimas nemokamas, visiems kitiems - 10€.

Luvras

Pirmiausia susižavėsite jo išore - didingu pastatu bei stiklinėmis piramidėmis, esančiomis baseino viduryje. Tada lauksite eilėje: ilgesnėje ar trumpesnėje priklausys nuo to, ar nusipirkote bilietą iš anksto. Na, o smagiausia dalis laukia viduje, nes ten - daugybė ekspozicijų, kurias įdėmiai apžiūrėti truktų kone 3 dienas. Ir kaipgi be žymiojo Mona Lizos paveikslo, pritraukiančių minias turistų! Jeigu šis paveikslas Jūsų nedomina, vis tiek sekite rodyklėmis link jo - Mona Lizos portetą fotografuojančių turistų minia atrodo gana komiškai. Jeigu dar paminėsime tai, kad Luvras yra daugiausiai lankytojų sulaukiantis muziejus pasaulyje, suprasite, kad jame apsilankyti privalu ir Jums. Iki 25 metų jaunimas į Luvrą pateks nemokamai, o vyresniems bilietas kainuos 17€.

'Shakespeare and Company' knygynas

Miesto centre netoli kitų lankytinų vietų esantis knygynas pirmiausiai patraukia išore - pastatas atrodo kaip iš Hario Poterio knygos. Įėjus pasitinka jauki aplinka su daugybe anglų kalba parašytų knygų, nuo klasikos iki naujausių bestselerių. Patikėkite, knygynas užburia, ir nors jame negalima fotografuoti, pavaikščioję pasimėgaukite jaukumu ir mistiškumu, kuris tvyo viduje. Šalia knygyno yra ir jam priklausanti kavinė, kurioje galima įsigyti ne naujų knygų, išgerti kavos ir pasimėgauti naujais pirkiniais.

Katakombos

Didžiulis tunelių ir kriptų labirintas yra unikali Paryžiaus vieta, besidriekianti po miesto gatvėmis ir sukurta per daugelį metų kasant vertingas uolienas. Požemiuose palaidota apie 6 milijonai žmonių, tad reginys tikrai neįprastas. Turistai šia vieta domisi, tad norėdami išvengti didelių eilių, atvykite kuo anksčiau. Bilietas į katakombas kainuoja 13€.
Kainos
Restoranai
Maitinimas paprastame restorane 1 asmeniui

15.00€

Maitinimas 2 asmenims, vidutinės klasės restoranas, trijų patiekalų vakarienė

52.50€

Kapučino kava

3.50€

Cola / Pepsi (0.33 litro buteliukas)

2.95€
Parduotuvė
Pienas (1 litras)

1.11€

Kepalas šviežios baltos duonos (500g)

1.83€

Ryžiai (balti), (1kg)

2.28€

Kiaušiniai (12 vnt)

3.80€

Vietinis sūris (1kg)

17.93€

Vištienos filė (1kg)

13.06€

Jautiena (1kg)

21.17€

Obuoliai (1kg)

3.16€

Bananai (1kg)

2.22€

Pomidorai (1kg)

3.04€

Bulvės (1kg)

2.21€

Svogūnai (1kg)

2.47€

Salotos (1 gūžė)

1.46€

Vanduo (1.5 litro butelis)

0.93€

Vietinis alus (0.5 litro butelis)

2.11€

Cigarečių pakelis (Marlboro)

10.00€
Transportas
Bilietas į vieną pusę (vietinis transportas)

1.90€

Mėnesinis bilietas (įprasta kaina)

75.00€

Taksi 1km (normalus tarifas)

1.50€

1 valandos laukimas taksi (normalus tarifas)

41.04€

Benzinas (1 litras)

1.58€
Komunalinės paslaugos (kas mėnesį)
Pagrindiniai (elektra, šildymas, vėsinimas, vanduo, šiukšlės) 85m2 butui

167.90€

1 minutė. iš anksto apmokamo vietinio tarifo mobiliesiems (nėra nuolaidų ar planų)

0.23€

Internetas (60 Mbps ar daugiau, neriboti duomenys, kabelis / ADSL)

27.24€
Sportas ir laisvalaikis
Sporto klubas, mėnesinis mokestis 1 suaugusiajam

41.67€

Teniso kortų nuoma (1 valanda savaitgalį)

20.21€

Kino bilietas asmeniui

11.00€
Drabužiai ir avalynė
1 pora džinsų ("Levis 501" ar panašūs)

83.17€

1 vasarinė suknelė parduotuvių tinkle ("Zara", "H&M", ...)

34.98€

1 pora "Nike" bėgimo batelių (vidutinės klasės)

86.39€

1 pora vyriškų odinių verslo batų

120.88€
Nuoma per mėnesį
Butas (1 miegamasis), ne centre

823.11€
Facebook komentarai
Ieškote kelionės į Prancūziją?
Peržiūrėkite visus pasiūlymus
Kitos kelionių kryptys