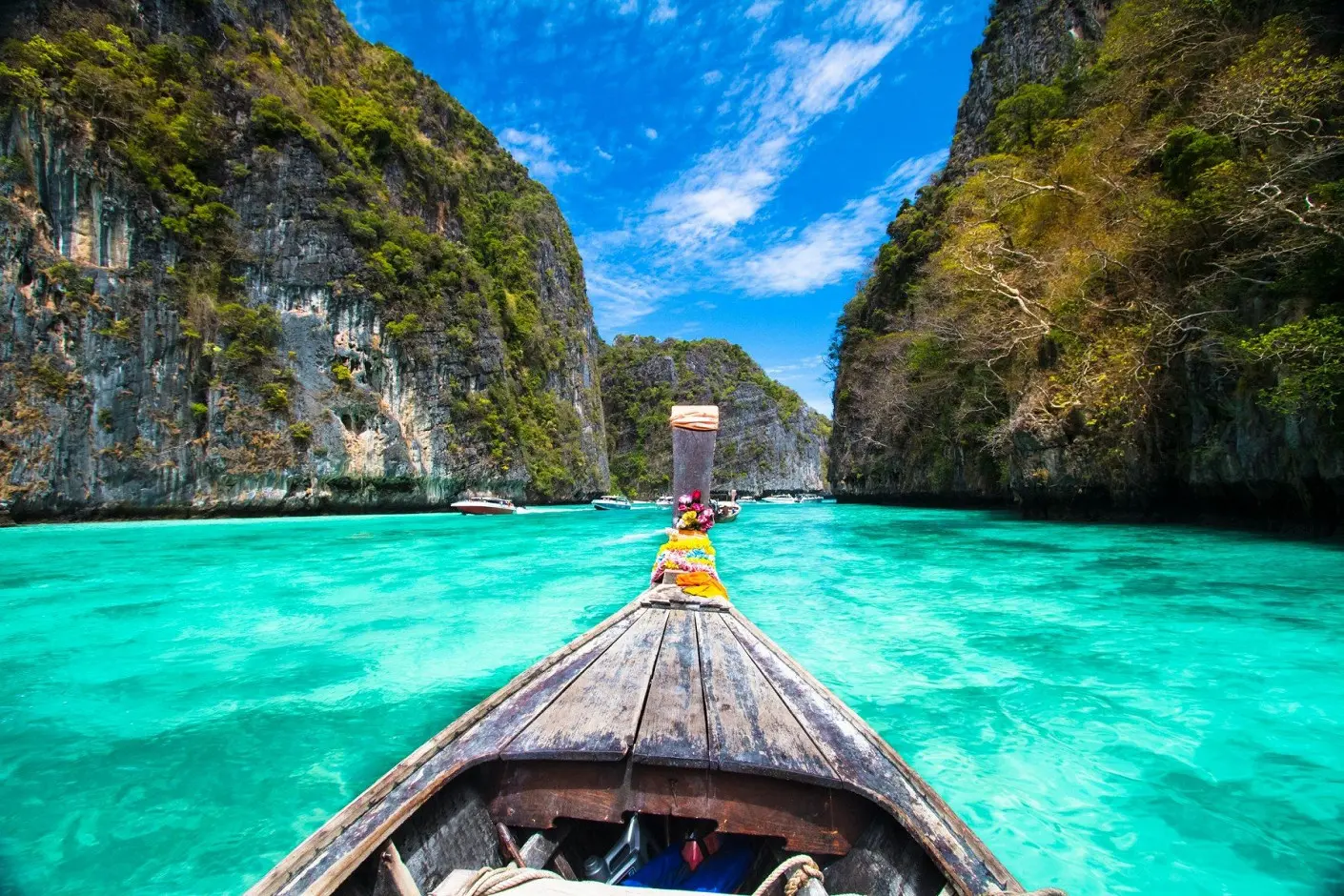 Kodėl Puketo sala tokia mylima turistų?
Puketo sala - tai pati didžiausia Tailando sala, esanti 890 km į Pietus nuo Bankoko. Daugybė išsidraiksčiusių salų, tropiniai miškai, džiunglės, smarangdinis vanduo bei

nuostabūs paplūdimiai - viskas, ko gali reikėti egzotinėms atostogoms. Jei pasiseks, Šiaurėje Maikao krante galėsite išvysti didžiulius jūros vėžlius, kurie čia kartą per metus deda kiaušinius. Aplankykite nuostabų Ton Sai krioklį, Phang-Nga lagūną, Phi Phi salas, pasiklaukiokite kanojomis Phang Nga įlankoje.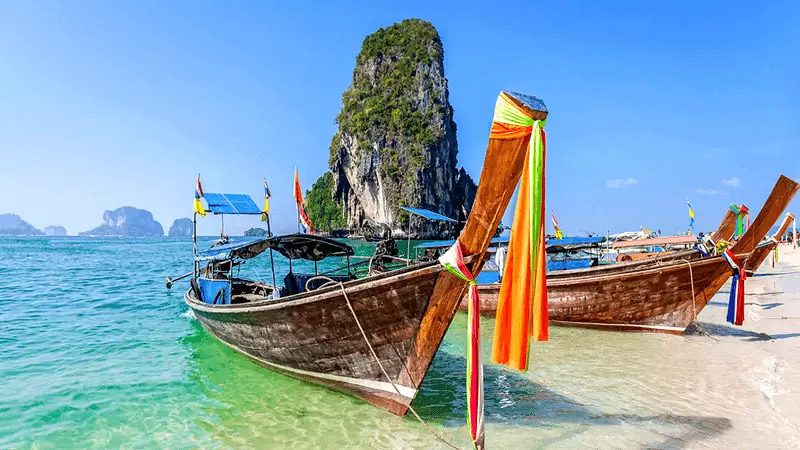 Puketas (Phuket) – tai vienas populiariausių Tailando salų kurortų, antras pagal populiarumą kurortas šalyje. Klimatas čia ne toks drėgnas kaip Patajoje ar Bankoke, jūra švaresnė, o palūdimiai gražesni ir baltesni. Tiesa, paslaugų kainos yra maždaug pusantro karto didesnės nei Patajoje. Lyginant su Samui, čia daug labiau išvystyta infrastruktūra, daugiau gyventojų ir pramogų. Dauguma viešbučių ir turistinių centrų sukoncentruota salos vakarinėje dalyje, nes rytinėje salos dalyje priėjimas prie jūros yra akmenuotas.
Puketas yra ideali vieta nardytojams, nes visai netoli nuo kranto auga koraliniai rifai, o vos už 40 km yra vienos geriausių pasaulyje nardymo vietų (Similan ir Surin salynai).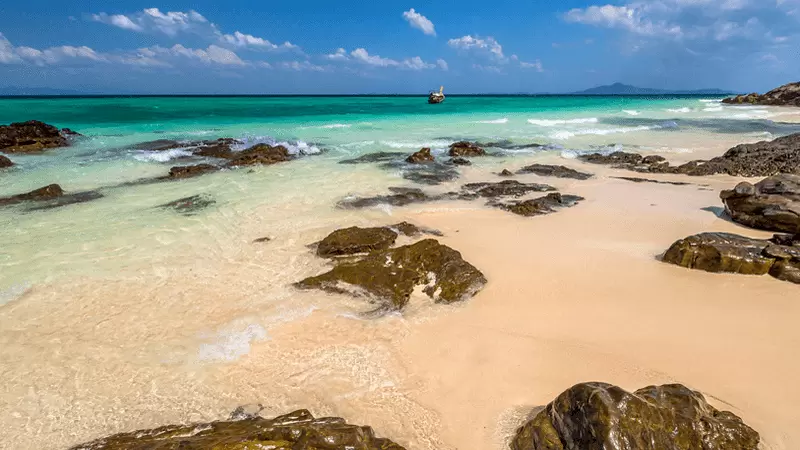 Norintiems išvysti Tailando egzotiką, siūlomos ekskursijos motorinėmis valtimis arba kanojomis po daugybę salų aplink Puketą, kurių žinomiausios – Džeimos Bondo sala, Phi Phi Don ir Phi Phi Le. Jaunavedžiai čia gali rasti net tokių salų, kuriose gyventų viloje tik jie vieni.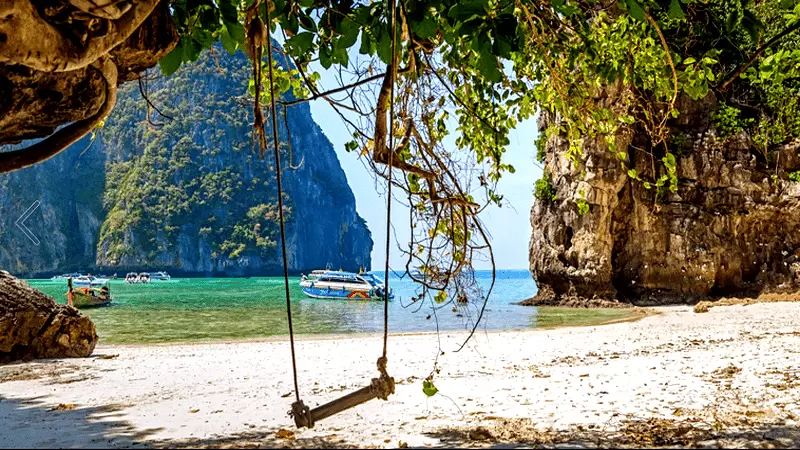 Verta paragauti viešint Tailande
Tailandas garsėja savo įvairia virtuve. Bankoke yra nemažai Foodstreet (vietinių gatvių restoranėlių), kuriose galite išragauti tailandietiškus patiekalus. Geriausiai žinomas patiekalas tarp turistų yra Padthai. Tai yra makaronai, pakepti su daržovėmis, tofu, pasirinkta mėsa (kiauliena, vištiena, jūros gėrybėmis ar krevetėmis) ir ant viršaus pabarstytais žemės riešutais. Šio patiekalo kaina svyruoja nuo 40 Thb, ~ 1€. Taip pat Tailande populiaru yra sriubos – vietiniai mėgsta Tom Yum sriubą, orginaliai patiekiamą su krevetėmis.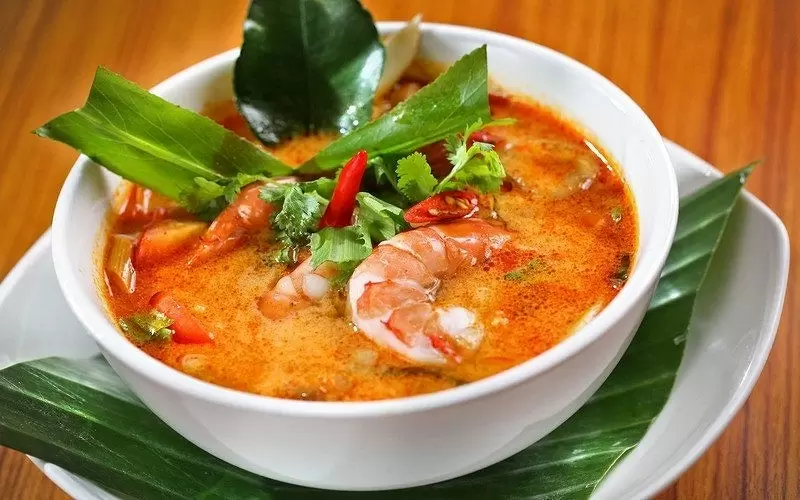 Tradicinė tailandietiška sriuba - Tom Yum
Bankoko gatvėse siūloma paragauti įvairių vabalų, džiovintų skorpionų ir pan. Egzotiškoje šalyje populiarūs džiovinti vaisiai, jų galite rasti kiekviename turguje, o prieš perkant galėsite paskanauti ir išsirinkti labiausiai sau patinkančius. Ir jokiu būdu negalite praleisti progos valgyti ir ragauti kuo daugiau vaisių. Juos pardavinėja prie šventyklų, tiesiog gatvėse ar turguose. Pardavėjai pasirinktus vaisius Jums iš karto paruoš: nulups, supjaustys, sudės į maišelį ir duos pagaliuką, kad būtų patogu valgyti. Patiekalų įvairovė Tailande yra labai didelė, tačiau desertų - nedaug. Pagrindinis ir tikrai labai skanus desertas yra "Sticky rice with Mango" (lipšnūs, saldūs ryžiai pagaminami su kokosu ir šalia papjaustytu šviežutėliu ir puikiai prinokusiu mangu). Šio deserto kaina yra apie 60 Thb, ~ 1,5€.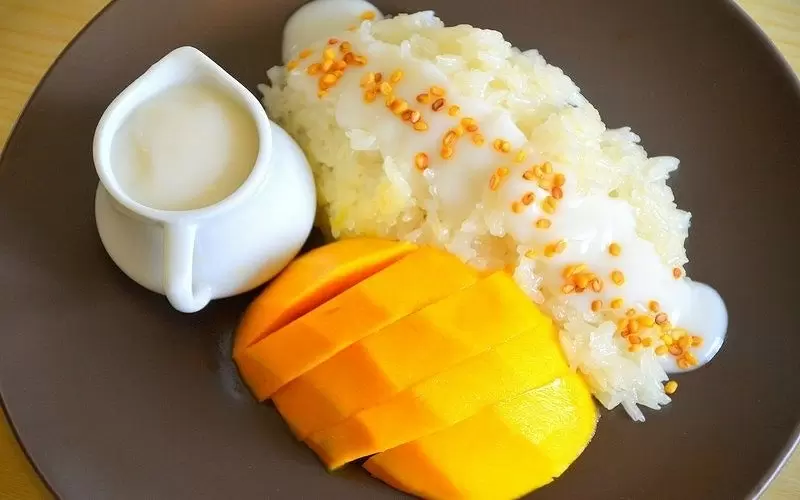 Desertas - Magno sticky rice (lipšnūs ryžiai su mangu)
Tiesa, keliaujantiems iš Europos svarbu nepamiršti, kad ten maistas yra labai aštrus. Prieš užsisakant patartina pasiteirauti apie patiekalo aštrumą. Jeigu nemėgstate deginančio jausmo gomuryje, tuomet paprašykite, jog jums nedėtų čili.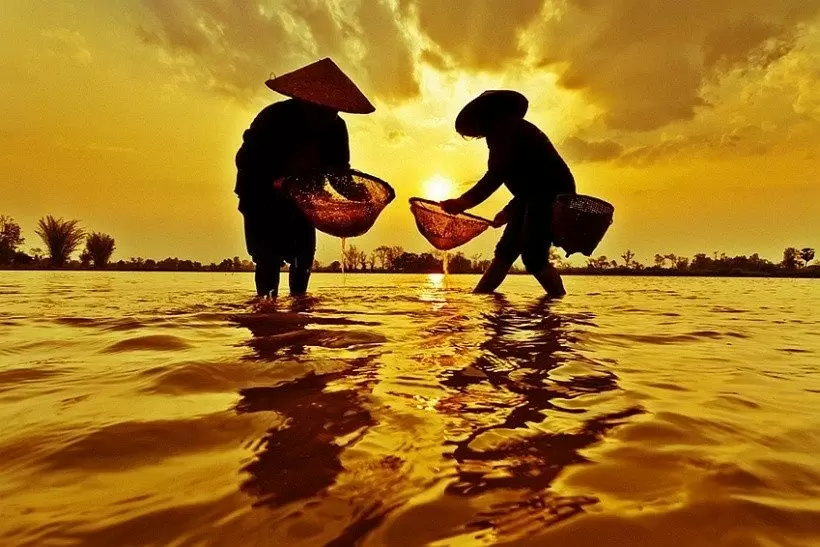 Dalykai, kurių Tailande geriau nedaryti
Visada reikia pasižiūrėti, ar prie, tarkime, vietinės parduotuvės įėjimo yra šlepetės. Jeigu yra, reikia nusiauti ir Jums, jeigu ne, atidarote duris, įkišate galvą ir pasiteiraujate, ar reikia nusiauti. Taip parodysite mandagumą ir pagarbą.

Deramai, neiššaukiančiai apsirengti einant į šventyklą, nes neapsidengus pečių ir kelių eiti į šventą vietą – didelė nepagarba. Tačiau geriausia - visada būti apsirengus rūbais, dengiančiais pečius ir kelius.

Rodydami pyktį ir nepasitenkinimą, iš karto būsite "nurašytas" vietinių, kristumėte jų akyse ir būtumėte negerbiamas. Todėl bet kokią situaciją - derybas turguje ar kitus nesusipratimus spręskite su šypsena veide. Gal tai ir užtruks ilgiau, bet galiausiai bus Jūsų viršus.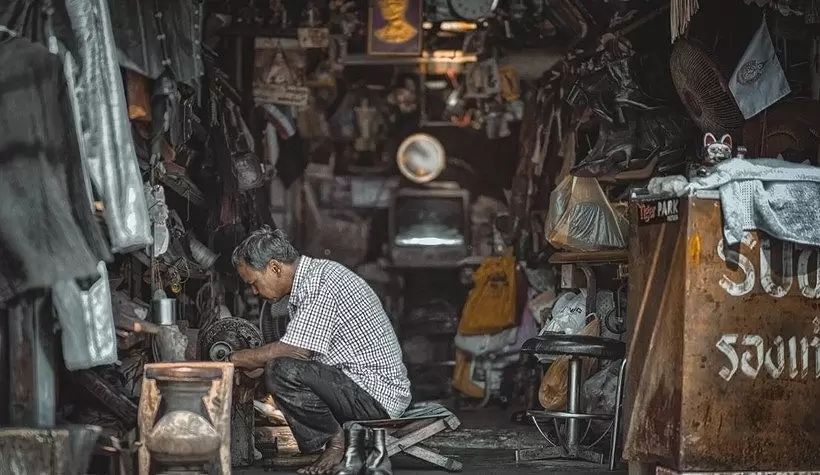 Kaip užsitikrinti geriausią kainą?
Kai nuvažiuosite, viskas Jums atrodys labai pigu, bet tos kainos, kuriomis Jums siūlys pirkti prekes ar paslaugas, vietiniams bus daug mažesnės. Sakoma, kad yra trys kainos – vietiniams, lojaliems klientams ir turistams. Tajams atrodysite kaip vaikštantis bankomatas - jie galvoja, kad baltaodžiai europiečiai gerai uždirba, tad ir tikėsis, kad sutiksite sumokėti bet kokią pasiūlytą kainą. Vienintelis būdas užsitikrinti geriausią kainą - dėrėtis. Jums pasiūlytą sumokėti kainą kirskite maždaug per pusę ir po truputį brangindami užsitikrinsite geriausią kainą. Svarbiausia visą procesą išlaikyti šypseną ir gerą nuotaiką, nerodyti nepasitenkinimo.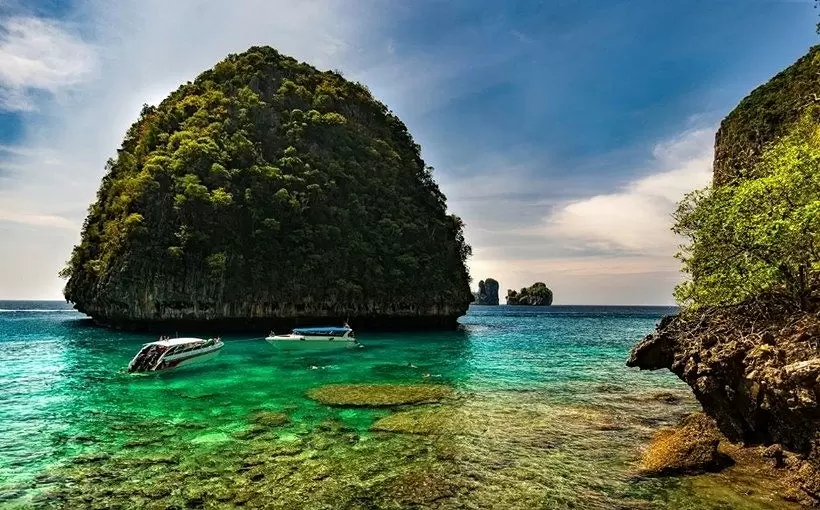 Spąstai turistams, į kuriuos geriau neįkliūti:
Vaikai gatvėse. Jeigu vaikas ar jauna mama su vaiku Jūsų prašo pinigų, visų pirma net nereikėtų duoti, o jeigu tikrai norite padėti skurstantiems, geriausia susirasti vietinę organizaciją ir paaukoti ten.

Siūlymas nemokamai pavėžėti mieste su "tuktukais". Galiausiai būsite nuvežtas ne ten, kur norėjote ir bus paprašyta susimokėti už kelionę, kad būtumėt nuvežtas ten, kur ir reikia. Žinoma, pakeliui dar būsite nuvežti į draugų fabrikus, kuriuose, anot jų, galėsite įsigyti kažką geriausia kaina.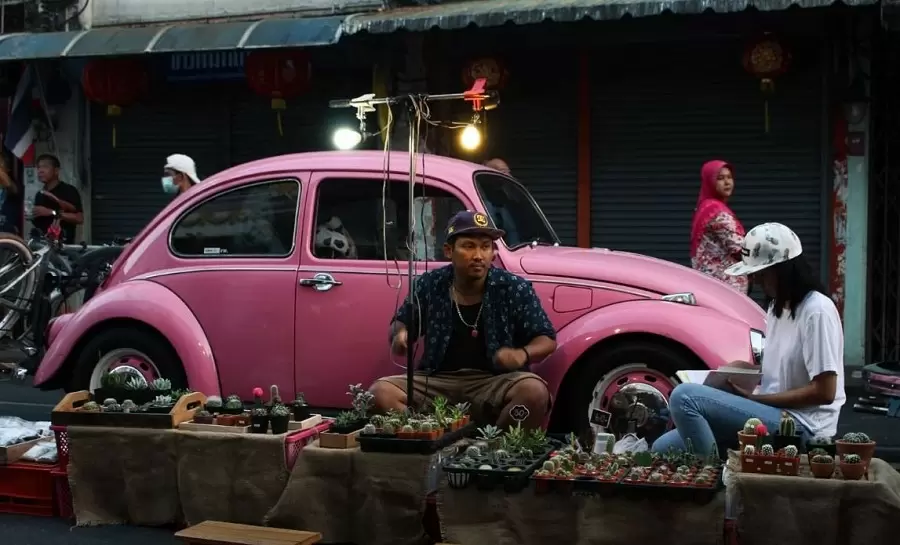 Nakvynė: pas vietinius ar viešbutyje?

Gyvenant pas tajus pajustumėte vietinį gyvenimą, paragautumėte daugiau ir įvairesnio tailandietiško maisto, turbūt net išmoktumėte bent kelis žodžius, bet iš karto būkite pasiruošę, kad galite nerasti Jums priimtinų europietiškų patogumų. Greičiausiai nustebtumėte ir dėl gaminamo maisto higienos. Pavyzdžiui, dauguma tailandiečių prausiasi apsipildami vandeniu iš kokio nors indo arba tiesiog išsimaudo jūroje. Taip pat nesitikėkite prabangos – namai gali būti paprasti, pastatyti iš skardų, o langai be stiklo. Europiečiams neįprasta ir tai, kad namuose knibžda driežų, gyvačių ar vorų. Būkite pasiruošę, kad Tailando gyventojų namuose nebus elektros, nes vietiniai keliasi ir eina miegoti su saule.
Viešbučiuose rastumėte geras, įprastas gyvenimo sąlygas – normalius tualetus, virtuvėje – aukštesnius higienos standartus, suremontuotus numerius, todėl jeigu norite kokybiškai pailsėti, rinkitės poilsį viešbučiuose.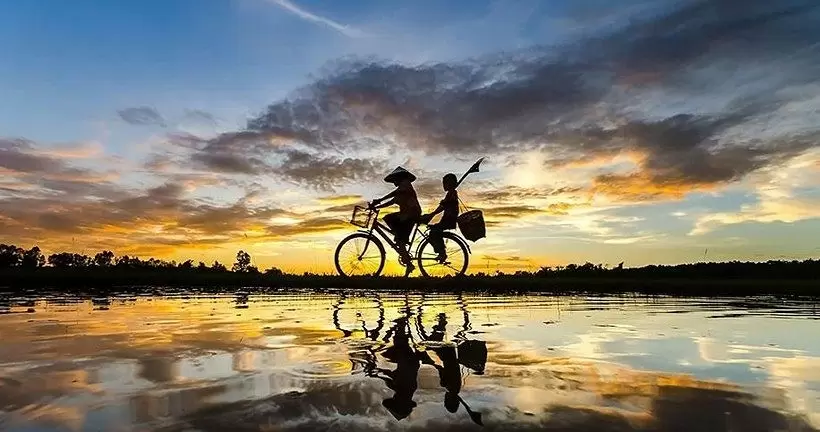 Egzotiškos šalies gatvės maistas

Restoranuose patiekiamų patiekalų higienos standartai bus aukštesni, bet maistas gali būti šaldytas. Gatvės maistas gal ir nebus paruoštas geriausiomis sąlygomis, bet dažnu atveju jis bus šviežias, o kadangi pakaitinus aukštoje temperatūroje dauguma bakterijų žūsta, apsinuodijimų šansai sumažėja. Geriausiai eiti valgyti gatvės maisto ten, kur valgo vietiniai - pirma, dėl geresnių kainų, o antra – jeigu jau ateina valgyti vietiniai, tailandietis savo kaimynams tikrai nepatieks prasto maisto, todėl galima tikėtis geresnės kokybės.

Mėgstantiems gaiviuosius ir alkoholinius derėtų pasižiūrėti, ar ledukai tuščiaviduriai. Jeigu ne, labai didelė tikimybė, kad jie užšaldė vandenį iš upės ir įdėjo į gėrimą. Kadangi keliaujantiems nepatariama gerti vietinio vandens, ledukai irgi padidina žarnyno sutrikimų riziką. Geriau pirkti brangiau baruose, nes gatvės prekeiviai kartais siūlo prastos kokybės spiritą, dėl kurio būna apsinuodijimų.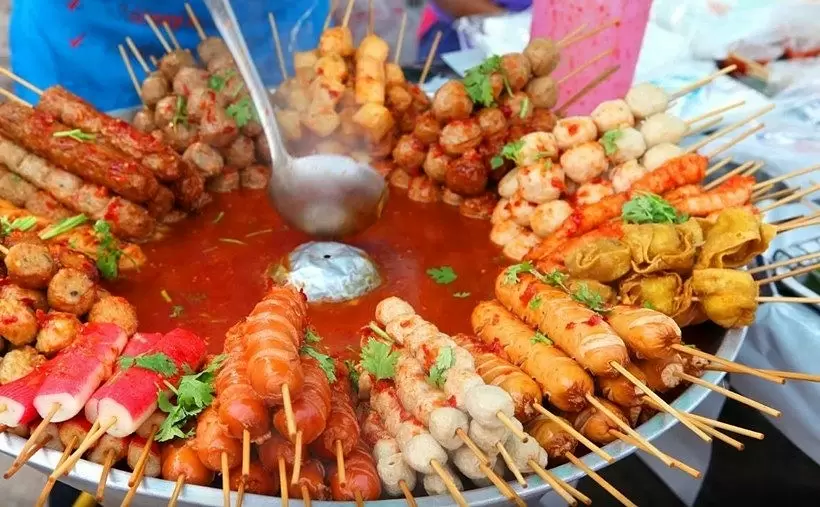 Kur įsigyti ekskursijas Tailande?

Patikiamiausias ir geriausią kainą užtikrinantis būdas - pirkti iš vietinių kelionių agentūrų ir po 18 valandos – tada agentūros išparduoda tai, kas nenupirkta ir gausite labai geras kainas su nuolaidomis. Perkant ekskursijas viešbutyje mokėsite brangiau.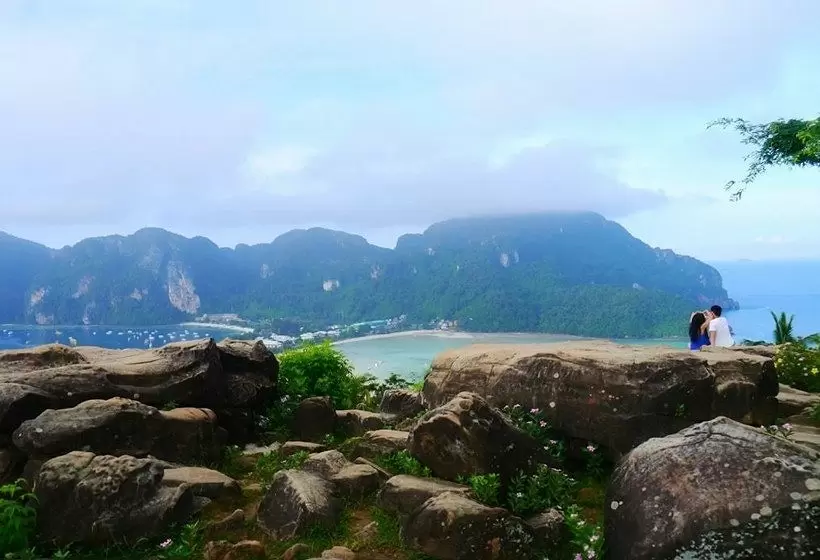 Geriausios lauktuvės iš Tailando
Kokosų aliejus - itin aukštos kokybės, o kaina labai patraukli. Geriausia pirkti ekologišką iš vaistinių ar didelių prekybos centrų.

Medvilninės suknelės ir kiti rūbai iš šio audinio. Jeigu audinys dažytas, reikėtų išvirti acte, kad užsiksuotų spalva. Kaip tai reikia padaryti, pasiklauskite pardavėjų, nes ne visi prieš įsigyjant apie tai pasako.

Tailando šiaurinė dalis yra žymi sidabro gaminiais, tai jeigu reikia vestuvinių žiedų ar kitų sidabro gaminių, tai verta įsigyti, nes kainos labai geros.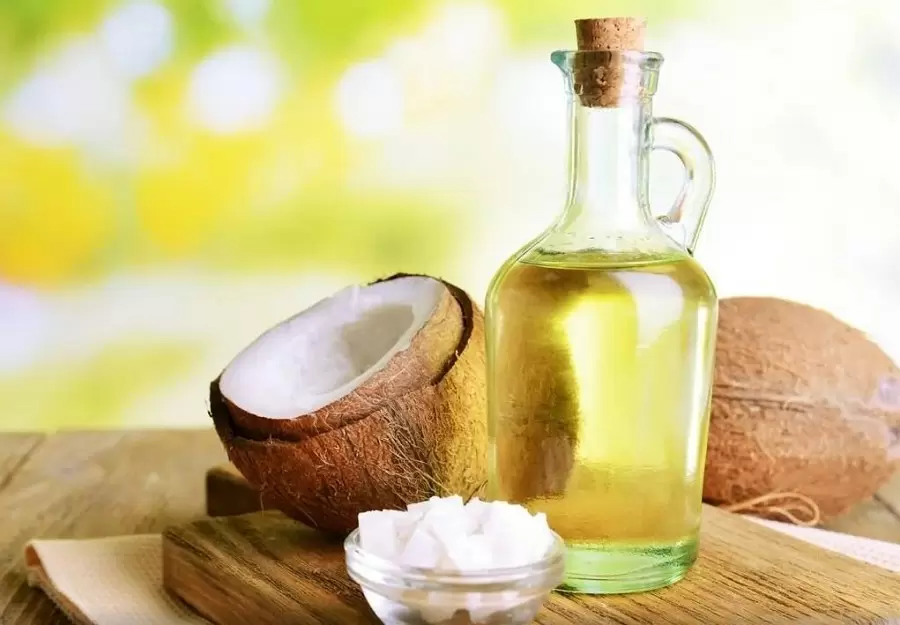 Ką įsidėti į lagaminą keliaujant į Aziją?
Vykstant į pietryčių Aziją, nepamirškite atsivežti purškiklio nuo vabzdžių, ir kuo intensyvesnio poveikio, nes natūralios priemonės neatbaido uodų, o purškikliai, įsigyti vietoje, ne itin veiksmingi.
Nepamirškite, kad čia karšta ir Jūsų šviesi oda nėra pratusi prie tokių saulės spindulių, todėl priemonė nuo saulės privalo atsidurti lagamine.
Kitas labai svarbus dalykas Azijoje - guminės šlepetės per pirštą. Jas čia nešioja visi, nes tokio klimato sąlygomis tai geriausia avalynė, be to, lengva nusiauti, kai reikia užeiti į šventyklas, pas vietinius, į šeimos parduotuves.
Nereikia imti labai daug drabužių, ypač šiltų, nes Tailande karšta, prisipirksite ten daug geresnėmis kainomis. Parsivežkite ir natūralios kosmetikos, žolelių tepaliukų nuo skausmo.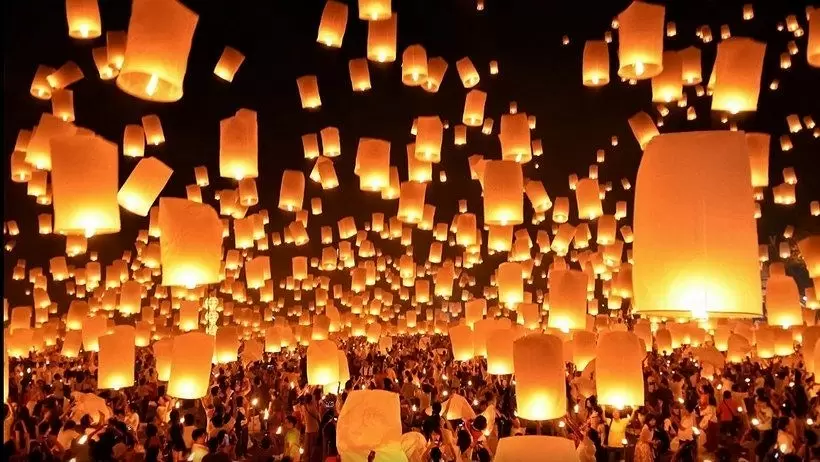 Informacija dėl Tailando vizos
Nuo 2019 metų balandžio 14 dienos Lietuvos piliečiai, atvykstantys į Tailandą turizmo tikslais, gali būti šalyje 30 dienų be vizos. Viskas, ką Jums reikia padaryti: atvykus į Tailandą tiesiog stoti į bendrą eilę (ne viza on arrival) ir vietoj anksčiau klijuojamos vizos gausite sienos kirtimo antspaudą. Be to, Jums teks parodyti išvykimo iš šalies per 30 dienų lėktuvo bilietą. Be jo į šalį greičiausiai nebūsite įleidžiami. Tai yra labai svarbu!
Jei šalyje norėsite būti ilgiau nei 30 dienų, tokiu atveju Jums reiktų pasigaminti 60 dienų vizą toje šalyje, kurioje esate. Šią vizą galite prasitęsti Tailande dar 30 dienų.
Dauguma Tailando viešbučių registracijos metu reikalauja depozito nuo 30-200 USD už kambarį, kuris yra grąžinamas išsiregistruojant iš viešbučio. Rekomenduojame depozitą pateikti ir atsiimti vietine valiuta. Depozitą taip pat galima užšaldyti kreditinėje kortelėje, tačiau kartais jis laikomas iki 30 dienų.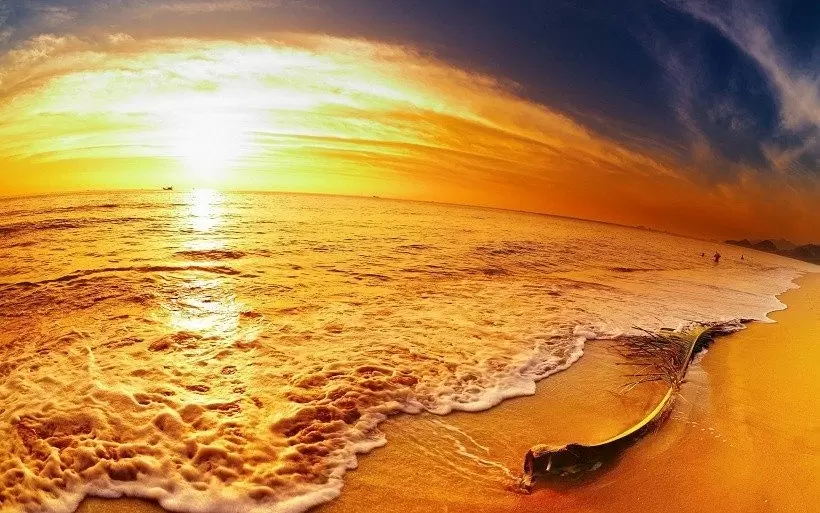 O pabaigai prieš kelionę, keletas įdomybių apie Tailandą, žiūrim: