Savarankiškos kelionės dažnai apipintos istorijomis keliaujančiomis iš lūpų į lūpas. Nepatyrę keliautojai kartais baiminasi leistis į kelionę savarankiškai, bet juk savarankiškos kelionės – tai nuostabus nuotykis, o ypač, jei suplanuosite jį į pagalbą pasitelkę tikrų keliautojų patirtis. Kad Jums būtų lengviau, Pasirink Sparnus pradeda straipsnių ciklą apie atostogas Juodkalnijoje. Tripmap.lt keliautojai Paulius ir Marta dalijasi savo įspūdžiais, pastebėjimais ir patarimais:
– Juodkalnija?! Ar tikrai? – aplankė mane pirma mintis, kai Paulius pasiūlė:
– Imam, geras pasiūlymas!

Mintyse svarsčiau, tiek daug puikių šalių aplink, kodėl vykti būtent ten? Tačiau kaina buvo labai viliojanti, apie 240 eur asmeniui savaitei laiko (su pusryčiais ir vakariene). Šį pasiūlymą tarp daugybės kitų viliojančių krypčių radome PasirinkSparnus.lt puslapyje. Įsijungiau Google, perverčiau keletą nuotraukų. Nusiraminau – yra kalnų, tad rasim ir ką veikti. Nors šalis labai labai maža! Lietuva prieš ją atrodo lyg milžinė. Gyventojų joje vos apie 600 000, o šalies plotas beveik 5 kartus mažesnis nei Lietuvos.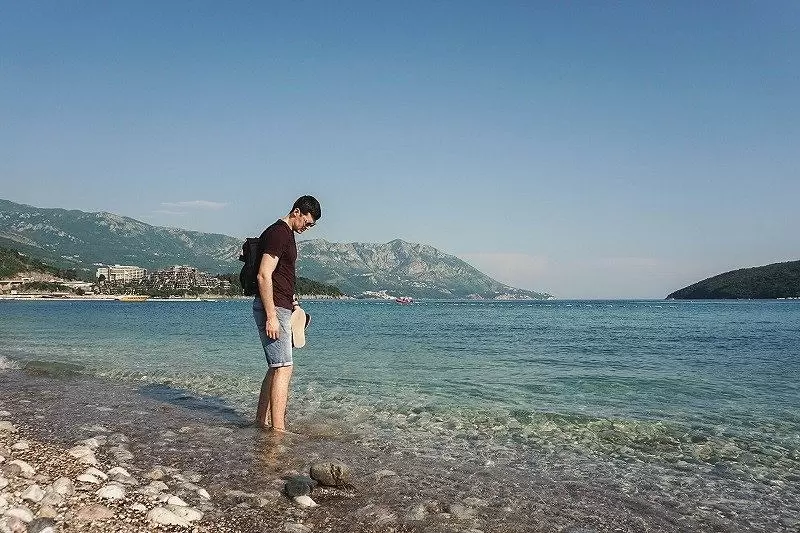 KURORTAS BUDVA

Kelionės pasiūlymui neatsispyrėm. Juodkalnijoje apsistojome Budvos kurorte, kurį galėčiau vadinti šio krašto Palanga. Atostogų metu važiavome mašina pakrantės keliu. Sustojome poroje miestelių, tad mano nuomone, Budva nėra nei geriausias, nei prasčiausias pasirinkimas. Tačiau jei norite daugiau romantikos ir švaresnio paplūdimio – rinkitės kitus, geriau vertinamus kurortus arba nuošalesnius miestelius (tikrai informacijos rasite internete). Budvoje galima: pasivaikščioti pakrante, aplankyti senamiestį ir paklaidžioti po jo gatveles, išgerti vyno kavinėje ir skaičiuoti katinus gatvėse. Jei norite naktinio gyvenimo, rasite klubų ir barų.
Nerekomenduočiau planuoti daugiau nei vienos dienos Budvoje (jei esate aktyvus keliautojas). Aplink nėra daug objektų, kur galėtumėte nuvykti kojomis; pagrindiniame paplūdimyje rasite ne vieną skardinę ar skraidanti ore maišelį. Galbūt dėl žmonių kiekio ir esančių barų čia pat, jis atrodo toks neprižiūrėtas. Jei jau vyksite į Budvą – paėjėkite į toliau nuo centro esančius paplūdimius. Tikriausiai geriausias, gražiausias ir mažiau akmenuotas Budvos paplūdimys – Mogren Beach.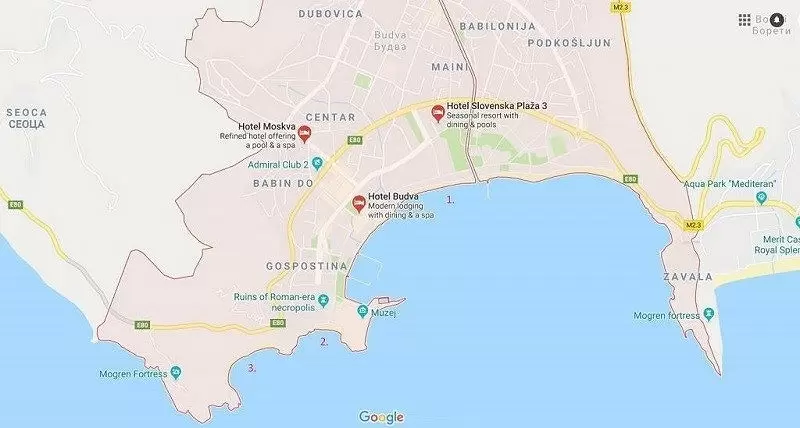 1. Pagrindinis miesto paplūdimys. 2. ir 3. Gražesni ir tvarkingesni paplūdimiai
APLINKA IR ATMOSFERA

Juodkalniečiai draugiški ir malonūs (galima rasti išimčių, bet jų būna visur). Bendra atmosfera pozityvi ir atsipalaidavusi. Negalėčiau pateikti statistikos, kaip šaliai sekasi ekonomiškai, tačiau stebint namus, aplinką ir mašinas, galiu teigti, kad panašu arba prasčiau nei Lietuvoje. Lietuvoje tikrai daugiau naujų mašinų ir EU pinigais išblizgintų gatvių. Jei lankėtės Ispanijos kurortuose, galite šiek tiek nusivilti, nes rasite mažiau suderinamumo ir tvarkingų gatvių. Manyčiau, tai būdinga daugeliui posovietinių šalių.
Aplinka labai žalia. Rasite ir mums pažįstamų augalų, ir tik šiltiems kraštams būdingų. Važiuojant į kalnus lapuočius keis spygliuočiai ir krūmai. Šalyje nėra daug kaktusų ar kitų augalų, kurie būdingi dar karštesniam klimatui. Tačiau auga alyvmedžių giraitės, nemažai dirbamų laukų kalnų slėniuose, ganosi karvės, ožkos ir avys.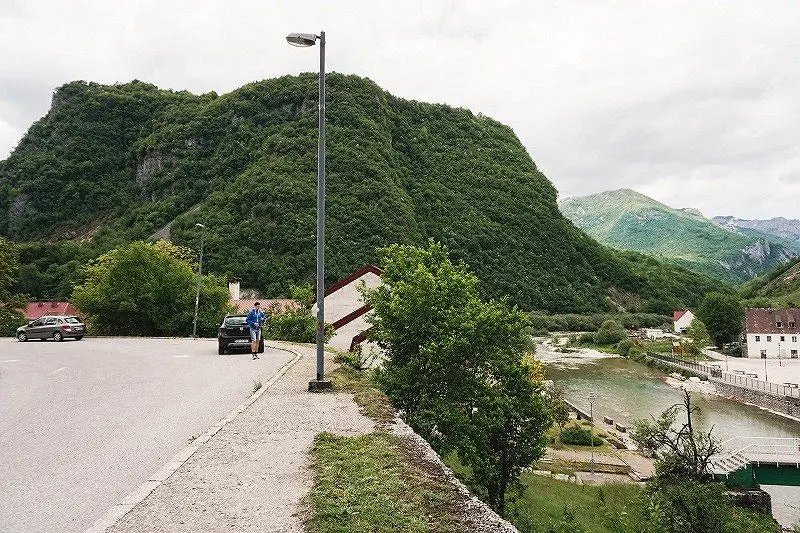 MAISTAS

Maisto ir kitų prekių kainos panašios į Lietuvoje esančias. Nepastebėjau, jog Juodkalnijoje būtų kas nors žymiai pigiau. Kai kuriose kavinėse mažesnės patiekalo kainos nei Vilniaus centre, tačiau lyginant su regionų kainomis – labai panašu.
Maistas visiškai nestebino mūsų lietuviškų skrandžių. Gyvenome trijų žvaigždučių svečių namuose, kuriuose tiekė pusryčius ir vakariene. Pusryčiams dažnai kepti kiaušiniai, dešrelės, šiek tiek salotų. Įdomesnės kombinacijos, tai kiaušiniai kepti su makaronais, makaronų apkeptas. Vakarienei patiekdavo sriubą, kurį savo skoniu priminė Lietuvoje gaminamas sriubas. Pagrindinis patiekalas dažnai mėsiškas., pvz karbonadas. Pagal mūsų gyvenamąją vietą tikrai nelyginu visos jų virtuvės.
Taip, kaip Lietuvoje gausu kebabinių, taip Juodkalnijoje kioskų siūlančių picas. Arba kavinių, kuriose galite suvalgyti picą. Arba kepyklų, kur galite rasti picos. Restoranuose jums pasiūlys šviežios žuvies bei jūros gėrybių, tačiau pirmas įspūdis apie valgiaraščius, jog planuoti lengvo maisto nereiktų per daug. Tai šalis, turinti šalia jūrą, tačiau iš jos gėrybių nesudaranti pagrindinių valgiaraščių. Maisto kultūra neprilygsta Italijai ar Ispanijai. Po kelių dienų vakarienės svečių namuose net nenuėjome. Norėjome iškrovos dienos arba bent salotų vakarienei. Viename iš restoranų klausėme padavėjo, ar vietiniai linkę rinktis labiau žuvį ar mėsą. Jo teigimu, kai kurie gyventojai žuvies vis dar nemato, kaip tikro pagrindinio patiekalo.
Noriu paminėti, jog jie neturi aukštos kokybės juodos kavos. Yra įvairios variacijos tarp turkiškos, tirpios neskafe ir tiesiog espresso kavos, tačiau Lietuvoje kavos kultūra yra daug labiau pažengusi į priekį. Kaip ir kavos skonis.
Vertinant bendrai, galite rasti įvairaus maisto (ir puikaus, ir keliančio klausimus). Taip pat rekomenduočiau rinktis ne mažiau keturių žvaigždučių viešbučio, jog meniu būtų skanesnis ir ne toks biudžetinis.
Juodkalnijoje galima rūkyti visur. Pradžioje šiek tiek neįprasta, kai restorano viduje turėjome rūkančius kaimynus.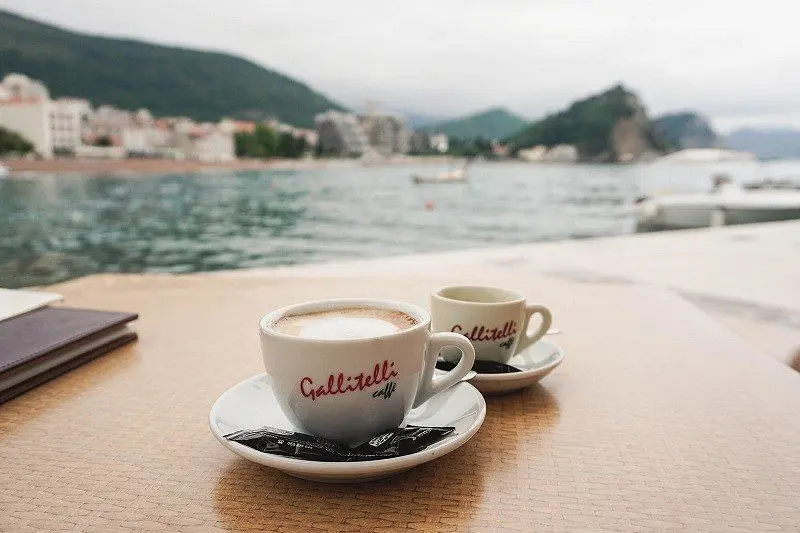 ATVYKIMAS Į ŠALĮ

Vykstant į šalį jums užteks paso, o kai kurie keliavo tik su ID kortele. Jokios vizos ar papildomo leidimo nereikia. Išvykstant ir atvykstant reikės pereiti pasų kontrolę.
VALIUTA

Įdomus faktas, jog šalis nėra Europos Sąjungos narė, tačiau jos valiuta Euras nuo 2002 m (prieš tai oficiali valiuta buvo Vokietijos markė). Tad nieko keisti, planuoti ir skaičiuoti per daug nereikia.
MAŠINOS NUOMA IR VAIRAVIMO KULTŪRA

Kelionei po šalį nuomojamės mašiną už kurią sumokėjome apie 90 eur 5 dienoms. Tai gera kaina, kurią gavome rezervuodami mašiną iš anksto internetu. Kuro kainos dešimčia ar daugiau centų brangesnės nei Lietuvoje (benzino kaina 1.31 Eur). Pagrindiniai keliai sutvarkyti, be duobių ir renovuojami.
Žemėlapyje gali atrodyti, jog iki jūsų norimo taško visai arti, tačiau turėkite omeny, jog didžioji dauguma kelių serpantinai. Kelionės greitis neprilygs greitkeliui Vilnius – Klaipėda. Teks vis stabdyti, lėtinti ir būti atidiems. Nuošalesniuose regionuose, ypač kalnuose, gali kelius kirsti karvės, ožkos ar avys, kurios tiesiog ganosi atviruose laukuose. Įdomus faktas, jog jie dažnai turi Volkswagen Golf. Kuo toliau nuo miestų – tuo senesni modeliai. Su Pauliumi pripažinome, jog tai galėtų būti jų nacionalinė mašina.
Vairavimo kultūra tvarkinga ir be didelio chaoso. Karts nuo karto galite kelyje sutikti greitai lekiančią mašiną, tačiau tokių vairuotojų rasite bet kurioje kitoje šalyje. Einant per perėją reiktų įdėmiau apsidairyti ir įsitikinti, jog mašina tikrai sustos.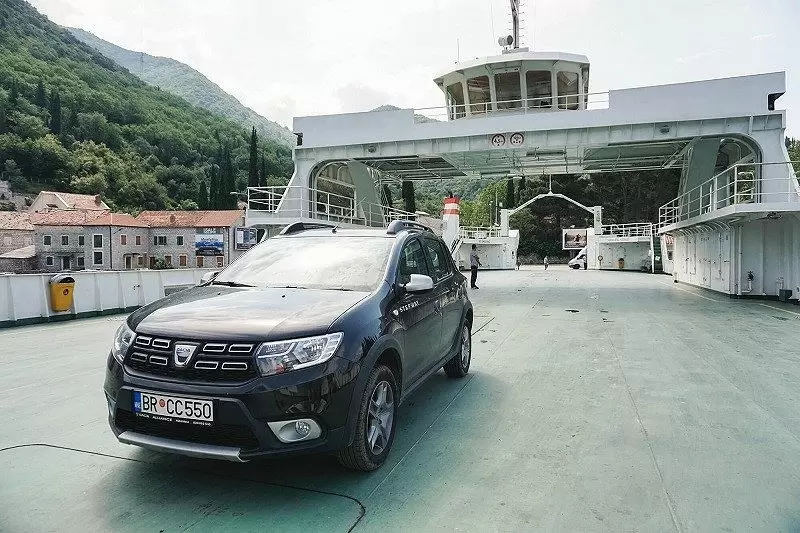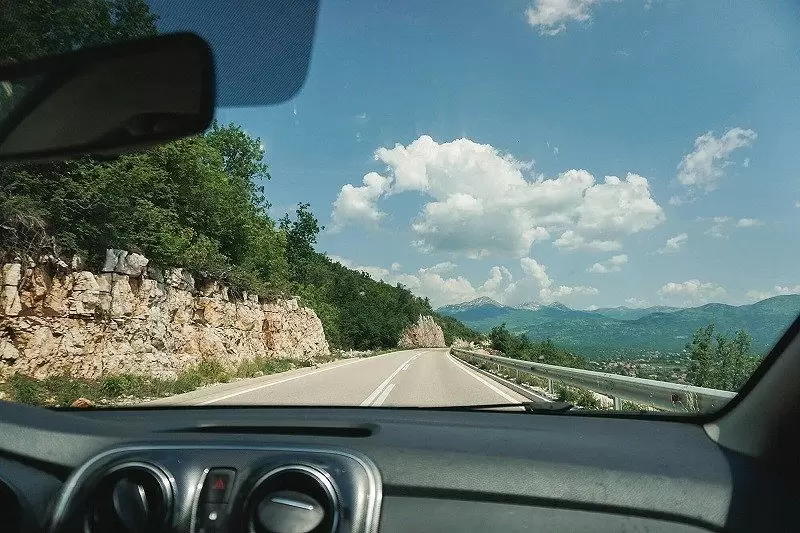 LANKYTINŲ VIETŲ PLANAVIMAS

Lankytinomis vietomis siūlau pasidomėti iš anksto, o jei keliausite aktyviai, sužinoti: kaip iki jų nusigauti, kur yra jūsų norimi trail'ai. Šalyje gana mažai stendų apie lankomas vietas, turistinius objektus, gražius objektus ar tiesiog parko planus. Atrodo, jog jie į tai neinvestuoja, o Europinių lėšų įrengti neturi. Viename iš pagrindinių parkų buvo vienas kitas stendas, tai jau buvo wow! Tad nereiktų tikėtis, kad bus labai ryškus ženklinimas, norint rasti vietas ar apie jas sužinoti daugiau.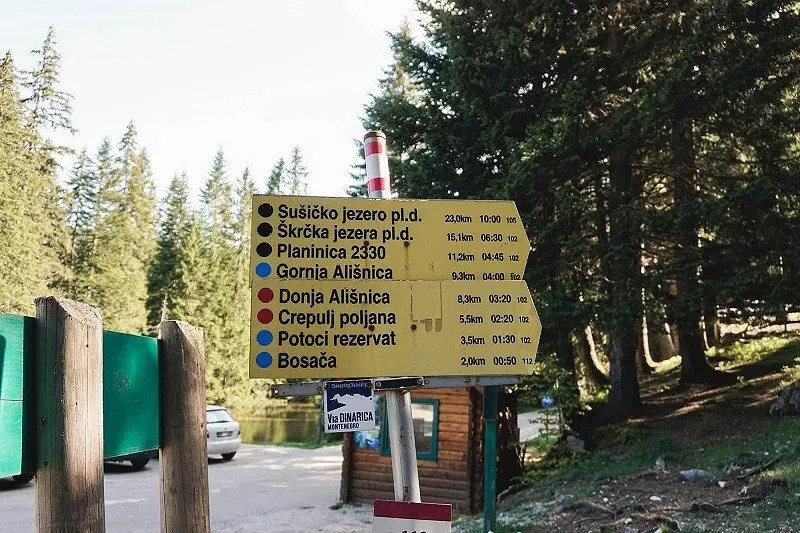 INTERNETO RYŠYS

Interneto ryšis yra daugelyje kavinių, tad prisėdus kavos galėjome pasitikrinti naujienas ar išnaudoti laiką kokybiškiau ir išsirinkti, ką aplankyti. Visos kelionės metu mes naudojome maps.me programėlę, kuri veikia be interneto ir puikiai atlieka gps darbą! Sužymėti ne tik įprasti keliai, bet ir pėsčiųjų takai, lankytinos vietos, apžvalgos taškai. Didžiausios rekomendacijos bet kuriai jūsų kelionei, kad ir kur vyksit. Įsidiegus programėlę, atsisiųsite norimos šalies žemėlapį ir galėsite juo naudotis visiškai nemokamai. Nustačius tašką, kur norite vykti – jis nubraižys maršrutą.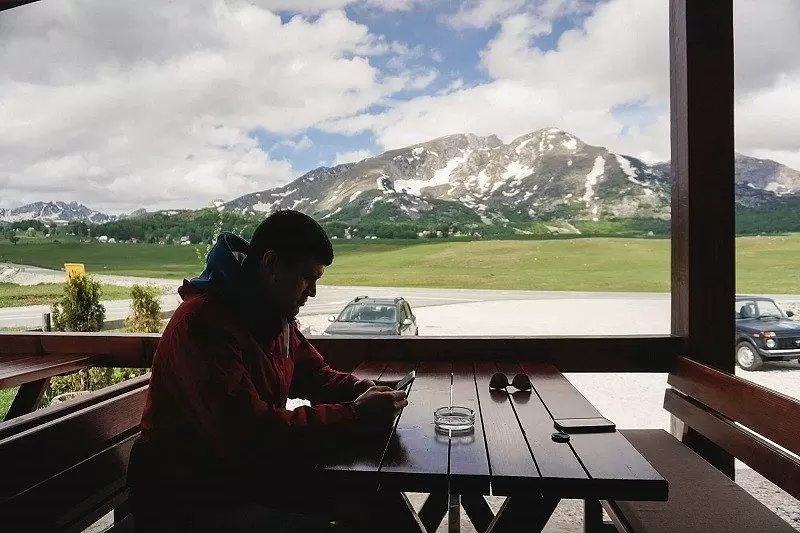 KALBOS
Juodkalnijoje galėjome susikalbėti rusiškai ir angliškai. Kurią kalbą naudoti padiktuodavo vieta ir žmonių amžius. Kartais mes kalbėdavome angliškai, o jie rusiškai. Arba mes angliškai, o jie sava kalba. Smagu patirti, kiek nedaug žodžių reikia, kad vieni kitus teisingai suprastume!
ORAI

Orai Juodkalnijoje gegužės mėnesį buvo permainingi. Kelias dienas iš ryto palijo, tačiau vėliau skaisčiai švietė saulė ir buvo tikrai karšta. Kai kuriomis dienomis paplūdimiuose švietė saulė, tačiau virš kalnų kabėjo audros debesys ir buvo girdėti griaustinis. Kartą kilome serpantinais į kalnus ir teko apsisukti – dėl stipraus lietaus nieko nebuvo matyti, o šalimas žybsintys žaibai nebuvo jaukiausia patirtis. Būtų galima teigti, jog pavasaris šalyje nenuspėjamas, tačiau karštas, jei tik saulė išlenda iš už debesies.
Orai pajūryje yra šiltesni, karštesni nei kalnuose. Tad turėkite ne tik marškinėlius, o ir megztinį ar ploną striukę, kuri reikalui esant jus sušildys.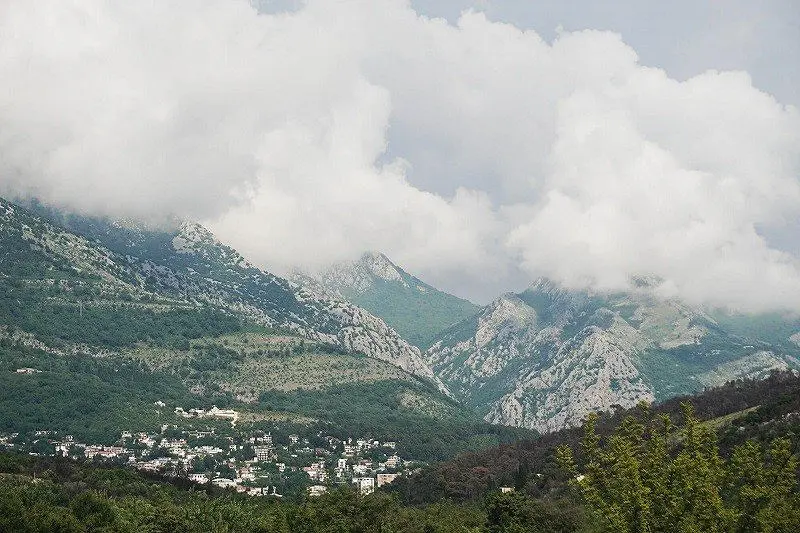 Papasakojau pačius pagrindus apie šalį, o jei kažkas liko nepaminėta – tik geriau! Juk turi likti kažkas kelionėje, kas jus nustebins. Antroje dalyje pasidalinsiu, ką aplankėme.
Apie Pauliaus ir Martos rekomenduojamas aplankyti vietas Juodkalnijoje skaitykite čia >>