Savarankiškos kelionės dažnai apipintos istorijomis keliaujančiomis iš lūpų į lūpas. Tačiau ne visi tie pasakojimai yra tikri, todėl žinios apie savarankiškai planuojamas atostogas būna iškreiptos. Todėl Pasirink Sparnus pradeda straipsnių ciklą apie atostogas Italijoje. Keliautoja Dalia su Jumis skaitytojau dalijasi savo įspūdžiais, pastebėjimais ir patarimais.
Ankstesnę reportažo dalį galite rasti čia >>
-------
Paskutinės dienos Sirmionėje

Po nuotykių greitkelyje atvykstame į Sirmionės pakraštyje įsikūrusį viešbutį "Hotel Cristal" *** paskutinėms dviems nakvynėms. Kambarys labai jau nedidelis ir nejaukus, bet užtat pusryčiai čia patys gausiausi ir skaniausi. Šalia keli prekybos centrai, ežeras už gatvės, bet normalaus priėjimo maudytis kaip ir nėra. Vakare tiesiog pasėdėjom prie kranto ant žolytės. Tiesą sakant su maudynėmis mūsų kelionės metu nekas, bet jos ir nebuvo pagrindinis tikslas.

Iki Sirmionės pilies ir senamiečio beveik 5 km, tad kitą rytą išsiruošiam automobiliu. Parkavimas – 2,40 eur už valandą. Įėjimas į pilį – 5 eur. Eurai tik byra... Kad visi neišbyrėtų, į pilies vidų neiname. Ir senamiesčio jau nebesinori. Patraukiame pakrante. Ir pirmą kartą per visą kelionę pamatome besimaudančius žmones. Pačioje pusiasalio pabaigoje įsikūręs archeologinis parkas "Grotte di Catullo" – senovės romėnų vilos liekanos. Puikūs vaizdai, ramybė, saulė... Neskubant galima pasivaikštioti gerą valandą, prieš tai susimokėjus 6 eurus.

Saulė pleškina kaip reikiant, tvanku, danguje – nė debesėlio. Sprendžiame dilemą, ar tiesiog mėgautis vandens malonumais (papildomai susimokėjus už parkavimą), ar aplankyti atrakcionų parką "Gardaland". Internetiniame puslapyje skelbima bilieto kaina – 52 eurai žmogui, bet kol ne sezonas, viešbutyje galima isigyti bilietų po 32 eurus. Susigundome ir apie 14 val. jau dairomės parke (prieš tai dar susimokėję 5 eurus už parkavimą). Pradedame nuo atrakcionų, priklausančių "Nuotykių" kategorijai.

Smagiai paklykaudami pralekiame traukinuku, pasiplaukiojame džiunglėmis, pirmą rimtesnę adrenalino dozę gauname nuo skardžio nusileidę valtele. Įdomu tai, kad išeidamas iš kiekvieno atrakciono ekrane matai savo nuotrauką, kurią siūlo įsigyti už 8 eurus. Ar jie pablūdo? Mes įsigudriname tą nuotrauką nusifotografuoti telefonu (ką besakytum, išradingi lietuviai).
Pasidžiaugę tokiu laimikiu pradedame dairytis į "Adrenalino" zonos atrakcionus – Mėlynąjį tornado, kosminį laivą... Pasilikę juos pabaigai pėdiname prie mažiau ekstremalaus, pradeda lynoti. Atrakcionai dar sukasi, skrieja... Bet pasigirsta griaustinis, ima žaibuoti ir... parkas apmiršta. Viskas sustoja. Lekiu iki informacijos, kur man paaiškina, kad tai laikina, tuoj baigsis audra ir viskas pradės veikti. Na ką darysi, vaikštome po didžiulę teritoriją, fotografuojamės, o dangus vis temsta, ima pilti kaip iš kibiro.
Prisiglaudžiame kunigaikščių menėje. Internetas čia puikus, alus su bulvytėmis sušildo gomurį. Vyras nepraranda vilties, kad audra baigsis, juk dar tik 17.30, o mes įsitikinę, kad parkas dirba iki 22 val. Bet 17.45 ir patys didžiausi optimistai pradeda skirstytis. Veikia tik vienintelė vaikiška karuselė, kurioje šėlsta paaugliai. Prisijungiame ir mes. Vėjas plazdena apsiaustą nuo lietaus, o aš vis skrieju ir skrieju ratu – ¬išbandau arkliuko tvirtumą pirmame ir antrame aukštuose – štai tau ir lauktasis Mėlynasis tornado pabaigai. Ech, jei nors vieną akstremalų atrakcioną būtume spėje išbandyti, ramiau ant širdies būtų. Bet yra kaip yra. Viešbučio balkone randame išvartytas kėdes, ežero pakrantėje – nuvirtusius medžius. Rimta audra buvo.
Kitą rytą – vėl saulė, giedra, šilta. Atsisveikiname su ežeru ir greitkeliu tik už 4 eurus su centais per valandą pasiekiame oro uostą. Prie oro uosto nerandame degalinės, tad dar užsukame į Bergamą užsipilti kuro, nes automobilį turime grąžinti pilnu baku. Ir ką, tariame: "Ate, Italija!"
P.S. Žinojau, kad kaip visada, nuovargis pasimirš, o atminty liks viskas, kas pamatyta, patirta ir įamžinta nuotraukose. Bet šį sykį... truputį kitaip. Gįžusi turėjau pradėti planuoti vasaros pabaigos atostogas su vaikais (juk reikia ir vaikus retkarčiai prie jūros nuvežti, beje, šiemet manėm traukti į Lenkijos pajūrį). Ir taip aptingau – vėl ieškoti nakvynės, dėlioti maršrutą..., kad ėmiau ir ekspromtu nusipirkau kelionę į Turkija su viskas įskaičiuota. Žinau, kad 7 dienos tame pačiame viešbutyje gali prailgti, bet karts nuo karto įvairovės dėlei susigundau. Na tiesiog, kad kitais metais su dar didesniu entuziazmu planuočiau kitą nuotykį.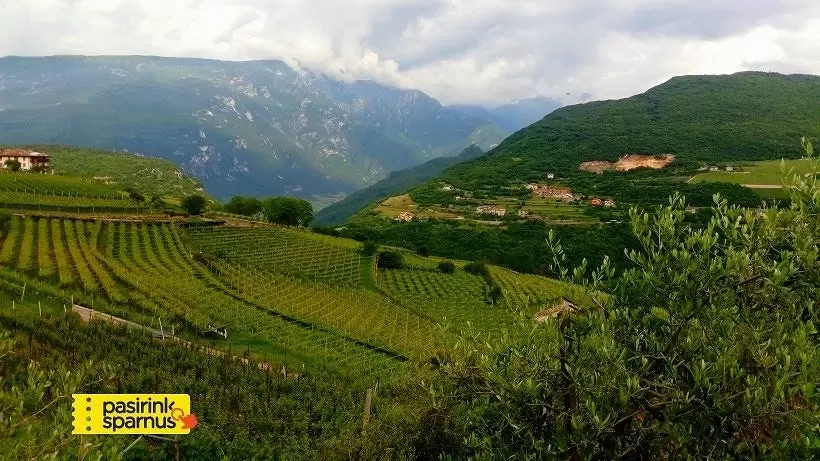 Patarimai norintiems, bet nedrįstantiems keliauti savarankiškai:
Kuo anksčiau pradėsite planuoti kelionę, tuo mažiau mokėsite.

Nebijokite kalbos barjero.

Susišnekėti galima visur. Gestais, kelių kalbų nuotrupomis, nes žmonės geranoriškai padeda. Italijoje netikėtai prabilau itališkai, o mano vyras pirmą kartą – angliškai.

Bent minimaliai pasidomėkite nakvynės vietomis, lankomais objektais ir keliavimo ypatumais.

Man patinka žinoti, ko galima tikėtis, tad mielai skaitau kitų keliautojų atsiliepimus bei patarimus. Sutikite, jei užsisakai viešbutį ant jūros kranto, o atvykęs pamatai, kad viešbutį nuo jūros skiria gatvė ar požeminis perėjimas, ne itin maloniai nustembi.
Apsirūpinkite žemėlapiais. Jau oro uoste arba viešbutyje pasiimkite nemokamų žemėlapių. Žemėlapį už 3 eurus pirkome tik Venecijoje, nes ten nemokamų nebuvo. Veronoje išsisukome – pradėjus lyti, užsukome į mažą parduotuvėlę, pavartėme Veronos gidą ir... žemėlapį nusifotografavome.



Pasirūpinkite užkandžiais ir gėrimais. Jei nenorite išlaidauti maistui lėktuve ir visos kelionės metu, pirkite maistą parduotuvėse. Visada vežuosi šiek tiek maisto iš Lietuvos, stengiuosi užsakyti studijos tipo apartamentus su virtuve. Sulaukiu replikų iš draugų – jei jau keliauti, tai netaupant valgyti ką nori ir kada nori. Tik viena maža smulkmena – tie, kurie taip sako, keliauja tris kartus rečiau nei aš. Mano pasirinkimas – geriau kukliau, bet dažniau.

Turėkite bent vieną laisvą dieną iki kelionės pradžios.

Kartą dirbau iki vėlumos, o kitą rytą jau išskridau. Prireikė kelių dienų, kol pradėjau mėgautis atostogomis, nes mintys sukosi apie nebaigtus reikalus. Nuo to karto planuoju taip, kad turėčiau bent vieną laisvą dieną iki skrydžio, pvz., išskrendam sekmadienį ar net pirmadienį, pasiderinam prie valstybinių švenčių ir pan. Be streso susikraunu lagaminus, išsimiegu ir jau lėktuve pajuntu – atostogos prasideda!