Ką verta žinoti prieš vykstant į Tenerifę?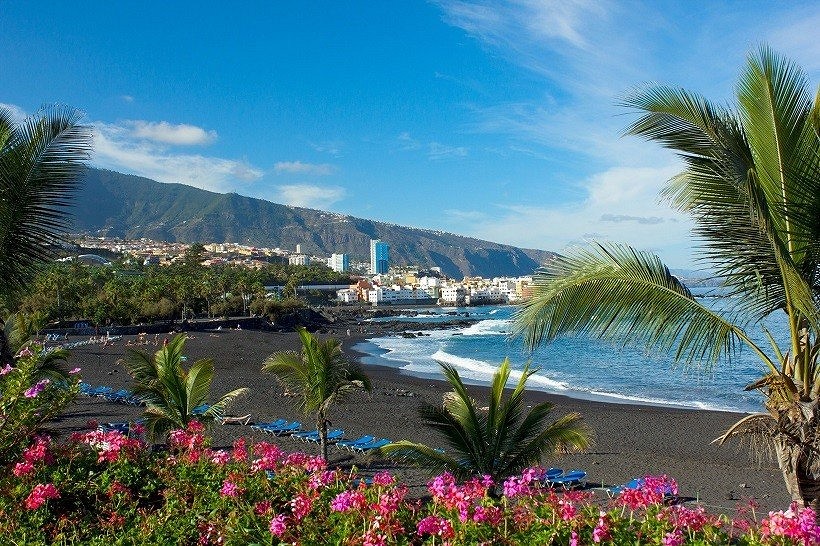 Tenerifėje – kokybiškos atostogos visus metus

Tenerifė – tai didžiausia Kanarų salyno sala, priklausanti Ispanijos Karalystei. Visas Kanarų salynas yra vulkaninės kilmės ir nuo Afrikos krantų nutolęs vos per šimtą kilometrų. Tenerifė įsikūrusi pačiame Kanarų salų centre tarp La Gomeros ir Gran Kanarijos, šios salos pasididžiavimas – aukščiausia Ispanijos Karalystės viršukalnė – Teidės vulkanas. Tačiau išsigąsti neverta, kadangi ugnikalnis jau kurį laiką nėra aktyvus.

Tenerifė dar kitaip vadinama nesibaigiančio pavasario sala dėl savo šilto klimato visus metus, nors lietuviams salos klimatas turbūt labiau primena nesibaigiančią vasarą nei pavasarį, kadangi temperatūra dienos metu vidutiniškai nenusileidžia žemiau 20 laipsnių šilumos. Pati sala yra toje pačioje platumoje kaip ir Sacharos dykuma, nuo drėgnų orų Tenerifę apsaugo jau minėtas centre esantis Teidės ugnikalnis, natūraliai sulaikantis audros debesis. Būtent dėl šių prežasčių Tenerifė kasmet sulaukia daugiau nei 5 mln. turistų ir yra itin populiari tarp mėgstančių vandens pramogas, nuostabius paplūdimius ir naktinį gyvenimą. Kelionės trukmė priklauso nuo jūsų norų ir galimybių, kadangi Tenerifė yra puiki vieta tiek trumpoms atostogoms, tiek šilta gyvenamoji vieta keliems mėnesiams, kai Lietuvoje siaučia šalčiai ir pūgos.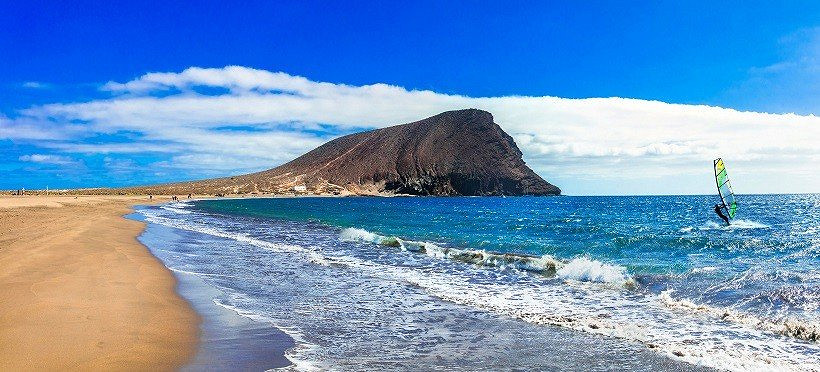 Tenerifė yra ypač populiari atostogų kryptis tarp vandens sportų entuziastų, nes oras ir bangos visada tam tinkami
Kada vykti?

Malonus oras Tenerifėje laikosi visus metus, tačiau sala ypatinga tuo, kad joje vyrauja keli mikroklimatai. Salos pietūs visuomet būna šilčiausi su daugiausia saulėtų dienų per metus, tuo tarpu šiaurėje, lyginant su kitomis salos dalimis, sutiksite daugiau lietaus debesų, todėl Tenerifė jums siūlo išsirinkti mėgiamą klimatą ir salos dalį atostogoms. Daugiausia turistų suplūsta Velykų atsotogų metu, tuomet skrydžių kainos būna aukščiausios, geriausių kainų derėtų ieškoti rugsėjo-gruodžio ir kovo-gegužės mėnesiais, išskyrus Velykų periodą. Gegužė, birželis ir liepa geriausias metas atostogoms prieš temperatūroms pasiekiant aukštumas.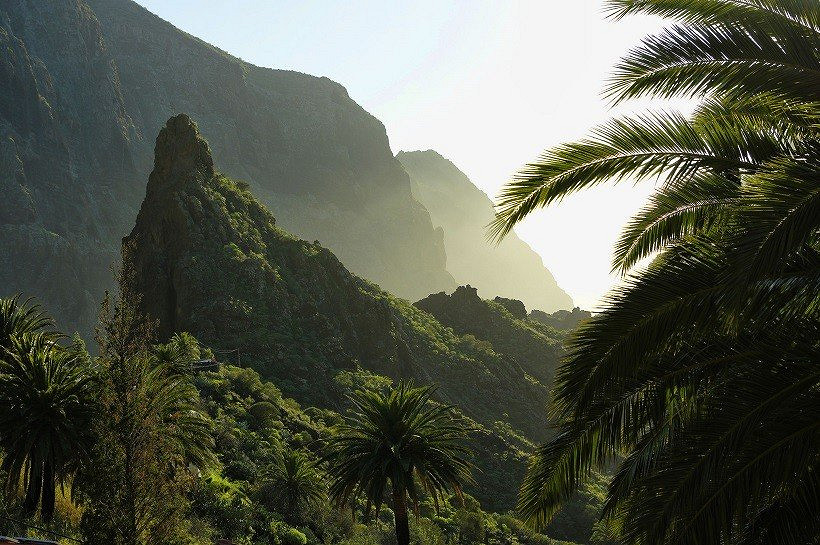 Vaizdas iš "Masca" tarpeklio
Kaip patogiausia keliauti po Tenerifę?
Patogiausia po šią Kanarų salą keliauti dviem būdais:
Norintiems aplankyti visą salą ir ištyrinėti slapčiausius jos kampelius, rekomenduojame išsinuomoti automobilį, tačiau turintiems ribotą biudžetą padės autobusų infrastruktūra. Įsigiję išankstinę apmokėjimo kortelę kelionėms autobusu, sutaupysite iki 50% kelionės kainos bei būsite nemokamai įleidžami į kai kuriuos Tenerifės muziejus (kortelė parduodama autobusų terminaluose). Tenerifės Santa Kruso (isp. Santa Cruz de Tenerife) mieste veikia tramvajų linija, kuri padės keliauti mieste bei susisiekti tarp Tenerifės šiaurinėje dalyje esančių Tenerifės Santa Kruso ir San Kristobal de la Lagūna (isp. San Cristobal de la Laguna) miestų.
Naudingi patarimai keliautojams
Pasiimkite šiltesnių drabužių, keliaujant saloje orai gali mainytis, ypač jei ketinate aplankyti tiek salos šiaurinę, tiek pietinę dalis.
Maišykite aktyvias dienas su poilsiu prie jūros. Priešingu atveju Jums reikės atostogų po atostogų.
Atidžiai parkuokite automobilius: Tenerifėje ne vietoje palikti automobiliai nutempiami be perspėjimų.
Viešėdami nepamirškite naudoti kokybišką kremą nuo saulės ir tepkitės juo kelis kartus per dieną.
Vairuokite atidžiai, Tenerifė yra vulkaninės kilmės sala su uolomis ir siaurais keliais bei daugybe turistų, besinuomojančių automobilius.
Jeigu yra galimybė, negerkite vandens iš čiaupo, nes Jūsų organizmas prie vietinio vandens nepratęs, todėl gali sustreikuoti žarnynas.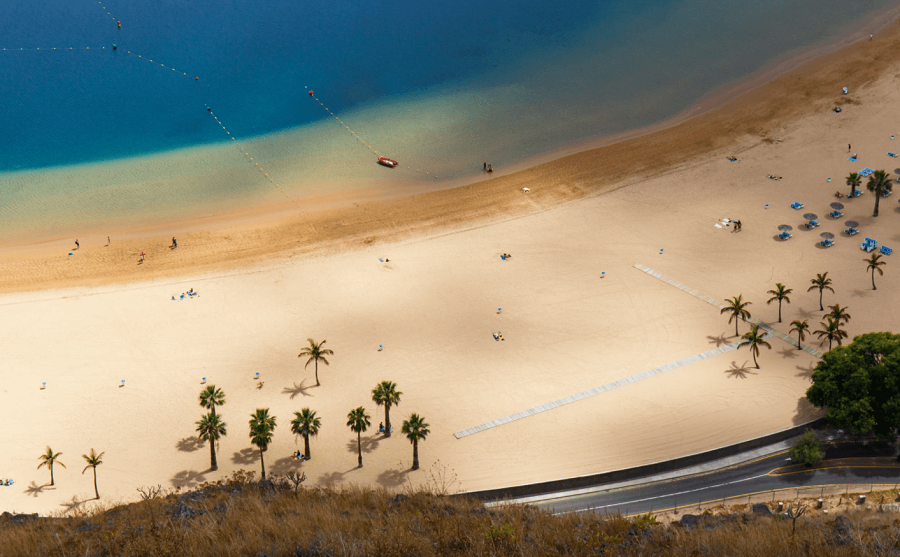 Didžioji dalis Tenerifės paplūdimių yra puikiai pritaikyti turistų poilsiui
Nacionalinė virtuvė

Būtinai paragaukite virtų bulvių su specialiu "Mojo" padažu (isp. papas arrugadas con mojo), jūros gėrybių bei vietinio vyno (didžioji dalis jo eksportuojama į JAV, tačiau keletą rūšių galite rasti vietinėse parduotuvėse).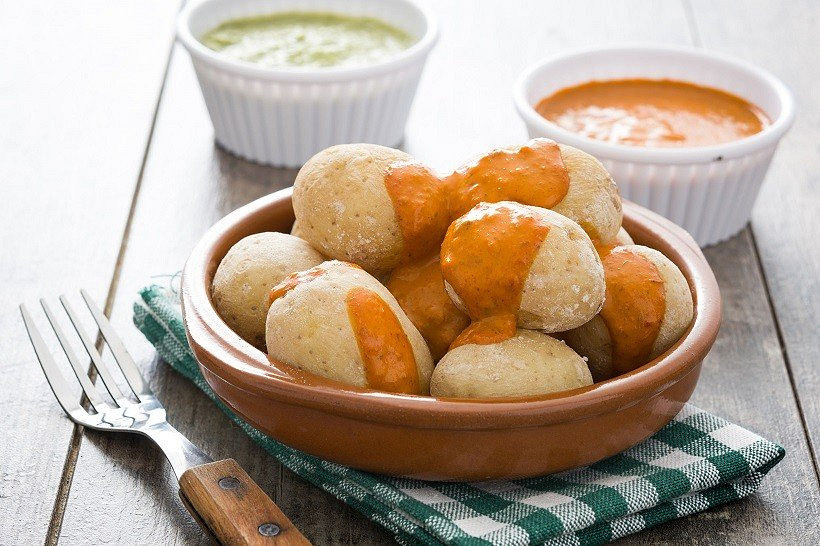 Neatsiejama nacionalinės Kanarų salų virtuvės dalis – virtos bulvės su "Mojo" padažais
Lauktuvės ir dovanos iš Tenerifės

Iš Tenerifės rekomenduojama parsivežti sūrių (prieš keletą metų Gromit vietinis sūris buvo įvertintas kaip geriausias sūris pasaulyje), padažų (verde, rojo mojos), cigarų, medaus.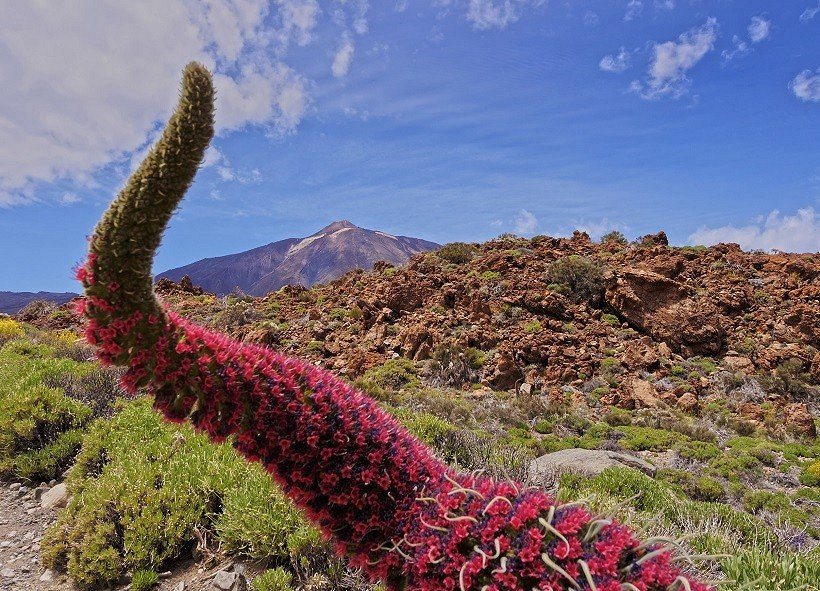 "Rojaus paukštės žiedas" – tai endeminė Tenerifės gėlių rūšis randama praktiškai tik šioje saloje
Poilsiaujant siūlome Jums pasižvalgyti
Salos puošmena – Tenerifės nacionalinė gėlė, vadinama "Rojaus paukštės žiedu" (Tajinaste Rojo, žr. nuotraukoje aukščiau).
Kasmet salą aplanko apie penki milijonai turistų, Jums turbūt įdomu, kas juos visus traukia į šią salą? – Žinoma, kad nepakartojama gamta ir kraštovaizdis, tobulas klimatas ir lankytini objektai. Paminėsime tik keletą iš daugybės:
Miestelis SAN KRISTOBAL DE LA LAGŪNA yra Tenerifės ir visų salų kultūrinis centras. Tai pirmasis ispanų įkurtas miestas Kanarų salose. San Kristobal de la Lagūna mieste yra išlikusi pati gražiausia ir seniausia architektūra visoje saloje.
TENERIFĖS SANTA KRUSAS – salos sostinė, kultūrinis ir administracinis centras. Mieste kasmet vyksta tradicinis Tenerifės karnavalas, kuris mažai kuo nusileidžia Rio de Žaneiro (Brazilija) ar Venecijos (Italija) karnavalams.
PLAYA DE LAS AMERICAS – tai salos pietuose esanti kurortinė gyvenvietė, kur rasite begalę pramogų, vandens sporto centrų, barų, restoranų ir naktinių klubų. Taip pat, žinoma, puikių viešbučių ir atostogoms su šeima pritaikytų paplūdimių.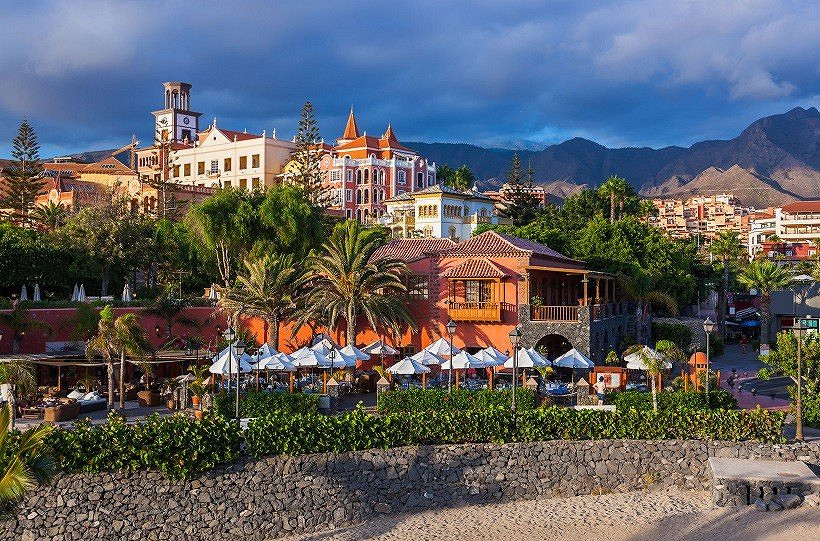 Salos pietuose esantis naktinio gyvenimo ir pramogų centras – tai Playa de las Americas
PUERTO DE LA KRUSAS – tai ne tik turizmo industrija, bet ir vietos gyventojų išsaugota tradicinio salos miestelio dvasia.
TEIDĖS NACIONALINIS PARKAS – nacionalinis parkas įsikūręs ~2 km virš jūros lygio, Teidės vulkano aukštis siekia 3,718 metrų. Čia temperatūros labai skiriasi nuo likusios Tenerifės dalies: žiemą iškrenta sniegas ir temperatūra nukrenta žemiau 0°C, tuo tarpu vasarą termometro stulpelis dažnai šokteli virš 40°C. Aukščiausią viršūnės tašką galėsite pasiekti funikulieriumi, o viršuje apsidairyti vaikščiojant pėsčiomis. Norėdami apsižvalgyti po ugnikalnio kraterį turėsite gauti Nacionalinio parko leidimą (jį gausite užpildę formą internete, spauskite čia). Taip pat organizuojami gido vedami pasivaikščiojimai, tačiau tam reikia specialios avalynės ir gero fizinio pasirengimo.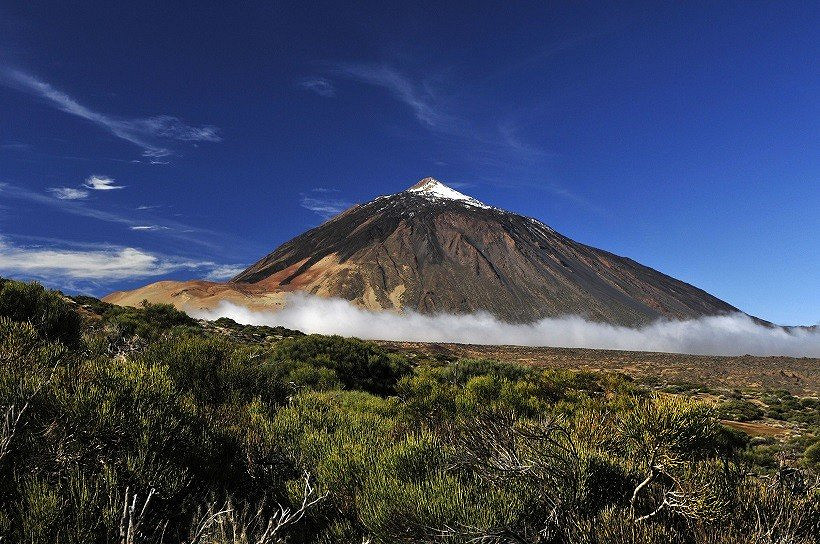 Snieguota Teidės ugnikalnio viršūnė
LA OTORAVA – to paties pavadinimo slėnyje įsikūręs miestelis, salos žemdirbystės centras. Savitą miestelio architektūrinį stilių perėmė daugelis ispaniškai kalbančių teritorijų Lotynų Amerikoje.
SIAMO PARKAS – Siamo parkas vadinamas vienu iš 10 geriausių pasaulio vandens parkų ir didžiausiu vandens parku Europoje. Parkas atvėrė duris 2008 metais ir yra pastatytas atkartojant Siamo, t.y. Tailando karalystės dvasią. Jame įsikūrę daugybė barų ir restoranų, kvapą gniaužiantys atrakcionai ir dirbtiniai paplūdimiai, kuriuose vietą sau ras kiekvienas.
Pramogos Siamo parke patiks ne tik vaikams, bet ir suaugusiems
LOS GIGANTES UOLOS – tai įspūdingo dydžio vulkaninės kilmės uolos, sutraukiančios didelius pasigrožėti norinčių turistų srautus. Uolos iškilusios maždaug 500 – 800 metrų virš jūros, jas patogiausia apžiūrėti plaukiant jachta ar kateriu.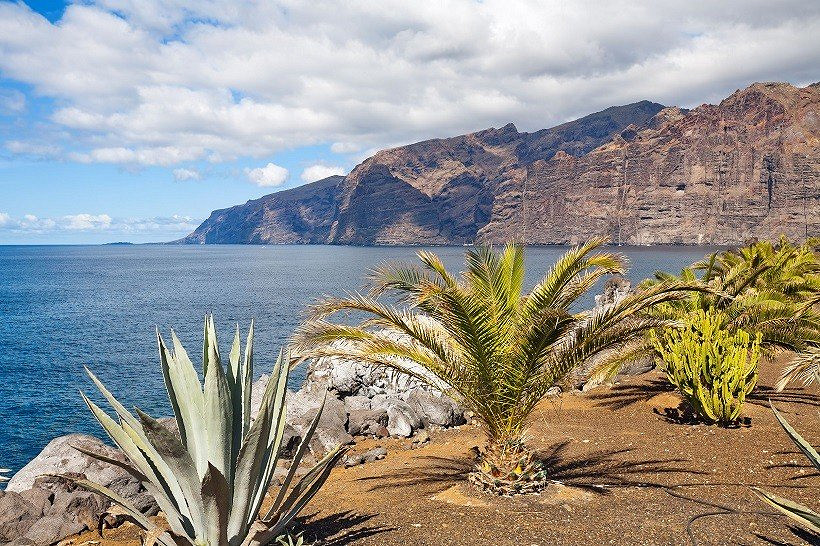 Didingas Los Gigantes uolų vaizdas
Tenerifėje patogu keliauti automobiliu
Mažatūris automobilis Tenerifėje visam kelionės laikotarpiui geriausia kaina >>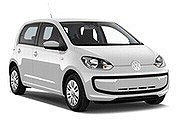 Automobilių nuoma, nuo geriausių tarptautinių tiekėju iki vietinių auto nuomos kompanijų, puikiomis kainomis ir sąlygomis su mūsų partneriu Lietuvoje InstantCars
Vertimai
Iki

Adios

Viso gero

Hasta lavista

Atsiprašau

Pardon

Kiek kainuoja

Cuanto vale?

Sąskaita

La cuenta
Kainos
Restoranai
Maitinimas paprastame restorane 1 asmeniui

9.50€

Maitinimas 2 asmenims, vidutinės klasės restoranas, trijų patiekalų vakarienė

42.50€

Kapučino kava

1.54€

Cola / Pepsi (0.33 litro buteliukas)

1.37€

Vanduo (0.33 litro buteliukas)

1.03€
Parduotuvė
Pienas (1 litras)

0.92€

Kepalas šviežios baltos duonos (500g)

0.89€

Ryžiai (balti), (1kg)

1.18€

Kiaušiniai (12 vnt)

2.01€

Vietinis sūris (1kg)

7.49€

Vištienos filė (1kg)

5.10€

Jautiena (1kg)

9.97€

Obuoliai (1kg)

1.83€

Bananai (1kg)

1.55€

Apelsinai (1kg)

1.74€

Pomidorai (1kg)

1.57€

Bulvės (1kg)

1.61€

Svogūnai (1kg)

1.56€

Salotos (1 gūžė)

1.73€

Vanduo (1.5 litro butelis)

0.70€

Butelis vyno

4.50€

Vietinis alus (0.5 litro butelis)

0.93€

Cigarečių pakelis (Marlboro)

3.80€
Transportas
Bilietas į vieną pusę (vietinis transportas)

1.40€

Mėnesinis bilietas (įprasta kaina)

40.00€

1 valandos laukimas taksi (normalus tarifas)

15.00€

Benzinas (1 litras)

1.04€
Komunalinės paslaugos (kas mėnesį)
Pagrindiniai (elektra, šildymas, vėsinimas, vanduo, šiukšlės) 85m2 butui

80.99€

1 minutė. iš anksto apmokamo vietinio tarifo mobiliesiems (nėra nuolaidų ar planų)

0.16€

Internetas (60 Mbps ar daugiau, neriboti duomenys, kabelis / ADSL)

48.33€
Sportas ir laisvalaikis
Sporto klubas, mėnesinis mokestis 1 suaugusiajam

34.38€

Teniso kortų nuoma (1 valanda savaitgalį)

19.50€

Kino bilietas asmeniui

7.90€
Drabužiai ir avalynė
1 pora džinsų ("Levis 501" ar panašūs)

65.43€

1 vasarinė suknelė parduotuvių tinkle ("Zara", "H&M", ...)

28.00€

1 pora "Nike" bėgimo batelių (vidutinės klasės)

68.43€

1 pora vyriškų odinių verslo batų

76.67€
Nuoma per mėnesį
Butas (1 miegamasis) miesto centre

613.00€

Butas (1 miegamasis), ne centre

494.00€
Facebook komentarai
Ieškote kelionės į Ispaniją?
Peržiūrėkite visus pasiūlymus
Kitos kelionių kryptys