Ką verta žinoti prieš vykstant į Riminį?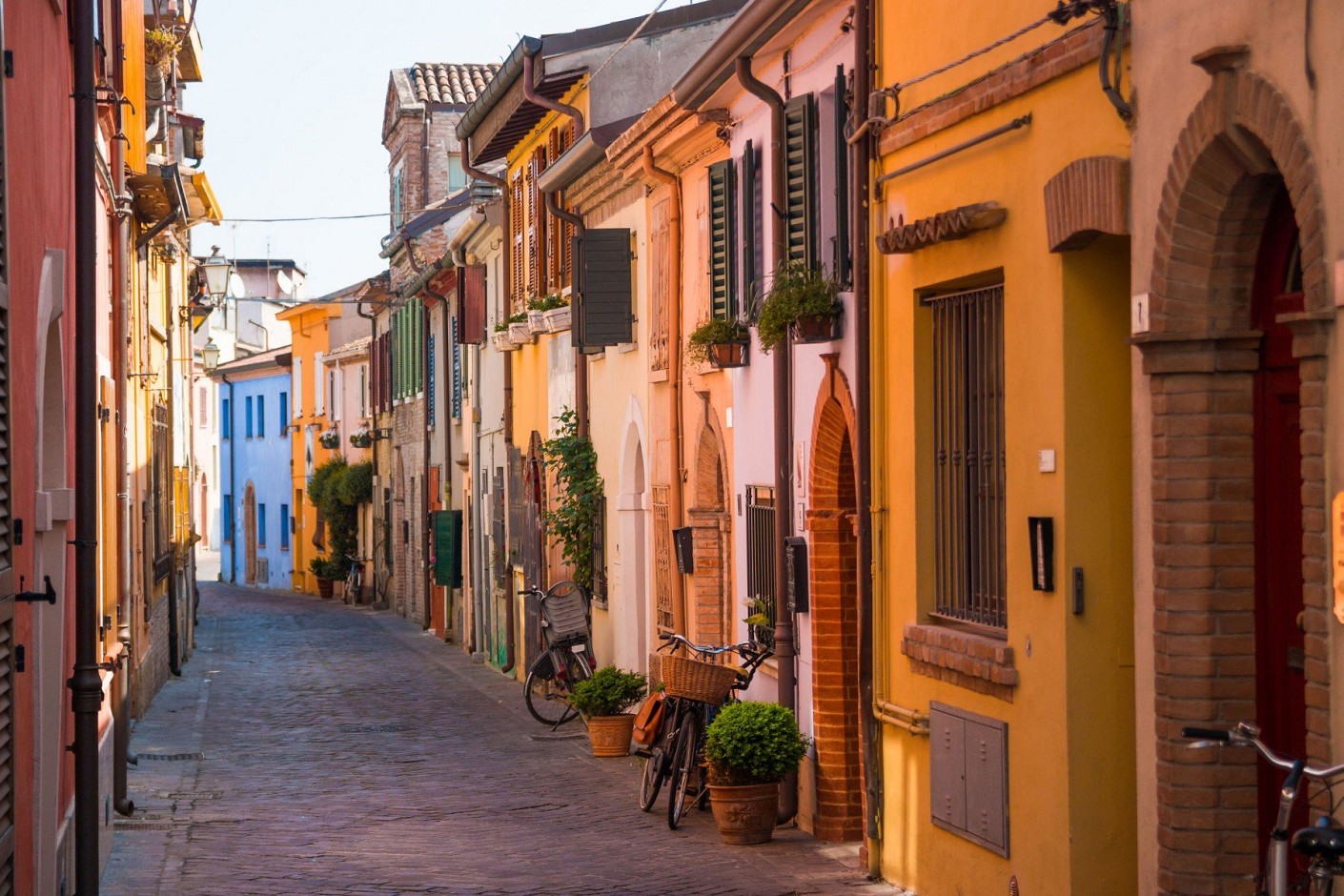 Tiesioginiai skrydžiai į Riminį - puiki naujiena Lietuvos gyventojams, planuojantiems šiltas atostogas pajūryje. Tad jeigu Italijos kurorte prie jūros dar nesilankėte, vykite į Riminį, kur Jūsų laukia kokybiški paplūdimiai, senosios Italijos architektūra dvelkiantis Riminio senamiestis bei vietinis maistas, nepaliksiantis abejingų. Čia apstu veiklos iš šeimoms su vaikais delfinariume, vandens parke ar atrakcionuose bei norintiems naktinio gyvenimo, nes pakrantėje - daugiau nei 100 naktinių pasilinksminimo vietų, klubų ir barų. Be to, yra ir unikali galimybė aplankyti dvi valstybes vienu metu, nes mažiau nei per valandą atsidursite nykštukinėje valstybėje San Marine.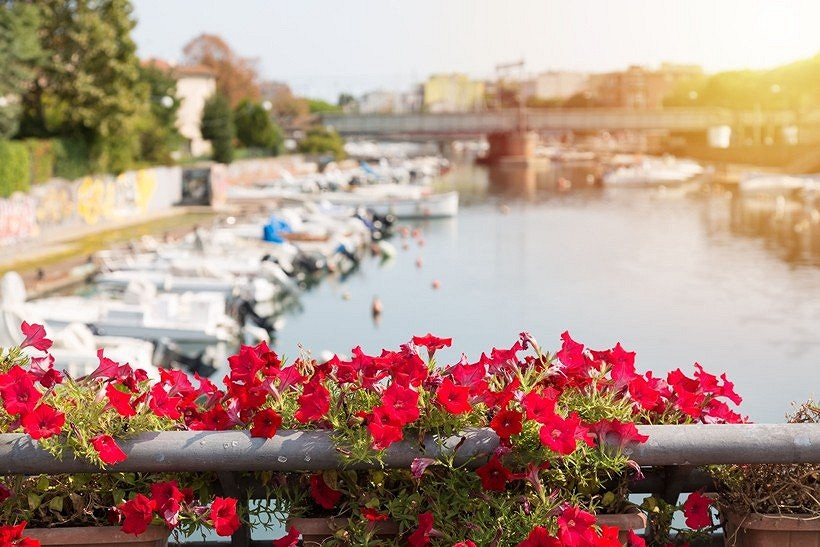 Išpuoselėtas net 15 km paplūdimių ruožas
Ar žinojote, kad Adrijos jūros pakrantėje įsikūrusį Riminį atostogoms renkasi net patys italai? Tai daug pasako apie regioną - jame ne tik daug vertų pamatyti objektų, bet ir 15 kilometrų besidriekiantys prižiūrėti ir platūs puraus smėlio paplūdimiai. Jūs tikrai rasite sau patinkančią vietą, kurioje bus malonu pagulinėti saulėje, įdegti bei pasilepinti šilta ir lėtai gilėjančia jūra, o tai svarbu atostogaujant šeimoms su vaikais. o kitą dieną galėsite vykti į kitą paplūdimio vietą ir tapti Riminio pakrantės ekspertais.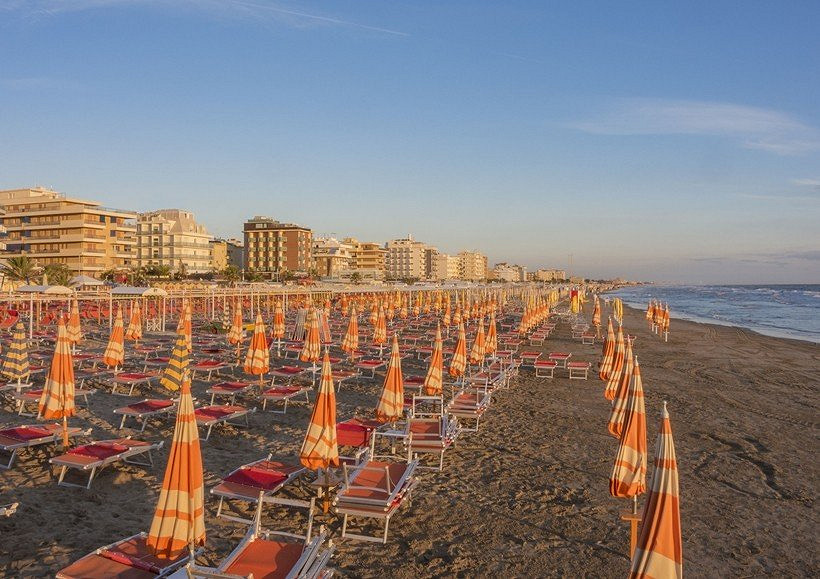 Italia in Miniatura
Italija tokia įvairi ir turinti, ką parodyti, kad norėtųsi pažinti ją visą, bet dažnai tam nėra laiko ar sąlygų. Viešnagė Riminyje gali išspręsti šias problemas, nes vos už 15 minučių kelionė automobiliu į šiaurę ir Jūs jau esate teminiame miniatiūrų parke "Italia in Miniatura". Vienoje vietoje pamatysite daugiau nei 200 įžymiausių ir įspūdingiausių Italijos objektų - Koliziejų, Florencijos katedrą, Pizos bokštą ir daugybę kitų statinių, kuriuos atpažinsite. Jeigu kažkas patrauks akį, galėsite planuoti per kitas atostogas tai pamatyti, na, o parke praplėsite akiratį, pamatysite daug naujo bei galėsite skaičiuoti, kiek iš jų atpažinsite. Žinoma, be linksmų nuotraukų neapsieisite. Bilietas į parką kainuoja nuo 10€ iki 23€, priklausomai nuo to, kuriuo sezono metu vyksite.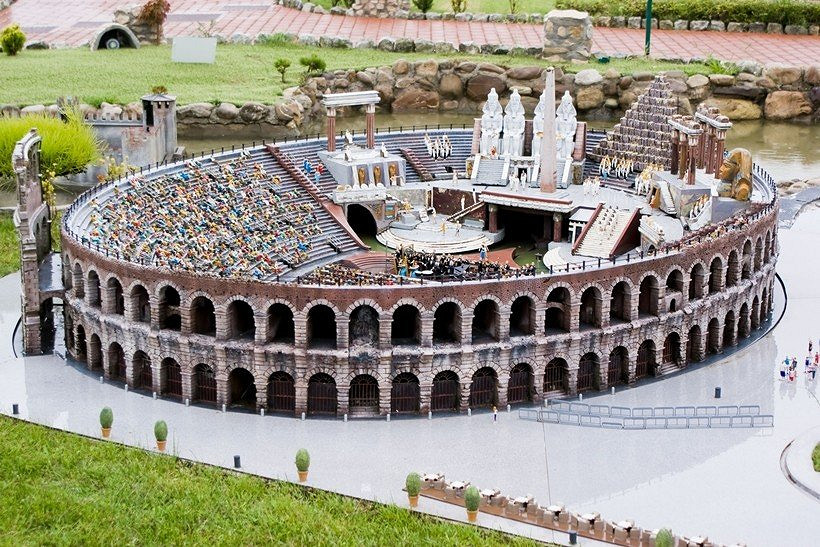 Ruota Panoramica Rimini apžvalgos ratas
Kitas būdas pažinti Riminį ir jo apylinkes - pamatyti tai iš dangaus. Apžvalgos ratas Ruota Panoramica Rimini yra 55 metrų aukščio. Pasinaudokite šia atrakcija dieną, kai pamatysite besidriekiančią pakrantę bei jūrą, arba vakare, kai Riminis pasipuošia miesto šviesomis. Apžvalgos rato pramoga kainuoja 9€ asmeniui.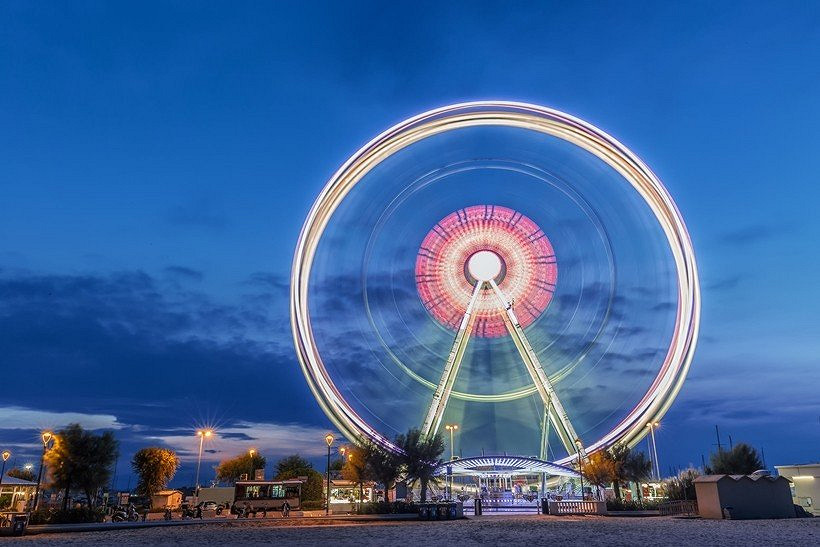 Piazza Cavour aikštė
Kurortiniame Italijos mieste yra ne viena aikštė, kurioje verta apsilankyti turistui. Piazza Cavour - viena iš jų, apsupta senosios Italijos architektūra dvelkiančiais pastatais. Joje pajusite, kad tikrai esate Italijoje. Atostogautojus į aikštę traukia dažnai organizuojamas turgus, kuriame galima nusipirkti įvairių itališkų niekučių, skanumynų ir kitų gėrybių iš vietinių. Čia taip pat didelis pasirinkimas atėjusiems pavalgyti - Jūsų lauks restoranai, kuriuose, žinoma, ragausite vietinės virtuvės patiekalus, ir kavinės, kuriose norėsis pasijusti tikrais italais ir išgerti espresso su desertu.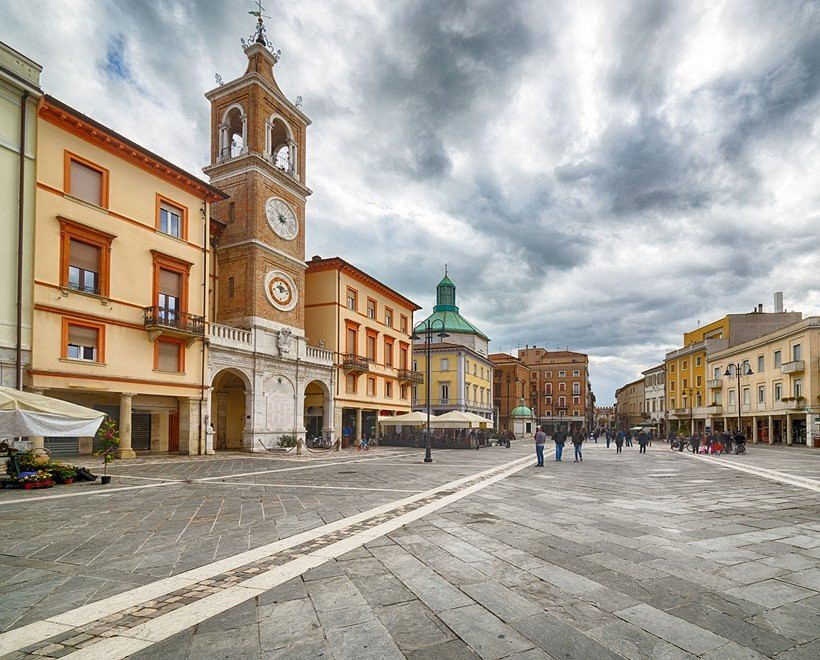 Mirabilandia teminis parkas
Galvojate, ką nuveikti atostogų su vaikais metu, kad būtų smagu visai šeimai? Galite praleisti dieną Mirabilandia teminiame parke, kuriame laukiami įvairaus amžiaus pramogautojai. Čia rasite labai greitų kalnelių ir ekstremalių atrakcijonų, galėsite pamatyti RIminį iš aukšto apžvalgos rato, o iš kai kurių pramogų neišeisite sausi. Yra ir mažiesiems pritaikytų pasivažinėjimų bei vyksta pramoginiai renginiai. Apie vieną populiariausių Italijos pramogų parkų bei bilietų kainas rasite oficialiame Mirabilandia puslapyje >>
Aplankykite nykštukinį San Mariną kelionės į Riminį metu
Riminis gali pasigirti idealia geografine vieta keliautojams. Norite aplankyti dvi valstybes vienu metu? Būtent tokį planą galite įgyvendinti ilsėdamiesi Riminyje, nes vos už 25 kilometrų nuo Riminio yra nykštukinė valstybė - San Marinas. Neaplankyti jo viešint Riminyje būtų nuodėmė, nes jis tikrai turi, ką pasiūlyti turistams.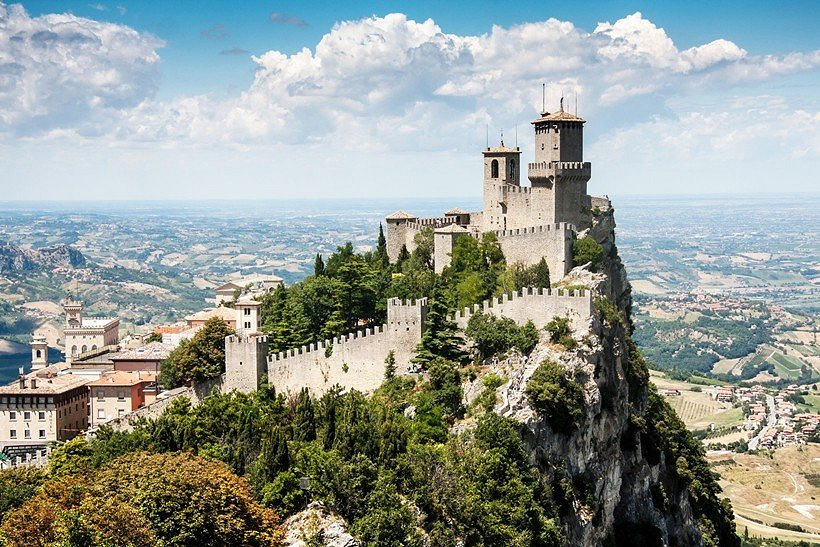 Diena San Marine - ką nuveikti ir pamatyti?
Ant Monte Titano viršūnės (755 m) įsikūręs senamiestis tikrai nepaliks abejingų, bet nepamirškite apsiauti patogios avalynės, nes nors ir senamiestis nedidelis, bet kalnuotas ir vietomis grįstas akmenimis. Pamatysite daugybę pastatų, vertų dėmesio - Vyriausybės rūmus, kuriuose veikia San Marino Parlamentas ir Vyriausybė, Laisvės aikštę bei Laisvės statulą joje, San Marino baziliką, Šv. Chiaros vienuolyną ir daugybę kitų. Senamiestis nedidelis, bet įspūdingas, todėl pakilę keltuvu pėsčiomis apeikite gražiausius statinius. Be to, San Marine verta apsipirkti, nes prekėms netaikomas pridėtinės vertės mokestis. Išalkę užsukite paragauti tradicinių valstybės patiekalų - triušienos troškinio ir pianida - suktinukų su sūriu, mėsa bei daržovėmis.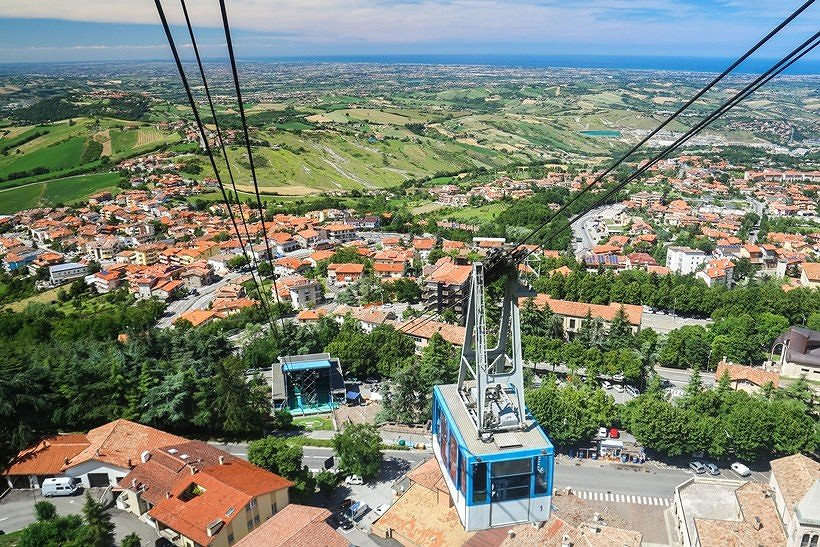 Unikalus įrodymas, kad viešėjote San Marine
Vietiniame turizmo informacijos centre teikiama paslauga, kuri bus nenuginčijamas įrodymas apie apsilankymą penktoje mažiausioje valstybėje visame pasaulyje. Už 5 eurus turizmo informacijos centre Jums į pasą įklijuos antspaudą, kitaip vadinamą San Marino viza, todėl niekas nenuginčys fakto, kad buvote šioje nykštukinėje respublikoje.
Kaip iš Riminio nuvykti į San Mariną?
Žinoma, patogiausia išsinuomoti automobilį ir juo apkeliauti Riminį bei jo apylinkes. Taip nereikės derintis prie viešojo transporto tvarkaraščių ir galėsite važiuoti, kada panorėję. Tačiau regione susisiekimas viešuoju trasportu puikus, todėl nepraleiskite progos aplankyti San Marino. Per mažiau nei valandą iš stotelės, esančios prie Riminio traukinių stoties, važiuodami Nr. 72 autobusu atsirasite kitoje valstybėje ir tai kainuos Jums vos 9 eurus į abi puses (bilietas į vieną pusę - 5 €). Bilieto nereikia įsigyti iš anksto - tai galėsite padaryti autobuse arba informaciniame centre.
Jeigu norite keliauti aktyviai, o ilgai gulinėti paplūdimiuose ne Jums, galite aplankyti ir kitus patogiai išsidėsčiusius Italijos miestus. Netoliese RIminio - Florencija, Verona, Piza bei Venecija, tad norintiems kuo daugiau ir kuo įvairesnės Italijos, pakeliauti verta.
Kainos
Restoranai
Maitinimas paprastame restorane 1 asmeniui

15.00€

Maitinimas 2 asmenims, vidutinės klasės restoranas, trijų patiekalų vakarienė

60.00€

Kapučino kava

1.44€

Cola / Pepsi (0.33 litro buteliukas)

2.58€

Vanduo (0.33 litro buteliukas)

1.10€
Parduotuvė
Pienas (1 litras)

1.12€

Kepalas šviežios baltos duonos (500g)

2.21€

Ryžiai (balti), (1kg)

1.57€

Kiaušiniai (12 vnt)

2.70€

Vietinis sūris (1kg)

14.00€

Vištienos filė (1kg)

8.62€

Jautiena (1kg)

19.33€

Obuoliai (1kg)

1.52€

Bananai (1kg)

1.69€

Apelsinai (1kg)

1.50€

Pomidorai (1kg)

2.17€

Bulvės (1kg)

1.13€

Svogūnai (1kg)

1.50€

Salotos (1 gūžė)

1.32€

Vanduo (1.5 litro butelis)

0.42€

Butelis vyno

4.50€

Vietinis alus (0.5 litro butelis)

1.62€

Cigarečių pakelis (Marlboro)

5.85€
Transportas
Bilietas į vieną pusę (vietinis transportas)

1.50€

Mėnesinis bilietas (įprasta kaina)

34.00€

Taksi 1km (normalus tarifas)

1.30€

1 valandos laukimas taksi (normalus tarifas)

22.20€

Benzinas (1 litras)

1.55€
Komunalinės paslaugos (kas mėnesį)
Pagrindiniai (elektra, šildymas, vėsinimas, vanduo, šiukšlės) 85m2 butui

151.88€

1 minutė. iš anksto apmokamo vietinio tarifo mobiliesiems (nėra nuolaidų ar planų)

0.27€

Internetas (60 Mbps ar daugiau, neriboti duomenys, kabelis / ADSL)

26.18€
Sportas ir laisvalaikis
Sporto klubas, mėnesinis mokestis 1 suaugusiajam

45.42€

Teniso kortų nuoma (1 valanda savaitgalį)

17.50€
Drabužiai ir avalynė
1 pora džinsų ("Levis 501" ar panašūs)

88.75€

1 vasarinė suknelė parduotuvių tinkle ("Zara", "H&M", ...)

36.67€

1 pora "Nike" bėgimo batelių (vidutinės klasės)

86.00€

1 pora vyriškų odinių verslo batų

94.00€
Nuoma per mėnesį
Butas (1 miegamasis) miesto centre

591.25€

Butas (1 miegamasis), ne centre

500.00€
Facebook komentarai
Ieškote kelionės į Italiją?
Peržiūrėkite visus pasiūlymus
Kitos kelionių kryptys