Dauguma iš mūsų turbūt nori būti atradėjais. Ką nors atrasti – naują patiekalą, maršrutą be kamščių, naują gėlių veislę. Aš noriu atrasti naujas šalis. Jos visos seniai atrastos, bet juk atradimus galima daryti ir sau. Ir kasdien, ir ne po vieną. Taigi, šis atradimas – pakankamai nauja kryptis lietuviams – Albanija. 2018 metais, atsiradus tiesioginiams skrydžiams, ilgai nedvejojau ir "griebiau" tą Albaniją. Atvirai sakant, nebemėgstu tingių atostogų, bet darome kompromisą su šeima – kelias dienas gulėsime išvertę prikimštus pilvus, kitas dienas "užkariausime" Albaniją.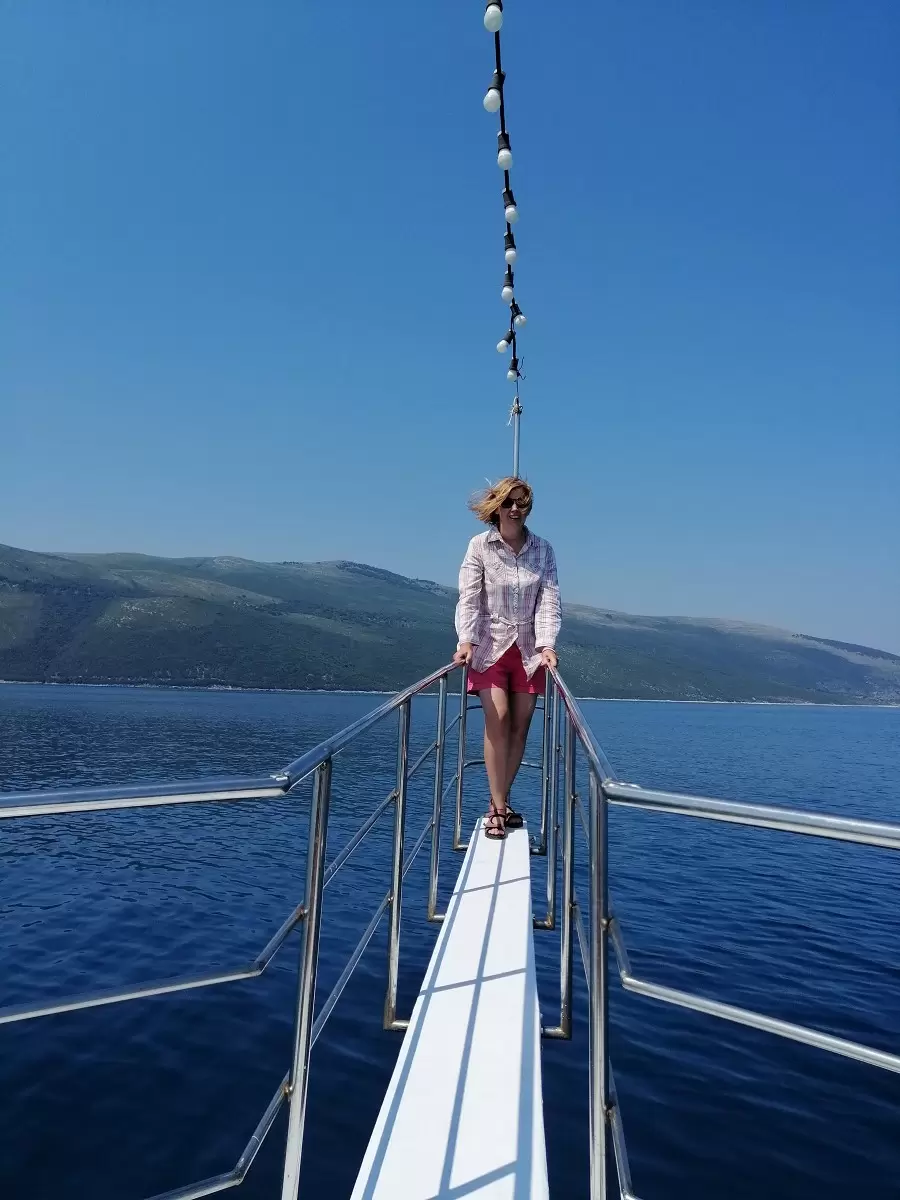 Milda
Dar prieš mums išsiruošiant į kelionę, keletas mano klientų jau buvo spėję susipažinti su Albanija. Atsiliepimai geri, nors klientai neįnoringi. Nekreipia dėmesio į aukštyn kojomis kambaryje pakabintą televizorių arba desertų pateikimą pagal grafiką. Vis įdomiau, vis kitaip nei kitur.
Standartiškai – leidžiamės, pasiimame lagaminus, susipakuojame į autobusus ir lekiame akis išplėtę į savo viešbutį. Sostinė Tirana lieka šone, tad su ja net akies krašteliu nesusipažįstame. Išsodina mus prie viešbučio, skubame – taip norisi viską pamatyti! Mūsų viešbutis - didžiausiame Albanijos kurorte Diuresyje. Tiesa, kiek pasuksiu į šoną – buvau užsakiusi kitą viešbutį, visai naujutėlaitį ir kvepiantį dažais, bet...jo nespėjo įrengti atidarymui! Tai parodo, kokiais tempais Albanija skuba į turizmo traukinį. Ir tai ne vienetinis atvejis. Visi viešbučiai nauji - maksimum 3-4 metų senumo. Mūsiškis pernai atsidaręs, visai ant jūros kranto. Kaip ir dauguma kelionių organizatorių siūlomų viešbučių. Jie nedidukai, turintys nuo 20 iki 80 kambarių. Tačiau dauguma praktiškai neturi jie ir savo teritorijos – mūsiškis turėjo baseiną, o jį turi toli gražu ne kiekvienas viešbutis. Viešbutis išklotas marmuro plytelėmis, blizgantis ir švarus. Gauname kambarius su šoniniu vaizdu į jūrą ir kartu su vaizdu į gretimą viešbutį. Nes jie labai arti vienas kito. Mūsų kaimynas viešbutis prabangesnis nei mūsų, tad vakarais prie jo išsirikiuodavo eilės prabangių automobilių. Kodėl – netrukus paaiškinsiu.
Negaliu tvirtinti ar visuose viešbučiuose yra taip pat ir mūsų, tačiau viešbutis yra atviras svečiams iš gatvės. Tai reiškia, kad visą dieną viešbučio restorane yra ne viešbučio gyventojų. Dažniausiai tai verslo susitikimus organizuojantys žmonės arba "krūtiakai", atsivežantys savo panas išgerti kavos. Nes Albanija gyvena gana skurdžiai, o čia viskas blizga – kaip kitame pasaulyje.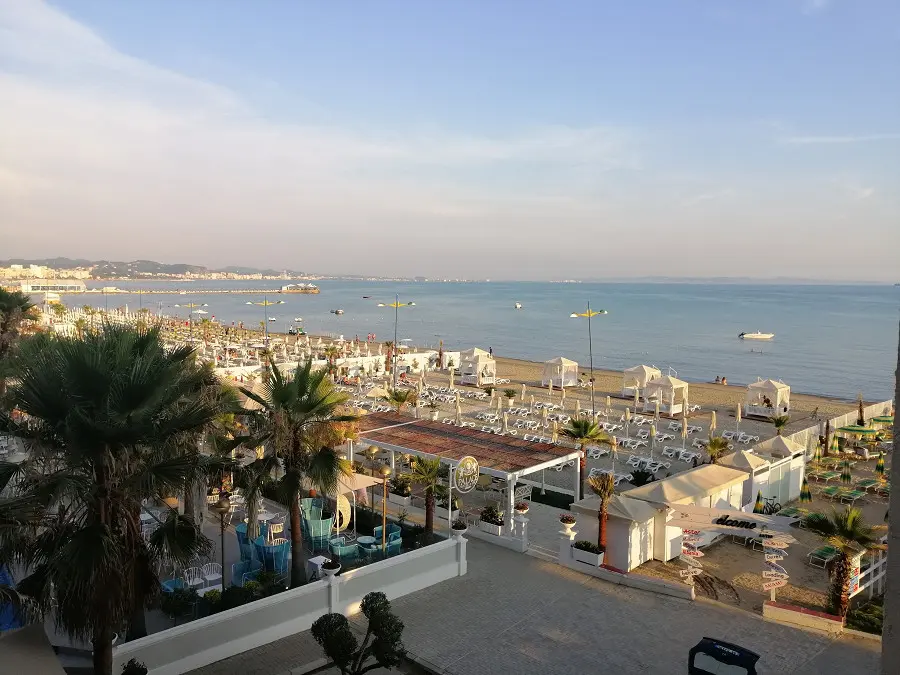 Vaizdas pro viešbučio langą
Tas pats yra su paplūdimiu (vėlgi – pasikartosiu – taip yra ne visuose viešbučiuose). Viešbučio gyventojai gultais ir skėčiais paplūdimyje naudojasi nemokamai, o vietiniai žmonės gali nusipirkti gultą viešbučio paplūdimyje. Jiems tai nėra labai pigu, tad dviem gultais naudojasi visa šeima arba net giminė. Tokiu būdu mes gauname progą akis į akį susipažinti su kultūriniais albanų ypatumais. Albanai – turkų, graikų ir italų mišinys. Garsiakalbiai ir emocionalūs, žemi ir kresni. Bet bendrauti su turistais nėra linkę. Šiukštu – nesifotografuoti. Gavome kartą daug piktų žodžių, norėję nufotografuoti močiutę, iš kurios pirkome kepintas kukurūzų burbuoles. Na, galvojame, juk perkame, tai gal nesupyks. O, kaip supyko, galvojome, negausim ir savo kukurūzo. Beje, kukurūzų kepimo fabrikėliai apgyvendinti elementariame metaliniame karutyje, kur sukrautos malkos dega, o ant metalinio rėmo ir grotelių kepa kukurūzai. Praktiška ir mobilu. Su tokiais karučiais ir varinėja paplūdimiu. Tokių keliaujančių paplūdimiu prekeivių paplūdimyje apstu. Tiesa, jiems neleidžiama eiti prie turistų, jie berėkaudami eina tik pačiu paplūdimiu. Kas keista, kad nei vienas per visą savaitę einančių prekeivių nei vienos savo prekės nebandė įvardinti anglų ar kokia kita kalba, apart albanų. Ir apskritai, ne itin jie linkę į naujų kalbų įvaldymą. Tiesa, padavėjai viešbutyje kalba tikrai neblogai.
Pasivartę porą dienų nutarėme, kad jau gana – metas leistis į kelionę. Automobilį galima išsinuomoti ir viešbutyje, betgi neįdomu! Einame į pagrindinę gatvę ir randame auto nuomos punktą visai šalia viešbučio. Iš vakaro sutariame, kad gausime folksvagenpasatnežinaukuriumetu, bet atrodo padoriai, su ratais ir langais. Ryte vyras keistai laimingas ir sutrikęs grįžta su automobilio rakteliais. Kodėl – suprantame susipakavę į automobilio vidų. Priekinis stiklas įskilęs, salonas gerai nudirtas, o pats automobilis ne vienoje vietoje apibrozdintas. Tačiau visus trūkumas nuomos "salone" įvardino ir užrašė. Kreditinės ir paso neprašė, pakako tik teisių numerio. Vyras užkuria automobilį, pradeda važiuoti, užsidega viena raudona lemputė, netrukus kita, o ir trečia. Sukamės atgal, pas nuomos salono poną. Ai, sako, viskas čia gerai, taip ir turi būti, ramiai sau važiuokite. Važiuojame, kas belieka. Šiandien bandomasis važiavimas – ne toks tolimas, išbandymas automobiliui. Judame į Albanijos pietus, link Vlore kurorto, iki kurio apie 130 km. Keliai geri, autostrados naujos, net navigacija ne visus dar rodo. Keliuose jautėmės saugiai visos kelionės metu. Mūsų šios dienos tikslas – kruizas (skambus žodis) iki pusiasalyje esančio laukinio pliažo ir Sezano salos.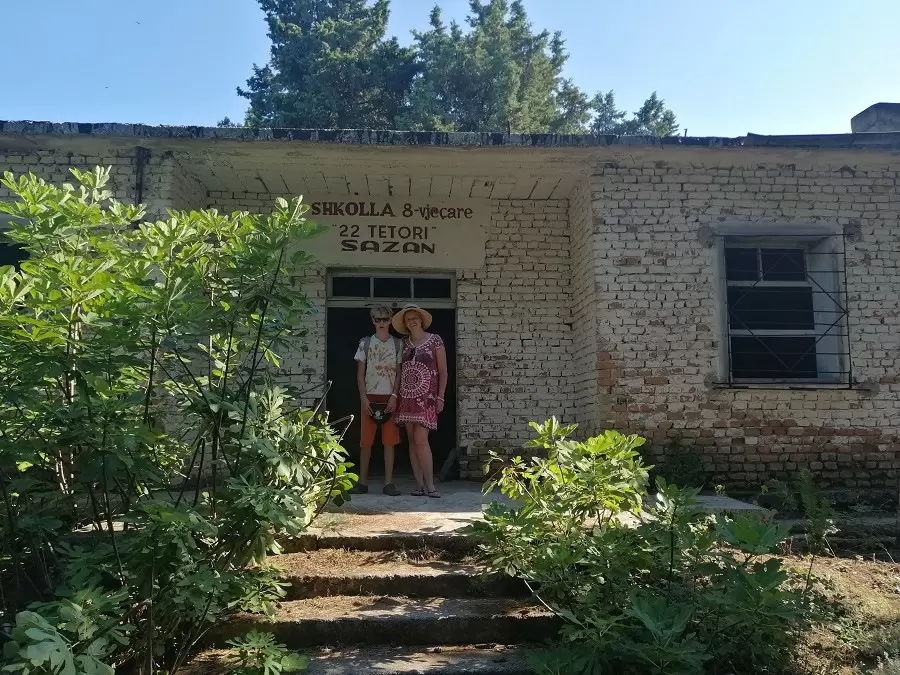 Ekskursija į Sezano salą
Visada stengiuosi kelionėse pamatyti daugiau autentiško gyvenimo ir paprastų žmonių. Tad čia mums pasisekė - papuolėme į laivą, kur dauguma albanų. Po valandos plaukimo mus išlaipina į laukinį paplūdimį. Laukinis reiškia tai, kad aplink vien tik miškai, panašūs į džiungles (nes juk aš ruošiausi juos apkeliauti, bet nepavyko, neprasibroviau), tačiau padarytas akmenuotas paplūdimys su daugybe gultų ir restoranėlių, kuris kaipmat puolė siūlyti mums papietauti. Juk, čia, pasirodo, praleisime net 4 valandas. Vanduo – krištolo skaidrumo, krantas ir dugnas labai akmenuotas, o pakraščiais ir jūros ežių matosi. Vanduo jūroje labai sūrus, tad smagu pagulėti to krištolinio vandens paviršiuje. Neprailgsta ir tos 4 valandos. Surenkami turistai ir plaukiame link mus labai traukiančios Sezano salos. Dabar tai – turistinis objektas, į kurį paprastai ir be gido nepapulsi. O tais, laikais, kai visi buvo "lygūs", bet buvo dar lygesnių, tie lygesni ir gyveno toje saloje. Ne, tai ne raupsuotieji. Ten gyveno kariškiai su savo šeimomis ir visas aptarnaujantis personalas – mokytojai, gydytojai, virėjai. Išsilaipiname – iš pirmo žvilgsnio niekuo neypatingoje saloje. Kylame į kalną, kur laukia tie "paslėpti lobiai". Kelias į salos centrą kažkada buvo asfaltuotas, nežiūrint to, kad pakankamai status. Dabar telikęs keliukas, nes viskas apžėlę. Pakeliui kas 100 metrų – bunkeriai, skirti slėptis nuo "priešų". Visa Albanija jais nusėta, ne tik ši sala. Pirmasis objektas, prie kurio stojame – mokykla. Taip, salos gyventojai turėjo net savo mokyklą. Tiesa, nedidukė. Langai, kaip ir visų aplankytų saloje, objektų, išdaužyti, išlupti su rėmais. Ir viskas, ką galima išnešti ir panaudoti, išnešta. Kuomet buvo nuversta tarybų valdžia ir salos gyventojai priverstinai iškeldinti iš salos, tuomet viskas ir buvo nusiaubta. Kylant toliau į kalną prasideda dviaukščiai ir triaukščiai gyvenamieji namai. O vaizdai, kuriuos gyventojai turėjo matyti per savo langus - atima žadą. Aukščiausioje salos dalyje – restoranas, kino salė, viešbutis. Arba tai, kas iš to likę.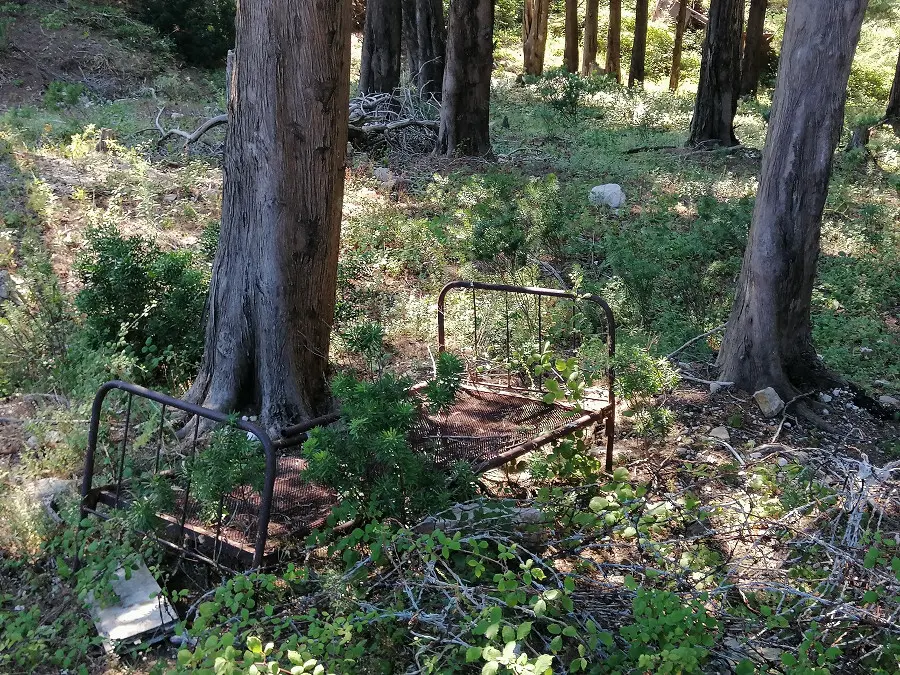 Sezano sala
Gidas mūsų vienų niekur nepaleidžia. Sala nemaža, tačiau vaikščioti galima tik tam tikrose vietose. Sklido gandai, kad saloje buvo gaminamas cheminis ginklas, gal dėl to?
Sala išties paliko įspūdį. Kažkokius sumišusius jausmus, kuriuos sunku buvo įvardinti. Nepaprasto grožio sala, kuri dabar atima žadą, o kokia ji buvo, kai buvo prižiūrėta, tegalima tik įsivaizduoti. Liūdesys, kad viskas nusiaubta, išplėšta, suniokota. Pasipiktinimas, sumišęs su nuostaba, kaip gyveno tie lygiausieji, kurie turėjo tarnauti žmonėms.
Mūsų mašiniukas sėkmingai atlaikė pirmąją kelionę, tiesa, paspaudus daugiau nei 100, imdavo įtartinai burbėti. Nutarėme, kad imsime jį ir į kitą, jau ilgesnę kelionę. Šį kartą – į Albanijos šiaurę, link vieno įspūdingiausių Albanijos gamtos stebuklų – Komano ežero.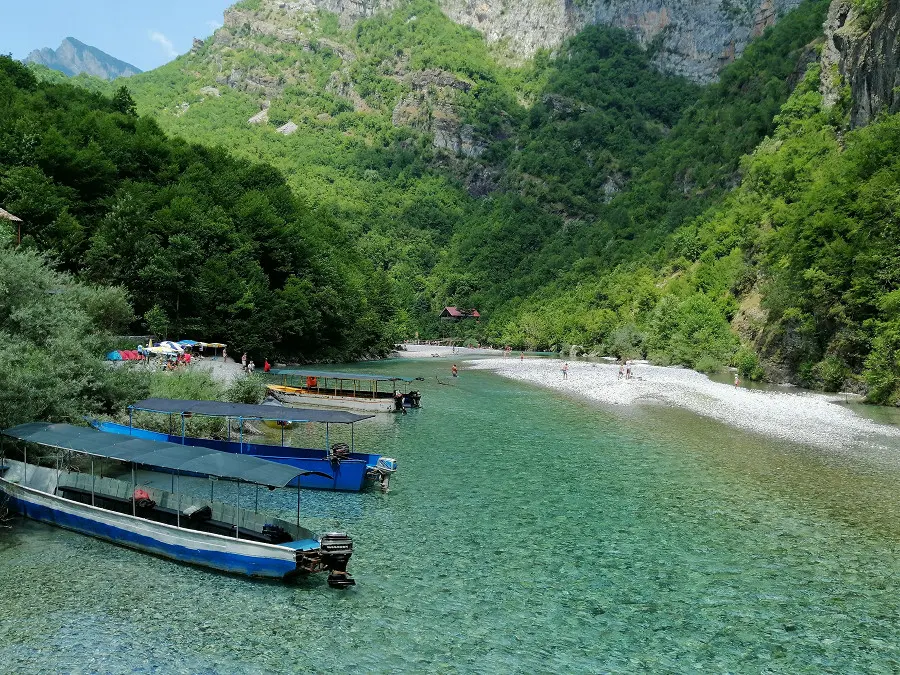 Komano ežeras
Popiet kraunamės "tapkes ir plavkes" (taip visada sakau savo klientams, kurie vyksta į šiltus kraštus ir klausia, ką reikia pasiimti į kelionę), ir skubame link Škoderio. Tai didelis miestas, įsikūręs prie Škoderio ežero. Škoderis mums pakeliui link Komano ežero, tad porą valandų skiriame jam. Kadangi jis nekurortinis, turistai ir gyventojai čia kitokie, tad ir miesto veidas kitoks. Toks europietiškesnis, turintis net savo "Laisvės alėją".
Komano ežero prieplauka, iš kurios kitą dieną mūsų laukia pasiplaukiojimas, nuo Škoderio nutolęs apie 50 km. Kitą rytą 9 valandą jau turime būti prieplaukoje. Tad sprendžiame dilemą – ar nakvoti Škoderyje, smagiai pavakarojant mieste, ar važiuoti iš vakaro ir ramiai ryte nuvažiuoti keletą kilometrų iki prieplaukos. Navigacija garsiai rėkia, kad tuos 50 km mes važiuosime 1,5 valandos. Gal juokauja? Ji juk nežino, kad mes su folksvagenu gazas - dugnas! Visgi nutariame nerizikuoti ir važiuojame iš vakaro. Pajudame pavakariukais. Kelias veda per nedidukus miestukus, vėliau kraštovaizdis keičiasi, kol dingsta namai, žmonės ir automobiliai. Riedame visai greitai ir šaipomės iš navigacijos. Randasi kalnai, prie ežero tai priartėjam, tai nutolstam. Temsta. Kelias pamažu, o paskui staigiai pradeda prastėti. Tamsa kalnuose "užpuola netikėtai", serpentinai ir išdaužytas, kažkada buvęs asfaltuotas kelias. Kaip vėliau sužinojome, kelias asfaltuotas prieš 40 metų, nei karto neremontuotas, o dar kalnų griūtys kelią padarė sunkiai įveikiamą net mūsų folksvagenui. Vyras sulindęs į priekinį stiklą bando taikyti į mažiausias duobes, esančias kelyje, norėdamas išvengti pačių didžiausių. Aplink - nei švieselės, nei namo, nei žmogaus. Nesutikome nei vieno automobilio. Ačiūdie, navigacija veikia. Ir pagaliau, po dviejų (!!!) valandų kelio pasiekiame savo tikslą – pakelėje, lyg kokiame fantastiniame filme, šviečia dviaukštis pastatas. Restoranas – viešbutis – išsigelbėjimas. Lauke stovi du stalai, apsėsti žmonių. Kaip vėliau pasirodo, prie vieno – keliaujanti belgų šeima, prie kito – užeigos šeimininkai. Mus pasitinka dvylikametis berniukas, kažkiek kalbantis angliškai. Tėvai nekalba angliškai, tad vaikas visada bendrauja su svečiais, o kai pritrūksta angliškų žodžių, pasitelkia google vertėją. Meniu nėra. Berniukas siūlo mums albanišką vakarienę. Mes kažkaip ne itin išalkę, tad užsisakome dvi porcijas, juolab esame tikri, kad mums pakaks jų, nes Albanija – ne Lietuva, kur porcijos žvirbliškos. Aha, susikalbėjome! Atneša keturias pilnas lėkštes – tik dvi su dviejų delnų dydžio kepsniais su garnyru, o kitos dvi – be mėsos, tik garnyras. Garnyras ne lietuviškas, jo pakanka pavalgyti ir dar lieka. Į stalą dar keliauja bliūdas šviežių daržovių ir kažkas panašaus į tzatziki. Paskui – pusė meliono. Na atleiskite, mums tų dviejų porcijų kažkaip net per daug!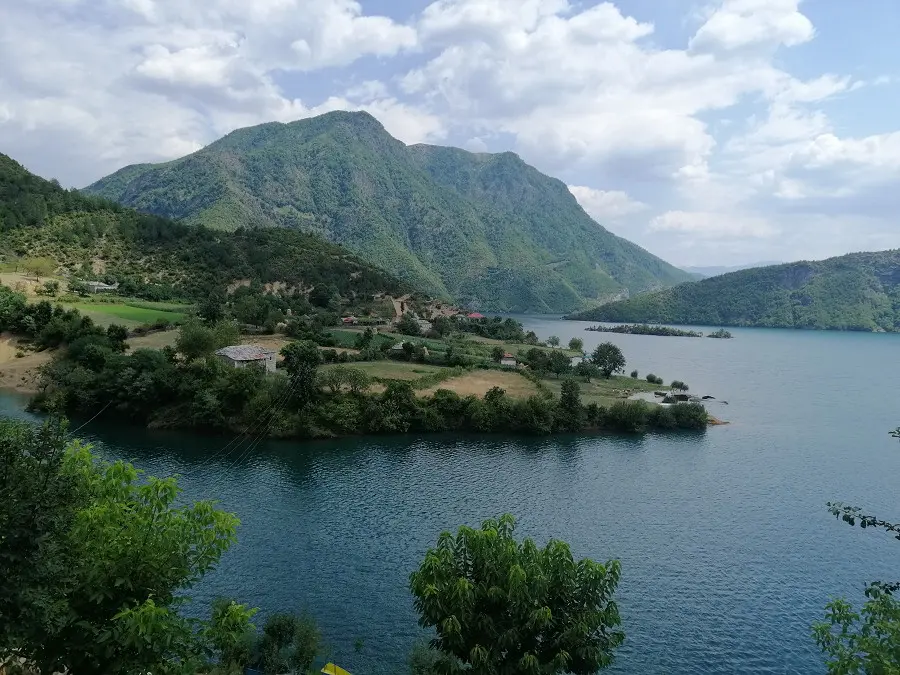 Komano ežeras
Mums vakarieniaujant, keliu praeina karvė. Taip, lyg tarp kitko. Pro šalį. Gerai, kad neužėjo. Paskui iš nakties ateina keturi vyrai, užsisako alaus, pasėdi 15 minučių, išgeria alų ir vėl išeina į naktį – į priešingą pusę, negu atėjo. Ten, kur nieko nėra, ten, iš kur mes atvažiavom. Atrodo, kad gyvybės ten nėra, o va prašom – net karvės naktimis vaikšto!
Nepaminėjau, kad Albanija – sertifikuota cikadų šalis. Jie jas matyt importuoja, kad turistus užliūliuotų jų muzika. Sugulame dar dažais kvepiančiame kambaryje ir, užliūliuoti cikadų, užmiegame. Kadangi atvykome, kai buvo visai tamsu, tai ryte akis išplėtę dairomės, į kokį rojaus kampelį papuolėme. O dabar jau eismas – kaip greitkeliu. Ir suprantame, kad toks kelias vietiniams (kurie veža turistus) – toks įprastas, kad jie net nemažina greičio. Pasimėgaujame albaniškais pusryčiais, susimokame ir mauname link prieplaukos. Keli kilometrai iki prieplaukos – naujai asfaltuoti. Stojame aikštelėje ir apie puskilometrį žygiuojame po kalnu išraustu tuneliu iki prieplaukos. Tie, kurie keliasi keltu per ežerą į kitą pusę, važiuoja automobiliais, o tokie kaip mes, užsisakę pasiplaukiojimą, keliauja pėstute iki prieplaukos.
Prieplauka mažutė, bet gyvenimas čia verda – bandantys į savo keltą patekti automobilių, besiblaškantys turistų ir vietiniai, kurie tik keltais arba laiveliais gali patekti į savo namus. Čia pat ožkos, šunys ir rėkaujantys ir savo paslaugas siūlantys albanai. Panašu į rytų kraštų turgų. Mus nukreipia į mūsų "laivą" – ant plaukiojančio pagrindo pastatyto autobuso kėbulo. Nudžiungame, kad ant to kėbulo jau užklijuotas lietuviškos trispalvės lipdukas. Publika mūsų laive-baržoje – įvairi, tiek turistai, tiek vietiniai. Visi keltai ir lavai ir į juos panašūs agregatai turi išplaukti 9 valandą ryto, tad pajudame vieni paskui kitus. Nebuvau Norvegijos fiorduose, bet įsivaizduoju, kad tai kažkas panašaus. Plaukiame tarp kalnų, užburiami pasakiško grožio. Po valandos priplaukiame prie vienos sodybos, kur mus, turistus, paleidžia, o su kitais, dauguma vietiniais, nuplaukia toliau. Šioje sodyboje apsistojame trumpam – išgeriame gaiviųjų gėrimų ir sėdame į ilgą laivelį, kuris mus kažkur plukdys. Vanduo iš laivelio ranka pasiekiamas, maloniai šiltas, tad džiūgaujame, kad galėsime išsimaudyti. Tačiau pasukame į šoną nuo pagrindinio ežero ir vanduo pradeda vėsti – jau plaukiame kalnų upe. Stojame poilsiavietėje, kur jau daug tokių kaip mūsų laivelių, palapinių ir keletas viešbučių. Viskas aukštų kalnų apsuptyje. Vanduo – plius devyni. Nebesinori maudytis. Aš kaip pasiutusi puolu rinkti akmenukų, kurių visai nėra mūsų Diuresyje. Po pusvalandžio grįžtame į savo sodybą, kur mūsų laukia ištaigingi pietūs. Lietuviams čia labai patinka, nes porcijos tikrai didelės. Daugybė daržovių, mėsos. Kai jau atrodo baigiame valgyti, dar atneša kalną troškintos ožkienos. Desertui – melionas, kurio šiaip jau ir pakaktų pietums, nes karštis svilina.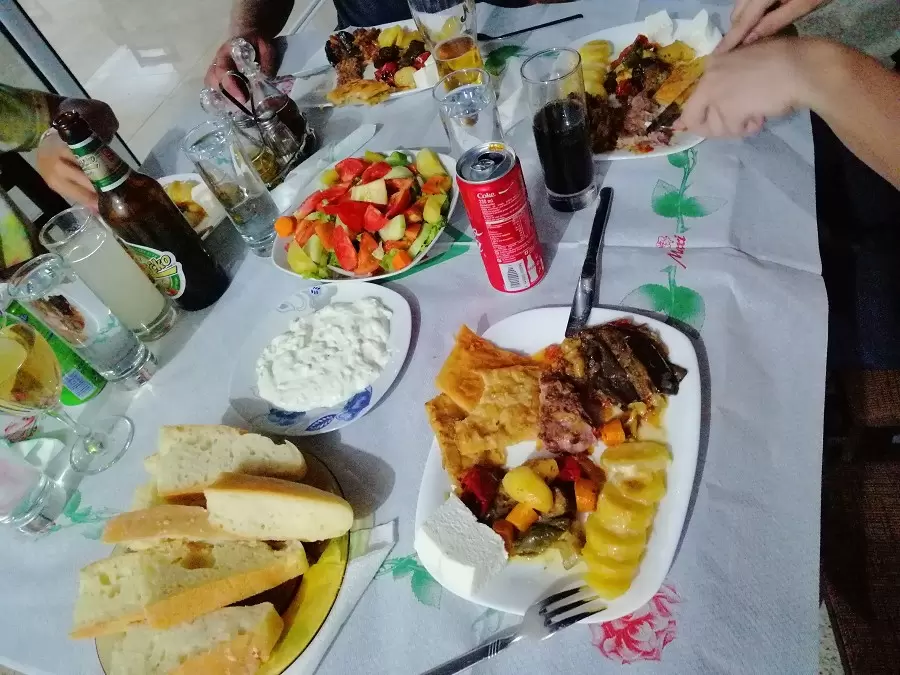 Sočios vakarienės
Diena pralekia šuoliais. Pavakariais atplaukia keltas mūsų pasiimti, kuris nuplukdo mus atgal į prieplauką. Vėl laukia ilgas duobėtas kelias namo. Bet dabar šviesu, ir mažas duobeles gaudyti lengviau.
Kitos dienos prabėgo viešbutyje, vakarais tyrinėjant Diuresį. Jis tarsi padalintas į dvi dalis – kurortinis, kur gyvena visokie "turčiai" kaip mes, ir dar prie pat jūros. Toliau gyvena vietiniai poilsiautojai, panašiomis sąlygomis kaip prieš 20 metų mes gyvename Šventojoje ar Palangoje palėpėje pas bobutę. Kita Diuresio dalis – gyvenamoji, kur gyvena vietiniai gyventojai. Tai didelis uostamiestis, bet nelabai jaukus. Kurortinėje Diuresio dalyje vakarais verda gyvenimas – turgūs, muzika, pasivaikščiojimai, savęs parodymai ir į kitus pažiūrėjimai. Prekyba vyksta pilnu tempu – tiesiog Gariūnai gatvėje. Beje, labai įdomus momentas – albanai pardavėjai, prekiaujantys gatvėje (tik vyrai), rankose visada laiko krūvą pinigų. Bandėme spėlioti, kodėl, ir nutarėme, kad taip parodo, kad jam gerai sekasi prekyba J
Nepasakyčiau, kad tai šalis, kurią įsimylėjau. Norėčiau čia grįžti dėl gamtos, šiltos jūros ir neįkyrių žmonių. Albanija – šalis, dar neturinti savo veido, nežinanti, kuo jai pasigirti ir kaip savimi didžiuotis. Albanai labai stengiasi dėl svečių, ne viskas jiems dar sekasi, ne viską dar išmoko, bet mažais žingsneliais, o kartais net penkiamyliais, juda į priekį.