Savarankiškos kelionės dažnai apipintos istorijomis keliaujančiomis iš lūpų į lūpas. Tačiau ne visi tie pasakojimai yra tikri, todėl žinios apie savarankiškai planuojamas atostogas būna iškreiptos. Todėl Pasirink Sparnus pradeda straipsnių ciklą apie atostogas Italijoje. Keliautoja Dalia su Jumis skaitytojau dalijasi savo įspūdžiais, pastebėjimais ir patarimais.

Dar žiemą mano dėmesį patraukė nuostabūs Gardos ežero vaizdai. Žvilgterėjus į žemėlapį akimirksniu susidėliojo maršrutas po Šiaurės Italiją – ne tik apvažiuoti ežerą, bet ir aplankyti Veroną su Venecija. Juk bent kartą gyvenimą reiktų pamatyti šiuos miestus savo akimis. Tad ilgai nesvarsčiusi įsigijau bilietus su rankiniu bagažu sau ir vyrui birželio mėnesio skrydžiui Vilnius–Milanas (Bergamo oro uostas) – Vilnius už 130 eurų. Tokia kaina buvo gruodį. Likus mėnesiui iki skrydžio bilietai jau kainavo dvigubai brangiau.
Kelionės maršrutas lėmė, kad per vieną savaitę pakeitėme net 4 nakvynės vietas ir nuvažiavome apie 900 kilometrų. Daugybė miestų ir miestelių, nuostabios Gardo ežero apylinkės, 1833 m. aukščio Monte Baldo viršukalnė, Verona ir Venecija, o pabaigai – "Gardaland" atrakcionų parkas. Bet apie viską iš pradžių.
Pradėjus ieškoti nakvynės paaiškėjo, kad ji šiek tiek brangesnė nei paskutinėse mūsų aplankytose Ispanijoje ar Portugalijoje. 7 nakvynės dviems (4 iš jų su pusryčiais, 3 – be maitinimo, bet su didžiule virtuve ir terasa) atsiėjo 430 eurų + miesto mokestis po 2 eurus už kiekvieną parą asmeniui.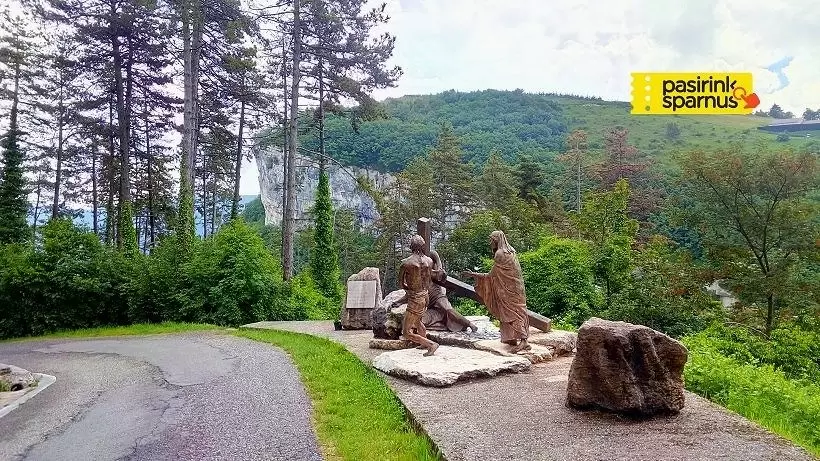 Automobilį paprastai užsakome iš anksto internetu. Jau kovo mėnesį apsistojome ties autonuoma, kur informacija pateikta lietuviškai, o jei kyla klausimų gali pasiskambinti labai maloniam konsultantui, kuris išsamiai papasakojo apie pasirinktą italų įmonę "Noleggiare", draudimo subtilybes ir pan. Mažalitražis FIAT 500 6 dienoms mums atsiėjo 124 eurus (77 eur nuoma ir 47 eur pilnas draudimas), kuras – 75 eur. Konsultantas perspėjo, kad "Noleggiare" atstovai vietoje gali gana primygtinai siūlyti įsigyti draudimą, nes mes įsigijome draudimą ne iš pačios "Noleggiare", bet iš draudimo kompanijos; taip pat atkreipė dėmesį, kad bus užšaldyta 1200 eurų (patarė dėl visa ko kreditinėje kortelėje turėti daugiau pinigų). Iš tiesų atvykus atsiimti automobilio labai malonūs darbuotojai tik pasiteiravo, ar nereikia draudimo ir ar mes žinome, kad turime palikti užstatą 1298 eurus (konsultantas buvo teisus dėl didesnės sumos). Nelabai supratau, iš kur atsirado tie papildomis 98 eurai, bet nesukau dėl to galvos, juk vis tiek juos atgausime. Apsikeitę šypsenomis gavome naujutėlaičio blizgančio TOYOTA AYGO raktelius. Turiu pastebėti, kad dažniausiai gauname geresnius automobilius nei užsakėme. Ir tai mums patinka!
Pirmas vakaras Bergame

Birželio 2 d., ketvirtadienį, 18 val. nusileidome nedideliame Bergamo oro uoste. Iki prie Gardos ežero pasirinktos nakvynės apie 150 km, tad pirmą naktį apsistojame Bergame, nakvynės namuose. Oro uoste viskas labai paprasta ir aišku, – tiesiu taikymu nueiname į turizmo informacijos centą ir nusiperkame 2 bilietus po 2,60 eurų iki Bergamo miesto. Gauname žemėlapį ir informacijos, kurioje stotelėje išlipti. Autobuso stotelė čia pat, tad 15 minučių ir mes jau Bergame! Svečių namuose palikę lagaminus, patraukiame grožėtis miesto panorama nuo Aukštutinio miesto ("Citta alta") ginybinės sienos. Beje, aukštutinį miestą galima pasiekti siauromis gatvelėmis kylant į viršų pėstute arba funikulieriumi. Kadangi karštis nekankina (iš Lietuvos išskridome termometro stulpeliams pakilus iki 27 laipsnių, o Bergame mus pasitiko 22 laipsnių gaiva ir balos, telkšančios po išvakarėse praūžusios audros), einame pėstute. Ir miesto panorama, ir pats senamiestis tikrai verti dėmesio, – ne veltui mūsų tautiečiai jį yra išgyrę ir išsamiai aprašę internete. Laiko turėjome nedaug, bet puikų įspūdį spėjome susidaryti. Kas žino, gal dar čia sugrįšime, nes Bergamas – patogi tarpinė stotelė keliaujant po Italiją.
Antra diena – kelyje link Gardos ežero

Kitą dieną vėl grįžome į oro uostą pasiimti automobilio. Taip nusprendėme norėdami sutaupyti, nes atvykimo dieną automobilis mums tarsi nebuvo reikalingas. Tiesą sakant, gal vertėjo iškart automobilį pasiimti, bet daugiausia laiko praradome ne dėl to. Iki Gardos ežero važiavome ne mokamu greitkeliu, o keliu, vedančiu per nesibaigiančius miestelius ir kas 60 m išsidėsčiusius žiedus. Visi miesteliai pasirodė panašūs kaip du vandens lašai: nedidelės bažnytėlės, varpinės ir tie nesibaigiantys žiedai. Jei kelionės pradžioje dar maudė širdį dėl pas senelius paliktų vaikų, tai tie žiedai galutinai išsklaidė abejones, nes jaunesnysis būtų visas ausis išzyzęs, o vyresnįjį jau būtų dešimt kartų supykinę.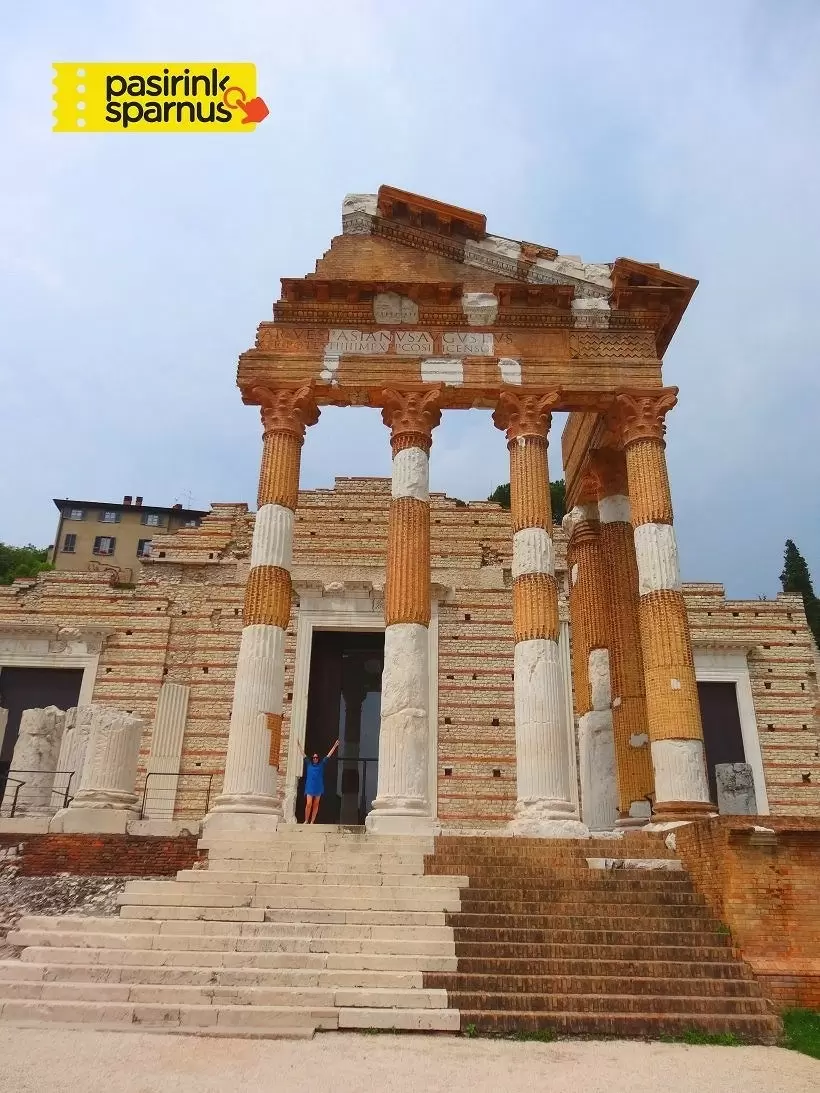 Brescia kapitolijaus liekanos

Pusiaukelėje nusprendžiame užsukti į keliautojų atsiliepimuose išgirtą Brescia miestą – antrą pagal dydį Lombardijos miestą po Milano. Trumpai pasivaikščioję keliomis gatvelėmis ir aikštėmis, Piazza Paolo VI aikštėje aplankome dvi miesto katedras – senąją romaninę, pastatyta XI a., ir naująją barokinę, baigtą statyti XIX a. pirmoje pusėje. Mūsų dėmesį patraukia nuorodą į Kapitolijų ir netrukus skaisčiai mėlyno dangaus fone išvystame įspūdingas kolonas. Informacijos centre mums pasiūlo įsigyti bendrą bilietą ir aplankyti ne tik Kapitolijų, bet ir Santa Gulia muziejų kompleksą, įsikūrusį 14,000 m² plote. Ech, šiame mieste reikėtų praleisti gerą pusdienį. Bet ar mes turime tam laiko? Deja, nelabai, tad tęsiame kelionę iki Gardos ežero. Važiuojam važiuojam, o kilometražas mažėja labai lėtai, pavakary prasideda nedideli kamščiai (gerai, kad ne sezono įkarštis). Lengviau atsipučiam pasiekę ežerą, nes tuomet maudžiančią nugarą nustelbia pakrantėse įsikūrusių miestelių vaizdai su nedidelėmis romantiškomis įlankėlėmis. Akis patraukia neskubantys poilsiautojai, pajuntame kurorto atmosferą. Po gero pusvalandžio pasiekiame savo apartamentus "Residence Castelli", įsikūrusius ramioje vietoje, 2 km iki artimiausio Castelleto miestelio ir 12 km iki didesnio Malcesine miestelio. Atmetus sustojimus, 150 km važiavome šiek tiek daugiau nei 5 valandas. Pakeliui aplankėme ne tik Brescia miestą, bet ir apsipirkome LIDL'e, tad visa kelionė nuo Bergamo užtruko apie 7 valandas.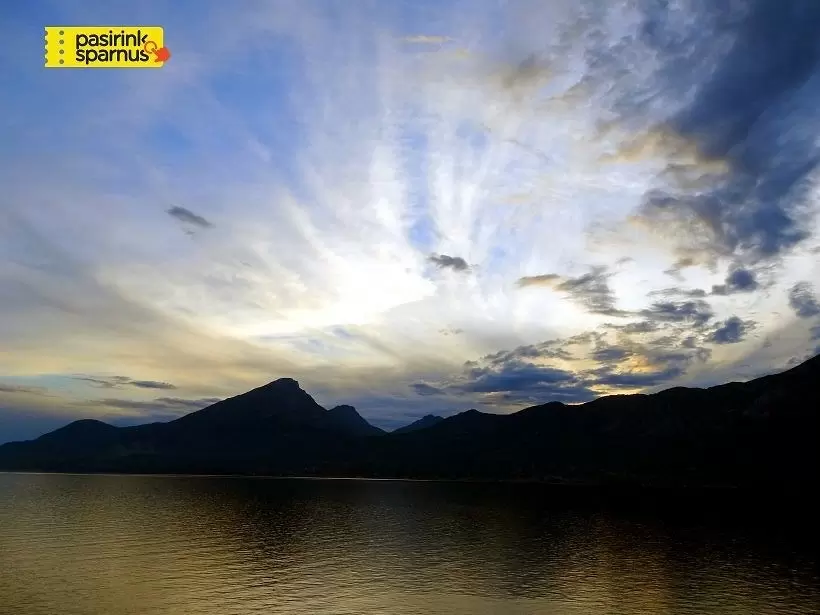 Vaizdas iš terasos nuostabus (žr. nuotrauka aukščiau) – ežeras, atsirėmęs į padūmavusias Alpes, paukščių muzika, žydinčių augalų aromatas... Laukia ramus vakaras. Per pusvaladį pagaminu skaniausius pasaulyje spagečius, atsigaiviname alumi ir... patraukiame nuotykių ieškoti. Pasirodo, iki artimiausio miestelio galima keliauti viršuje esančiu keliu. Beeidami sugebame ir deserto susimedžioti, t. y. pasiskinti nisperos (japoninės lokvos) vaisių – jų paragavome Portugalijoje, tad žinojome, kad valgomi. Geltoni, saldžiarūgščiai su keturiais kauliukais – puikiai atgaivina. Nesivaržydami pasiskiname, juk šakos linksta... Netikėtai prieiname nedidukę, XII a. romaninio stiliaus Šv. Antano (Saint Antonio) bažnytėlę (žr. nuotr. žemiau), kurios fasadas puikuojasi senovine freska.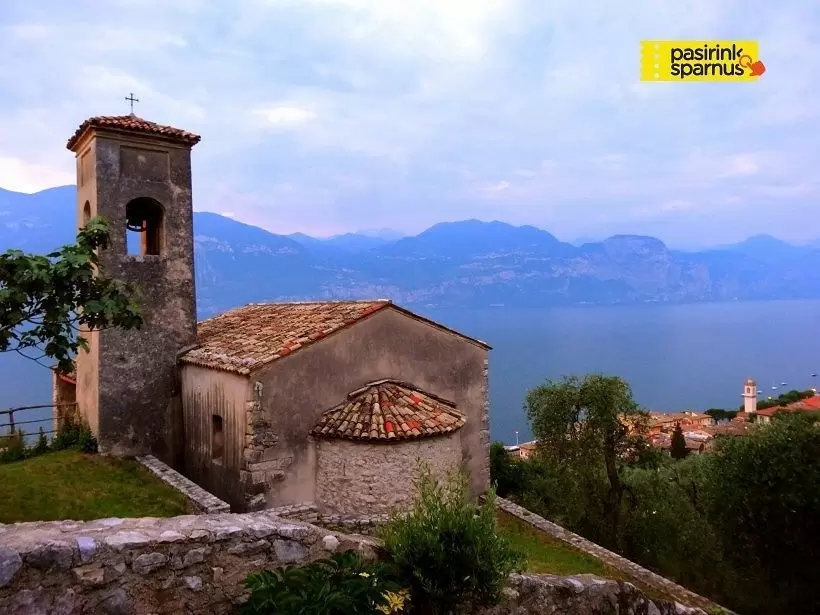 Mes visiškai vieni kažkur kalnuose, apačioje snūduriuoja ežeras, įsižiebia Castelleto miestelio žiburiai. Dar šiek tiek paėjėję pradedame leistis žemyn siauromis akmeninėmis gatvelėmis. Miestelis dvelkia senove ir atrodo lyg negyvenamas. Bet apačioje jau atsiremiame į kelias jaukias kavinukes, nesusigundome – kai turi terasą su puikiu vaizdu, pagundoms nepasiduodi. Jau visiškai sutemus grįžtame keliu, vedančiu palei ežerą.

<...>

Straipsnio antrąją dalį galite rasti čia >>