Savarankiškos kelionės dažnai apipintos istorijomis keliaujančiomis iš lūpų į lūpas. Tačiau ne visi tie pasakojimai yra tikri, todėl žinios apie savarankiškai planuojamas atostogas būna iškreiptos. Todėl Pasirink Sparnus pradeda straipsnių ciklą apie atostogas Italijoje. Keliautoja Dalia su Jumis skaitytojau dalijasi savo įspūdžiais, pastebėjimais ir patarimais.
Pirmąją kelionės dalį rasite čia >>
--------
Lietingai saulėtas gimtadienis

Teisybės dėlei turėčiau prisipažinti, kad ši kelionė – savotiškas pabėgimas nuo savo 40-ojo gimtadienio šventės, gal greičiau nuo rūpinimosi, kaip pamaitinti ir pralinksminti svečius. Gimtadienio rytą mane prižadina paukščių giesmės ir pro romantiškai padūmavusius kalnus švystelėjęs saulės spindulys. Vos spėjus išsimaudyti baseine, dangus papilkėja. Šiandien planavome iš Malcesinės miestelio moderniu keltuvu kilti į Monte Baldo viršukalnę, bet suprantame, kad per debesis nieko nepamatysime. O mokėti 40 eurų dviems vien už pakilimą be vaizdo neverta. Gėrėdamiesi pakrantės miesteliais, patraukiame Varones krioklio link ("Parco Grotta Cascata Varone"), kuris yra netoli šiauriausio miestelio Riva del Garda. 5,50 eurų asmeniui ir patenki į nediduką parką. Beje, tai bene vieninetelė vieta per visą kelionę, kur nereikėjo mokėti už parkavimą. Čia įrengta ir nemokama pikniko vieta su staliukais ir skėčiais nuo saulės, kur gali užkąsti savo atsinešto maisto. Pagrindinis šio parko objektas – Varone krioklys – natūralus tarpeklis, kurį per 20 000 metų suformavo Tenno ežero vandenys, krentantys iš beveik 100 m aukščio.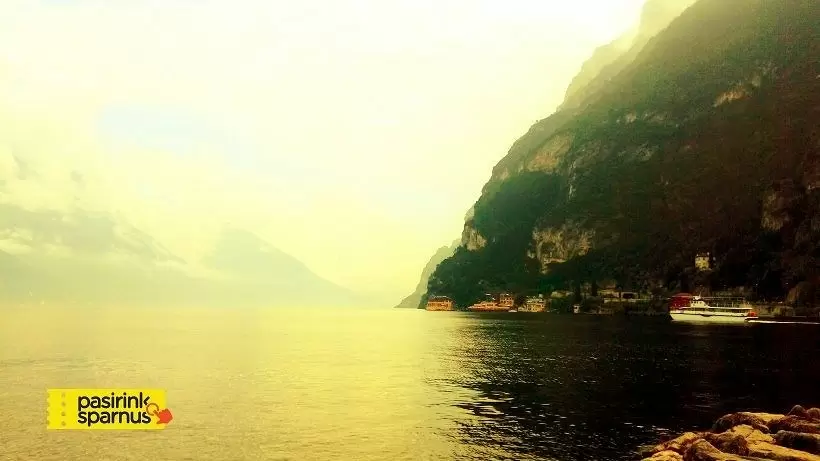 Galingu krioklio gaudimu ir į visas puses taškomais purslais galima mėgautis iš dviejų nedidelių aikštelių. Rekomenduojama apsisiausti neperšlampamais apsiaustais, nors šventinio makiažo jie neišgelbėjo. Galingos stichijos pakerėti patraukiame į kitą ežero pusę – Limone sul Gardą miestelį. Siauros miniatiūrinės, žydinčiais augalais papuoštos senamiesčio gatvelės.
Debesys uždengia kalnus, aptemsta, pradeda lynoti. Atkakliai ieškau citrinmedžių, nes būten dėl jų miesteliui suteiktas šis vardas. Laikas šventinių pietų, bet norėtųsi daugiau saulės... Bandome apgauti, o gal ir pralenkti lietų Riva del Garda miestelyje. Kurį laiką tenka pasėdėti automobilyje. Nurimus lietui prisėdame pirmame pasitaikiusiame restorane. Ir čia esu apdovanojama nuostabiu vaizdu į kalnus gryname ore ir, žinoma, itališku vynu bei pica. Italijioje visuose restoranuose yra staltiesės mokestis (coperto), kuris, kiek matėm, svyravo nuo 1 iki 1,50 žmogui – tiesiog susimoki už tai, kad prisėdai prie staliuko. Bet nesuku sau galvos dėl kaimų, juk ne kiekvieną dieną Italijoje pietauji, ir dar per savo gimtadienį. Atsipalaidavusi stebiu saulės ir debesų kovą, kuri po kelių valandų baigiasi saulės naudai. Tuomet pasivaikščiodami nueiname iki pagrindinės aikštės Piaza 3 Novembre, šalia prieplaukos. Nežinau, gal vynas turėjo įtakos, bet ši vieta man pasirodė dieviškai graži, – iš abiejų pusių apkabinta kalnų, kurie, žvelgiant į ežerą, tarsi susitinka ir susijungia. Spalvoti pastatai ir ore sklandanti atostogų atmosfera. 165 laipteliais pakilus į šalia esantį bokštą (Torre Apponale), gali pasigrožėti panorama iš aukščiau. Būčiau čia sėdėjusi ir svaigusi dar ilgai, bet aplink tiek daug nepamatyto, vyras ima nekantrauti... Užsukame į Malcesinės miestelį.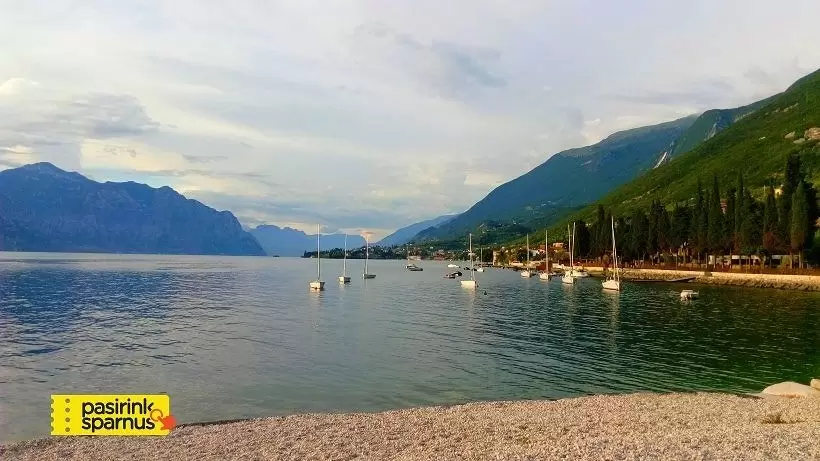 Kadangi šeštadienis – viskas klega, šviečia, žiba, gatvelės vedančios pilies link, nusėtos žvakutėmis. Apie 1300 metus ant ežero kranto pastatyta pilis maloniai nustebina – sumokėję tik po 2 eurus, džiaugiamės ne tik vaizdinga apylinkių panorama iš bokšto, bet ir aplankome modernų Gamtos istorijos muziejų, įdomiai pristatantį Gardos ežero fauną ir florą. Apartamentuose dar laukia šampanas, o rytdienos planai priklauso nuo oro.

Diena kalnuose

Nubudę supratome, kad debesys niekus nedingo, tad patraukiame gilyn į kalnus, gal pavyks juos pergudrauti ir pakilti į 1833 m. Monte Baldo viršukalnę iš kitos pusės paprastu atviru keltuvu. Aš turiu ir kitą tikslą, – Madonna della Corona bažnyčią (žr nuotr. žemiau). Kai pirmą kartą nuotraukoje pamačiau ją nedrąsiai prisišliejusią prie kalno, tarsi pakibusią tarp žemės ir dangaus, panorau įsitikinti, ar vaizdas toks pats ir realybėje.

Ši diena mus apdovanoja įspūdingais gamtos vaizdais. Važiuojame aukšyn-žemyn, gėrėdamiesi žaliais slėniais, klausydamiesi čia besiganančių karvių varpelių tilindžiavimo, stabtelėdami mažuose kalnų miesteliuose atsigerti kavos. Atvykus į Spiazzi miestelį, nuo kurio reikia leistis bažnyčios link, pradeda lyti. Kaip netikėta (čia jau su ironija pagalvojau). Laimei, po pusvalandžio dangus įsigiedrija visai likusiai dienai.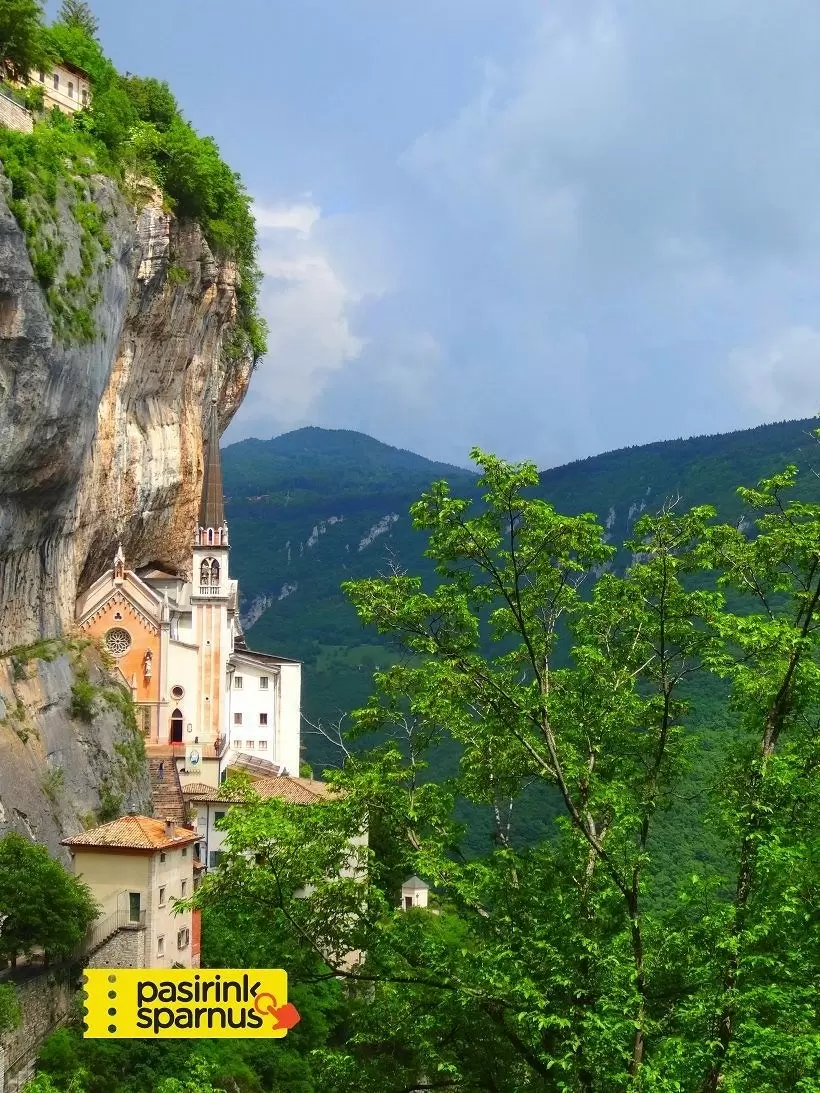 Taigi, nors už 1,80 eur iki šventovės veža autobusas, leidžiamės pėsčiomis. Kelias laipteliais neprailgsta. Gražiausias vaizdas, tas, kaip iš atviruko, atsiveria nuo autobuso stotelės. Žandikaulis atvimpa – taip, ji tikrai taip atrodo! Beje, kai pasidalinau savo nuotraukomis facebooke, visi klausinėjo, kas tai per vieta ir kaip iki jos nukeliauti. Palaukę, kol po sekmadienio mišių bažnyčią ištuštės, užeiname vidun. Gana kuklus interjeras, dalis sienos – tiesiog natūralūs kalnai. Suvokus, kad esi ypatingoje vietoje, į kurią piligrimai keliauja iš visos Italijos, kyla baugi pagarba... 1988 metais čia lankėsi ir Jonas Paulius II. Iki miestelio jau reikia kopti aukštyn. Yra du variantai – gana stačiais laipteliais arba serpantinu. Kadangi leidomės laipteliais, kylame keliu – ir lengviau (saulė negailestingai pleškina), ir pamatome, ko nematę – ties kiekvienu posūkiu išnyra po bronzinių skulptūrų kompoziciją iš Jėzaus Kristaus nukryžiavimo scenų. Iš viso dešimt. Įspūdinga.

Kitas šios dienos tikslas – pakilimas į Monte Baldo viršukalnę. Reklaminė lenta Spiazzi miestelyje skelbia, kad iki jo – 20 min kelio. Po pusvalandžio imame nerimauti. Nei žmonių, nei nuorodų, vieni kalnuose... Pagaliau yra ko paklausti – miela italė sako, kad šiek tiek ne ten pasukome, bet šiaip tas keltuvas neveikia. Vyras nepasiduoda, grįžtame į nedidelį jaukų miestelį, kuriame tik bažnytėlė, du viešbučiai, viena kavinukė ir gal kokie 5–6 namai, už kurių ganosi karvės. Užburianti ramybė ir puikiai angliškai kalbanti kavinukės darbutoja, kuri nusijuokusi pasako: "20 min. kelio reklaminiame skelbime reiškia 20 kilometrų, o jūs patys žinote, kokiu greičiu važiuojama kalnuose". Patikslina kryptį ir po dar gero pusvalandžio pasiekiame keltuvą. Viršuje debesys keičia vieni kitus, bet kad jau atvažiavome tai ir kylame, be to, kaina – tik po 5 eurus asmeniui pirmyn-atgal.
Paskutinis nusileidimas 18 val. Atsipalaidavęs italas tik vos vos pristabdo keltuvą, o mes, gavę dozę adrenalino, ant jo užšokame. Kylame nuo 1442 m. iki 1833 m. vienui vieni – aplink tuščios keltuvo sėdynės, tyla, vėsa ir tirštėjantys debesys. Šiek tiek baugu. Viršuje gerą valandą pasivaikštome... debesyse. Gal kokias 5 minutes debesys šiek tiek prasisklaido ir maloniai leidžia mus išvysti ežerą. Apsidžiaugę šia sėkme, leidžiamės žemyn. Smagiausia, kad į savo apartamentus grįžtame kitu keliu, tiesiog važiuojame į priekį ir ganome akis į pakelės aguonas bei slėniuose žaliuojančius vynuogynus. Kuo toliau, tuo dažniau išnyra jaukūs kaimeliai, kuriuose, kaip supratome iš keltuvų, žiemą gyvena slidininkai. Vieno miestelio autobusų stotelėje stabtelėlime pasiskinti tręšnių. Praktiškai čia vaisių galima nepirkti, tik reikia pasistengti neįsiutinti bičių, deja, su viena iš jų uogų nepasidaliname, gerai, kad nesu alergiška. Pravažiavę Nago, stabtelime apžvalgos aikštelėje – puikus vaizdas į kalnų ir ežero papėdėje įsikūrusį Torbole. Ir vėl į kelią. Šiandien paskutinis vakaras mūsų terasoje, tad norisi pavakaroti stebint, kaip jaukiai temsta ir kitoje ežero pusėje įsižiebia žiburiai...
<...>